Jofra Archer "in no hurry" with elbow rehab as England seamer works towards India Tests
Since his operation to remove a bit of extra bone growth from his right elbow he has played one game in the Vitality Blast – bowling three respectable overs costing 20 runs – but both England and Sussex are progressing cautiously with his return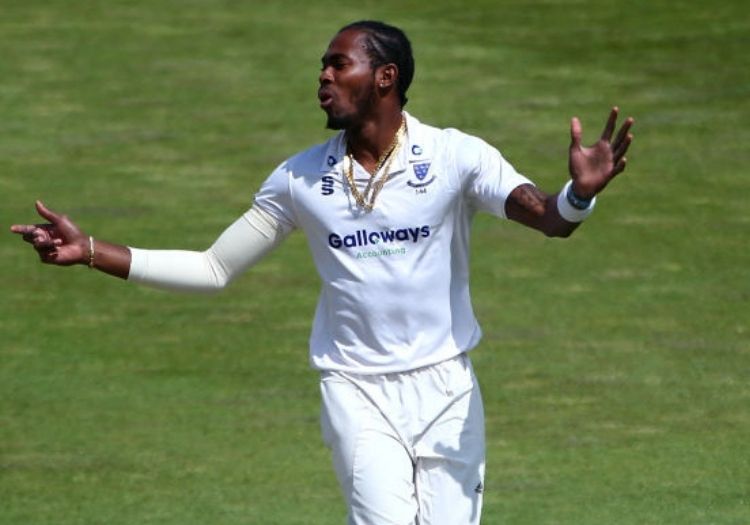 According to an ECB release on Wednesday, 100,000 people have attended matches in The Hundred over the first week of the new tournament and more than 8.5m have watched some of the action on TV.
Reaction from some cricket fans, including some listeners to The Analyst: Inside Cricket podcast, was pretty positive. It's a decent start, although it would be disappointing, given the marketing spend and exposure the competition has enjoyed, if these numbers had been less favourable.
The test will come now, however, when the novelty and innovation has worn off and the competition's authenticity is fundamentally tested.
And the second week of The Hundred begins without many of the England players, like Jonny Bairstow, who have lent it some stardust but are now joining up with the Test squad (Bairstow is the men's competition's leading runscorer thus far).
Another box office player who is also likely to be missing from The Hundred for the forseeable future is Jofra Archer. Since his operation to remove a bit of extra bone growth from his right elbow he has played one game in the Vitality Blast – bowling three respectable overs costing 20 runs – but both England and Sussex are progressing cautiously with his return.
When asked by The Cricketer what his comeback plans were he said he was "in no hurry."
It is a tricky situation, as both he and his employers will want to test his elbow but ideally not in the intensity and glare of The Hundred.
He may only be required to bowl 20 balls, but there is no scope for 'looseners' or easing into it in that competition. Each one of those balls is a mini event and even a bowler as skilful as Archer could be collared if he is not at close to 100 percent commitment.
It may be more appropriate to give him a run out in a Royal London Cup or a 2nd XI game, where he can gradually increase his intensity levels. It seems a long shot at this stage that he could be considered for the third India Test on August 25 (Sussex do not have a four-day first class match until August 30).
Archer must be extremely frustrated but to his credit he does not show it. In fact, one of his obvious character traits is his passivity. He is very much of the "what will be will be" school. When watching back the super over of the World Cup final during a filming session for a documentary last weekend he was remarkably composed and unemotional.
That characteristic is, of course, why he was ultimately successful in his execution. What was he thinking and feeling before the final ball?
"Just give them one," he said, laconically. Which of course, he did.
Interestingly, he had completely forgotten his experience the previous year when, bowling the last over of the Vitality Blast final for Sussex against Worcestershire, defending 17 to win, he bowled an accidental beamer which went to the boundary (conceding six runs in extras) and the resulting free hit also went for six, giving Worcestershire victory with three balls to spare.
But he had completely erased it from his memory.
Just as well.
Please ensure all fields are completed before submitting your comment!