Essex's Dan Lawrence, a son of Chingford, will never forget his roots
NICK FRIEND: For all the talk of a burgeoning talent knocking on doors higher up, he remains just 22. Lawrence would have every right not to be sure of what comes next or of where he sees himself. Instead, he's taking it all in his stride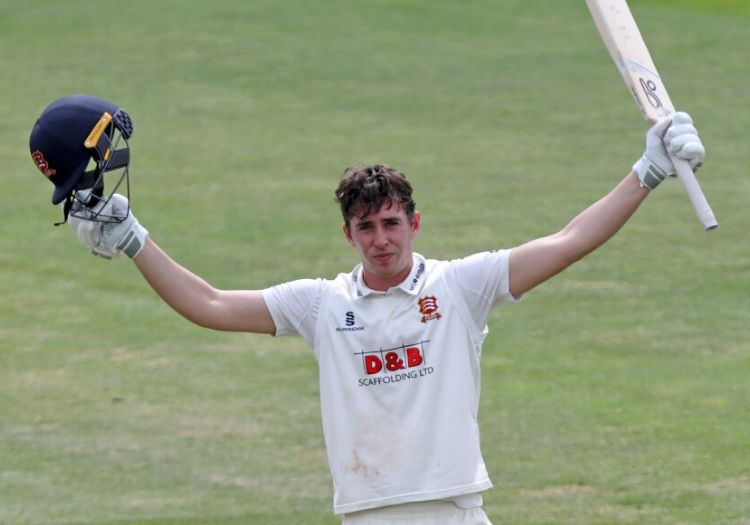 Dan Lawrence will never forget where he came from. Chingford Cricket Club is home: where the foundations were laid for the cricketer he has since become, where his father still works as groundsman, where he returns to whenever possible for a reminder of his beginnings.
He lived in a house on the ground until he was 13 and his name takes pride of place on a page on the club's website devoted to those who have lived their cricketing upbringings at Forest Side, before graduating to greater things. His name sits alongside those of Doug Insole, Robin Hobbs and his long-time teammate Jamie Porter.
He is one of their own in the notion's truest sense – the kid who flew through the ranks; a constant presence around the place, always hitting balls and working at his game with an ultimate destiny in mind. Even now, as something of a marked man, he can still see parts of his current self in the teenage boy whose days were spent in the Chingford nets.
"I reckon that's why sometimes I might play peculiar shots and I might look a little bit unorthodox," he says. "I played around with a lot of things when I was younger. As soon as I started, I loved it instantly.
"I've always wanted to be a cricketer, and so school was always a bit of a sideshow to that. The club was a great place to start and to learn a few bits on the job and in the nets on my own. I had no other choice but to hit cricket balls, I suppose."
And even amid a sporting standstill brought on by the coronavirus crisis, the simple facts of Lawrence's rise have been inescapable. He arrived back in the United Kingdom to significant fanfare after a starring role in an unbeaten England Lions tour of Australia: 11 wickets at 23, 498 runs at 98.6. No more questions, your honour. Consider the door battered down – and then some.
His winter had begun at the Abu Dhabi T10, rubbing shoulders with regulars of the franchise circuit and absorbing all the advice he could glean from Shane Watson and Kieron Pollard. His Lions trip – worth it though it was – came at the expense of a Pakistan Super League deal with Karachi Kings. His stock is soaring: word has got out.
It is a lot to take in at 22 years of age; it was only seven years ago that he made his first team bow in the Essex Premier League as an opening batsman in his mid-teens – a competitive, challenging environment in which to test out the cojones of any highly regarded prodigy. Looking back now, 10 first-class hundreds later, it only steeled him for life as a professional cricketer.
"It helped massively," he laughs. "It helps being surrounded by adults all of the time from a really young age. In the county dressing room and every dressing room that I've been in, older blokes enjoy getting stuck into the youngster. I think I learnt that from quite a young age – how to be respectful when you need to be and also how to have a laugh and a bit of banter when the time is right.
"I think it did help that I played in the first team really young. Everyone likes a little yatter and has a little chirp at you, especially being in the Essex league. And then, once you get used to that, when you go into first-class cricket, as long as you believe that you're good enough, I think your natural ability will take over and you try to block out all the nonsense that comes with it sometimes."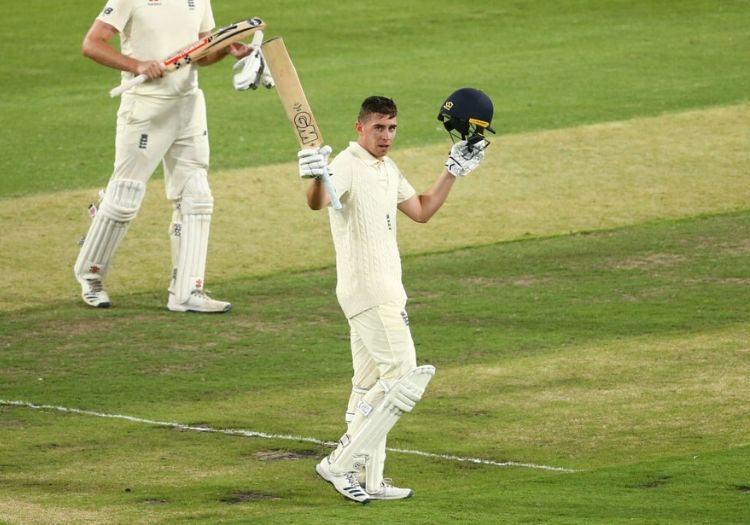 Lawrence averaged 98.6 with the bat on England Lions' tour of Australia
Lawrence's entrance into the county game is by now a well-told story: a debut against Kent, followed by a maiden hundred a week later against Surrey at The Oval – a knock of 161 that made him the County Championship's third-youngest centurion of all time. It was only an injury to Tom Westley and Ravi Bopara's Indian Premier League commitments that had opened up a spot for the precocious 17-year-old in the first place.
"It was just such a good wicket," he recalls. "I remember it so well. It was a typical, traditional Oval wicket. I remember being dropped on about ten at mid-on – an absolute goober. I think it was Gareth Batty. And then I went on to get a hundred. I think it was just supposed to happen.
"But it didn't really give me that much expectation because I knew that at that stage if there wasn't an injury, then I probably wouldn't have played. I was just playing freely; I didn't play all the games that season. I only played about half, which was a really good learning curve for me – just to see what it was all about.
"I didn't think I was that great back then, but I just managed to nudge and nurdle and crud a few to get my runs. I was very raw. I actually feel like it's taken me 70-odd games now to work out my game really well now.
"I sort of feel like this is the best I've ever felt, which makes this whole situation even more frustrating – not being able to go out there and put some runs on paper and win some games for Essex."
He adapted his setup subtly in September ahead of the penultimate game of Essex's title-winning campaign against Surrey – against whom, by the way, he averages 65.4 in 12 first-class innings.
Until then, he had gone without a century in 2019 as Chelmsford's surfaces made for challenging company.
A shift away from his long-term trigger movement, however, saw him make 147 in a comprehensive victory. It is a performance of which he is immensely proud; no one has found run-scoring easy at Chelmsford in recent times. "Definitely," he adds when asked whether – in the mind, at least – runs there count for more.
His previous technique – pushing himself forward as the bowler leapt into his gather – had served him well since working with Matt Walker, then Essex's academy coach, back when he was just 15.
Perhaps the most exciting aspect to Lawrence is that he still feels as though he is learning about his new approach. It has only been eight months since he made the change – a significant alteration for any batsman, whose entire sense of composure is built around a natural feeling of comfort at the crease. There is an intrigue even from himself about how he might fare – across all formats – when he is fully at one with his new base.
"I wasn't happy with where I was at and then I just thought: 'Sod it, for the last two games I'm going to just try standing still,'" he explains. "But apart from that, I've never changed the trigger – I just thought I'd try something new. Thankfully, since I've swapped and started standing a bit more still, I've scored a lot of runs more consistently.
"At the moment, I'm pretty glad I made the change. It took a lot of hours – a lot of hours – before that Surrey game. I still think I'm nowhere near where I actually want to be with it, which is promising because it feels really good but I still feel like there are improvements that could be made. It did feel really unnatural to start and then a couple of things just clicked and it felt brilliant from there."
The question to Lawrence, then, is simple – and threefold. What does he make of himself right now? How would he describe his own game? In his own mind, what does he want to be?
He pauses for a moment to give himself time to consider. "When I'm playing well in T20 cricket, I feel like I can be really creative and I really enjoy doing that," he says. "But the more four-day cricket that I've been playing, it's probably the more orthodox that I've actually got in the last six months.
"It's just been tightening up a few areas that needed to be changed and then allowing myself when I'm in to play the sort of shots that I've wanted to play. It's just learning how my own game works best, but I feel like I'm getting there.
"In four-day cricket, I think it can be quite varied. Generally, at Essex it's quite tough work and you have to be quite proactive because the wickets have been very challenging over the last two years and it has been really hard, so sometimes you have to be ultra-positive and sometimes you have to dig in.
"I still see myself as someone who can bat for long periods of time and that's what I try to achieve every time. But then, I find that with my game I can adapt quite easily and be quite aggressive. Ideally, the way that I'd like to play is to bat for long periods of time and get hundreds off 200 balls and things like that. That's how I want to play my cricket."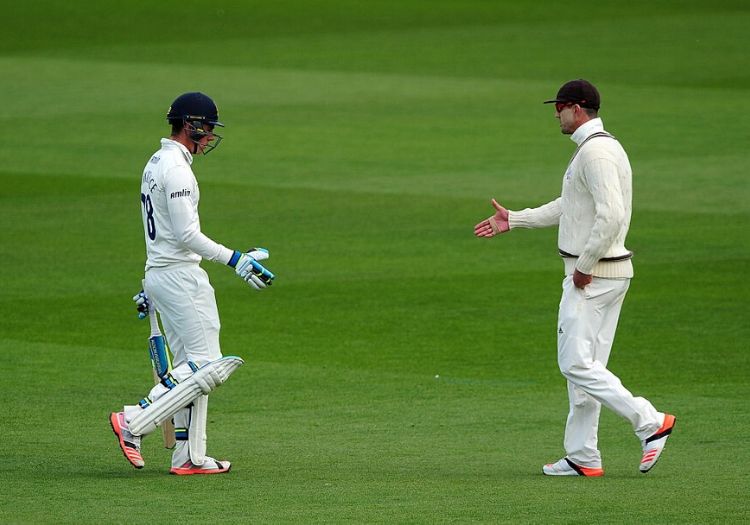 Lawrence became the third-youngest County Championship centurion back in 2015, with Kevin Pietersen among those to congratulate him
There is a maturity to Lawrence that belies his years somewhat; it is, perhaps, what 149 first team appearances by the age of 22 does to you. He points, too, to the Essex dressing room – a who's who of elder statesmen and role models that has been adjusted only delicately in the five years since he arrived on the scene.
James Foster was his first captain, Ryan ten Doeschate – "a brilliant, selfless character to learn from" – his most recent. When cricket resumes, that mantle will be taken on by Westley. On his 2015 debut, he could look up to the experienced pair of Graham Napier and David Masters, as well as the overseas talent of Jesse Ryder. Even now, he can call upon the ageless class of Alastair Cook and the excellence of Simon Harmer, with whom he is keen to work more closely with to develop his off-spin.
And here's the thing: for all the talk of a burgeoning talent established in his county side and knocking on doors higher up, he remains something of a novice. At 22, he would have every right not to be sure of what comes next or of where he sees himself. In the team that clinched the title at Taunton last September, only Sam Cook was younger – by just three weeks. Only Cook and Aron Nijjar have played fewer first-class games. It is easy to forget all that.
Instead, he is taking it all in his stride.
"If there ever is that sort of expectation on you, it is more of a privilege, isn't it?" he adds pensively. "It's nice to have that little bit of extra pressure and I feel like it's something that I've always dealt pretty well with. It's not something that's ever really phased me that much. If your teammates back you and believe that you're a really good player, then that's the only justification that you really need."
Lawrence thinks back to his debut and to Essex's tightknit resolve. He had already played with Porter at Chingford and against Browne's South Woodford in league cricket when he first stepped into the first team environment.
"I think we pride ourselves on being very welcoming to younger lads who come into the team," he reflects. "It actually wasn't that hard for me; I remember Foz being really good. As you do when you first walk into a team, you tend to stick to the people you know a little bit and then I gradually got to know everyone else, but I think it's a really good strength of our club – whether that's overseas players or youngsters, we try to make it a very easy environment to come into and it's been like that ever since I started."
He describes the club's curtailed pre-season tour of Abu Dhabi as "the first time that I ever felt not old but where there were a lot of people who were younger than me".
It is interesting to hear Lawrence talk about his age. He reckons semi-jokingly that his capacity to play the youth card is reaching its end, and he talks openly of the increased responsibility that he is keen to take.
When Essex next play in red-ball cricket, it is eminently plausible that neither Bopara nor ten Doeschate will be present. Bopara, certainly not – he has moved on to Sussex. Ten Doeschate, having handed over the captaincy at the end of 2019, turns 40 in June and is in the final year of his contract. Their combined absence will leave a hole, no doubt – they have accumulated 20,457 first-class runs for the county combined.
Ten Doeschate reminisced to The Cricketer last month: "The centre of the team has shifted. It's no longer James Foster, Ravi Bopara, Ryan ten Doeschate, Graham Napier as it was five years ago; it's now Tom Westley, Dan Lawrence, Nick Browne. And it five years' time, it will be different again."
It is a gradual swing that Lawrence has felt. He explains: "I think I've got to the stage now where I've got to take a lot of responsibility and try to be the mainstay of our top to middle order for a number of years with the people that we have around us.
"Runs is the currency, isn't it? I think that responsibility is just trying to score as many runs as I possibly can over a long period of time. And working with any youngsters or anyone just starting out as well – if they ask me any questions, I can help out with that.
"We've still got a lot of experienced players, so I'm sure as a county we'll be fine. We're blessed with a lot of young talent and a lot of young batters coming through, who will hopefully be able to fill the same spots as some of the older guys."
As for those starting out in their careers, how does the 22-year-old think he is seen?
"I really wouldn't know," he chuckles. "Hopefully they'd see me as someone they could come to and have a chat about anything when it comes to fitting in with the team or any opposition bowlers or how to go about things. But I never try to play the big dog or the senior card with any of them."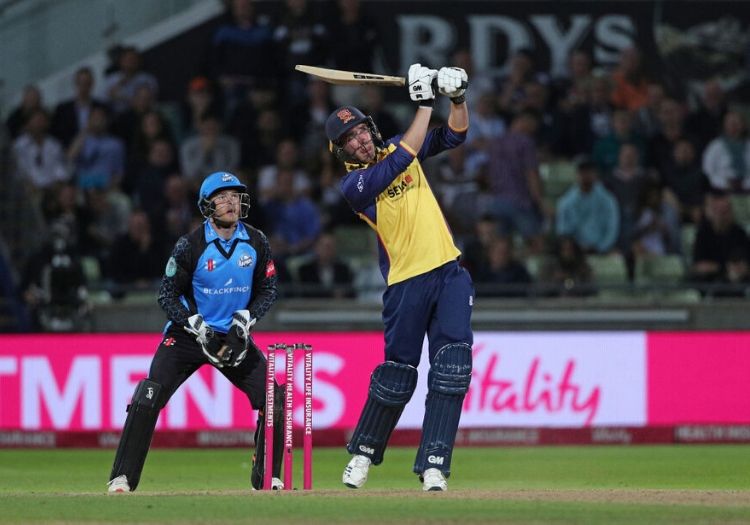 Lawrence played a key role in Essex's T20 Blast win in 2019
He is impressive company, speaking before Essex's players were placed on furlough amid the ongoing uncertainty – mature and thoughtful, detailed and engaging in reflection on his rise. Like so many for whom club cricket is their summer, he lights up at the mention of Chingford.
"Everyone is in the same boat," he stresses of the inevitable frustration that has come with this period. Few were better placed to push for an England berth back when this season was preparing to be like any other; his own stock has never been higher – after all, consecutive hundreds in Australia will never go unnoticed. If international cricket does take place this summer, it is hard to see quite how Lawrence wouldn't be part of it.
ECB performance director Mo Bobat admitted in early March that he had been "a player of potential in our minds for some time. I remember him being in my Bunbury Festival team.
"The thing he's hopefully done is prove to himself and others that he can score the volume of runs that he has scored and impact games the way he has in the way actually many of us believe that he was capable of."
As for Lawrence himself, it is four years since he represented England at under-19 level – "I found it really exciting at the time just getting all the stash," he recalls. "It actually feels like quite a long time ago now, but it was a brilliant experience."
Dreams of an England future are only natural. He has spoken to Alastair Cook on occasion "just to see how he thinks I'm going" with the bat – hardly a bad judge.
"If I did ever get the chance, I'd stick to my guns," he adds. "You get there playing the way you do so it's pointless changing as soon as you get into the environment. If I ever did get the call-up, hopefully the game that I've got would be good enough but if it wasn't, I'd try to adapt and learn as quickly as possible."
He is careful to qualify that answer with a pair of 'ifs'. There is a wise head on those young shoulders; for all the expectation, he has managed to keep himself level – Chingford has played its part in that regard.
He only managed one game for his club last year and was cleaned up for three as his side was bowled out for 92. Cricket: there is no better leveler.
"Obviously, it's tough with our schedule being so manic, but me and Jamie Porter play for them and we try to go back and play as much as we possibly can," he explains.
"It's brilliant to go back. The lads always get stuck into me; there's no ego there. It's always just a good laugh to go back and play with some old mates and generally enjoy a few drinks after. It just feels nice to go back, especially when it's at Chingford. It's just a nice environment.
"They would never let me get above my station. It's one thing that I've always tried to do, no matter how well I've done – trying not to change at all and just trying to enjoy everyone's success all the time and concentrate on myself doing well, and hopefully that's enough."
Save 30% when you subscribe to The Cricketer's print & digital bundle. £35 for 12 issues
Please ensure all fields are completed before submitting your comment!