The Liverpool Victoria Years: When Mushtaq Ahmed and Mark Ramprakash reigned supreme
NICK FRIEND: In Liverpool Victoria's first year as County Championship sponsors in 2006, Mushtaq Ahmed took 102 wickets and Mark Ramprakash scored 2,211 runs, averaging 105.28. Two giants of the domestic game, they explain their remarkable dominance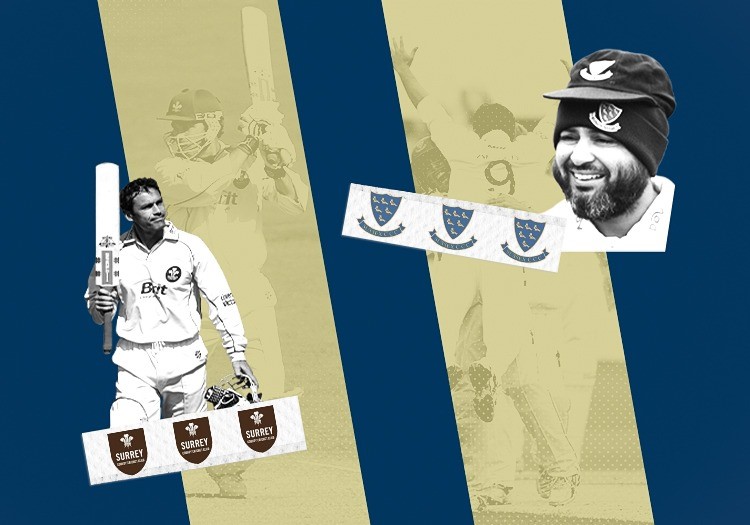 Fifteen years ago, shortly before the start of the cricket season, Chico Slimani spent two weeks at the top of the singles chart with It's Chico Time, the eponymous hit born out of the previous year's X Factor.
By July, England had been knocked out of the World Cup on penalties at the hands of Ricardo, the Portuguese goalkeeper. Come the autumn, Steve Coppell was the Premier League manager of the month.
The previous September, it had been announced that Liverpool Victoria would take over the title sponsorship of the County Championship for the following summer, initially on a four-year deal worth £1.2m, replacing Frizzell – a subsidiary of the insurance company – who held the rights between 2002 and 2005.
They remained in place until Specsavers took over in 2015, but now they are back on board for 2021 with the LV= Insurance County Championship, bearing a healthy dose of nostalgia. How time flies.
And so, to 2006: the dawn of the Liverpool Victoria County Championship, a competition won by Sussex in Division One and Surrey in Division Two but ruled individually by two colossi of the domestic game. Mushtaq Ahmed took 102 wickets, while Mark Ramprakash – aged 36 – scored 2,211 runs with the extraordinary average of 105.28.
They were county cricket's kings: this was the fourth year in succession – with a fifth still to come – in which Mushtaq would lead the wicket-taking stakes. Ramprakash would add 2,026 runs at 101.3 in 2007 – with ten centuries, accounting for 30 per cent of Surrey's runs over the campaign by himself. That, unsurprisingly, is a first-class record.
"Those two years were the best I batted in my career," he says. "I was physically fit and I worked hard on that. Mentally, I still had that drive, passion and hunger. I had all the experience tactically, I'd played against different bowlers on different pitches. My technique was bedded in at that age, and so it was about intensity and focus, but also being relaxed at the non-striker's end. I batted for longer periods without becoming fatigued. I think all those ingredients come together to account for why I had that period."
Mushtaq adds: "If I bowled 30 overs with my leg-breaks, wrong'uns, flippers and top-spinners – and if I landed the ball in good areas – then how long could batsmen exist against me? Even if they picked the wrong'un, they still had to play it. That belief was very strong. In one session I might not get a wicket but then in another session I'd get seven or eight.
"I always believed that you couldn't achieve if you didn't believe."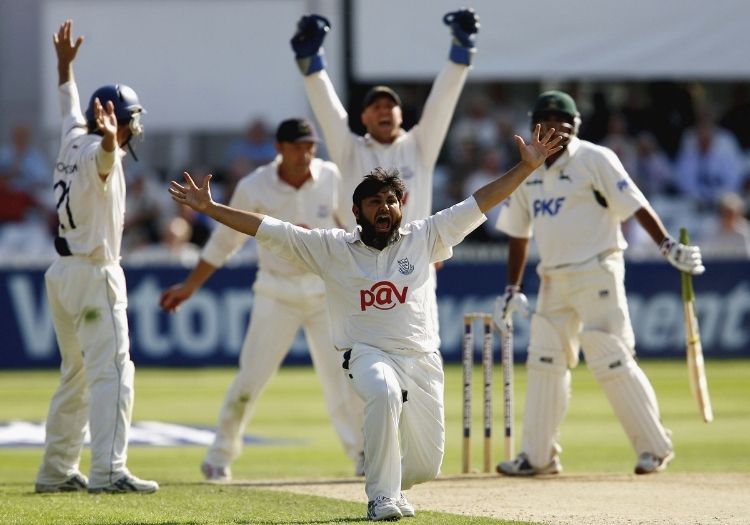 Mushtaq Ahmed took 102 wickets for Sussex in their title-winning season
These conversations are a rare treat, full of little nuggets that help to understand quite how both men enjoyed such dominant longevity.
It is little wonder that in their playing retirements they have enjoyed successful careers in coaching, with so much wisdom to go around.
Ramprakash equates his mindset through 2006 to the liberty felt by batsmen after surviving a dropped catch. "It's almost like you taste death," he explains. "Very often, people play better afterwards. I think my attitude was one where I had a little bit more freedom to just go and enjoy myself."
His recollections of the season are bewitchingly vivid: for those at Surrey, 2006 followed the fraught discontent of the previous year. Ramprakash had experienced much of it as captain, with Mark Butcher injured. A ball-tampering incident led to an eight-point deduction, and it returned to bite the county when they were relegated by a single point.
Head coach Steve Rixon departed and Ramprakash recalls feeling "disappointed and disillusioned" at how events had transpired, even if he still averaged 74.66 in the process. Unusually, he took a complete break over the winter simply because he "hadn't felt like picking up a bat, practising or having an indoor net", and it took a meeting with incoming head coach Alan Butcher to galvanise him once more.
Having joined Surrey to compete for trophies, he had won all there was to win: Benson and Hedges glory in 2001, County Championship success in 2002, inaugural Twenty20 winners in 2003 and a NatWest Pro40 crown in the same year. But suddenly, he found himself in the second tier, playing some of the best cricket of his life.
"To me, there was a noticeable gap with Division Two attacks not being able to sustain the same level of pressure throughout a day," he reflects.
"I used to equate it like this: we had played in Division One for the first five seasons I was at Surrey. We played the best four teams in the country twice – that's eight four-day games against very good opposition. When we went into Division Two, I felt we played – with respect – the worst four teams twice. That's eight games against teams that were struggling.
"If the pitches were decent, if you got yourself in as a batsman, you had the opportunity to go on and get a big score because it was four-day cricket. I was in a frame of mind where I was enjoying batting, but I also had that drive and desire to almost make up for the disappointments that I'd experienced with England. So, I just had a relentless attitude that I was going to be bloody-minded and look to go big whenever I got the opportunity. I retained that concentration and drive."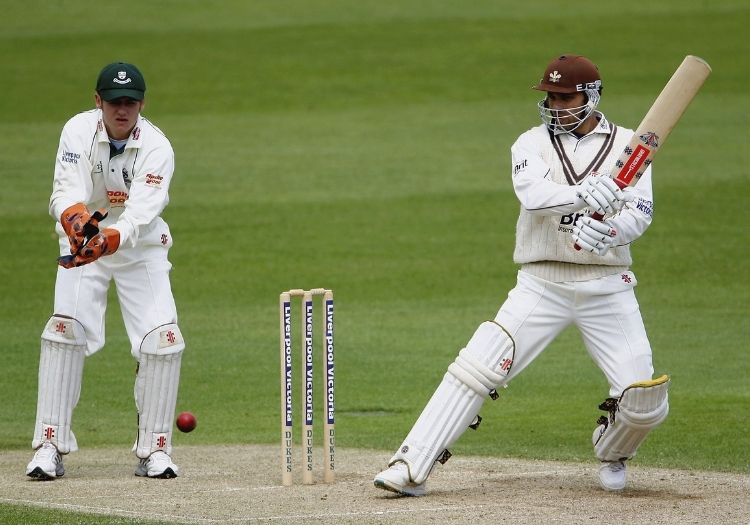 Mark Ramprakash passed the 2,000-run mark in each of the 2006 and 2007 seasons
The upshot? Scores of 113 against Leicestershire, 292 against Gloucestershire, 118 and 196 against Worcestershire, 156 against Glamorgan, 301 and 155 against Northamptonshire and 167 against Somerset. All told, he came to the crease on 24 occasions and passed fifty in 17 of those. He was dismissed before reaching 30 just four times but not once in single figures.
And as his invincibility wore on – not that he ever allowed himself to see it that way – opposition sides increased their desperation levels. "I think a lot of the teams felt that they had to get me before I got to 25," he says. "Some of them pushed the boundaries and really went hard at me, appealing and various other things. But once I got to 30 and got myself in, a lot of them backed off and then I was a bit more in control. The longer I batted and put on partnerships, they would start to realise they might be in for a long day!
"I got told very early on in my cricketing journey by my dad that every day is a new day, so you had to play yourself in and go again. In that 2006 season, there were several occasions where I got to 30 and I thought: 'Well, it's up to me now,' because I knew the conditions, I had seen the bowlers and I felt in and set for a big score.
"I still felt like I had to work hard to get in, but there were just occasions where I remember thinking that as long as I kept my concentration and didn't get anxious or get too far ahead, then I felt like I was in control of events. That's a nice place to be!"
Mushtaq was part of a club on a different curve: Sussex had already been county champions in 2003, when he claimed 103 wickets. In the year of Surrey's relegation, the Hove county finished third, just 13 points behind eventual champions Nottinghamshire.
But in the Pakistani legspinner, Sussex held a trump card – not only on the field, but away from the action as well. Alongside captain Chris Adams, former Zimbabwe batsman Murray Goodwin and county stalwarts Robin Martin-Jenkins and Richard Montgomerie, he was an experienced, sagacious head to guide a group of impressionable younger players, including Matt Prior and Luke Wright.
In his free time on days off, he would invite them to his house for lunch to talk cricket. "If they had a bad game or two, I was there to share my experience of how I came out from those periods. Those were the things that helped us to win trophies," he explains.
"I remember getting very tired mentally and physically when I'd get back to my family because I'd give everything in the dressing room. Being the overseas player, they expect you to take wickets, but my role was also to support people and to try to tell them the right thing to do. People used to trust me. I used to think very carefully about what I was going to say and how we were going to win matches."
Mushtaq dismisses Ryan Sidebottom for his 100th wicket of the season
His love for the club is undying, having turned down big-money offers from domestic rivals to remain where he and his family felt happiest. So much so that he won't ever rule out retuning to Hove in a coaching capacity.
He speaks joyfully about his memories of 2006, reflecting openly on the role of religion in his life and how he was able to pass the messages of Islam to his teammates in order to foster the composure needed to sustain a title charge.
"When people get tired and frustrated, they make wrong decisions," he says, reminiscing thoughtfully on a community he describes as akin to his family.
"I would pray five times, which would calm me down – I would think about the bigger picture of life rather than just winning matches. Those things took pressure off people. When you know that the outcome is not in your control, but you also know that the process is in your control, if you go through the process and still have a bad game, then that doesn't mean that you can't win trophies.
"I used to remind people that Allah is everything. Whatever I learned from the Quran, I used to share those things with the guys, and it used to take a lot of pressure off them."
That calming approach paid dividends. But in the advancing years of their cricketing lives, there was more that fuelled their supremacy. For Ramprakash, his unflinching appetite for runs was founded on a "love of the game" but amplified by the frustration of his international career.
After touring New Zealand with England in 2002, he was never picked again. "Duncan Fletcher came to see me at the Oval, where I got a hundred against a very good Lancashire attack," he recalls. "He didn't say too much, but I think he had basically put a line through my name. That was in April 2002, so I didn't really have that to aim for anymore. In a way, it took that out of the equation. I never thought about England after that."
Briefly – though infamously nonetheless – his name returned to the reckoning in 2009, with England on the lookout for an emergency No.3 ahead of a winner-takes-all Ashes Test at the Oval. Ultimately, chief selector Geoff Miller opted for Jonathan Trott over the temptation of Ramprakash, then 39 but a summer on from his hundredth first-class century and still churning them out.
Subsequently, Miller went to meet Ramprakash at Colchester, where Surrey were in action against Essex. Somewhat ironically, Ravi Bopara – the man left out by England to facilitate talk of a remarkable return – made 201 in a nine-wicket win.
"He came to see me after they had already made the selection," Ramprakash says now, looking back. "He wanted to have a chat with me, and I found that very strange. He basically said: 'We didn't pick you, we didn't think it would be good for you and it would be a lot of pressure.' And I said: 'It's interesting that you want to chat about that now, when you've already selected a team. Why are you here? Surely you would have come to talk to me before you made the selection?' I thought that was a bit bizarre."

By then, however, he had long since adjusted his pinnacle and recalibrated his sense of purpose. He faced 3,747 deliveries in 2006, outscoring HD Ackerman – his nearest competitor – by more than 400 runs, with Goodwin, John Crawley, Darren Lehmann, Andy Flower and Dale Benkenstein the other five men to pass 1,500 first-class runs. He would hardly have been the first player to watch his domestic career fizzle out once the stimulus of international cricket had disappeared. So, how did he stave off that scenario?
"It's a great question," says Ramprakash, who points to Graham Gooch and Steve Waugh as others who finetuned their games with age. "A lot of my colleagues didn't understand what drove me at that time. I felt that I was still improving as a player. But the second thing really had to be the fact that I was very lucky to be a professional cricketer. To retain a love of the game was very important."
Mushtaq's incentives were similar: "Every season, I turned up and always put myself in that environment mentally that I was going to be the best bowler of the season."
In his case, though, the presence of Shane Warne down the road at Hampshire yielded extra inspiration.
"I never told my teammates I was thinking like that, but after every game I used to read the scorecard and I'd know how many wickets Warne had taken," he explains, "so I knew where he stood in the wickets column and where I was standing. I always compared my wickets to his wickets or whoever was playing in those days. That made me stronger.
"I always believed that if you wanted to become the No.1 spinner, then you had to challenge the best in the world. So, I always believed that I was going to take more wickets than Warne and that I was going to win a trophy for Sussex because I was the best. Those were the things that got me motivated.
"I used to bowl many overs, but those challenges never made me tired. It was the same with Muralitharan and Kumble when they used to play county cricket. I was always thinking about how to take more wickets than them, so those things were always in my mind."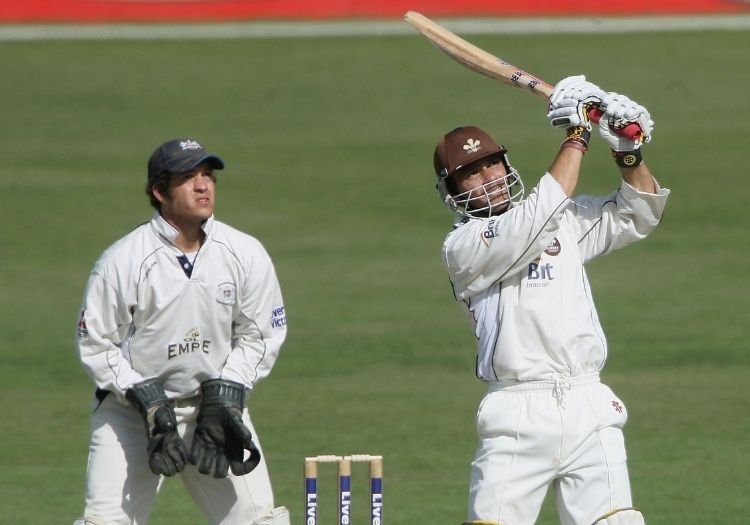 Ramprakash made eight centuries in 2006
Warne played two games fewer than Mushtaq in 2006 and ended up 44 wickets short of his Sussex rival: he claimed 58 scalps in 13 games at 27.08 apiece. Those figures merely highlight Mushtaq's astonishing record: among his 102 victims were 11 five-wicket hauls, 118 maidens and a remarkable haul of 623.5 overs in 15 games.
Thus, the same question as to Ramprakash, but to him. How?
He chuckles before answering: "My wrong'un was my weapon but, at the same time, I used to bowl a good enough leg-break, which created people's doubt. You have to know your game, and I knew my game.
"If a batsman was playing for my wrong'un, then what line do I have to bowl? What pace do I have to bowl? How much of my leg-break do I have to show him so he can nick it? During the season, a lot of people would get caught at slip or bat-pad to my leg-break, because they were playing every ball like a wrong'un. I knew what I was doing. I knew what kind of line, length and angle I had to bowl with each batsman. Even two or three leg-breaks were enough to take their mind away from the wrong'un, and then I think that wrong'un used to get the wicket."
As with Ramprakash, who simply knew how to outlast his competitors, Mushtaq had them on a string. They would second-guess themselves, some to the point where they had given him their wicket by the time the ball left his hand.
Much of that knowledge came from a prior stint in county cricket with Somerset, where he learned the oft-perplexing art of bowling wrist-spin in the English summer. Perhaps it is this nuance that is so exceptional in amongst Mushtaq's feats – that he enjoyed so much success in a competition that, for a significant portion, is not designed to assist his kind.
The suffocation of the County Championship to the corners of spring and autumn is far more extreme now than it was in 2006, when Sussex played 10 matches between June and September. Nevertheless, he had already claimed 42 wickets in the six matches before that point.
"I never tried to spin it hard in the middle of May," he says. "When the weather was cold, all you had to do was land it in a good area and not try to spin it hard or bowl a magic ball. That helped me. If we were playing two or three games in April, I was only thinking about taking 12 to 15 wickets. That was not a great goal to achieve, but I only had to think about one thing: not to spin it hard, just to bowl good overs and land the ball in good areas for the batsman to make a mistake.
"If my fingers are cold, then make sure that the batsman's body and legs are also cold, so their footwork can't be great straight away. So, I'd bowl it in a good channel and let the batsman make a mistake. Then, when June and July would come, I used to spin it more because my body and my fingers were warm."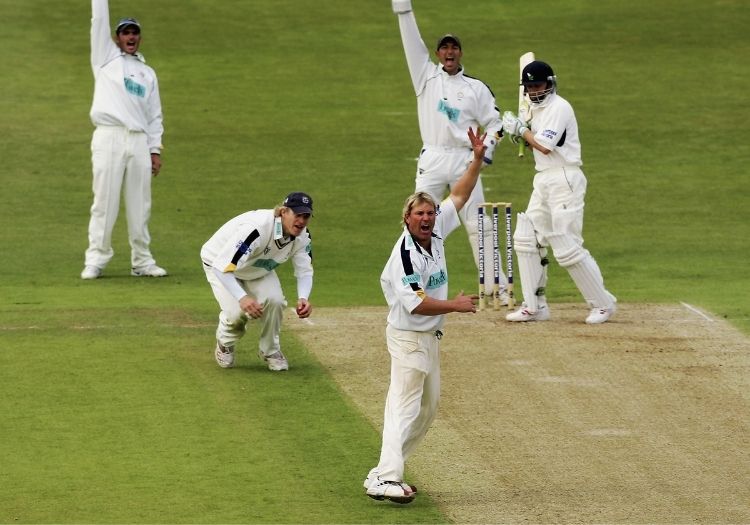 The presence of Shane Warne at Hampshire provided extra motivation for Mushtaq
Ramprakash approached the diversity of conditions with a comparable degree of pragmatism. He found goal-setting to be inhibitive early on in his career, so never set himself exact targets for each season, but saw 1,000 runs as a starting point.
"I always felt that if I could have 10 games where I got 100 runs in each game, that would get me to 1,000 and then I could look beyond that," he expands. "It might be 70 in the first innings and 30 in the second.
"That was a little bit of my mindset, but sometimes on a difficult pitch, you'd done well to get 60 runs in a game. Other times, you'd have good pitches and you wanted to cash in for a rainy day. Mike Gatting was very good at that, speaking about getting runs in the bank."
As for the challenge of facing Mushtaq, he laughs at the prospect of having to describe his game plan against him – a good friend and "a lovely chap". They had come to know each other well in 2002 when Surrey signed the leg-spinner – then playing league cricket in Staffordshire for Little Stoke – as a short-term overseas replacement for Saqlain Mushtaq.
They didn't come up against one another in 2006, finding themselves in different divisions. But Ramprakash recalls: "When I first played against him, I really didn't have much of a clue. I had no clue, I wasn't looking hard enough at the hand to read it, so it was all a bit of a blur. I had plenty of opportunities where I got it wrong! I guess, if you play someone more often, you start to get a bit more of a game plan and that develops."
The first time he faced Mushtaq was at Headingley in 1992 during his fourth Test between England and Pakistan. He was trapped in front for a three-ball duck.
"He was very tricky at Hove – in the 1980s the wickets used to bounce a lot, but when Mushy was there it didn't bounce so much. He would trap a lot of people because of the lack of bounce – and so, he was very difficult to play off the back foot. That's when you ended up lunging forward and getting stuck on the crease. That was very tricky. You were best playing him from the other end!"
Naturally, Mushtaq returns the favour: when the pair resumed battle in 2007, Ramprakash made 266 not out. "Ramprakash was very good," he says, listing those who played him well in county cricket. Lehmann, Owais Shah, Stuart Law and Brian Lara also make an elite cut. 
Not that he was ever fazed: "One thing I always knew was that I had to take challenges. I always used to tell Chris Adams to give me the ball when the opposition's best player came in. That was the only way because I liked taking challenges – if you get the best players out, then I think you can get other players out also.
"Every time Sangakkara or any batsman used to come up against me, I used to think that this was my time to get him out. Maybe it would take five overs, maybe they would get a hundred. But we would still win the game – I never gave up: even after a hundred, if I could get him out then I could still win a game for my team."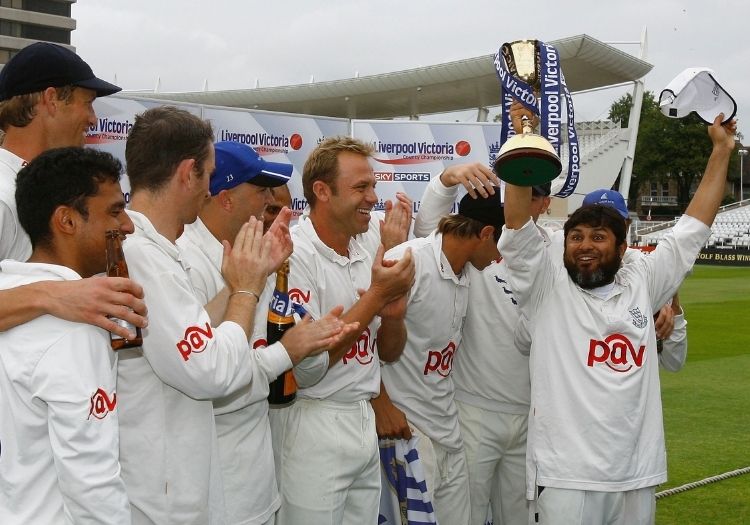 Sussex lift the Liverpool Victoria County Championship following a resounding win over Nottinghamshire
It brings Mushtaq to the crowning glory of that year, the week that won the title in late September at Trent Bridge. Nottinghamshire needed just two points from the fixture to avoid relegation, while for Sussex a victory would guarantee silverware.
Inside three days, their mission had been accomplished, with their brilliant overseas import to the fore. Nottinghamshire didn't survive, relegated by half a point.
On the back of a mammoth score batting first, Mushtaq took four wickets in the first innings and nine in the second, so close to the holy grail. "If Allah wanted me to take ten wickets, nobody could stop that," he insists.
For a long while, it seemed inevitable that it might just happen, only for James Kirtley's dismissal of Paul Franks to prevent the perfect fairytale. In the end, 9 for 48 would have to suffice.
But Sussex were county champions and Surrey were promoted as Division Two winners, equally indebted to two of the great county cricketers.
So, welcome back, Liverpool Victoria: guardians of a special era, when Mushtaq Ahmed and Mark Ramprakash reigned supreme.
Subscribe today and receive The Cricketer's centenary issue – six issues for £19.21. Click here
Please ensure all fields are completed before submitting your comment!