Chris Schofield and the joys of reminiscing
NICK FRIEND: The leg-spinner opens up on a career that featured a Test debut at 21 and a fall from grace at 25, before a second coming that peaked with a surprise inclusion in England's squad for the inaugural World T20 in 2007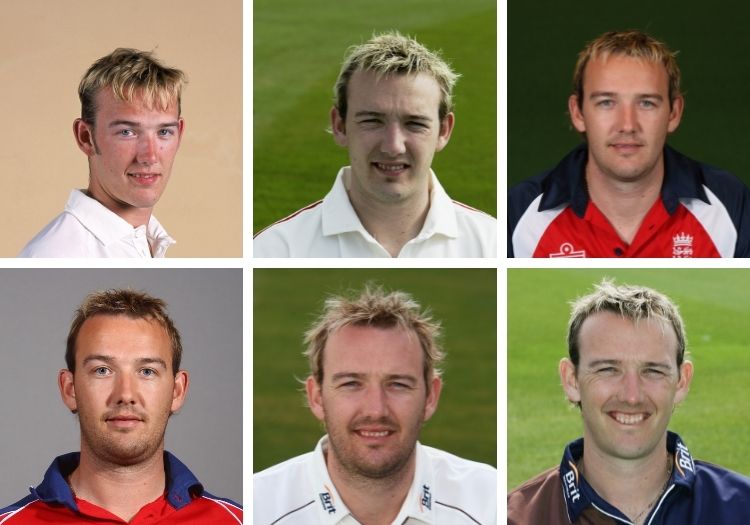 Chris Schofield has finished for the day at the warehouse where he now works, when he picks up the phone to reminisce about the inaugural World T20.
"I felt like I bowled really well," he says.
"I had Adam Gilchrist caught at long on with my second ball against Australia. We had the field up because we were losing the game, so we were trying to make them hit over the top, which they did with ease. I could have controlled my figures a little better if I'd put the field out, but they would have won either way, so we had to try to create something.
"Against South Africa, I got Mark Boucher out and had to bowl my last over to Albie Morkel – the first ball was skied up in the air with Paul Collingwood and Owais Shah running towards it, but they both left it, it landed on the ground and they ran two. The next three balls went for six into the Castle factory.
"[Against New Zealand] I bowled on a small boundary at Kingsmead. I got left out against India when Yuvraj hit six sixes, so I was quite happy to be left out of that fixture! But after my conversations with the management, I knew I'd bowled well, and I was very happy with how I was playing against the top players in world cricket again. I didn't feel out of place.
"After the journey I'd been on, I felt like I belonged."
Schofield never played for England again, but they are vivid memories of a glorious, personal vindication: through 2005 and most of 2006, he was unemployed, without a county. In 2007, offered a contract by Surrey – for which Schofield remains deeply grateful to Alan and Mark Butcher, who were coach and captain – he was the leading wicket-taker in the Twenty20 Cup, with 17 scalps at 8.82 apiece, and then a surprise inclusion in an experimental England squad that also featured Darren Maddy, James Kirtley and Jeremy Snape. It was a free hit, a reward for completing the long road back.
"I was just trying to find my love for the game again," he says. "And just trying to find my way back in the game. All I was asking for was an opportunity to play county cricket. For me, to be given that opportunity was fantastic."
Plenty has changed since then.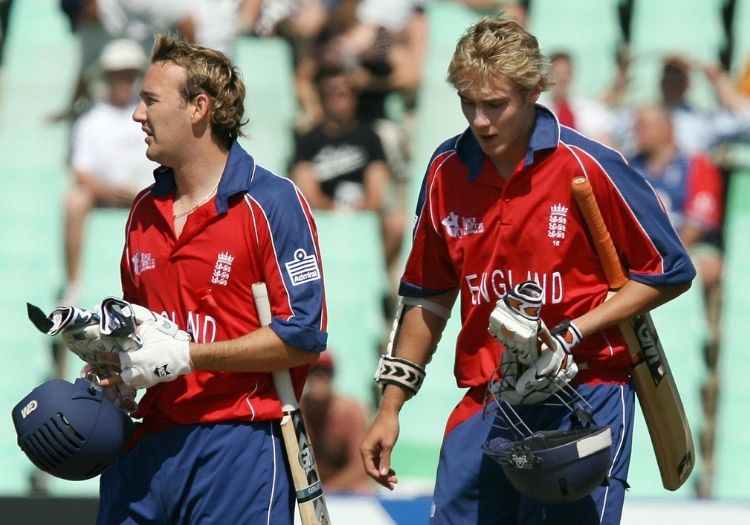 Chris Schofield and Stuart Broad in action during the 2007 World T20
"There are only four of us in here," he explains of the new day job. "So I literally organise the goods in and goods out now."
The pandemic has meant different things for different people. For Schofield, one of several young leg-spinners dubiously christened as England's answer to Shane Warne, it meant the drying up of corporate work.
"I needed a bit of extra income, so I took on this job and now I'm able to do this, and the corporate side is picking up as well."
2007 seems a long time ago: T20 cricket was established enough to warrant a global tournament but still sufficiently newfangled that no one quite knew how to go about it. There were even doubts over whether the BCCI would send an Indian team. England handed T20I debuts to Alastair Cook and Jonathan Trott earlier in the summer, before changing tack and calling upon a mixture of experienced domestic campaigners – the Twenty20 Cup was five seasons old by then – and two of the country's leading youngsters in Luke Wright and Stuart Broad.
To a degree, it was the birth of the T20 specialist, only too early to make a living of it, jokes Schofield: "You see the amount of wrist-spinners involved in T20, and I might have been in the frame. I was a good fielder, I could bat as well. But it is what it is."
His thoughts wander back to that tournament: "We were still trying to learn how to play. It was quite strange to see how people took to it."
Schofield's story remains unique. Perhaps Jake Lintott has come closest to replicating it, at least in part: he was rejected by his fair share of counties before his Warwickshire breakthrough but hasn't yet taken the final step. Simon Kerrigan, too, who is back in county cricket with Northamptonshire after his own struggles.
Schofield, meanwhile, was an England Under-19s cricketer at 16, recipient of Lancashire's most promising player award in 1998, 1999 and 2000, an England A tourist at the end of his first full season, a Test debutant in his second and the holder of a central contract, while uncapped, at 21. Two Tests later – against Andy Flower and Murray Goodwin, two great players of spin – he was on the scrapheap, discarded and finished as an international cricketer, until he found himself unexpectedly involved in a competition, the success of which would spawn the Indian Premier League.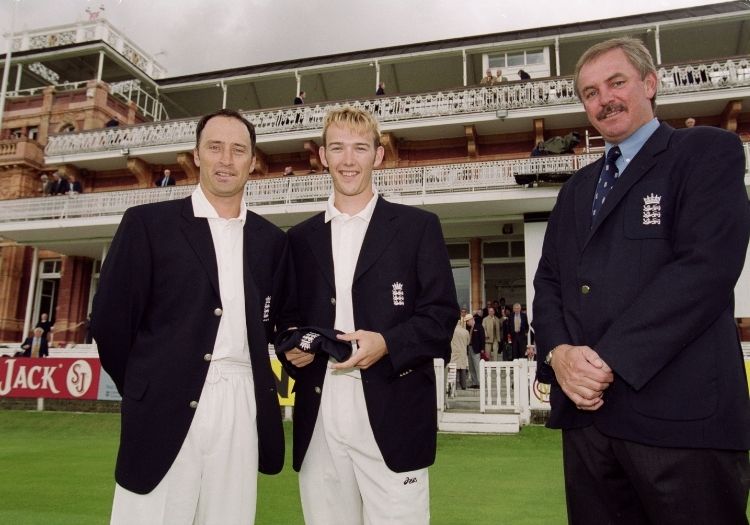 Schofield is handed his maiden Test cap by Nasser Hussain and David Graveney
In between, he had been released by Lancashire three autumns earlier, having "not reached his full potential", in the words of then-coach Mike Watkinson. He struggled with the ball, playing more as a batter in a team not without other spin options, and still wonders how he might have developed if he had been left to bowl: he took 39 County Championship wickets at 42.2 between 2001 and 2004.
A legal dispute followed, won by Schofield, that centred on the timing of the decision, which was deemed late enough in the year to have affected his chances of finding another club.
"It was a very stressful time," he says. "But I've found over the years that people are now well aware of their county contracts and where they stand, which is great. I wouldn't want any other cricketer to be put in that situation. I didn't think I'd play county cricket again; I didn't think counties would have me again because I was classed as a troublemaker."
And for two years, he was right.
"When I left and spent two years out of the game, I played club cricket on Saturdays and Sundays, Minor Counties on Mondays and Tuesdays, and then second-team cricket on Wednesdays, Thursdays and Fridays. I remember going through June and the first week of July – I went through 40 days of non-stop cricket. I didn't have a single day's break – every day, I'd hope for rain just to give me a little bit of rest. But I found my game again and I found my love for the game again."
It feels hard to imagine how a centrally contracted player in today's game could experience the same speed of decline. Initially, he had been promoted beyond his wildest dreams as English cricket's romantic, irrational craving for a leg-spinner reached fever pitch. He had impressed as a net-bowler in Australia during an Ashes trip and then joined an England A tour to Bangladesh and New Zealand, with Mike Gatting as coach, where he took 23 wickets and hit three fifties.

An inevitable call-up followed for the home series against Zimbabwe. Only, Schofield never took a Test wicket, though he didn't even bowl in his first appearance. In the second, he bowled 18 overs for 73 runs and made a half century, "so you can tell how flat it was".
Last summer, Mason Crane told the Two Hacks, One Pro podcast: "I don't think a lot of people want a leg-spinner – I think a lot of people want Shane Warne." And Schofield was undoubtedly a product of that environment: he was every bit as raw and inconsistent as could reasonably be expected of a gangly youngster with his inexperience. But he remains one of just three English leg-spinners to have played more than a single Test since 2000 and one of two to feature at all through the noughties.
"I'm great friends with Ian Salisbury, who had the same situation as me," he says. "We talked at length about the way to bowl, field placements and how to set up batsmen, but I don't think we really understood what fields were best or how to bowl or the pace to bowl at. I was put in the category of England needing a leg-spinner to win in Test cricket: that's what Shane Warne had done, so Chris Schofield could do it too. But I was only a young kid, who had played a handful of first-class games."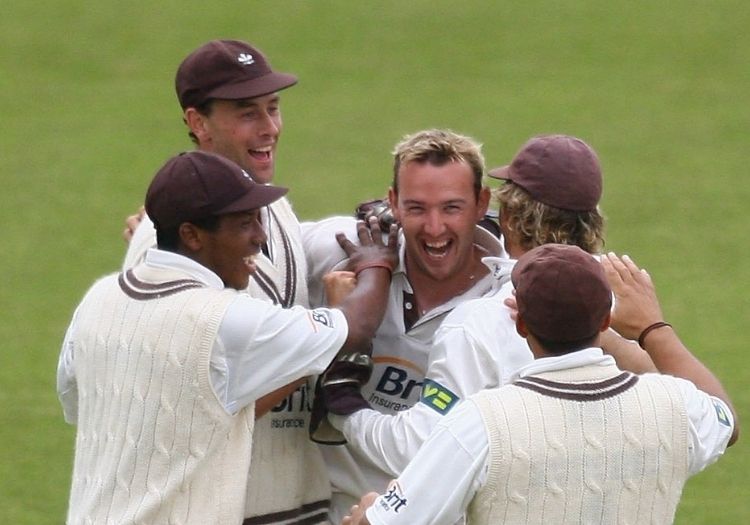 Schofield in action for Surrey, where he revived his career after his release by Lancashire
He has learned to live with his career, though, and be proud of it. "If you represent your country, it's because you're a good player," he says. It is typical of Schofield's story that just when he thought the stars might align in 2008, having come out of the World T20 in credit – only six spinners took more wickets – he broke his thumb in May. Others usurped him, and that was that once more.
"You do need a little bit of luck. Sometimes, you just need people to help you, you need umpires to give decisions, you need to bowl against the right batters to get your stats up, you need to be up the order to score runs, you need coaches to pick you."
When his time with Surrey ended, he moved back up north, where he has been ever since. "Unfortunately, I can't control any of what happened back then," he adds. But you sense Schofield is happy with his lot. He has even been back involved at Lancashire for the last three years, working with the girls in the Thunder academy. As they say, time is a healer.
The photo on his WhatsApp profile is of him posing alongside Brian Lara at the Road Safety World Series in India, where he was representing an England Legends XI. The irony of the title is not lost, but a strange tournament played out in two chunks immediately before and during the pandemic held a poignant meaning for Schofield.
He had to ask for time off work from the warehouse. "They were absolutely over the moon – they told me to go and do it," he says.
"It was televised, so a lot of the guys managed to watch it on TV. For me to be playing against the likes of Sachin Tendulkar, Yuvraj Singh and Brian Lara – just to be in their company was quite refreshing. I haven't been part of the circuit for a while now, but to be part of that was brilliant.
"My friends, family and new friends got to watch me, and they were excited to see me playing. My little girl is 11 now and my lad is five next week, so for them to come home and watch me on the TV, they were really excited."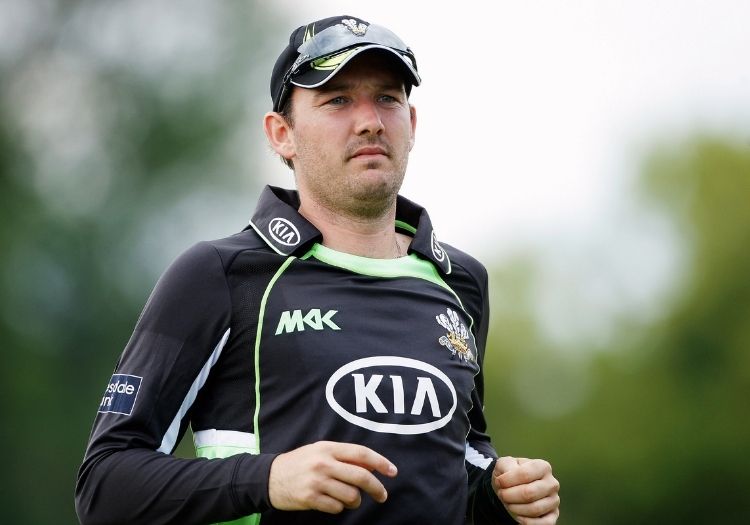 Schofield took four wickets in four games for England at the inaugural World T20, including those of Adam Gilchrist and Mark Boucher
Schofield was 32 when he played his final professional match, declaring on 456 wickets across all formats, including four at the World T20; his daughter was too young to understand any of it and his son wasn't yet born, but they have now watched him in England colours, fittingly as a legend, and both have started playing themselves. The same applies to his work colleagues who, even if they were cricket fans at the start of the millennium, could be forgiven for having missed his fleeting moments in the sun when they first came around.
It brings him back to where we began, satisfied at the end of a day's graft: "I've got a nine-to-five job now, so it's nice to still be able to do some of the corporate events, while coaching the up-and-coming kids who are hopefully going to be the future of the game.
"I've still got to put food on the table. I've got a job that's a couple of miles away; I'm able to be at home and take the kids to netball and football, pick them up from school and all these things that some parents don't get to do. I'm quite fortunate in that respect. I've got a fantastic family, who are very supportive. Life goes on."
Please ensure all fields are completed before submitting your comment!