WORLD CUP MOMENTS No.19: The day that Shoaib Akhtar cracked the 100mph barrier
When the landmark delivery came flying down, it was the culmination of an over that had threatened to do so throughout. The warmup act was a meagre 95.3mph, followed by rockets of 98.4mph, 98.5mph, 97.8mph and 99.1mph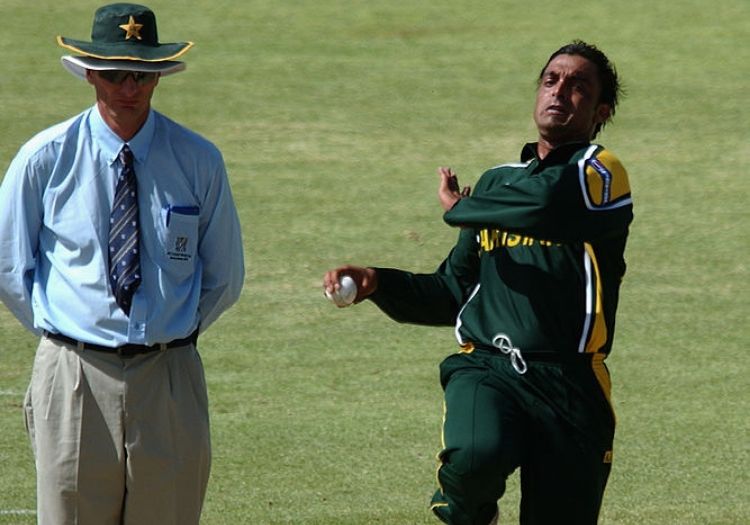 Nothing beats a world record. And as any batsman up and down the country will tell you, nothing beats reaching three figures.
And so it was, as Shoaib Akhtar hurtled in towards Nick Knight on 22 February back in 2003, that the global bowlers' union would – just seconds later – have a hundred of its own, 100.2 miles per hour, to be exact.
The 'Rawalpindi Express', as he was known – an affectionate nickname to his colleagues if not to fearful opponents, was reporting a good service.
There was always something about Akhtar's action and his sprint into the crease; whereas many of the world's top seamers possess repeatable, rhythmic motions, Akhtar's was a chaotic dash followed by a dramatic leap.
That he could rev himself up into such a frenzied fury as he approached batsmen with ball in hand meant that when the famous moment came, it was hardly a surprise that it was the Pakistani speedster responsible.
Pakistan were facing England at Newlands, Cape Town, at the 2003 World Cup. Knight, the former Warwickshire stalwart, was the unlucky man.
He was fortunate in a sense; after all, nobody had a better view of history being made than the left-hander.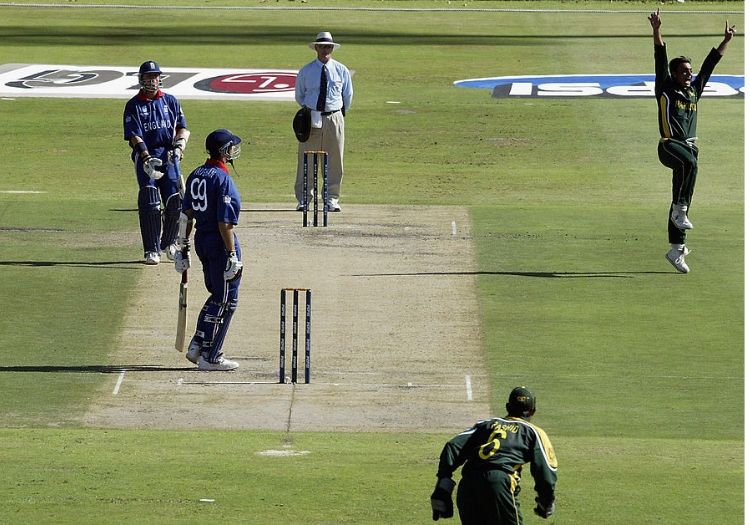 Akhtar dismissed Michael Vaughan later in the same game.
When the landmark delivery came flying down, it was the culmination of an over that had threatened to do so throughout. The warmup act was a meagre 95.3mph, followed by rockets of 98.4mph, 98.5mph, 97.8mph and 99.1mph.
That Knight was able to nudge the three-figure bullet away to square leg is almost quite amusing. Akhtar had looked over to the stadium's giant screen to be informed of its sheer velocity, which confirmed what he hoped.
Once that moment had passed, Akhtar – perhaps overcome among all the excitement – actually leaked runs in a staggering bowling attack. His nine overs cost Pakistan 63 runs; the other 41 were bowled by Wasim Akram, Waqar Younis, Saqlain Mushtaq, Shahid Afridi and Abdul Razzaq.
Quite the proposition for any batting lineup. England actually went on to win the game comfortably – a James Anderson-inspired bowling performance saw Nasser Hussain's side secure victory by 112 runs.
Despite this, the number – 100.2 – has stood the test of time. It remains a holy grail, a measure of machismo.
A raft of fast bowlers have tried – and failed – to replicate and outdo the Rawalpindi Express. It seems almost remarkable, given the athletes of today's game, that none of Brett Lee, Shaun Tait or Shane Bond among others have ever cracked the barrier set by Akhtar.
Could this year's World Cup change all that?
Our coverage of the ICC Cricket World Cup 2019 is brought to you in association with Cricket 19, the official video game of the Ashes. Pre-order your copy now at Amazon.co.uk
Please ensure all fields are completed before submitting your comment!