PLAYER RATINGS: Kohli and Buttler shine but it's a poor match for England's openers
India secured a comfortable victory in the third Test against England at Trent Bridge. Here, The Cricketer runs the rule over the individual performances of both sets of players...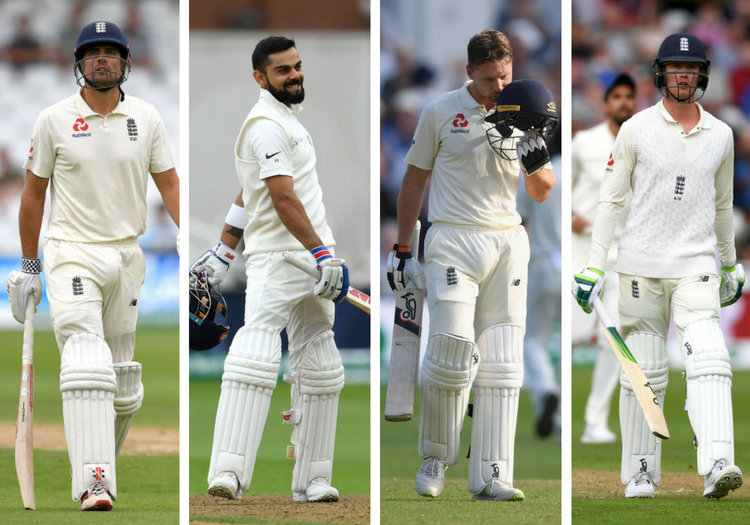 Left to right: Alastair Cook, Virat Kohli, Jos Buttler and Keaton Jennings
ENGLAND
Alastair Cook (29 & 17): Another difficult Test match for England's opener. In fact, since that double ton in Melbourne, it's been a difficult eight months. Class is of course permanent but England could do with some form from their stalwart. One terrific grab in the slips but spilled another. 3.5
Keaton Jennings (20 & 13): Two more failures with the bat and a couple of mediocre moments in the slip cordon. There is an argument for England to stick with an opener for more than a handful of games but the argument here is thin. 2.5
Joe Root (16 & 13): Dismissed twice in fairly similar circumstances, searching for runs outside his off stump. In fairly meagre form with the bat and appeared to run out of ideas at times in the field, as India's batsmen figured out how to settle in English conditions. 3
Ollie Pope (10 & 16): Loves to get bat on ball, and it has served him well in the County Championship. Telling the young man to pack away his natural game after it got him so quickly to Test level seems unfair, but his second-innings dismissal here was reckless. 3.5
Jonny Bairstow (15 & 0): A rare off-match with the bat combined with a nasty finger injury while wicketkeeping added up to an unhappy week for the Yorkshireman. 4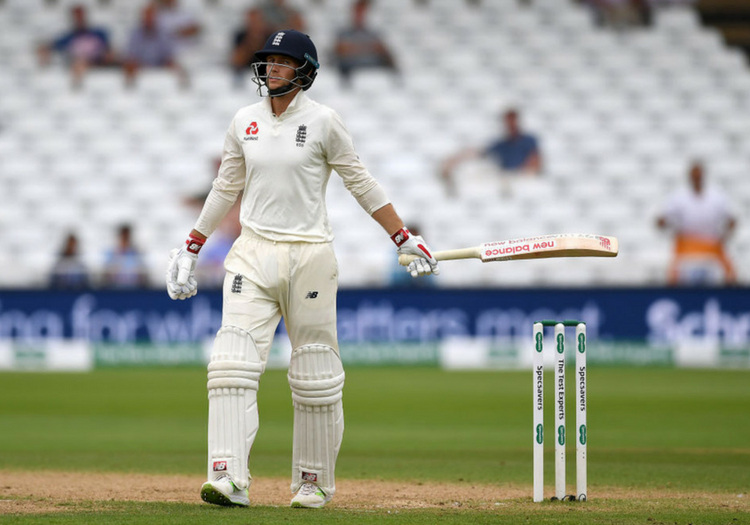 Joe Root had a poor Test with the bat
Ben Stokes (10 & 62; 0-54 & 2-68): Poor with both bat and ball in the first innings back after his acquittal of affray, but put that right somewhat by a resilient display in England's rearguard effort on day four. Showed he is more than just a stroke-playing bully with the bat. 6.5
Jos Buttler (39 & 106): Top-scored in both innings, kept well when called upon following injury to Bairstow. Batted with assuredness and responsibility, proving he has the assets to be a major player for England in red-ball cricket. 9
Chris Woakes (8 & 4; 3-75 & 1-49): An excellent burst with the ball on the first morning gave England early control which they then squandered. Done by the short ball twice in the match - an area to work on. 6.5
Adil Rashid (5 & 33*; 1-46 & 3-101): Was not able to maintain control of the run rate, going at over fives in the first innings and just under fours in the second. Still, took important wickets at important times and remains a danger as a strike bowler. Fun cameo with the bat when all was already lost. 6
Stuart Broad (0 & 20; 3-72 & 0-60): Down on his performance at Lord's and unable to produce the sort of gush of wickets that has defined his career. Did make the major milestone of 3,000 Test runs to go with his 400-plus wickets. 5
Jimmy Anderson (1* & 11; 3-64 & 1-55): Toiled hard through nearly 48 overs in the match for scant reward. Still has yet to get the better of Virat Kohli, despite luring him into dozens of false shots. Workmanlike if not incisive. 6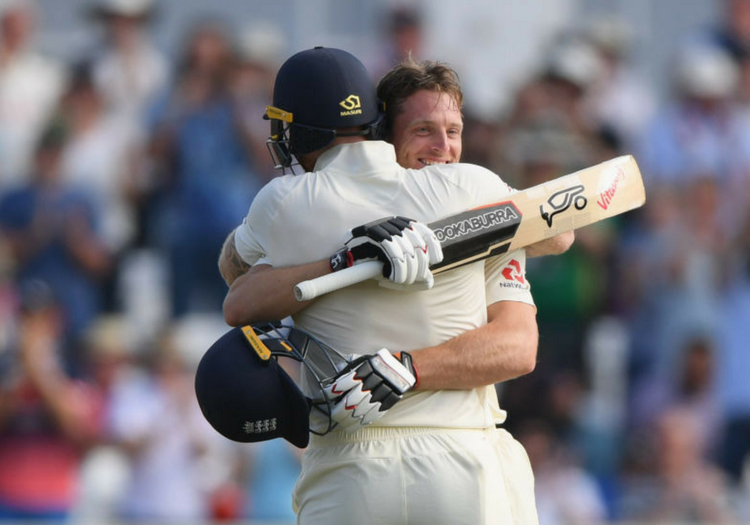 Jos Buttler celebates his century
INDIA
Shikhar Dhawan (35 & 44): Adapted his technique following his return to the side and with tremendous effect. More patient, more observant but still with the capacity to unleash a stunning flurry of off drives. 7.5
KL Rahul (23 & 36): Only a modest return in terms of runs but his opening partnership with Dhawan, in both innings, will have delighted the selectors. These two should now hold the top two spots for the foreseeable. Caught particularly well in the slips. 7.5
Che Pujara (14 & 72): Out in uncharacteristic fashion, caught on the hook, in the first innings but made up for that with a gutsy, ground-out effort second time around. In doing so, he gave an indication that, contrary to the casefile of evidence, he can hack it in English conditions. 8
Virat Kohli (97 & 103): Masterful in the first innings, majestic in the second. This time he got support from his team-mates, and that's why India won so comfortably. Such is his mindset, he will be frustrated not to have made twin centuries. 9.5
Ajinkya Rahane (81 & 29): Important runs in the first innings, backing up his captain ably and elegantly. England have seen this from him before and struggled to find a way to get him out again. 8
Rishabh Pant (24 & 1): Hit his second ball in Test cricket for six and took five catches behind the stumps in his first innings with the gloves. All in all looks a significant upgrade on Dinesh Karthik, though needs to work on his footwork to the unusually wide-at-the-crease action of Jaspit Bumrah. 6.5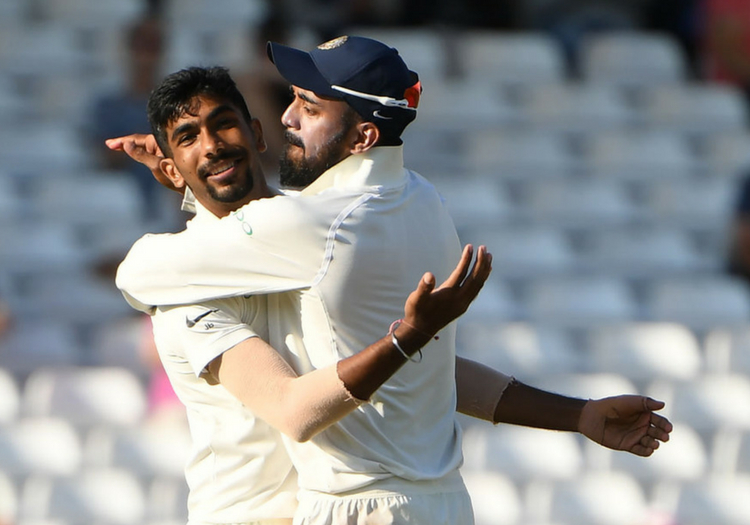 Jasprit Bumrah was effective with the ball for India
Hardik Pandya (18 & 52*; 5-28 & 1-22): Hit back at critics with a superb allround performance. Got the ball to move left and right, and got England's fielders doing likewise during a belligerent second-innings knock. 8.5
Ravi Ashwin (14 & 1*; 0-3 & 1-44): A quiet game for the offspinner, who watched on as his seamers did the business, all the while nursing an injury. 6
Mohammed Shami (3 & 3; 1-56 & 1-78): Not as lively as he has been elsewhere in this series during the first innings, returned with fire and zip in the second. 6
Ishant Sharma (1* & DNB; 2-32 & 2-70): Effective with the ball, particularly in the second innings with quick wickets at the start of day four to trigger England's downfall. 7.5
Jasprit Bumrah (0 & DNB; 2-37 & 5-85): Often hurried England's batsman with his surprising pace of a relatively modest run up. Achieved plenty of movement off the seam. India will have been delighted to have him back in the ranks. 8.5
Please ensure all fields are completed before submitting your comment!