Jason Gillespie: "I just love county cricket, it doesn't get the credit it deserves"
JACOB PHILLIPS: Earlier this month, it was announced that Gillespie will leave Sussex at the end of the 2020 season to return to Australia full-time to take up a new role with the South Australian Cricket Association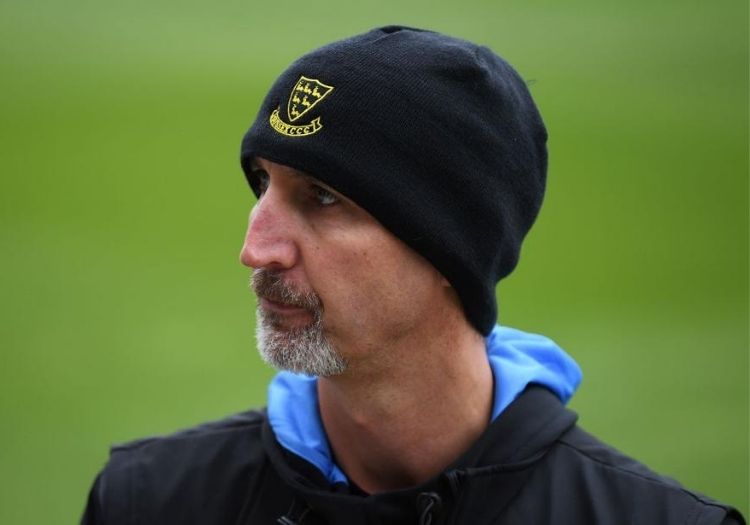 Standing on the wicket at Hove a fortnight ago, Sussex's batsmen listened carefully to what Sir Alastair Cook had to say about the mental side of the game following a close match between Sussex and Essex.
Several metres away, Sussex's young spinner Jack Carson was deep in conversation with Simon Harmer, the Bob Willis Trophy's top wicket-taker, discussing the secrets of his art.
"We saw an opportunity to pick the brains of one of England's best-ever players. It would be stupid if we didn't utilise that opportunity," explains Sussex head coach Jason Gillespie.
"The boys came out of the dressing room afterwards and spoke about their conversations with Alastair. A lot of it was about game awareness, preparation and knowing your game inside out.
"They just wanted to spend some time with a cricket legend and ask him about times when he wasn't doing so good and was struggling."
It was a typical coaching move from Gillespie, taking every opportunity to provide youngsters not only with the chance to shine, but to also learn as much as they could off the field too.
Earlier this month, it was announced that Gillespie will leave Sussex at the end of the 2020 season to return to Australia full-time to take up a new role with the South Australian Cricket Association alongside his coaching position with the Adelaide Strikers in the Big Bash.
It brings his time as a coach on the county cricket scene to an end after taking Yorkshire to consecutive County Championship titles, before moving on to Sussex.
And although Sussex have not felt the same trophy-laden success in red-ball cricket, Gillespie's influence on the culture of the south coast club is expected to be long-lasting.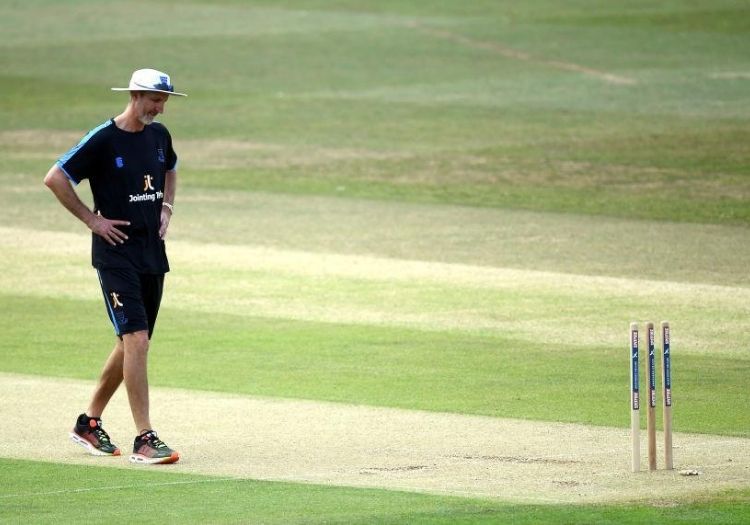 Gillespie is returning to Australia on a full-time basis at the end of the season
"In terms of our culture at Sussex, I think we were in a difficult place when Dizzy took over," explained club captain Ben Brown shortly after Gillespie's next move was announced.
"I've never had a coach who is so upbeat all the time and certainly so supportive of players and so positive around the team. He has got some very strong values which I felt very much in line with."
A key feature of Gillespie's spell in Hove has been the opportunities he has afforded to young cricketers. The progression of Ollie Robinson, who spent part of this summer in England's bio-secure bubble, is just one example.
His consistency under Gillespie surprised fans as he took 74 Division Two wickets in 2018; he followed this up with 63 more in 2019 in just 11 games. His career bowling average under Gillespie drops to just 18.09.
When asked about Robinson's potential on the boundary rope at Radlett Cricket Club during Sussex's five-wicket defeat against Middlesex, Gillespie smiled. "He bowls at a very good pace, he's very accurate," he said.
"He's a Test match quality bowler, it's as simple as that. He's very well planned and very well researched. He prepares well and analyses his opposition better than anyone I have seen in cricket.
"He comes across as a laid-back character but don't be fooled by that; he's a cricket badger. He knows that stats of every player he comes up against."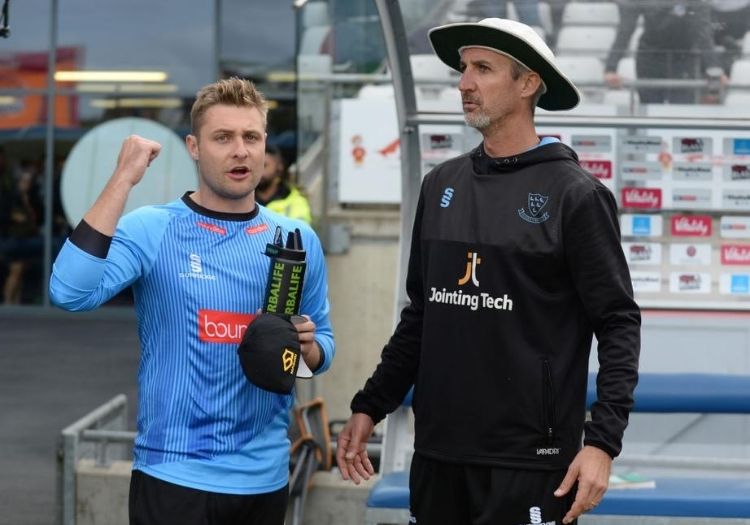 The former Australia seamer has proven a very popular figure in county cricket
It is this sort of confidence in his players which has seen Gillespie bring the most out of his charges. Since Gillespie's arrival in 2018, Sussex have been in a transitional phase. Experienced names such as Chris Nash and Steve Magoffin moved on, opening doors for younger players.
The squad for this year's Bob Willis Trophy illustrates this best, albeit amid circumstances that have limited the availability of some more established figures. Nine of the players who played against Hampshire in Sussex's first red-ball match of the season came through the club's academy system.
Gillespie said: "I've always felt as a coach a big part of my job is making sure players know they're being backed and I believe in them. That's a big part of my job and then we can top up with the various nuggets. For me it's about giving players opportunities to play and learn lessons themselves.
"I am a big believer that players only learn by playing first-class cricket. You have to get into the game, learn on the job and then be really honest with your assessment of how you've gone and identify how you can be more effective.
"There's a lot of expectation around the club and they want to see us performing really well. Supporters come at you talking about who's playing. A lot of that is white noise, it's nonsense. We know what we are doing and we trust our players and we back them to do their jobs."
The investment he puts into his players was noticeable while watching Sussex bat against Middlesex. Following the dismissal of 23-year-old Aaron Thomason, Gillespie made sure to take the time to walk the outfield and talk through the game with him.
Gillespie explained: "I'm a big one for empowering players to drive the standards. You learn really quickly which players have the desire and the want to get better and improve and the players who are going to add value to that.
"We have a lot of fine players at Sussex; they just need opportunities. Sometimes players' numbers may not look brilliant on paper, but statistics only tell part of the story.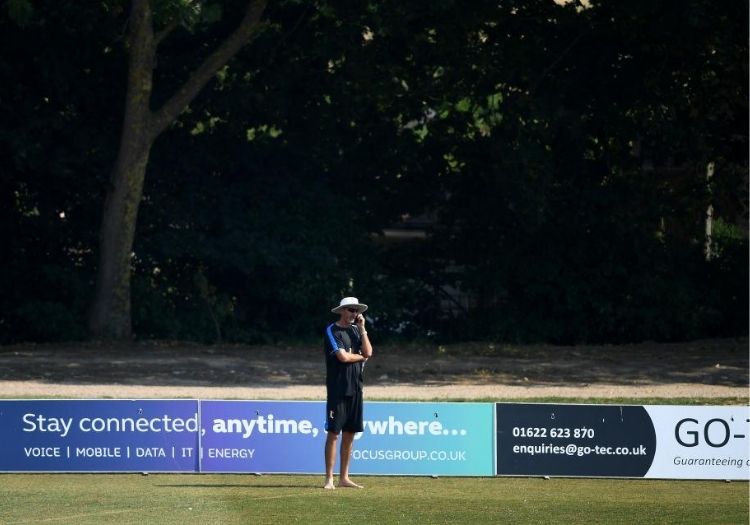 Gillespie looks on during Sussex's Bob Willis Trophy defeat at Canterbury
"If you go on statistics alone, selection would be very straightforward. You have to take into account everything: the growth of a player, the growth mindset, are they willing to improve, do they listen, do they work well with their teammates and do they drive standards in and around the team.
"You don't want to give opportunities for the sake of it. Players have to earn that. There's a balance between potential and earning the right to get a cap. We don't just give away caps."
Gillespie looked visibly emotional when asked if would return to county cricket. It's clear the game has given plenty back to him in his time on the circuit.
"I just love county cricket," he said. "I love how everyone embraces it. It doesn't get the credit it deserves. It's a much better product than even the ECB gives it credit for. It doesn't get enough love. I think the standard is quality.
"I'm going to miss it. I hope it's not the last time I'm in county cricket but it's time for me to get home. I have the opportunity to coach my own state."
The Sussex head coach is also a fan of the Bob Willis Trophy particularly as it provides a platform for his younger players to perform.
"I'm a fan of this conference structure," he explains. "I think the division structure can breed a bit of short-termism in terms of recruitment. For instance, a team wanting to stay in Division One or get promoted will make some short-term decisions.
"I think a conference system potentially eliminates short term decision making. I'm a bit of a fan of it."
Gillespie will remain in charge at Sussex until the end of the season and the south coast club are not expecting to name a replacement until 2021.
For unrivalled coverage of the county season, subscribe to The Cricketer and receive 3 issues for £5
Sussex
|
Features
|
County Cricket
|
Bob Willis Trophy
|
1Banner
|
Please ensure all fields are completed before submitting your comment!