Ben Stokes takes two wickets on return as rain finally relents
Meanwhile, Chris Woakes has called for the Azeem Rafiq case and the scandal surrounding Tim Paine's resignation as Australia captain to be off-limits as sledging subjects once the series begins
Chris Woakes has called for the sensitive issues surrounding England and Australia to be kept off the field once the Ashes series begins next week.
The seamer was speaking after the tourists were belatedly able to enjoy a day's cricket outdoors after the poor weather of recent days abated at the Ian Healy Oval. It meant that 78 overs could be bowled in an intra-squad match, which saw Ben Stokes bowl for England with a red ball for the first time in nine months. He took two of the four wickets to fall, dismissing Woakes and Zak Crawley, who top-scored with 45.
James Anderson and Stuart Broad bowled eight and 11 overs respectively, though Jack Leach's 18 overs cost 69 runs. Alex Lees, James Bracey and Tom Abell all retired while not out in the thirties.
The inclusion of Ollie Pope in a side predominantly made up of England Lions players, captained by Durham's Lees, gave a hint that Jonny Bairstow – carded to bat at No.6 for Joe Root's team – might be ahead in the pecking order ahead of the first Test in Brisbane.
It has been a far-from-normal buildup, given the circumstances facing both teams: Australia have lost Tim Paine, their captain, to a sexting scandal, with the wicketkeeper now taking an indefinite break from the game; English cricket, meanwhile, is in the midst of a racism crisis.
"I think what's happened in both camps, a lot of the issues are personal," said Woakes. "Cricket is played best when that sort of stuff is left to the side and we let the skills do the talking, which I'm sure will happen.
"Whatever goes on the field, goes on the field, and an Ashes series raises that rivalry. In my experience, playing in three Ashes series, it's not overstepped the line once when I've been around.
"I don't see it being any different. I'm sure the cricket will be hard fought, as it always is, and it will be a great series to watch."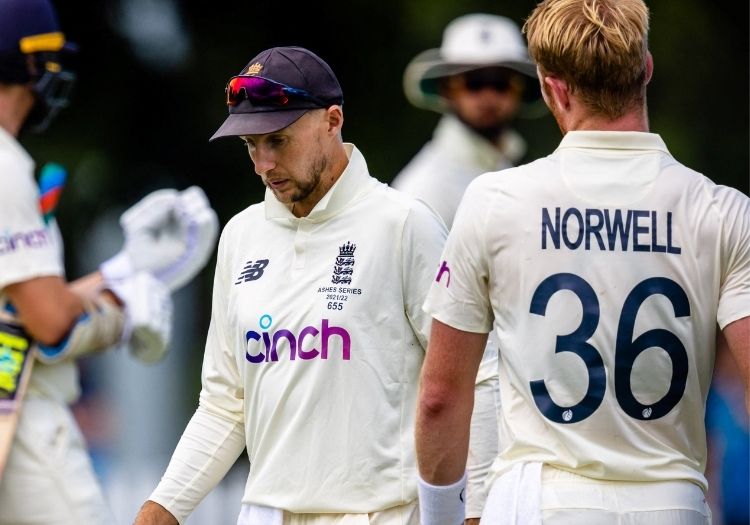 Joe Root's side fielded on Thursday in an intra-squad game (Patrick Hamilton/AFP via Getty Images)
While Woakes made 13 with the bat, Anderson, Broad and Ollie Robinson all went wicketless as England's fast bowlers were given their first real opportunity to re-assert themselves in Australian conditions.
"The Kookaburra is very different to the Dukes and what we're used to back home, but we've got a lot of guys who are experienced and have played all around the world and have used the Kookaburra quite a bit," he explained.
"I suppose we just touch base with those guys on what works, what has worked in the past. I think it's trying to experiment with different things with it. Trying to get the ball to move sideways is probably the biggest challenge here, so I think trying to work out different things – the way we hold it.
"I think you have to be willing to try to change your game a little bit. It's a completely different ball, different conditions. You do get quite good bounce here, so it's trying to extract that as much as possible as a bowler.
"I think naturally you bowl a bit shorter here, but at the same time you don't want to get drawn into bowling too short. You can still get nicks from a good length and try to utilise that bounce from a good length."
Our coverage of the Ashes is brought to you in association with Cricket 22
Please ensure all fields are completed before submitting your comment!