THE GOOGLY: For those who can afford it, Sky's dedicated cricket channel is a cut above
HUW TURBERVILL: According to Sky's head of cricket, Bryan Henderson, they are "absolutely committed" to the channel at least until 2024, the year the next TV contract expires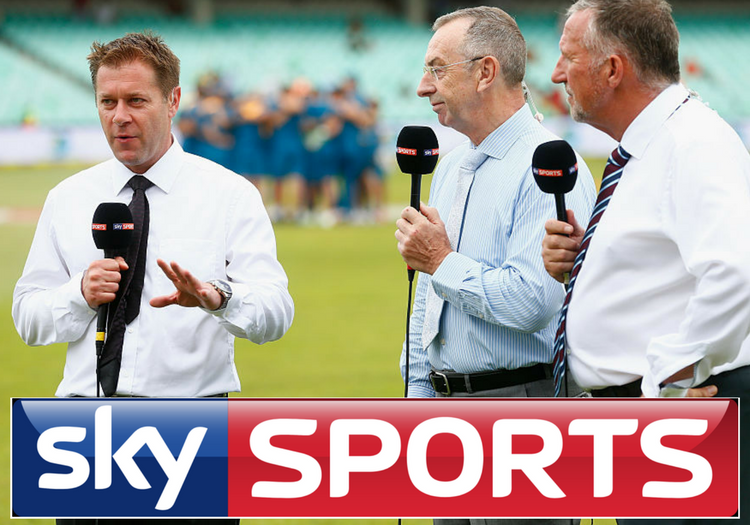 Sky Sports Cricket is here for the long haul
"You've never had it so good," said Harold Macmillan. That quote leaps to mind when I think of Sky Sports' dedicated cricket channel.
I will get the caveat out of the way. I know not everyone can afford Sky. But for those who can, a channel just showing cricket is every fan's dream, surely?
What I would have given when I was growing up to have that available, especially in the six-week summer holidays.
In those days we would have a Test match on the BBC every fortnight (when they were not cutting to the 2.40 at Chepstow). The day after would be a NatWest game (the Test players would be required to travel down from Headingley to play Southampton, for instance). Then there would be some 40-over action on Sunday Grandstand (sharing with all manner of rubbish, most prominently showjumping, it seemed).
There was nothing worse than waking up hoping to watch the Test, and seeing the Brumbrella on the pitch in Birmingham. The BBC did show some old highlights, but when the rain had really set in, an old film would be put on. (The only time I did not mind was when they showed Dr Who and the Daleks… but I digress).
Sky are planning several new feature programmes this summer
Sky launched their cricket channel as part of an overall rebranding of their sports channels last year.
Anyone with Sky can enjoy a mix of live action, highlights, documentaries and the excellent Masterclass series on their cricket channel.
Sky seem to have put the disappointment of the Ashes being shown on BT behind them now, and are showing New Zealand v England, and the gripping South Africa v Australia series.
According to Sky's head of cricket, Bryan Henderson, they are "absolutely committed" to the channel at least until 2024, the year the next TV contract expires.
"The channel is broadcasting 24 hours a day – so we need an awful lot to fill it," he told The Cricketer.
"Thanks to Now TV, you can watch a day's Test cricket for £7.99, and an entire Test for £12.99. I don't think that is unreasonable."

Sky head of cricket Bryan Henderson
"Fortunately we have a lot of live cricket, on about 300 days a year. This summer there will be men's internationals, women's (more coverage than ever before!), and England Under-19s. We have all the rights from the various boards, except Cricket Australia (until 2019/20) and India. Sometimes the cricket is also shown on Sky Main Event, and Sky Mix.
"We have spent a lot of time re-energising our archive, including the best of England v New Zealand matches from recent years. Sky has archive footage from when we first started showing tours live (England in West Indies 1989/90) although we do have to check we have the rights – just because we showed a match live, does not necessarily mean we can show highlights later. We also started showing one home Test a summer from 1999, and every home Test from 2006."
Alongside series like Cricket's Greatest, from a company called Pitch, Sky are unveiling some new ones this summer, including Cricket in Mumbai (showing the game there at all levels, and (Viv) Richards the Master Blaster.
There is also a look at the psychological side of the game in Mind Games, which will feature Joe Root, Alastair Cook, Marcus Trescothick, Mark Ramprakash and Graeme Hick, more Atherton Meets, and a series about the British-Asian game.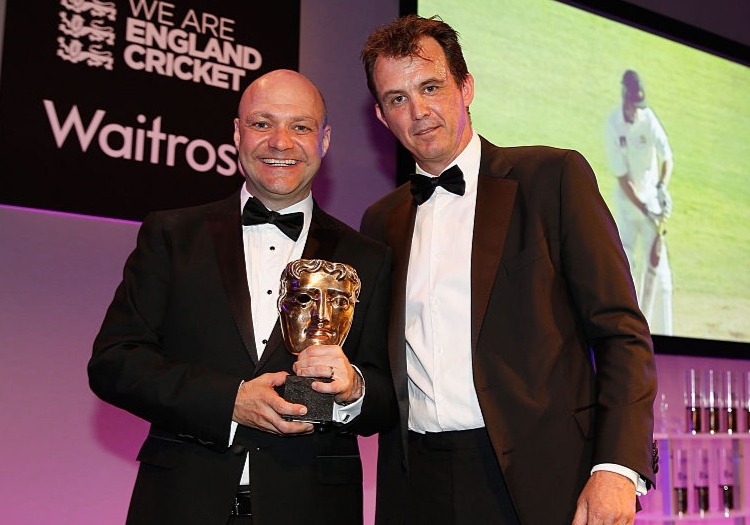 Sky's head of cricket, Bryan Henderson (left), spoke with The Cricketer
It is sometimes observed that the channel tends to show the same programmes over and over. "I think only people in the cricket bubble mind that," says Henderson. "I have heard, 'Oh no, it's Whispering Death on again', but you would be amazed at the people who watch things like that over and over."
I have to say, things like Allan Donald v Mike Atherton (Trent Bridge 1998) are always compelling, however many times I have seen it before.
I did suggest that Sky show all five days of the Headingley 1981 Test, but Henderson tells me archive footage is expensive – coming in at about £1,000 a minute.
Even though this is the channel's first summer, the county coverage will not change greatly. Reporters like David Fulton will still be on Sky Sports News, not the cricket channel.
I still maintain there is a TV audience out there for every round of the County Championship, although I know coverage is expensive.
All in all it seems churlish to criticise, though. "Thanks to Now TV, you can watch a day's Test cricket for £7.99, and an entire Test for £12.99," says Henderson. "I don't think that is unreasonable."
People who say they would rather cricket be on the BBC are kidding themselves that they would have a cricket channel, even though some live T20 games will be shown by them from 2020-24.
A dedicated antiques or property channel, maybe, but not cricket…
Please ensure all fields are completed before submitting your comment!