WORLD CUP MOMENTS - No.35: New Zealand's coming of age
HUW TURBERVILL: The New Zealand public had not gone into the 1992 tournament with great expectations, losing an ODI series 3-0 to England beforehand, but they had started to believe, and were crushingly disappointed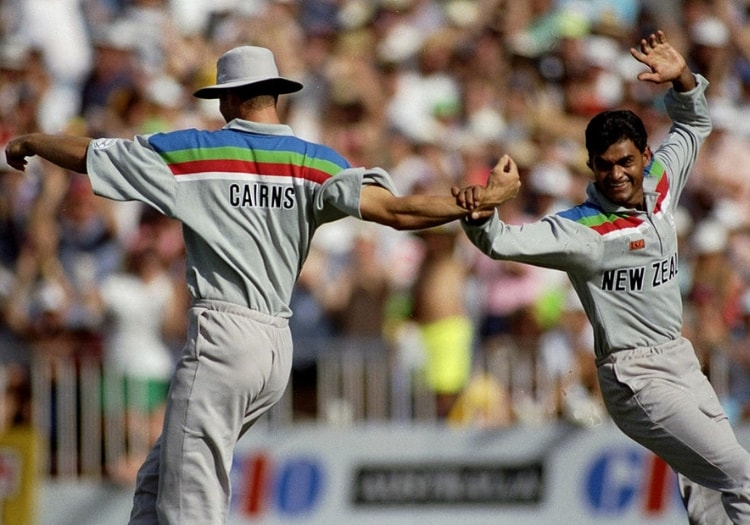 If World Cups were won on tactical innovation alone, New Zealand would easily have triumphed in 1992. Spinners opening the bowling, the first deployment of a pinch-hitter in cricket (the ones in baseball do something entirely different), and medium-pacers sending down one-over spells years before it became commonplace in T20 – captain Martin Crowe had such an ingenious mind.
Alas his team peaked a little too early in this first World Cup staged in Australasia. They won their opening match against co-hosts Australia at Auckland, the start of a seven-match winning sequence, but then were defeated by Pakistan in their final group game. While it was a dead rubber, it showed the bubble had burst, and they lost the semi-final against the same opponents, back at Auckland.
The New Zealand public had not gone into the tournament with great expectations, losing an ODI series 3-0 to England beforehand, but they had started to believe, and were crushingly disappointed.
Of course New Zealand went one better in the last World Cup, in 2015, reaching the final before losing to Australia, again their co-hosts. It felt there was not quite the fervour that there had been in 1992 though. That tournament had felt so fresh. It was the first time we had seen floodlights and coloured clothing in the World Cup, and it was long before T20. That tournament had unprecedented glitz and glamour.
"I think it was the best opportunity in our history to win the World Cup," Crowe – who died in 2016 –told the ICC's website in 2013.
New Zealand staged 14 of the tournament's 39 matches, and crucially the first gave them home advantage against big brother, Australia. It could not have gone any better, as they won by 37 runs at Auckland. This is when Crowe's tactical masterplan was unleashed. He earned the man-of-the-match award for his superb unbeaten 100, and he received good support from Ken Rutherford (57) in a stand of 118.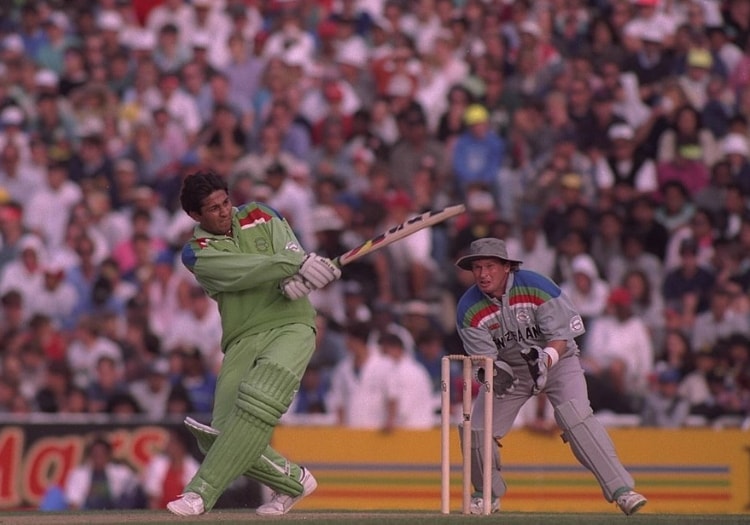 Inzamam-ul-Haq in action against New Zealand in the 1992 semi-final
Then off-spinner Dipak Patel, who had thrown his lot in with New Zealand after eight years playing for Worcestershire, took the new ball and conceded only 36 in his 10 overs. The next phase of the plan saw the Kiwi medium-pacers giving the Australians the big squeeze – Gavin Larsen taking 3 for 30 in his full quota, and Chris Harris and Rod Latham, father of Tom, also performing parsimonious roles.
And so the Kiwi bandwagon started its roll.
Rutherford, with 65 not out, took them to a comfortable win over Sri Lanka at Hamilton (Patel did not open in this one).
Then the tactics continued to work in an emphatic seven-wicket win over South Africa, back at Auckland. Patel opened the bowling again, the seamers gave nothing away, and pinch-hitter and pugnacious left-hander Mark Greatbatch (68) – with Latham (60) in support – fired them over the finishing line.
Zimbabwe were swept aside at Napier, and then – at Auckland again – West Indies became the latest notable scalp. Greatbatch set the tone with an aggressive start chasing West Indies' 203 for 7 (a bit of a limp total despite Brian Lara's 52), before Crowe saw them over the line with 81 not out.
Next up was India, at Dunedin. Chasing 230 for 6, again Greatbatch gave them a flying start, with 73, and this time it was Andrew Jones who calmed the nerves, his unbeaten 67 giving his side a four-wicket win with 17 balls remaining.
Even England, who had been in impressive form, had no answer at Wellington. They were without Graham Gooch, Phil DeFreitas, Neil Fairbrother, Chris Lewis and Dermot Reeve through injury. Graeme Hick (56) and Alec Stewart (41) helped them to 200 for 8, but immediately realised they had a game on their hands when Greatbatch bashed a quick 35. Jones (78) and Crowe (73 not out) then took New Zealand to their target with ease, with England not helped by Derek Pringle reporting a rib injury.
The first sign that the New Zealand juggernaut was running out of gas came in their final group game at Christchurch however. Ramiz Raja hammered an unbeaten 119 (out of 167 for 3) as Pakistan won comfortably, by seven wickets, with 32 balls remaining.
This eliminated the Australians, and instead it was Pakistan who squeezed into the semi-finals.
The competing captains before the tournament
New Zealand seemed to have peaked too early. And instead the force was now with their opponents, who had so nearly been knocked out (rain came to their rescue in the group game against England).
The Kiwis actually regained their batting form in the semi-finals, posting a challenging 262 for 7. Crowe made 91, despite struggling with a pulled hamstring.
The target rose to eight an over but this match saw the emergence of one of the all-time greats – Inzamam-ul-Haq. He smashed 60 from only 37 balls, putting on 87 in 10 overs with Javed Miandad, who looked sedate in comparison, although his 57 not out was crucial as Pakistan won with an over to spare.
"We thought that was a winning score," said Crowe. "However, it was decided that I should not take the field [because of a hamstring injury] so that I could be fit for the final four days later. In hindsight if I had stayed on the field, we could have defended that total.
"We had planned a successful campaign for over 18 months. Unity, innovation, surprise, and courage were the main priorities in planning. We set the goal of being the best defensive bowling and fielding team by mixing economy and attack. We got on a roll and with an ounce of luck could have won the World Cup the way we were playing. My injury killed it for us."
In an interview in The Guardian he said: "I sat on the edge of my chair, leg braced and bound, and I wept. The dressing room scene was indescribable. Then we had to tour the ground and acknowledge the support of a nation whose hearts we had won. It was a choking, breath-taking experience. It was unforgettable and it was devastating."
Please ensure all fields are completed before submitting your comment!