Warwickshire lose their arms and nerve at the crucial moment as Northamptonshire get off the mark in the Quarantine Cup
While Dan Mousley was greatly improved from his disastrous display against Essex four days prior, he remains winless in the tournament and his chances of reaching the last four are rapidly diminishing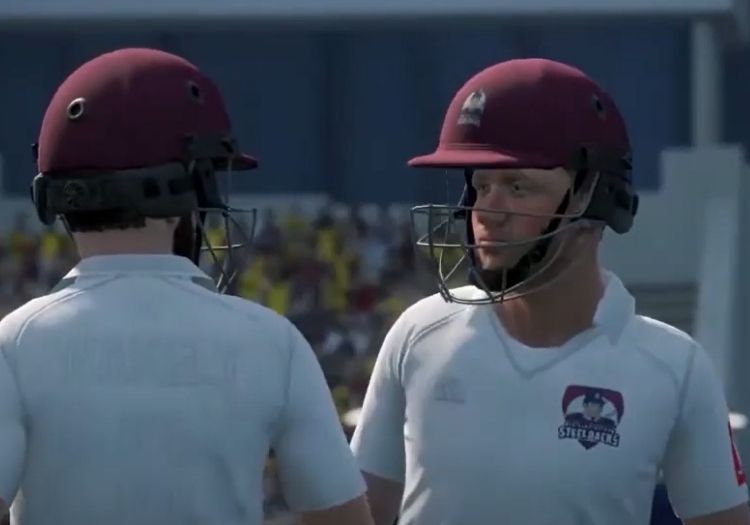 Quarantine Cup: Watch all the matches on demand!
Edgbaston: Warwickshire 44-3, Northamptonshire 45-3 - Northamptonshire won by 2 wickets
A thrilling contest between Warwickshire and Northamptonshire went down to the final ball, as Ricardo Vasconcelos tasted victory in the Quarantine Cup for the first time.
Dan Mousley was left to rue abject fielding in the final over of the game, when his players' arms and nerve appeared to turn to jelly under the glare of a global audience in the world's premier cricket competition, as Northamptonshire managed to take singles off the final three deliveries to claim victory.
While Mousley was greatly improved from his disastrous display against Essex four days prior, he remains winless in the tournament and his chances of reaching the last four are rapidly diminishing.
Vasconcelos, however, having this time managed to coax his leading overseas players from the pavilion, puts himself right in the mix for qualification from group one.
Warwickshire looked like they would collapse once again when Ian Bell was dismissed by a terrific diving catch at mid-off to his first delivery, but Mousley appeared to have spent time in the nets since his diabolical showing against Essex and quickly stabilised the innings.
Sam Hain took a liking to Graeme White, taking the left-arm spinner for 17 in the fourth over, but when Ed Pollock tried to take a similarly aggressive approach - leaping in his stance to attempt a switch him over cover - he could only pick out midwicket.
That led to the brakes being pressed on the Bears' train.
Kieron Pollard was miserly with the final over, conceding just one boundary, while Tim Ambrose was run out after attempting to go for a quick single to the keeper after the ball had already been thrown back in the direction of the stumps.
It made for a relatively limp end to a promising situation for Mousley, but a total of 44 for 3 was not to be sniffed at for a man who managed just a baker's dozen in his first effort of the competition.
Warwickshire began their defence fantastically, with Richard Levi holing out to deep backward square leg off Oliver Hannon-Dalby, and Northamptonshire had only managed 10 from their first two overs when Chris Woakes was brought into the attack.
The England allrounder was welcomed with disdain by Pollard, who back-foot drove him over mid-on baseball style for six from his first delivery - a full 130-metre harrumph which nearly took out a handful of spectators congregating next to the Edgbaston media centre.
Two balls later, it happened again. A near-identikit thwack from Pollard. Six straight down the ground. And a call to a glazer from the stadium manager.
Ricardo Vasconcelos appeared to be three feet out of his ground when he was stumped from the penultimate ball of Woakes' over, but - to the dismay of the Edgbaston crowd - neither standing umpires nor the TV official could see the cavernous expanse between the batsman and his ground.
Instead, DRS looked for an outside edge that didn't exist.
Woakes, furious with the decision, put all his frustration into his final delivery, and cleaned up Vasconcelos, ripping the middle stump out of the ground like a disgruntled gardener might an unwanted weed trespassing among their prized begonias. 
Once again, the tide appeared to be turning. Jeetan Patel did for Pollard, who dished up a terribly soft catch to midwicket, and Northamptonshire were 25 for 3.
That became 33 for 3 by the time the final over began, leaving the guests in need of a dozen from their final six balls.
Will Rhodes needed to hold his nerve, but two wides early in his set gave Northamptonshire a foothold, and when Alex Wakley cleared the legside boundary the equation was simple. A run a ball from the final three.
It was at this point that Warwickshire's fielders' lost all the strength in their arms. Vasconcelos stole singles to the men in the ring, who proceeded to lob the ball gently back towards Ambrose, as if the keeper were their infant child playing catch for the first time.
Was it stage fright? Was it incompetence? Or had Mousley still not figured out the controls?
None of that really mattered; Northamptonshire were off the mark in the Quarantine Cup.
"Losing on the last ball is always difficult to take, especially when the ball gets hit to cover 20 yards from the stumps and he just loops it to the keeper," Mousley lamented afterwards.
"It's not ideal.
"I thought I had it in the bag at one point but Woakes's over went for quite a lot. When he needed nine off four I was backing myself but he hit it out of the ground and I'm up against it.
"I thought I posted a good score; anything was better than the last game. It helps knowing the controls, which in the first game was a problem. I only found out this morning how I can change the controls to actually know what I'm doing with it.
"There was considerable improvement, and it was a good game of cricket."
Vasconcelos was delighted.
He said: "I needed to get that first win under my belt and a hard-fought win like that is only going to be good for the rest of the competition.
"The overseas players made a big difference coming back in. 
"I'm not quite sure what the league looks like at the moment but if I win the next few games I should give myself a chance of getting through."
To remind ourselves of happier times, The Cricketer is offering a £20.19 subscription to celebrate England's World Cup victory. Click here to claim!
Quarantine Cup
|
News
|
Please ensure all fields are completed before submitting your comment!