Kent claim bragging rights in cricket's oldest rivalry as Surrey are knocked out of Quarantine Cup after being skittled for nine runs
Sophia Dunkley's batsmen showed all the calmness and poise of an Oklahoman big cat kingpin as they scooped up simple chances to Kent's infielders and ran themselves out in bizarre circumstances during a miserable 2.4 overs at the wicket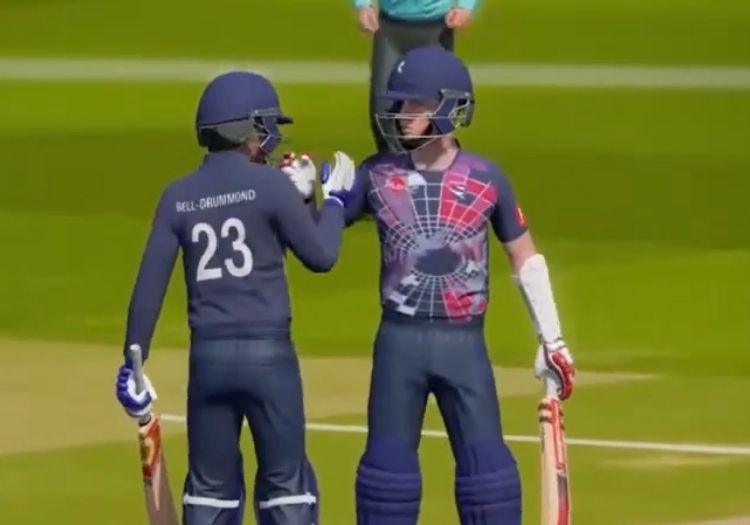 Quarantine Cup: Watch all the matches on demand!
The Oval: Surrey 9, Kent 13-0 - Kent won by five wickets
Surrey's challenge in the Quarantine Cup is over after they equalled the lowest Quarantine Cup score and promptly watched Kent knock off the required runs in just seven deliveries during a mauling at The Oval.
Sophia Dunkley called up her big-gun players for the first time in the tournament, but the likes of Jason Roy and Sam Curran were unable to deliver during a horribly lopsided contest.
Dunkley's batsmen showed all the calmness and poise of an Oklahoman big cat kingpin as they scooped up simple chances to Kent's infielders and ran themselves out in bizarre circumstances during a miserable 2.4 overs at the wicket.
Ollie Pope was the first to fall, pushing Harry Podmore to mid-off second ball, and Podmore had another scalp when Curran tried to find the straight boundary but only just managed to loop the ball over the non-striker's stumps and into the hands of the waiting Jordan Cox.
Dunkley's struggles to time the ball down the ground popped up once again when Roy tried to dispatch Mills over wide mid-off and ended up dollying up a gentle chance - Cox again the catcher to complete a record-breaking three-grab haul - before Ben Foakes edged off to Matt Milnes.
The debacle came to a head when Will Jacks found himself involved in a third comical run out in three games.
Scott Borthwick appeared to have got an outside edge to a delivery from Imran Qayyum, which skirted into the offside and through the legs of slip, encouraging Jacks to call his teammate through for a quick single.
It soon became apparent that we had all be fooled by an optical illusion, however, as the ball had barely moved from Borthwick's feet, and Daniel Bell-Drummond could simply step forward and whip off the bails with Jacks not yet halfway down the track.
With such a tiny chase on their hands, Kent might have been complacent but Bell-Drummond made sure they posted the first five-wicket victory in Quarantine Cup history by bashing a straight six off Jade Dernbach.
Surrey are out; Kent - after their heavy defeat by Sussex in the competition's opening game - are on the board.
Qayyum said: "It was business as usual for Kent and we're back to winning ways after a strong performance.
"It was a bit unlucky, there were a couple of unlucky dismissals in there and a suspect run out as well. I'm sure she'll bounce back next game.
"For me, any luck was welcomed. I just needed the win by any means necessary."
Dunkley said: "I don't know what happened. With the run out the ball went through his legs and the next minute it was on the pitch; I was a bit unlucky with that one.
"We went back to being a bit tentative today. At least in the last match we can go out all guns blazing with nothing to lose. We've worked hard to get a win on the board, so let's see."
To remind ourselves of happier times, The Cricketer is offering a £20.19 subscription to celebrate England's World Cup victory. Click here to claim!
Quarantine Cup
|
News
|
Please ensure all fields are completed before submitting your comment!