As everything changes over the next month, don't forget the Royal London Cup
PAUL EDWARDS: I have already made the decision that when I have a choice between the new competition and the Royal London I will be sticking with county cricket. It's the game with which I fell in love and I'm not deserting her now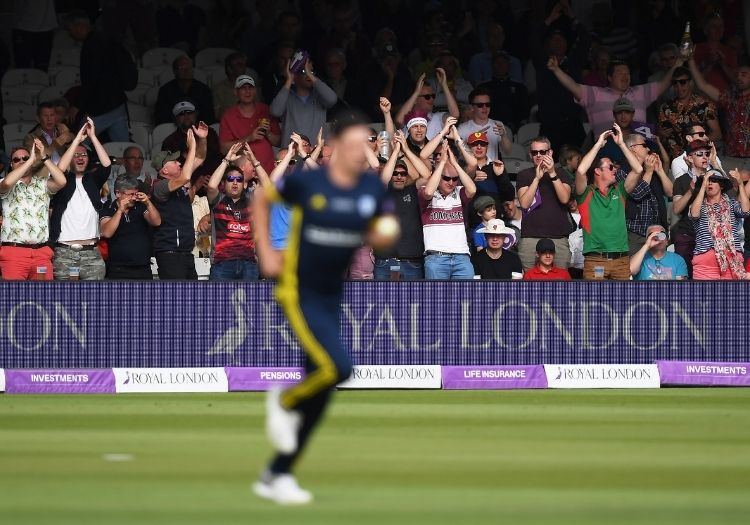 In the season and a half that I've been writing these columns I've shared my views with you and I have been privileged to receive your responses whether you agreed with me or not. Thank you. I've told you about games seen and cricketers admired. There have been selections of favourite grounds, teams and even books. There have been frequent mentions of club cricket but not so many of Test Matches.
Above everything, perhaps, we have shared the extraordinary times in which we have lived: their dangers, their hopes, their consolations and the still uncertain future to which they might point. I have, however, never yet asked you to do anything.
This week that changes.
In barely seven days English cricket will boast, if that is the word, a new competition: The Hundred. It is probably the biggest innovation since the introduction of the T20 in 2003, albeit both competitions can be seen as part of a quasi-logical progression dating back to the beginning of the limited-overs game in 1963.
This is different in another respect, though, because rather than base The Hundred on the existing structure of county cricket, the ECB has decided to create eight new city-based teams that will include players from our own first-class sides and also the rest of the world with the aim of taking a faster game to a new, younger audience. "A new brand of cricket" blarts one of the horrendous advertisements for the competition.
Now before anybody endangers their laptops, tablets or phones by slamming them down in fury I do know that many of you are at best deeply suspicious of The Hundred or at worst absolutely loathe the thing and what it may do to the counties you support and the cricket you love. To a degree I share your suspicions and I have no intention of encouraging you to support a competition that seems increasingly likely to be stuffed with gimmicks, perhaps at the expense of content. Already there are boxes of crisps etc. piled up at the new venues. Other senses will also be assailed and I'm not sure your eardrums can take it. (I'm not sure mine can either but a little more of that later.)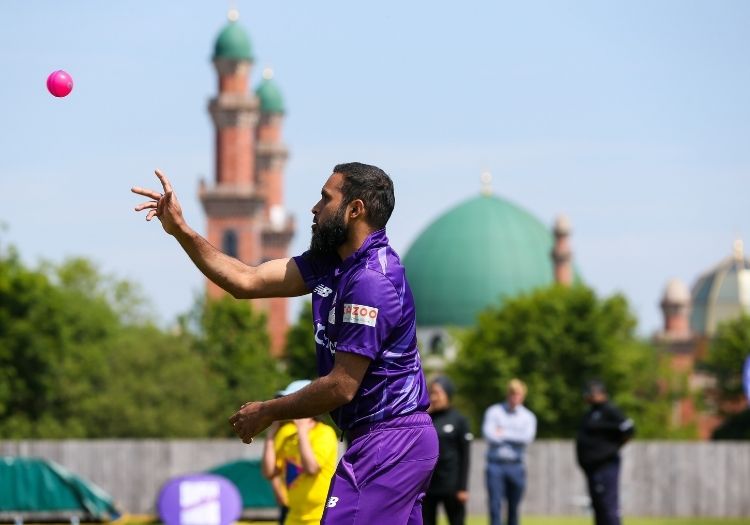 The Hundred begins next week, bringing about a change to English cricket's domestic landscape
But taking established players from the counties and staging The Hundred on Test Match grounds also gives great opportunities to the younger cricketers who are left to contest the Royal London Cup, and opportunities of a different sort to the venues that will host the matches. Players who got an unexpected chance to show what they could do in last season's Bob Willis Trophy, when two England squads were bubbled and most overseas players were unavailable, will be getting another go when they appear in first-team List A cricket.
Some of the games will be played at famous headquarters like Old Trafford, Edgbaston and The Oval. Others will take place in marvellous outgrounds such as Sedbergh, York, Grantham, Scarborough, Gosforth and Welbeck. A few of my colleagues are keen to see what The Hundred is like. I can't wait to visit old friends in Cumbria or to make new ones in Lincolnshire.
There is a glorious irony about the fact that a new competition designed to stimulate interest in cricket around the urban centres has had the unintended consequence of sending many counties back to their heartlands or even to important venues outside their county boundaries but nevertheless in areas that have proved useful recruiting grounds
None of which would matter as much if the Royal London Cup was a poor product. But the opposite is the case. The 50-over game is a complex format. It possesses subtlety and it requires a range of talents. The skills deployed in red-ball cricket are easily transferred to the longer of the white-ball games. No one is excluded from it as is certainly the case with T20; Haseeb Hameed will be skippering Nottinghamshire. No, it is not four-day cricket.
But to stretch the point, I don't know anybody who would want to return to a season that was composed of, say, 28 three-day games and nothing else. (And incidentally it remains intriguing to think what the 50-over game would be like if a red ball was used again instead of a white. My suspicion is that games would be more interesting because flat-track thuggery would be moderated. Totals, of course, would be lower. The chances of it happening are probably one in a million.)
Two years ago we watched England win the World Cup. Now we have the opportunity to see the young talents who may be attempting to win that trophy in six years' time. This summer, though, they will play alongside some established county professionals and they will be coached by former players who know what is needed to make a career in the game.
Perhaps rightly, given the money on offer, many people are envying the cricketers selected for Manchester Originals. Fair enough, but Lancashire's squad in the Royal London Cup will be coached by Mark Chilton and skippered by Dane Vilas. I know in which dressing room I'd prefer to be.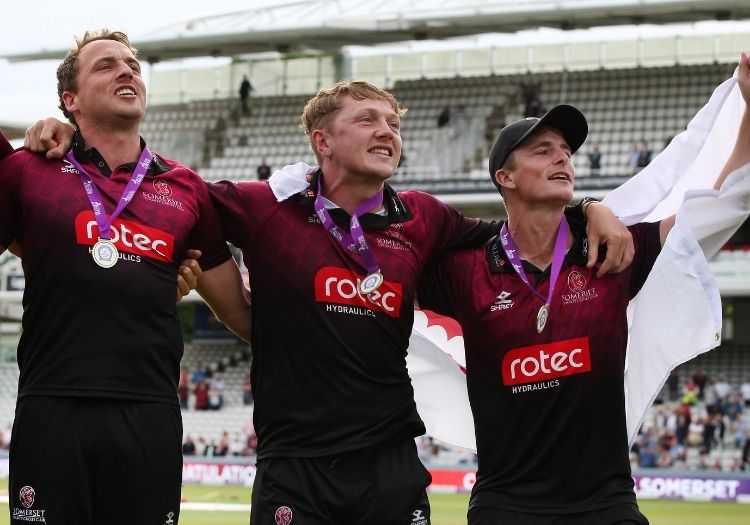 Somerset won the Royal London Cup in 2019
But this is the point where I'd like you to get involved. For almost my sole purpose this week is to encourage you to watch as much 50-over cricket as you can. Many of the players you see will not be well-known but surely that is part of the fun. A few weeks ago I pitched up at Headingley never having heard the name of Danial Ibrahim. A day later he became the youngest player in the history of the County Championship to make a half-century. And now he has two of the blighters…
The lads will appreciate your support as well. A few of the cricketers appearing in the Royal London Cup will never have played in anything above county second-team cricket. Suddenly they will be walking out in stadia where famous Ashes Tests have been played as well as some fine club grounds where the locals will be doing all they can to make the counties welcome. I reckon both the cricketers and the people laying on the games would like to know that people are rooting for them. I certainly will be.
Having asked you to do something it's only fair I let you know what my movements will be. That's tricky because as a professional journalist I go where I'm sent by the websites and newspapers that employ me. And, yes, I am both interested to see what The Hundred will be like.
Similarly I am committed to reporting it objectively. But I have already made the decision that when I have a choice between the new competition and the Royal London I will be sticking with county cricket. It's the game with which I fell in love and I'm not deserting her now. Over to you.
Please ensure all fields are completed before submitting your comment!