James Anderson at 1,000
SAM DALLING: As cricket celebrates a remarkable landmark for a champion fast bowler, those who have shared in his journey reflect on an extraordinary career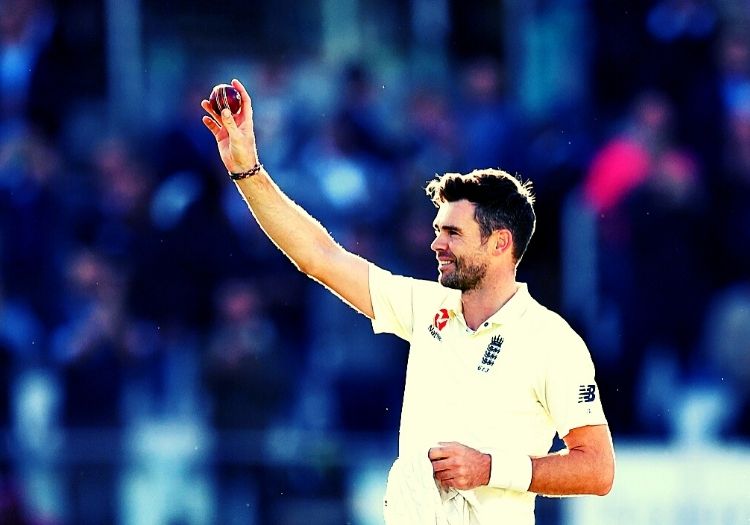 In whatever unit you are measuring it, 1,000 is a serious number. In years you have a millennium; in grams a kilo; in pounds a grand. But in first-class wickets?
Well, there you have a once in a generation seamer: Jimmy Anderson – James to his mother, she never has quite accepted that one.
Fittingly Anderson was sporting Lancashire colours when he had Heino Kuhn caught behind in the middle of a staggering opening spell against Kent. He became the first seamer to reach the landmark since Andy Caddick in 2005, and the first England bowler since Robert Croft two years later.
Penning a piece on Anderson should be easy but it is in fact more difficult than one might think. What is there left to say?
***
Anderson's Burnley roots are well known: a fervent supporter of the town's football club and a Freeman of the Borough. Soon his name will adorn a street. Sport is the lifeblood of the area, his family name woven deep in its tapestry. Father Michael, cousin Lee and uncle Neil were all first team cricketers at Burnley CC, while Michael currently captains Nelson Golf Club, a short drive from the town.
Burnley CC – situated adjacent to Turf Moor – is steeped in cricketing history. Fifteen times Lancashire League champions, it counts many a pro among its graduates, including Jonathan Clare, Mark Harvey and David Brown. Chris Casper, a former Manchester United footballer who is now sporting director at Salford City FC, and the Mullin brothers – John (Sunderland, Burnley, Accrington Stanley) and Paul (Morecame, Accrington Stanley) – are also among the club's alumni. Jimmy, though, is the favourite son.
Anderson was best friends with David, whose brother Michael Brown was a few years above him. – Michael himself made 148 appearances for Surrey and Hampshire before serving more recently as Burnley CC chairman. "Jimmy, my brother and a lad called Gareth Halley were the kind of 16-year-olds who would try and sneak into town and have a couple of beers," Brown recalls. "They were very much partners in crime when they were younger.
"Jimmy played a lot of sport and was like he is now: lean and a good athlete. You can see that with the way he has fielded. He has always been a good mover. We were always playing against each other in car parks, on the field, just like you do. The standard was pretty reasonable for that age. We had three or four junior county players, of which at that time Jimmy wasn't one, although he was relatively close.
"There was always subconscious competition because we were all good cricketers and our families grew up at the club. In the summer you were down there at every net practice messing about with wind balls, and putting water on the grass to try and bowl rapid. Just lots of fun times."
***
In the 1990s, Burnley found themselves falling agonisingly short of silverware, resulting in a 37-year gap between their 13th and 14th Lancashire League titles. By the middle of that decade, frustration boiled over and there were major changes at the club.
The exit of several first team players opened doors for the juniors. "At 15 Jimmy started to break into the senior sides," says Brown. "By 16 the swing was developing and the pace noticeably picking up. You'd go: 'Jeez, this is now getting quick'. Like any young bowler he would bowl four balls, but he swung it and had raw pace."
Still though it was not enough to catch Lancashire's attention, Anderson being overlooked for the under-16 trials. It took a phone call from Brown's mother, Val, to John Stanworth, then-academy coach to get him noticed. A year later Anderson was in Burnley's first XI.
"Once Lancashire took notice he made his way pretty quickly," says Brown. "Between 15 and 17 the change wasn't anything to do with his action. He just got bigger, stronger and went from bowling 75mp to 87mph bowling out-swingers.
"They called him the pro-killer. He got Martin van Jaarsveld in 1999 with an absolute jaffa that pitched on middle, swung and seamed away. Van Jaarsveld was the only bloke good enough to actually nick it. He just bowled magic balls, in between the odd attempt to pitch it on leg and hit the top of off that got smacked through midwicket."
Anderson also dismissed a future coach that year in the form of David Saker who was proing for Enfield, as well as West Indies' Neil McGarrell and New South Wales star Brad McNamara. He finished the season – his first full year in the first team – with 43 wickets at 21.33. In 2000 he took 48 wickets at 20.33. Ears pricked up.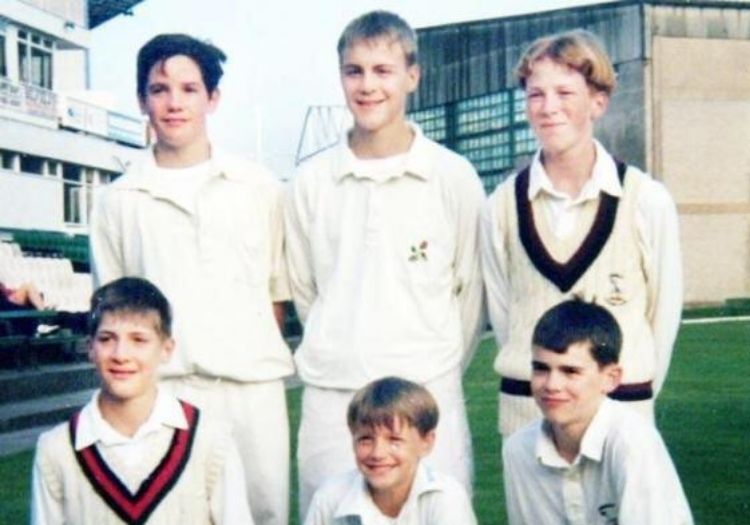 Anderson (bottom right) as a young, aspiring cricketer...
***
Coinciding with the start of Anderson's career was the winding down of Mike Watkinson's. After 666 appearances for the county and a handful of England caps, he took over as manager of the cricket department in 2001.
"We had a 19-year-old Jimmy and a 17-year-old Kyle Hogg," he says. "Kyle knocked length out and was consistent. To offset that you have Jimmy who was tall, willowy, twangy and athletically built. He would run up pretty quick, had a lot of rotation and his head would be looking at the ground after release. He was a bit unpredictable and you would have a punt on more bowlers like that than you need as not everyone is going to make it.
"But when you get an absolute diamond who it just clicks for then you have a potential world-beater or somebody to give you top-class service in county cricket as a bare minimum. That is what we had with Jimmy. It was exciting because he had the raw ingredients: pace, an energy and enthusiasm, a hunger to learn. He is an inner thinker of the game, albeit in an extremely introverted persona at the time."
Stanley Park, Blackpool, was the venue for Anderson's first taste of professional cricket on September 6, 2000. His opponents that day were a strong Surrey side led by Alan Butcher and also containing Tim Murtagh, Gareth Batty, and Michael Carberry.
Anderson in his book Bowl, Sleep, Repeat describes his first delivery as the worst he has ever bowled, deciding this was the time to introduce a jump at the crease. He destroyed the stumps at the wrong end and finished sprawled across the wicket. His figures were 0 for 72 from 16 overs.
Anderson's first-class bow also came against Surrey, at Old Trafford in May 2002. For a young quick it was daunting, the champions-elect boasting a batting line up containing Carberry, Ian Ward, Mark Ramprakash, Ali Brown and Rikki Clarke.
"Sometimes these protégé players come through your ranks and are earmarked as superstars of the future," explains Warren Hegg, who was Lancashire skipper in those days. "Jimmy definitely wasn't one of those – he snuck through the backdoor really. No one had seen much of him until he trained with the first team, but then it was obvious that he had sheer out and out pace. Pace gets good players out, it always will.
"In those days it was kind of speak when you are spoken to. Get on and do your job. I think that suited Jimmy. He is not one for speaking when he doesn't feel he needs to. That is his persona. He was told what was expected of him and got his head down."
Back then though Anderson was a very different type of bowler, and the fields set were a far cry from what he has now: "We quickly learned what his strengths were and went from having three slips, two gullies, short leg, man round the corner, to a more defensive field where he was able to just let himself go," Hegg continues. "He had the attacking fielders but also the protection out on the boundary for his lose delivery outside the off stump. I can recall many a time where he had people caught at the cover point boundary flashing at wide fast balls, which ordinarily you wouldn't have to a bowler like Jimmy now with his control."
Ward was Anderson's maiden first-class wicket, and by end of the summer he had reached 50 in only 13 games. "I remember a game at the Rose Bowl when the pitch was in its infancy," recalls Watkinson of one encounter where Anderson took nine wickets. "He was hitting people on the grill off just short of a length. People were asking where this kid had come from?"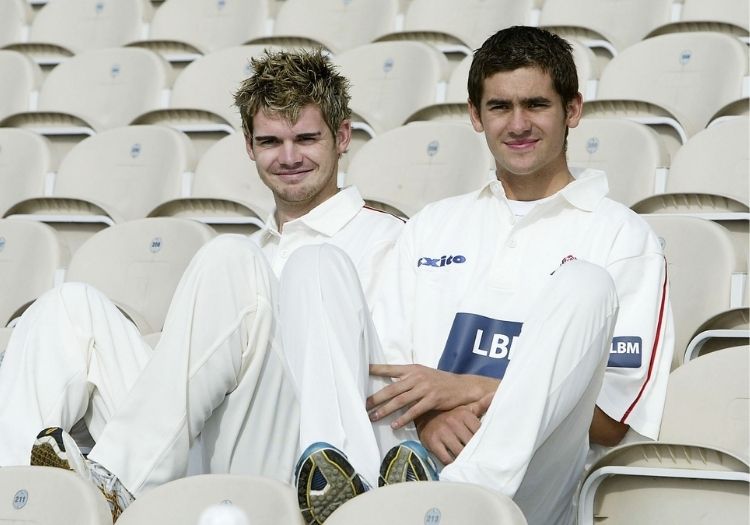 Anderson and Kyle Hogg ahead of the 2003 season
One enduring quality is Anderson's competitive nature. Hegg chuckles: "We had centre-wicket practice at Old Trafford toward the end of my career – my eyes were going! Jimmy was in one of those moods. He didn't want to talk much: he just wanted to do his job, have his session and then go. I bore the brunt of that. I remember facing him with an old ball, on a used wicket, and he kept hitting me on the toe. I couldn't hit him.
"I was captain of the club but there was no quarter given. He was letting me have it properly for the benefit of his own game. I don't think my big toe has recovered. He always wanted a little bit more from his career. I would hate to have played against him."
Two decades on, nothing has changed. Jon Lewis, England's pace bowling lead, worked with Anderson during the tours to Sri Lanka and India earlier in 2021. "In Sri Lanka I asked him to bowl a five-over spell in the nets. He bowled absolutely outstandingly well and he hadn't missed his line and length for 29 balls. And then the last ball – in a spell where he had been all over the batsmen – he bowled a drag down ball and got pulled. He absolutely lost it with himself and stormed off. That pretty much sums him up. He is someone who wants to get it right every single time."
***
Anderson finished the 2002 summer with 50 wickets at 22.38. Decent returns, especially as until June he had only been playing in the Lancashire League. On April 21, 2002, he picked up 3 for 51 from 12.1 overs at Bacup CC, a small town with a population of approximately 13,000 on the Yorkshire border. On 15 December that year, he took the new ball for England in an ODI against Australia at the MCG. Adam Gilchrist was his first international wicket.
By February 2003 he was playing in the World Cup, a devasting spell in England's 112-run victory over Pakistan seeing him remove Inzamam-ul-Haq and Yousuf Youhana for golden ducks. He missed out on a hat-trick but finished with 4 for 29 from his 10 overs.
"That was as close to seeing him bowl for England in the way Burnley knew him," explains Brown. "Those magic balls where he got Inzamam and Yousuf, we would see one or two of those every week. He wouldn't always get a wicket, but you would go: 'Oh my God'. It bridged the gap for a lot of people watching: we knew we hadn't been playing with a club bowler, we were playing with someone bordering on a world-class level of ability."
The steep ascent continued during the English summer; a central contract in April; a Test bow against Zimbabwe in May (his first over contained two no-balls, leaked three boundaries and cost 17 runs, although he recovered to take 5 for 73 in 16 overs, Mark Vermeulen his maiden Test victim); and the first man to take an ODI hattrick for England in June.
Two of the all-time greats...
Anderson featured in seven Tests that summer, claiming 26 wickets at 31.57. But there was constant noise about his action: between the end of the that summer and the start of April 2008, he played just 15 Tests, taking 44 wickets.
"You see it with most young players cricketers who get picked early for England," explains Ian Bell. "You're going to have a little down-periods but you're doing it in the limelight.
"Jimmy had that follow-through that Sky kept talking about all the time. They said you can't bowl like that and that he had to change it: when you are a young and hear experienced guys – maybe heroes of yours growing up – saying that you take a little bit on board. That's only natural."
In 2005 Anderson returned to county cricket's relative tranquillity, a full season with Lancashire yielding 60 wickets. There he was once again under Watkinson's watchful eye: "As a youngster Jimmy just ran in and did whatever was natural for him.  But as soon as you are someone who can bowl quick England are looking at you. You fall into an area where you are managed by a county, but England have influence on you. Through that process he did a little refining but not necessarily one that produced benefits out on the field. It was though perhaps considered safer."
But all that tinkering took its toll, a stress fracture ruling Anderson out for almost the entire 2006 season. It turned out to be his sliding doors moment. "Rather than thinking: 'Shit, this might be the end of my career', it was: 'Right how am I going to use this to make myself a better cricketer when I come out the other side?'" says Watkinson.
"Jimmy had ownership of it and what he wanted to do was re-introduce some of the early rotation he had as a young fast bowler. When he came out the other side he was stronger and more physically robust. He had worked hard at it and felt a little bit more comfortable in his own action. That give him that nice repeatable platform for his skills, using his fingers, the swing of the ball and his tactical nous to produce what he is now."
"There is never a straight line of improvement," reflects Bell. "You have to go through that journey in your career. He went full circle, back to what is natural. And the next thing was he took off and never looked back really. You've got to get comfortable in who you are and what you do first though and when the great players find and understand that, they take off don't they? Look at Steve Smith.  I think Jimmy did that. His skill level, well there is nobody better."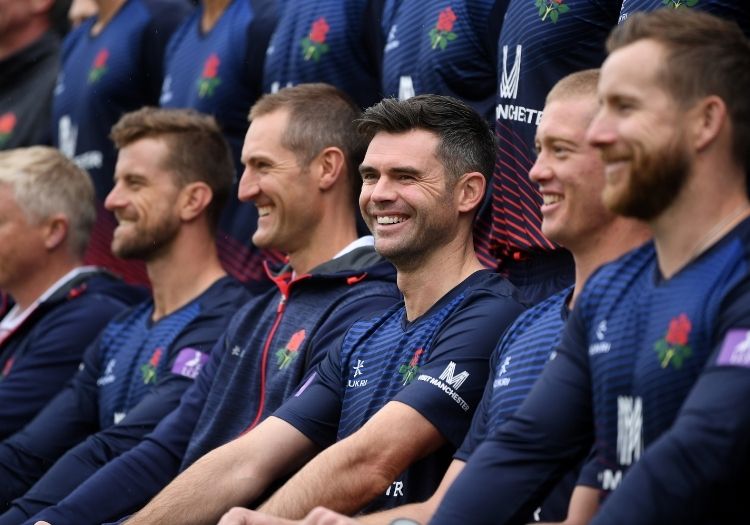 It was fitting that Anderson should take his 1,000th wicket back in Lancashire colours
***
"He never takes to the field unless he is 100 per cent prepared," explains Watkinson. "I can't remember him ever bowling at a first-class batsman without knowing something about him in advance.
"Even later on in his career, if he has had an injury or needed a game of cricket and was playing in the second team, Jimmy asked our youngsters about the opponents – whether they had played any England schoolboys against them, what their strengths and weaknesses were. He'd be asking an 18-year-old not who is not necessarily contracted how one of the opposition plays so he could work out his plan accordingly. When he first started, we did have team meetings and plans but his level of preparation and homework…. well, it got to a stage very quickly where he was driving it."
In the second innings of the first Test in India this year, Anderson's double-wicket maiden removed Shubman Gill and Ajinkya Rahane to open the door for a famous England win. It was his first over of the day, and he struck with just his second ball. Gill, well set on 50, was left bemused when Anderson found the smallest of gaps between bat and pad to send off-stump cartwheeling.
Next was Rahane who, having been set up with one the moved away, failed to react quickly enough to an in-ducker and was pinned leg-before. Anderson ended with 3 for 6 from his five overs, the eighth time in his Test career he had snared three wickets in such a short spell – all of them coming since 2015.
It was a remarkable period but did not just happen: the work started long before that morning. "The interesting thing about that over is the preparation he put into it," explains Lewis.
"Three or four weeks earlier, when we got to Sri Lanka, he had explained to the rest of the bowling group what he wanted us to do and how we needed to do it. I promise you he went into minute detail about how to get the ball into the right condition to reverse. Things like making sure you knew where the drips of sweat would come off your head and keeping your hands and the ball away from that. Those are the things people don't really understand about trying to get the ball in the condition to move in that climate.
"And that was really the first time over the course of the three Test matches (including the two in Sri Lanka) that we got the ball to reverse. Who was the person to get it right? Jimmy: he was the guy with the ball in his hand, and was able to execute at the right time to win the game for England. That's what makes him so special."
Mark Wood has shared a dressing room with Anderson for much of the past five years, and recounts a time where, even mid-Test in St Lucia, Anderson was still tinkering in a bid to improve. "We are about half-way through the Test and batting. Jimmy goes out to the nets and changes his run-up because he is not happy with it. Second innings he gets three or four wickets. You have to be so in tune with your body to be able to change your run-up mid-Test match and also have the courage to pull it off.
"He is constantly asking coaches about his run-up speed, his technique, how he felt. It's not just about how it looks, it's about how it feels. His attention to detail isn't all about technique – he thinks about how it feels intrinsically."
Lewis has the unenviable task of trying to coach the master. How does he do it?  "You listen to him," he says simply. "You listen to what he has to say because he knows what he is doing, and you bounce ideas around with him. And if you ask him a question you've got to be prepared to be challenged because he has put the time in himself to have the information.
"Does he need a coach? Not really. Does he rely on a coach? Definitely not. Does he like having a coach about? Yes, because it is someone to talk to and discuss things with. The way you help him is to be available for when he wants to have a discussion. Even if things are going well, you want to stimulate thinking about what could be next and how to get ahead."
***
For years the myth that Anderson only does it at home in favourable conditions has been peddled, with people saying the skies and surface needing to align for him to succeed. Perhaps in the very early part of his career, there was a kernel of truth to that, his wickets outside England costing 45.6 runs apiece. Very few cricketers though don't need a little time to adjust to the rigours of international cricket and performing in alien conditions.
And for more than a decade, Anderson has been exemplary abroad: 230 Test wickets split between Australia – 60 wickets at 35.43; India – 34 wickets at 29.32; New Zealand – 26 wickets at 32.81; South Africa – 34 wickets at 34.62; Sri Lanka – 18 wickets at 33.28; UAE – 22 wickets at 20.55; West Indies 36 at 24.81.
Against a career economy rate of 2.84, 375.4 overs in India have cost only 2.65 runs an over, while in Sri Lanka his economy rate is just 0.03 runs higher than his 2.85 in England. In the Caribbean, it drops to 2.58, while in the UAE it is 2.09.
There have been a few sub-continent lows: there were six boundaries in an over against Sanath Jayasuriya in 2007 and he was left out of England's final Test during the 2016 India tour. Already 2-0 down, workload management was cited but he had gone wicketless for the previous two games and his four series' wickets cost 53.5 each. But on the flip side there have been plenty of highs, including 12 wickets as England secured a historic victory in India in 2012-13.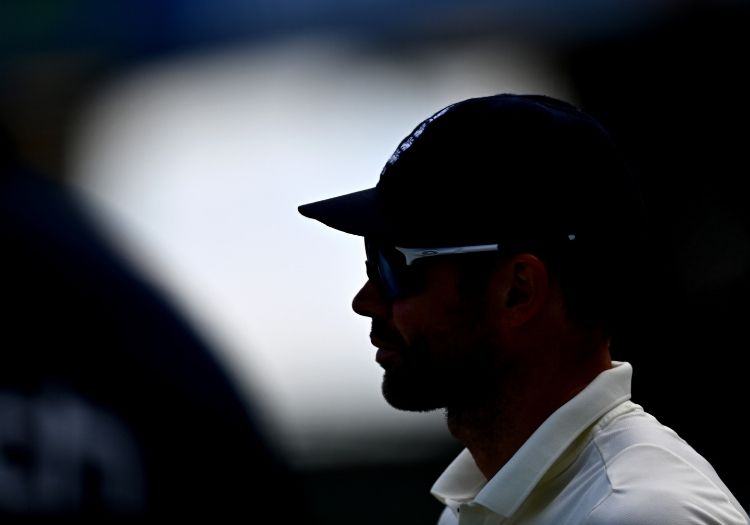 Heino Kuhn was Anderson's 1,000th first-class wicket, dismissed in the midst of recording his best-ever figures
"The thing that people sometimes don't understand is that when you go to India, Jimmy is more of a defensive option," Bell says. "Your attacking options are your spinners, so his role slightly changes and his field settings too. Yes, he is trying to get a wicket with the new ball but then it is about creating pressure for (Graeme) Swann or (Monty) Panesar. He did that other part of it incredibly. To get 12 wickets on pitches like that in a series like that is an incredible achievement."
"I think 'in awe' is a good way to describe watching him bowl on the sub-continent," admits Tim Bresnan, who lined up alongside Anderson during his England career. "I wouldn't say it was easy but in home English conditions, we knew how to get results. When it came to bowling on the sub-continent though Jimmy would hit another level. He found an extra gear. He would bowl a little bit quicker but still swing and seam it.  I'm standing there thinking: 'I haven't moved one off the straight for two months, and Jimmy is nicking people off for fun'. At that point the difference between him and everyone else becomes apparent."
And on the idea that Anderson was a green track bully? "To be honest, in the written media especially, we'd always laugh at what they wrote. Some of it was quite accurate but the bits that sold the paper or grabbed the headlines, most of the time was total bollocks," Bresnan says. "That is what it is designed to do though isn't it?!"
"I don't know where that comes from honestly," Wood agrees. "He might not get five-for every week, but he helps everybody else. He controls the rate, he bowls with great skill, and then batters have to take chances against other people because he is keeping it so tight and asking so many questions all the time. There's never a let-up.
"And he is constantly talking to me at mid-on, mid-off. He was a massive help in hot conditions. The little things he would say – it wasn't just about tactics – things like: 'Come on pal, pick your legs up, amazing effort, snap at the crease, one more time'. He doesn't have to do that when he is knackered himself, but when it was red hot that kept me going. He is a big, big help on the field."
***
"I met him properly only when I walked into the England dressing room for the first time," recalls Bresnan. "I didn't really know him and thought: 'I'm not sure what to do here', with the old Yorkshire-Lancashire rivalry." He pauses, bursts out laughing and continues. "He was quite grumpy, quite aloof – pretty much the same as he always is. That's the overriding thing when everyone thinks of Jimmy Anderson: a bit of a grumpy so and so from Lancashire. To be fair, if I'd bowled that many overs, I'd be that grumpy as well!
"But after a couple of days we got on really well which a lot of people were quite shocked by. We both have similarly dry senses of humour, and got closer and closer during the time we played for England together."
More chuckling: "Don't even bother with him in the morning though. On tour, you don't even speak to Jimmy until we have got off the bus. You just totally ignore him at breakfast as you are going to get absolute donuts from him. As soon as he got off the bus that was it, right ready, Jimmy has woken up."
Bresnan is speaking as only a close friend can. But there is truth in what he says – it aligns, or at least did for much of his career, with the public image Anderson presents. More recently though, his Tailenders podcast and punditry work have peeled back the curtain to reveal a little of behind-closed-doors Jimmy.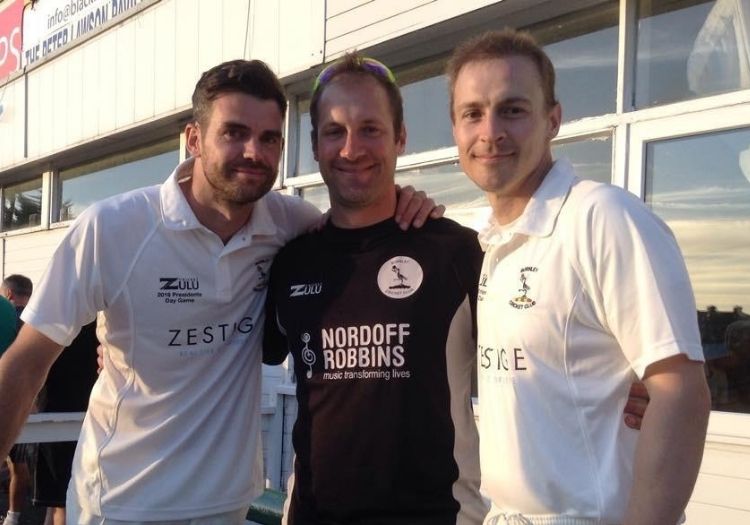 Anderson back where it all began at Burnley
That outer grumpiness perhaps in part can be attributed to his personality type: "An introvert is somebody who gathers energy from within – he doesn't need the external world to recharge his batteries," explains Watkinson. "An extrovert gathers energy from the world around him, whereas an introvert will need time to reflect and process things before presenting to others.
"Jimmy has confidence in himself and what he can deliver. But initially he is quiet around the place. He has had a great upbringing, great family values, very respectful, does things right. That is what we saw in him as a young man. If you look at him now – is he an introvert or an extrovert? You don't change, you are one or the other and that is it. But if he is a true introvert he has certainly learned to extrovert and does it very, very well."
But behind closed doors Anderson is one of the beating hearts of the England dressing room, never shying away from a prank. "He was a practical joker – him and Swanny together were like a double act when you were first in that dressing room. You couldn't do anything off guard because they would be all over you," Steven Finn remembers.
And there is also a generosity of spirit to Anderson, a man who goes over and beyond for those he holds dear and causes he cares about. "We are both big Brooklyn Nine-Nine fans and the quotes are always flying around," says Wood. "One of the loveliest things Jimmy has ever done for me was to get a member of the cast – my favourite character, Boyle, played by Joe Lo Truglio – to send me a message for my birthday in Sri Lanka. I don't know how he has connections in Hollywood but I was blown away." A hybrid American-Geordie accent kicks in: "Hey Woody, good luck to you and Jimmy on the upcoming tour of Sri Lanka." The sound of Ashington is restored: "He was talking about jar-fors instead of jaffas! I was stunned beyond belief."
Brown, in his capacity as chairman of Burnley CC, has experienced that kindness too. "When I took over the club was in massive debt – knocking on £60/70k. It was at a stage where the heating was being turned off. Jimmy did a dinner for me with Chris Tremlett and we raised over £10k.
"Then I asked him if he would sponsor us. It was literally the shortest conversation – he just said: 'Yep, fine', and for six years or seven years he paid £2,000 of his own money and put the Nordoff Robins charity on front of the shirt. That's proper money however much you earn.
"From 2016 to 2019 I ran the president's day and he played in three of them. At one point he ran in properly. There was James Foster keeping wicket and Jimmy ran in and bowled an absolute jaffa at the best player in the Burnley side, Vishal Tripathi, who nicked it, Foster dived full length and caught it one handed about two inches off the floor.
"He always gives his time. He presented trophies, we had a capped-player night where we handed out baggy blue caps to all the players who had achieved milestones. He must have had 60 or 70 to present. He couldn't do more when you asked him to. A genuinely generous bloke. He never shouts about it, he just does it. That is the kind of stuff that never gets talked about."
***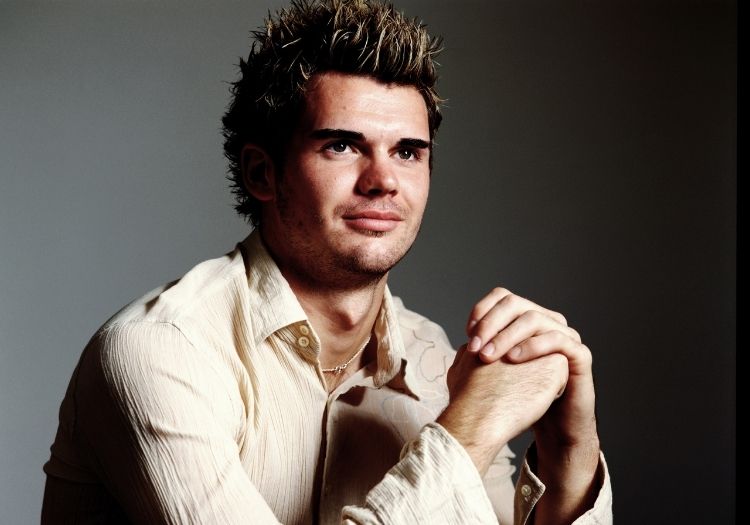 Anderson's younger days...
Anderson will turn 39 in July and fast bowling is arduous, taking its toll on many a body. "It's the consistency of what he does that makes him so amazing," says Finn. "I've had injuries which have then affected my action, which have then affected what I can do as a bowler. I've played only a handful of the Test matches he has – his combination of longevity and skill makes him truly special. People can pop in and do it for a year or two, but he has been able to do it over 18 years or something silly. That, and the fact that the threshold of what he can achieve is a lot higher than everyone else in the first place, sets him apart. Those two things make him a once in a generation bowler."
There is no real sign of let-up, and with careful management he could continue for some time yet. "Old is gold," as Bresnan puts it. "His skills are phenomenal, aren't they? It's credit to him that he is getting better. He is getting wiser if you like. He knows exactly when to attack and when to defend a little bit. You can see why he has that many wickets. He never misses, he never relieves the pressure. Very rarely does he give freebies out."
"We talk about perfectionism, well it surprised me how fast he was across the ground in Sri Lanka," says Lewis. "I asked him and he talked about how he had been working on his running technique. He has worked very hard on nutrition and his physicality because he knows that it is that which will probably stop him playing. It won't be skill level, it will be his body so he's worked incredibly hard at it."
"What Jimmy has is an unbelievable resilience to getting out and playing cricket," explains Bell.  "You see a lot of good bowlers who don't bowl through the pain barrier or hold back a little bit. And you're never going to get that with Jimmy. Mentally, physically, he is hard as nails. And when he crossed the line, he is a serious competitor. Whether in a Lancashire shirt or and England shirt it didn't really make a difference to be honest – he just wanted to win."
And once he is gone, well he will be forever regarded as one of the greats: "In the early 2000s, if you had said Jimmy will have his own end at the Emirates Old Trafford to put him in the same bracket as Statham and those kind of players? Nah," says Hegg. "But he has surpassed him. He is still a top, top man. He has not changed one bit. It is privilege to have played with him and known him as a bloke. He is an absolute dream for the Red Rose brand. He will do anything to help promote our county, which is imperative in these days."
And he's not done yet.
Please ensure all fields are completed before submitting your comment!