The Timeline: Northern Superchargers Men v Welsh Fire Men: Visitors take the spoils in a frantic affair
The individual effort of Harry Brook was not enough to complete what would have been a remarkable chase, as Jonny Bairstow and Qais Ahmad did the damage for Welsh Fire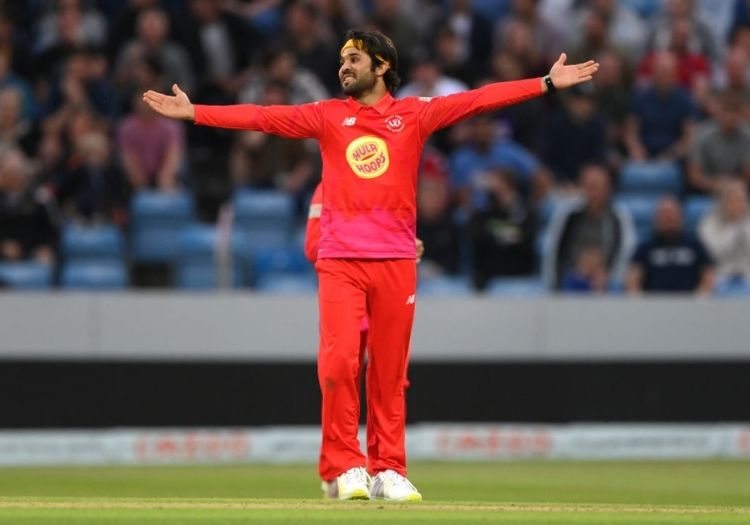 A breathless game at Headingley was won by Welsh Fire after a run chase which was recovered from a near-hopeless position by Harry Brook.
Put into bat first, Jonny Bairstow did what he does best in short-form cricket: hit hard and fast, as his side set a record total for The Hundred so far.
In reply, the Superchargers lost their first four wickets quickly, but Harry Brook, the 22-year-old, swung a 24-ball half-century and their lower order battled back into the game - but thanks to Afghan spinner Qais Ahmad, the visitors had enough to get the points. 
Here's how it happened...
Northern Superchargers won the toss and elected to field first.
Ball 12: Lift off! Jonny Bairstow hits the first six of the evening. David Willey tries to swing it in full, but doesn't get the length he desires. In the slot, Bairstow was never going to miss out, firing with swagger straight over the mid-off boundary - met with a smile from the bowler, his national teammate. 17-0
Ball 22: Baptism of fire for Brydon Carse, as Bairstow goes again! Welsh Fire fans will be enjoying this. The English opener shuffles an inch or two before thumping the right-armer right into the leg-side and into the stands.  38-0
Ball 24: Got 'im on review! Banton goes. A fantastic comeback from Brydon Carse, who swings this in, quick and full - 90mph quick, to be precise. Banton looks to get his bat down and dig it out, but it strikes his pad - Nigel Llong isn't interested, and Ben Stokes decides to send it upstairs. Ultraedge shows a spike on the boot, and that it was going on to crush middle. 43-1
Ball 49: Bairstow has sent this one a long way into the stands for his fifty! Mujeeb gets his release wrong here and is punished. It floats in full and the wicket-keeper-batsman swings like the bat were an axe, as the ball flies at some speed away over midwicket. He raises his bat briefly. The Superchargers will want him to get him gone, quickly. 74-1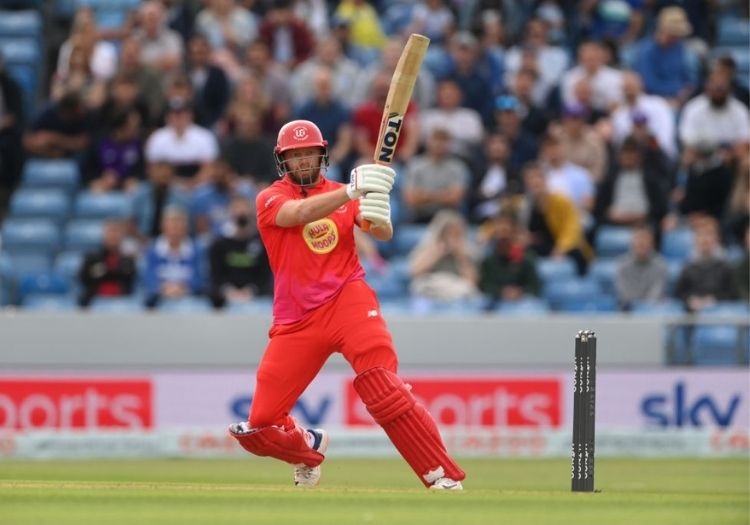 Bairstow enjoyed himself as he flew to a half-century
Ball 62: Gone! Ben Stokes is back in the wickets! The skipper gets the prized snag of Jonny Bairstow - he puts himself back into the attack and gets the reward. Stokes goes for the length ball this time, and after a couple of singles Bairstow looks to go big, but doesn't get the right power - hauling to David Willey at deep mid-wicket. An important innings comes to a close. 93-2
Ball 73: Four, four, and then out! Adil Rashid strikes! This is exactly what he does best in white-ball cricket. He goes a little bit fuller this time and Duckett can't middle it. It sails towards mid-wicket where Matty Potts makes no mistake. The hard hitting Jimmy Neesham comes in next.  107-3
Ball 78: This has just been launched by Glenn Phillips! Rashid floats one on a full length, and in a similar manner to Liam Livingstone against Pakistan, Phillips clubs it all the way to the top stand behind the bowler's arm. 100 metres, we're shown. 116-3
Ball 89: Gone now! Phillips was enjoying himself out there but now he must plod back. Matty Potts goes full, and Phillips simply mistimes the slog, heading straight to Adam Lyth at mid-off who has taken harder catches in his career. With the Welsh Fire about to set the highest run total in The Hundred so far, let's see how far they can get in this last ten. 143-4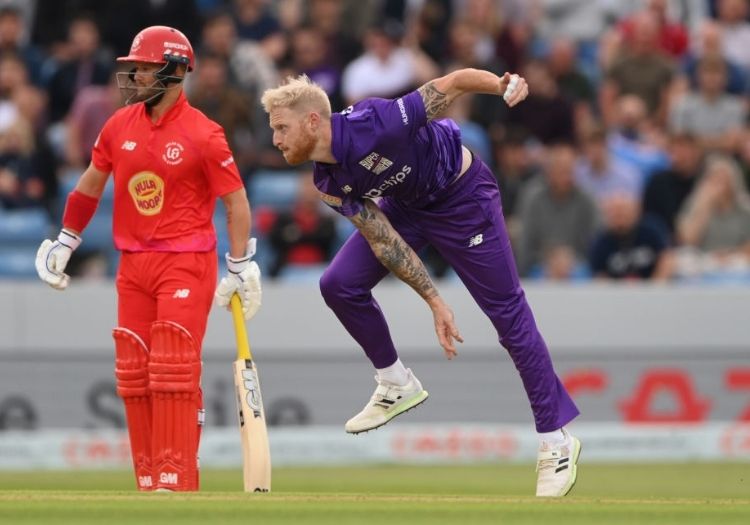 Stokes took the captaincy and got one wicket for himself
Ball 97: Six, and a no-ball! Eight off that, and now Cockbain has a free hit! Initially, he dispatches Brydon Carse back over his head for six, but his front foot has overstepped, adding a two-run penalty. Off the free-hit they find another two. 162-4
Ball 100: Neesham finishes with a six! This is a brilliant total! The final pairing of Neesham and Cockbain have added some key runs, and the New Zealand international finishes by dispatching Carse over square for a final biggie. An expensive last set and the Northern Superchargers work is cut out. 173-4
Against the highest total in The Hundred so far, the home side will need to find 174 runs if they are to join the women's side earlier in the winner's circle.
Ball 15: Bang! Leathered over deep midwicket by Adam Lyth. There have been a couple of fours but he's threatened this. Lyth shuffles and gives himself space to fire Jake Ball's length delivery over the longer boundary at Headingley. The Superchargers needed to start quickly and that's exactly what they had in mind. 25-0
Ball 23: Caught out! That's exactly what Lyth wanted to avoid. Matt Critchley, the spinner, tosses one up full and the batsman looks to fire through cover, but chips it to Tom Banton for a routine take. 36-1
Ball 27: Gone! In comes Qais Ahmad, out goes Chris Lynn. Skipper Jonny Bairstow hands the ball to the young spinner and is rewarded. The leg-break is on a full length and Lynn doesn't get the right power to get the ball to sail over backward point, where Cockbain brings it in well for the catch. 39-2
Ball 37: Ben Stokes has to go! Big moment. Jake Ball puts this one full, somewhere that you'd normally back Stokes to find a large one from - and it's what he goes for, but he can only lob it towards cover, and Glenn Phillips moves in quickly to get the big fish. The Welsh Fire living up to their name in the field. 47-3
Ball 41: David Willey finds the fielder! This one's starting to slip away for the visitors. It's a wider ball from Qais Ahmad, and Willey looks to drive it away, but he strikes it flat. The man at point reacts quickly as it comes straight to him. The WinViz has the Superchargers at just 7%, but the women's side recovered from a similar position earlier… 50-4
Ball 48: Six for Harry Brook! Matt Critchley pitches it full and allows the youngster to swing over the bowler's head, and it looks for a moment that he could be plucked at long-on. There's enough length, so fielder Liam Plunkett has to settle for having a good view of it. They'll need more of those to get back into this. 59-4
Ball 53: And that's six more! Plunkett is taking some heat here, this time with the ball in hand. He tries to suss out Brook with the slower one, but he doesn't take the bait, instead waiting and firing over extra cover for another huge six. The fightback has commenced - and Brook will need to stay put if they are to find their way out of this. 77-4
Ball 66: Only a couple here, but that's fifty for Brook! He's reached his half-century off just 24 balls, and the locals are making their appreciation vocalised. The required rate is now below two-a-ball again, and there could be something on here for the home side. 112-4
Ball 74: Run out! Tom Kohler-Cadmore has to go; it was a good full one from Jake Ball and swatted away towards midwicket. The incoming Glenn Phillips collects and returns at speed, and Bairstow dislodges the bails. Well, his bat was over the line but not grounded! He trudges off.  119-5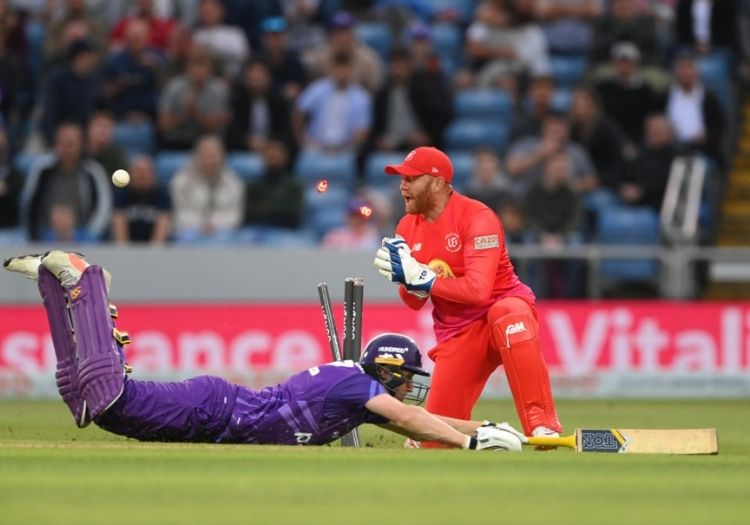 Ball 78: Brook heaves again for six! Liam Plunkett shakes his head, he is not used to this. He goes full and looks for swing, but once again he is read like a book, and dispatched over long-on. This isn't done yet. 134-5
Ball 81: Qais Ahmad strikes again! John Simpson goes - tossed up on middle, Simpson is invited to go for the big one that they need, but doesn't have the right contact. There's not much pace on that ball and the man at long-on grabs it. 136-6
Ball 82: In the air, put down, run-out chance, missed! It's all happening here. A wild passage of play, Brydon Carse is put down by the diving fielder at backward point. Carse proceeds to run and is miles out of his ground, but the throw is wild and wide of Bairstow. Getting hectic now. 137-6
Ball 83: Two in three balls for Ahmad! And that's Brook gone. It's brilliant bowling. Full, quicker and straight. Brook can't get his feet right and is caught firmly on the pads. It's plumb and the umpire raises his finger quickly. 137-7
Ben Stokes of Northern Superchargers said: "To get to where we were at the end, massive credit has to go to Brooky and then obviously Brydon and Potty to even get near to the total".
Asked about his sides' mentality, the skipper explained: "It comes from the short time we've been together, the mindset we want to create for our batters".
"Myself, Lynn and Lyth didn't really help at the start. But it gives Brook the responsibility and confidence to go out and play that way, that's what we want to do, give these players a chance to express themselves", he added.
Welsh Fire 173 off 100 balls, 15 4s, 8 6s
Northern Superchargers 168 off 100 balls, 14 4s, 8 6s
Welsh Fire won
Please ensure all fields are completed before submitting your comment!