The Hundred curtain-raiser showcases all that is good about watching women's sport
SAM MORSHEAD AT THE OVAL: It was raucous, without ever feeling out-of-control; a PG party on a school night. The queue for the ice cream van was five times longer than that for a beer, and there were reports alcohol-free drinks sold out before play
With a little more than 30 balls of the match remaining, The Oval announcer very proudly boasted that this was the largest audience for a professional domestic women's match in the UK.
It was a grand turn of phrase, which concealed the fact that this is the first season of professional domestic women's matches in England and Wales, and that a match between Yorkshire and Lancashire in Roundhay Park in 1949 was watched by 15,000 (with thanks to the encyclopaedic Raf Nicholson).
However, forgetting that somewhat hollow self-congratulation, the crowd of more than 7,000 in place for Oval Invincibles and Manchester Originals' engaging debuts in The Hundred still provided a historic backdrop for women's cricket in this country.
Yes, more than half were at the game thanks to ticket giveaways, with just under 3,000 paying customers in attendance - including this correspondent. And yes, you can sit and point at 16,000 empty seats if you really want to.
But it did not matter how they got there, placing an audience of substance into the camera frame and behind the effect mic was the most important part of this evening from the tournament organisers' perspective. And they nailed that brief.
Young people at home will have seen others their own age making up great swathes of the crowd, and maybe - as green-eyed children so often do - they might want what others have.
And when they do convince mum and dad to go - for the women's competition at least - they will feel welcome and comfortable.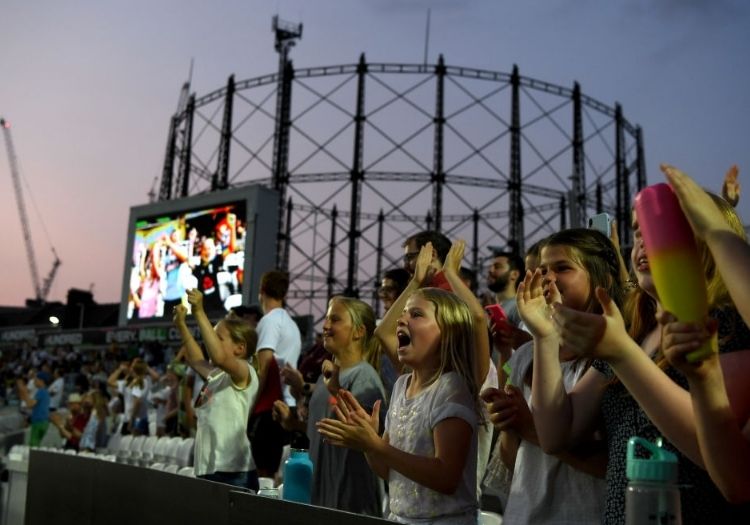 Fans at The Hundred on Wednesday
I love the Hollies Stand at Edgbaston; I've spent many a boozy day dodging leaky beer snakes and spotting the fancy dress fox being chased by the fancy dress huntsmen, Donald Trump and Kim Jong Un. And singing so loudly the whole world vibrates.
But, and maybe this is the new discovery of fatherhood talking, there was something hugely fulfilling about being in a crowd dominated by families at The Oval on Wednesday: dads explaining rules badly; children standing on their seats and bouncing through the concourses in excitement; a calm, chatty patchwork of faces.
A hum, without the champagne corks. A buzz, without the rowdy comedown. My son is one next month, and if this is the atmosphere I will be taking him to a game in the Women's Hundred next year without hesitation.
Stripped of a capella tributes to Neil Diamond, the occasion was instead set against a much more modern backing track which resonated with its audience (there was a lovely moment when a girl of no more than eight or nine was given the stadium MC's mic in between the fall of wickets and proceeded to launch with guts and gusto into a verse of Wiz Khalifa, sparking a huge ovation from fans and players alike).
And as the match went on, so the young people got more into the occasion.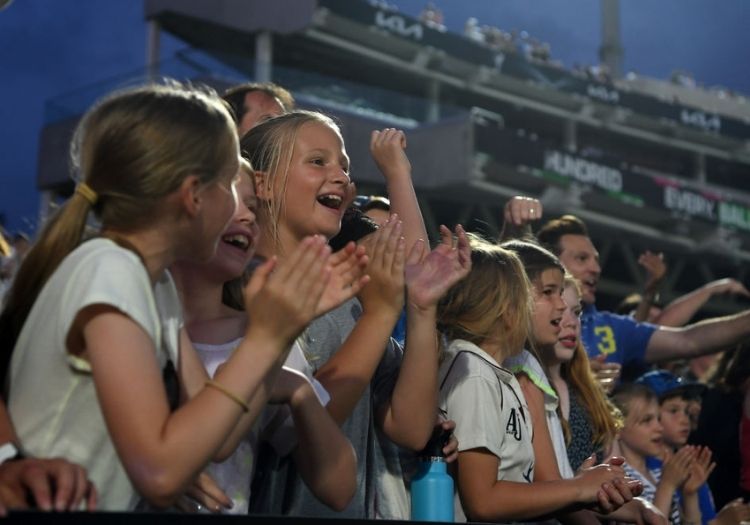 More than 7,000 fans watched Oval Invincibles beat Manchester Originals
And as the Invincibles got closer to an impressive chase, so the home crowd began to feel like a home crowd.
It was among the most relaxing, fulfilling sports spectator experiences I can remember (though I did not have a gaggle of kids to shovel off to bed at the close).
It was raucous in part, without ever feeling out-of-control; a PG party on a school night.
The queue for the ice cream van at the interval was five times longer than that for a beer, and there were reports that alcohol-free drinks had sold out at some bars before the start of play.
The stewards seemed to be enjoying the occasion, too, which was as clear indication as any of the event's general vibe.
This is not new for women's sport, which generally operates in a much more family oriented space, but that does not make it unimportant. In fact, it is crucial to cultivating a love of sport at a young age.
On Thursday, when 26,000 pack into The Oval to watch the men of Oval Invincibles and Manchester Originals, the demographics may well be different, and as a result the atmosphere could change.
But this was a safe space for first introductions to sport. And that matters.
Please ensure all fields are completed before submitting your comment!