The Cricketer's writers select their moments of the men's international summer
HUW TURBERVILL, JAMES COYNE, NICK HOWSON, NICK FRIEND, THOMAS BLOW, and JACK BUTLER pick-out the stand out memories from a remarkable summer of behind-closed-doors cricket...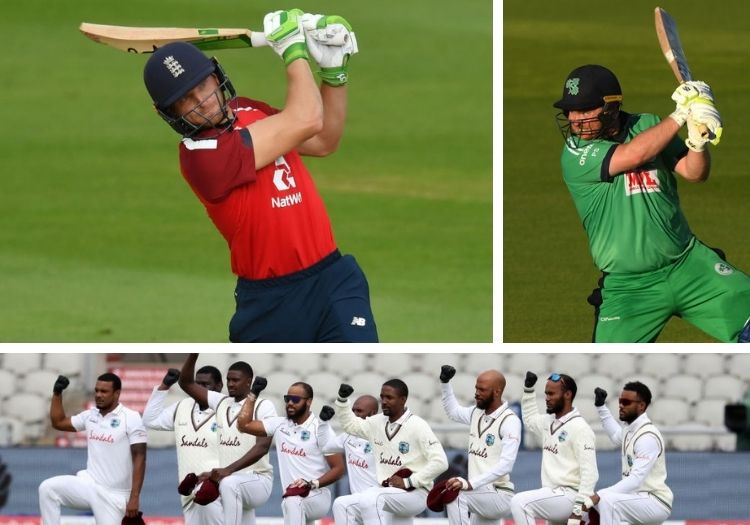 And then there was play.
After a summer during which you couldn't move for fear of missing another ounce of cricketing drama, the storm came. COVID-19 threatened to derail cricket and ruin the progress of 2019.
But like a plucky underdog, the cricket community adapted, rallied together, came out fighting, and produced an international summer to rival anything that has gone before.
From the Black Lives Matter tributes, Jos Buttler's revival, a double-century for Zak Crawley and Glenn Maxwell's fireworks it has been a remarkable few months for the sport - with England's women and the climax to the domestic season still to come.
Our writers have taken on the unenviable task of recalling their favourite moment. So sit back and enjoy the nostalgia.
THOMAS BLOW
Despite Covid-19 and the weather, it has been an excellent summer of international cricket. There have been so many great moments. Crawley's 267; Pakistan, Ireland, West Indies, and Australia all agreeing to travel; players taking the knee and standing up to racism; pretty much everything Chris Woakes did. The 2020 season may have been short, but it's also been surprisingly sweet.
For me, the standout moment was Jos Buttler's defiant red-ball revival. The criticism he received during the West Indies series was ridiculous, based entirely on his pre-summer form. He hit 35, 9, 40, 0 (as a makeshift opener) and 67 – a decent effort from a counter-attacking wicketkeeper-batsman. 
Yet, calls for him to be dropped still echoed around Twitter. I've never been his biggest fan, especially as there are plenty of talented contemporaries waiting in the wings. But you cannot keep repeatedly criticising people – you have to give credit where credit's due. It made him become this underdog figure; he was no longer a player who was expected to deliver but someone you simply wanted to see do well.
When he came out and smashed 152, it felt like a career-defining moment; his breakthrough as a Test cricketer. That effort followed knocks of 38, 75, and 0 not out and he has become almost un-droppable, certainly from the team at least. 
There are still question marks about his wicketkeeping heading into the winter as England face India (Covid permitting) and Sri Lanka. Ben Foakes, the most talented wicketkeeper in the country, may get the nod. But it feels as if Buttler is now an undisputed member of the Test side – and perhaps a future captain in all formats. 
Zak Crawley announced himself with a fine double century
JACK BUTLER
This summer has certainly been different but has produced some great moments nonetheless. From Zak Crawley whipping the ball through mid-wicket to bring up a maiden double-hundred or Mark Wood and Jofra Archer bombarding Australia's middle order with pace - we've seen it all. Perhaps, when James Vince picked up a wicket with a (slower-ball) bouncer we all knew international cricket had truly returned. 
However, in the same series as Vince's spell, Ireland picked up a memorable seven-wicket win over world champions England. Helped by a pretty average display from the second-string bowling battery, Paul Stirling hit a powerful 142, as he combined with fellow centurion Andrew Balbirnie to add 214 for the second-wicket. Between them they hit 77.5% of the required total as Ireland chased down 328 will one ball to spare. The Irish love a chase against England in white-ball cricket, but this was ridiculous.
NICK FRIEND
One small step for man, one giant leap for international cricket's resumption
I can't really remember the first ball of the men's international summer, but I can certainly recall the weeks and months beforehand when it seemed as though it might never arrive. And so, that's it – my moment of the summer: the moment it started.
Where it started depends on who you ask. "I probably didn't believe it until they landed," Heather Knight said on Thursday, reflecting on when she truly believed her women's side would have matches to play this season.
I think that's where I stand as well. I remember seeing the video footage appear on social media – it was a different kind of content: Jason Holder leading his West Indies squad off a specially chartered flight, his teammates – mask-bound – rolling their luggage across the Manchester tarmac. In a normal year, meaningless. This time, everything.
For me, it was an image that symbolised a new norm better than any other. Live sport of any kind was still some way in a murky, distant future. Instead, in this perverse, exceptional darkness, this was the most uplifting, exciting action that could be mustered.
At the height of lockdown, an enlarged visiting party had agreed to touch down on these shores in spite of everything. Once they did, it sprung the door ajar for Ireland, Pakistan and Australia to follow.
Don't get me wrong, there have been plenty of other contenders for my moment of the men's summer: Zak Crawley's double hundred; landmark Test wickets for Stuart Broad and James Anderson; ODI centuries for Andy Balbirnie, Paul Stirling, Alex Carey, Glenn Maxwell and Sam Billings; a remarkable run-chase inspired by Chris Woakes and Jos Buttler; and so much more.
But let me go for this one – the ordinarily bland footage of a squad disembarking an aircraft. One small step for man, one giant leap for international cricket's resumption. A summer that would not have been plausible without the courage and goodwill of those who agreed to take part.
Stuart Broad bounced back from being dropped at the start of the summer to take his 500th test scalp
NICK HOWSON
To paraphrase a phrased coined by Friends' Ross Geller: "It doesn't have to be clever it just has to be cricket. Any cricket will do."
The greatest triumph from the summer of 2020 was not the records, the runs, the wickets, the partnerships, the slower-ball bouncers, ramp-shots, Winviz, security dogs or coaching clinics.
We were just lucky to here in the first place. The ECB have been utterly remarkable, creating an environment for four nations to tour feeling safe and looked after. Cherished rather than burdens. West Indies - who have sent men's and women's sides - Ireland, Pakistan, and Australia should never be forgotten for their role. For all the planning behind the scenes, it is all rather irrelevant without them.
For the quality of the sport to be as high as it was, with players operating with unique circumstances, their movements limited and stadiums empty, is a testament to their professionalism and character.
Few shone like the fresh-faced Shaheen Shah Afridi. The 20-year-old is part of the next generation. Enjoy him while you can, before this gruelling sport ruins him with relentless schedules and unrivalled pressure.
His stinging, swinging yorker to bowl Jonny Bairstow in the first over of the England reply in the third T20 against Pakistan was a crackerjack of a delivery. The Yorkshireman looked like he's seen a ghost as he sheepishly left the field.
It was a staggering delivery, packed full of skill and precision, which eventually led to Pakistan's only win of the tour.
JAMES COYNE
I missed what was, by common consent, the most astonishing cricket of the summer, as Jos Buttler and Chris Woakes countered the leg-spin of Yasir Shah with astonishing bravura, and England chased around 77 more than most thought they could in the first Test against Pakistan. Pakistan lost, and the rest of the series dribbled away in unseasonal August rain.
Such batting was yet more evidence, as with Ben Stokes' heroics at Headingley 11 months earlier, of the influence T20 run-chases have had in adding to the many variables at play in Test cricket.
For those wondering how a British cricket journalist can possibly have missed that finale, I have a good excuse, I reckon. My wife had gone into labour on the afternoon of August 8 and even this cricket obsessive had to turn off the hospital Wi-Fi and disconnect from TMS to be fully paying attention for the birth of our first child.
On a quiet afternoon a few days later I caught up with a superb day's cricket on the highlights (which isn't quite the same, but there you go). Like many cricket saddos, I am perhaps destined to remember important life events based on how England were getting on at the time.
There were some of us who, if we're honest, didn't think Woakes had that innings in him, after watching his batting fall off a cliff since his Lord's hundred against India. He is now, though, England's most reliable bowler in ODIs. Shannon Gabriel and Jason Holder were fantastic in the first Test of the summer, and Stuart Broad as good as ever in the second and third.
But what about those 20 overs from Jofra Archer and Woakes in the second ODI against Australia? Ninety runs off 120 balls, or thereabouts, with eight wickets in hand should be an absolute doddle.
Except that a format supposedly all about containment had Archer and Woakes steaming in and hitting the stumps with a smidgen of movement. The obsession about sixes has always confused me a bit, because in my mind there's nothing like top-class fast bowling.
It was testament to their professionalism of Archer and Woakes that, after so long in the stultifying atmosphere of the biosecure bubble, they could give full expression to their skills like that. You can even forgive Woakes that haircut…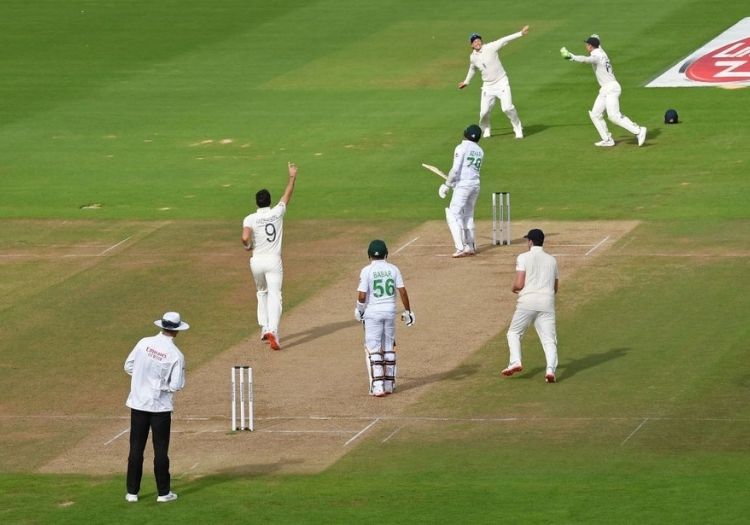 James Anderson became the first fast bowler to go to 600 Test wickets
HUW TURBERVILL
I've always loved a scenario where you come in to bat with your side in awful trouble, the fielders are strutting about like peacocks, and no one gives you a chance.
You start off with a few solid defensive shots. Then you hit a four. And maybe another. A few overs go by and you pick off a few more boundaries, taking advantage of the close-in field.
Their skipper starts to realise things are not going to plan.
They put a few fielders back, including the silly mid-off who has been staring you out from three yards away.
You can see them getting a bit twitchy now. Then there's that point when they start to realise, "hey, we haven't blown this, have we?"
There were two great examples of the genre this summer.
Third Test versus Pakistan at Old Trafford, England 117 for 5, needing 277. Jos Buttler under unbelievable pressure to retain his place after some careless keeping. Chris Woakes who hasn't been able to buy a run for weeks. A few hours later, the former has made 75, the latter is unbeaten on 84, and England win.
And just to show I am not too jingoistic, the Australians did it against England at the same venue in the third one-day international.
They were 73 for 5 with one ball left in the 17th, chasing 305.
No chance. 
Alex Carey (106) and Glenn Maxwell (108) had other ideas, though, with some audacious strokeplay. More gripping than any ITV drama.
Great television. Love it.
For unrivalled coverage of the county season, subscribe to The Cricketer and receive 3 issues for £5
Please ensure all fields are completed before submitting your comment!