The craziest end to the craziest game: The Super Over that clinched World Cup glory
NICK FRIEND: Even this famous old venue – an amphitheatre that really has seen it all – could never have claimed to have seen anything quite like this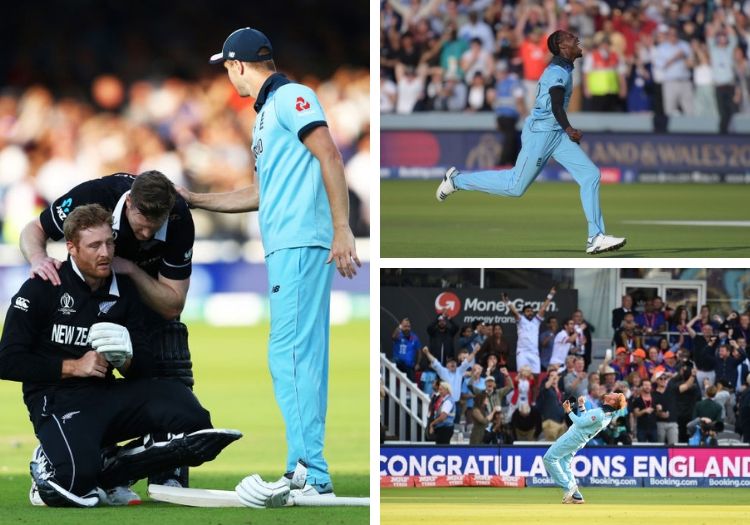 The faces on the England balcony said it all. As Mark Wood was left well short coming back for the second run that would have won his side the match outright, the collective visage was one of perplexed mystery.
Jonny Bairstow was ashen-faced, there were hands on heads and heads in hands. There are few contradictions quite like the very notion of the Super Over; a six-ball duel between knackered bodies and shattered minds.
There is little 'super' about it. Rather, it is an extreme battle of wills; it is as close as cricket can steer itself to an ancient, gladiatorial time. It is the only time when cricket declares that there, quite simply, must be a winner.
This is a sport, after all, where after five days of toil, two dozen players and umpires will turn to each other and shake on a draw. It is a sport where back in 2002, India and Sri Lanka were declared as co-winners of the Champions Trophy after rain interrupted the final and the subsequent rearranged attempt.
Somehow, given what he had just been through, Kane Williamson possessed the calm to sum it up best. "The next little match," was how he described what he had witnessed, powerless from the relative calm of the Lord's pavilion. Even this famous old venue – an amphitheatre that really has seen it all – could never have claimed to have seen anything quite like this.
Because, in reality, that is what it is. It is a different game entirely – it has none of the subtleties of a game of cricket, none of the back-and-forth of a 50-over contest. Just six tantalising deliveries; each one its own truly vital event. Even a four is two runs missed out on.
So little of it made any logical sense; there was no toss – England batted first because they had previously batted second. They sent out Ben Stokes – a man possessed both by his own insatiable, internal sense of warrior and a raging tiredness that seemed to have fully taken over his bloodshot eyes. He was out there because this was his moment.
After all that had come before, this was redemption, this was an opportunity to right the wrongs, this was a chance to live an experience that, at points in the last 24 months, looked like he might have lost.
To even suggest that Stokes was running on adrenaline by this stage may be overplaying the powers of human hormones. Given the emotional battle he had fought with himself and his fearless Black Cap opponents as the initial game wore on, he simply had no right to have the energy, the strength, the sheer willpower to want to be the one.
He was joined by Jos Buttler, a man for whom this occasion is his lifeblood. The wrists of an angel, the brute force of a Greek god, there are few in world cricket you'd pick before Buttler for a game of OneOne – another innovative moniker for this curious, spellbindingly mental ending.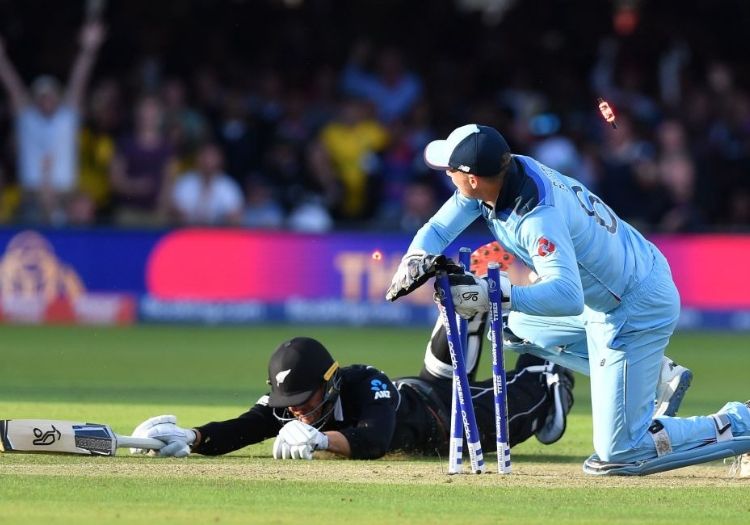 Jos Buttler took the bails off to win England the World Cup
And Trent Boult would be the man to deliver it. Of course he would. The senior man, a fine purveyor of yorkers, his country's best bowler. Perhaps, the world's finest left-armer – not the quickest, not the trickiest, but peerless nonetheless. That is an argument for another day.
The first delivery was there to be thwacked – the kind of delivery that Stokes, now a spent force operating purely on the laws of fate, had earlier slog-swept into the stands.
This time, all he had left was an almighty heave – not so much the swing of a rusty gate as the hack of a golf ball out of the long, rough grass. But it brought about three runs. On another evening, it might have been four. At other grounds on drier outfields, the spin on the top edge would have taken that little white ball running away towards the third man boundary. That it didn't was almost indicative of what remained in Stokes' tank.
It brought Buttler on strike – Universe Jos. His first delivery brought only a single as he clipped a full Boult delivery to deep midwicket. For a brief moment, it all seemed to take place in slow motion. There was a mutual acceptance among every player that this was a single and no more. On a furious day when breath was never taken and nobody ever dared blink, here was a millisecond of calm in amongst this most frenetic of formats.
And then, the madness returned. Stokes plonked his front foot out and swept Boult for four more. It was an almighty heave – a good old-fashioned drag through the legside – but it was all Stokes had left. He then summoned yet more of himself as England took another single.

In truth, it felt like the very best scenario. Stokes was shattered; he had played the knock of his life. Twice. He will hit greater strokes, he will play more substantial innings, but he will never do anything like this again. This was an effort for the ages – an 'I was there' performance within an 'I was there' day.
It now lay with Buttler – two balls, go and get us as many as you can, Jos. First, he squirted two out to deep cover. At a time when all seemed to be falling for England, yet another spec of Lady Luck's good favour.
Henry Nicholls, with the setting sun falling over his very eyes, lost sight of Buttler's push into the offside. By the time he had located his senses, Stokes and Buttler were dragging themselves through for the second run that would keep England's finisher-supreme on strike. Nicholls, perhaps, was a pair of sunglasses away from World Cup glory.
And a ball later, England were nursing a mightily useful total of 16. Buttler had found a gap on the legside to flick the ball calmly into. It raced away for four.
Lord's erupted not as Lord's does, but in the manner of Edgbaston or Old Trafford or the Maracana or Anfield. But not Lord's. Not this famous old place. But this was partisan. Respectful, but with a furious roar. It was the noise of a realisation that, one way or another, this was going to decide itself within six balls. That petrified tension would do no good now.
And so it was that Jofra Archer would take the ball. An embryo in international cricketing terms, a fully grown giant as a death bowler and as a wildly respected exponent of an incredibly difficult artform. Archer's searing pace against the forearms of Jimmy Neesham and Martin Guptill.
Neesham had looked in fine fettle earlier in the day, timing the ball when few others had done. Guptill had a score to settle with this World Cup. It has not been his friend. Sixteen to get. Six from which to get them.
Neesham's six looked to have put New Zealand on course

And then it was 15 from six. A wide. A small wide, but a huge wide, if you know what I mean. The next one was perfect. Blockhole located. Stay there. Don't move from there, Jofra. Neesham had squeezed two from it, but you're not getting more than that with deliveries like that.
The next ball, though. My word. Six from the moment it left Neesham's bat. A deeply underrated cricketer, it would have been some poetic justice if this allrounder – a man who missed out on the 2015 tournament – had smashed his nation to glory. But as the equation became seven from four, and the margin for error shrunk ever further for England, so too did Archer's radar improve.
Another two followed via a Jason Roy misfield. Pressure. It does funny things. The next ball brought two more. This time, Jonny Bairstow had hurled at the wrong end. Buttler – a mild-mannered cricketing monster – stood fuming. Pressure though. That is the name of the game. Nuts. Bonkers. Even these cool, calm, ice-cold stars are mere mortals.
Maybe apart from Archer. With two balls remaining and three runs to win, he opted to abandon the yorker. He ran in, banged it in. It could have gone anywhere – that is the nature of the whooshing horizontal blade. It dropped at the feet of Neesham. He sprinted his single. Archer considered a shy at the stumps. Wisely, a consideration was all it was.
Two off one. Guptill on strike for the first time in this six-ball gunfight. Glory. Ecstasy. Joy uncontained. Or devastation. Tragedy. Tears. You choose, Martin. You choose, Jofra.
Archer jogged up as if this were any other ball in any other game. He honed in on Guptill's boot. He dug it out. From now, it was nothing but a race. The kind of fielding drill both Guptill and Roy, hurtling towards the ball in the deep, will have enjoyed on a million occasions.
As Roy set his throw, Guptill was touching down to begin that vital second run. Me or you. Sink or swim. Win or bust.
And then it was done. A second later. Maybe two. It felt like an eternity. The world had Ian Smith for company. He screamed - half-Kiwi, half-uber-professionalism. An exhibition of commentary. Buttler whipped the bails off. Stumps were uprooted for good measure. This was no moment for subtlety, but one for certainty.
Guptill threw himself for the line. It was sprint for the finish and he had lost. Lord's erupted. You will never see anything like it again. Ever.
A Super Over in nothing but name. Twelve balls and 30 runs worth of unadulterated chaos.
Ultimately, it was a tale of two dives: one by Stokes that had garnered four fortuitous runs; the other that left Guptill two feet short of World Cup glory.
One of cricket's great weaknesses has always been its inability to truly entice the casual sports fan. This will have changed that. For, this wasn't about cricket, but pure theatre. All of this wonderful sport's best bits cast into 12 balls of truly otherworldly emotion.
On the one hand, the realisation of a dream. On the other, the beginning of a never-ending nightmare. This transcended cricket. It may well have transcended sport. It was just about the most dramatic piece of live entertainment imaginable.
Our coverage of the ICC Cricket World Cup 2019 is brought to you in association with Cricket 19, the official video game of the Ashes. Order your copy now at Amazon.co.uk
Please ensure all fields are completed before submitting your comment!