The Analysis: Spin-happy Trent Rockets' fast-forward tactics and an exhibition of fast bowling
SAM MORSHEAD looks back on talking points from Trent Rockets' victory over Southern Brave in the men's Hundred
The Timeline: Trent Rockets Men v Southern Brave Men
Spin it to win it
Trent Rockets have set themselves up to spin opposition into knots, and their well balanced attack introduced itself to The Hundred with a flourish.
Rockets have more spinners in the ranks than a beleaguered cabinet minister, each of them offering a different outlet for captain Lewis Gregory.
And the skipper's use of three of them in this game - and how they went about the task of bowling to a power-packed Southern Brave line-up - made a massive statement as players and fans across the country start to come to terms with the nuances and dynamics of 100-ball cricket. 
Here, Joe Root was the catalyst. He was thrown into the mix early by Gregory, matching up Southern Brave when two left-handers - in Delray Rawlins and Devon Conway - were at the crease.
Turning the ball away from the batsmen, Root became very difficult to get away, and leaked just seven runs from his first 10 balls - which he rattled through at a remarkable pace, never letting the opposition settle, and giving the tempo to the innings which Rockets kept up throughout.
Of his 20 deliveries, which only cost 17, all but two were bowled to left-handers. At a venue like Trent Bridge, with its baseball arena-like dimensions and short square boundaries, that sort of option is hugely valuable.
Against sides dominated by right-handers, Root might not have found himself used quite as prominently by Gregory (and this is a relatively moot point anyway, given the Test captain will only be available for one more Rockets match before meeting up with England), but here he showed how much of an asset he is with the ball in short-form cricket. 
What's more, he is such fun to watch. Constantly trying new variations, an over of Root is a circus of chaos. So perhaps it was not a massive shock that, with his final delivery, Root went for a surprise seam-up ball - bowled out of the front of the hand - which fooled a sweeping Dawson.
Keeper Tom Moores was laughing as he gestured to Root that he had got the Kookaburra to swing while Rockets celebrated the dismissal. Root's smile and giggle suggested it was very much a plan-coming-together moment.
Spinners bowled 50 per cent of Trent Rockets' deliveries in the Southern Brave innings. It will be interesting to see if the team keeps up that sort of rate, even when Root has returned to England.
Contrastingly, spin just did not work for Brave, who found themselves bowling two left-arm spinners against two set, international left-handed batsmen.
Turning the ball into Dawid Malan and D'Arcy Short at a ground with modest dimensions, while defending a meagre total, is a case study in how 100-ball cricket can run away with a team.
The pace of the innings  
Trent Rockets took early charge of this game and once they did they refused to let it go - and a big part of their strategy was the speed of their play.
Sparked by Root, but maintained by just about everyone in the Rockets' XI, the home side were breathless in getting balls delivered.
Of all the innings played in both men's and women's competitions so far, this one felt like it moved the fastest - with the players changing ends at pace, and rarely spending time resetting the field at the top of their mark. 
Brave, having lost wickets at regular intervals, were effectively strangled out of the competition by the speed of their opponents. And in the end the target they set was woefully small.
Despite this, and the general dizzying feeling spectators might have got by watching Rockets rolling through their sets of five, the innings still lasted in excess of the the 65 minutes which is the competition's stated aim.
That notion is becoming more fanciful by the day.
High-quality quick bowling
This was a great day for lovers of high quality, high speed seam bowling.
Between them, Luke Wood, Tymal Mills and Marchant de Lange provided a masterclass in short-form bowling at pace in a challenging environment.
And all of them delivered different skills.
Wood achieved early swing, preventing Devon Conway from getting going early and removing James Vince - who has been in furious form for Hampshire Hawks - with a sizzling inswinger.
At the start of the Rockets' chase, Mills produced a ferocious yet hugely disciplined 10-ball spell which cranked up the speed and targeted the bodies of the home batsmen.
In a recent piece, CricViz analyst Ben Jones noted how Mills is an outlier when it comes to short balls bowled in T20 cricket - more than 60 per cent - yet he still manages to retain an economy rate below eight in the format.
Here, there was a great illustration of why. Mills got the ball to leap off an otherwise pretty lifeless pitch (just about all the work done by the seamers had been done in the air in this game), striking Malan on the gloves twice in consecutive deliveries. Malan was hurried, glancing at the pitch as if it had been swapped right beneath his nose.
It is this ability which makes Mills so valuable to Southern Brave. In this game, he simply was not given enough to work with late on by his batsmen - though his 20 balls were the most economical of his teammates at 24, there were just not enough runs on the board.
In different situations, he will become a critical piece of the Brave puzzle, if they are to make an impression in this tournament.
Finally, De Lange - a rip-roaring back-up signing who on Saturday topped 90mph regularly. The Somerset man showed how raw pace can be useful in this tournament, particularly at the death against lower-order batsmen, as he struck twice in his final five balls to ensure there would be no late fireworks.
But it was his brief duel with Colin de Grandhomme which was most engaging.
De Lange bowled four balls to the mulleted Kiwi, each of them on leg stump or to his body. De Grandhomme missed two, pulled one for four and was then bowled around his legs by the fourth.
It might have seemed innocuous, the result of a poor shot, but for De Lange to recognise the opportunity - De Grandhomme was eyeing the vacant fine leg position with all the subtlety of a drunk uncle - and then execute the perfect delivery in the situation illustrated a sharp T20 bowler in good form and a calm state of mind.
De Lange finished with 5 for 20 from 20 balls, the best bowling performance of The Hundred to date. And right now, Rockets will be perfectly happy that Wahab Riaz did not make it on time.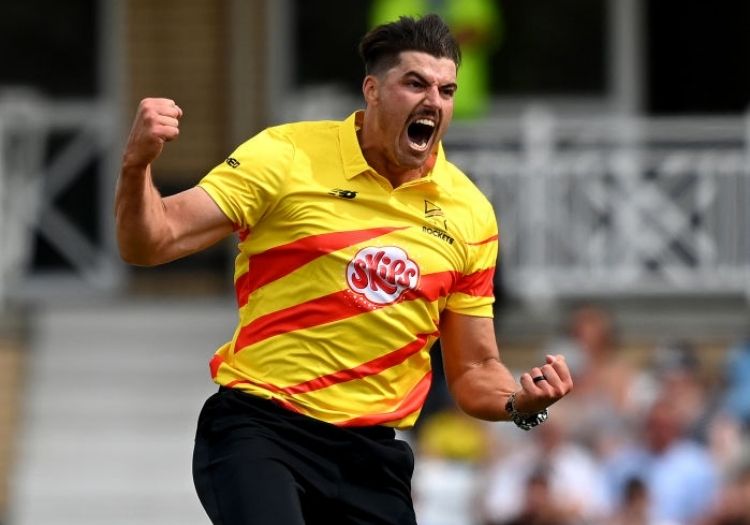 Get the six-hitter on strike
Cricket, and particularly T20 cricket, is generally considered a batsman's game - ask any club bowler - but The Hundred have one or two playing conditions which are shifting the balance ever so slightly. And there was a good example of this at Trent Bridge on Saturday.
Ross Whiteley, one of the county game's cleanest hitters, had hauled Southern Brave out of a mucky trough and, with six balls left, had given himself a platform to take them to as much as 135 or 140. 
The trouble was, he didn't face another ball.
Whiteley sat stranded on 39 from 29 balls as De Lange cleaned up in the final set of five. In any other form of the game he would have got the strike, either at the change of overs or after crossing when a teammate was out caught. But The Hundred does not allow for this. And batters will need to get smart to it, to avoid similar frustrating situations.
Please ensure all fields are completed before submitting your comment!