How Tom Haines found his mojo
SAM MORSHEAD AT THE 1ST CENTRAL COUNTY GROUND: Over the early weeks of the season, Haines, for whom cricket had turned from passion to chore in 18 miserable months, has been proving - quietly but categorically - that perseverance really does pay off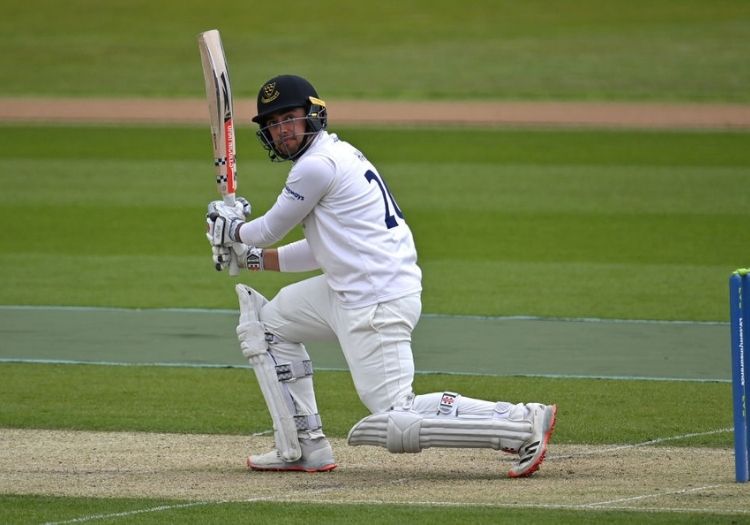 Hove (first day of four): Sussex 318-7
The runscoring headlines might have been dominated by David Bedingham, Adam Lyth and Haseeb Hameed so far in 2021, but down in Hove there's an unheralded 22-year-old making gargantuan strides of his own.
And discovering a little more about Tom Haines' story certainly brightened a grey, cold, socially-distanced Thursday on the Sussex coast.
Over the early weeks of the new season, Haines, for whom cricket had turned from passion to chore in 18 miserable months between spring 2019 and autumn 2020, has been proving - quietly but categorically - that perseverance really does pay off.
His 58 on day one against Lancashire here at the 1st Central County Ground - a useful combination of elegance, practicality and occasional discomfort - was Haines' fourth consecutive first-innings score above 50 in four matches.
It followed a century against Surrey on his final trip to the middle in 2020 and leaves this tidy, compact batsman with a first-class average of 65 so far this season. 
Among openers in the Championship, only Lyth has scored more runs than Haines' 455 in 2021. Of all batsmen in the competition, only Bedingham, Ben Slater and Hameed have faced more deliveries than his 829.
It would be a considerable achievement by any county player in any year, but given what came before, Haines' effort this April is all the more remarkable.
After making 93 against Cardiff MCCU in pre-season ahead of the 2019 campaign, Haines went on a wretchedly barren run with the bat. Between April 2019 and early September 2020, he made just 283 runs across 18 innings at an average of 15.7, with a top score of 39: a streak dry enough to be at serious risk of bushfire, lean enough to qualify for a Weight Watcher's diet.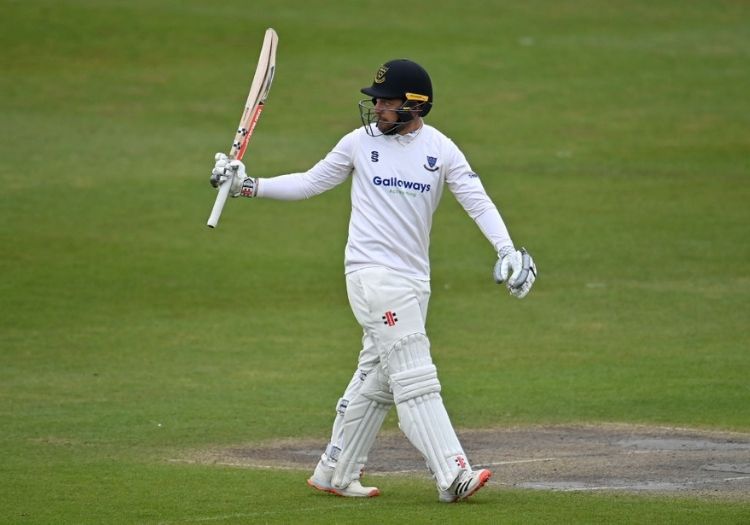 Tom Haines made 58 against Lancashire on Thursday
No wonder, then, he found the game's lustre beginning to diminish.
By his own admission, Haines struggled mentally as well as with bat in hand. He was "demoralised", down and desperately in need of form - an unhappy place to be for a man whose impressive introduction to the professional game banked him a long-term contract at Hove as a teenager.
"I put it down to inexperience and youth," Jason Swift, the Sussex batting coach who has worked with Haines since his early academy days, tells The Cricketer.
"The quicker you get through a learning process, the quicker you accelerate your development as a batsman. That was his learning period, and it is what triggered what happened during this most recent winter: he found what he wanted to do and how he wanted to go about it.
"What he's achieved is down to him and how he set up in the winter."
TOM HAINES: COUNTY CHAMPIONSHIP 2021

vs Lancashire (a) - 155 & 26

vs Glamorgan (a) - 87 & 6

vs Yorkshire (h) - 86 & 37

vs Lancashire (h) - 58
Haines may well have benefited from Sussex being restricted to pre-season training on the south coast because of coronavirus restrictions. A marquee on the County Ground outfield in the grey late winter and early spring does not yell "batsman's delight", but with no overseas trip possible, Haines packed in practice in difficult conditions against the seaming, nibbling ball.
He also seems to have gained plenty from a very specific training routine introduced by new head coach Ian Salisbury.
Salisbury, in an attempt to replicate the workload placed on a batsman during a long innings, asked his players to start facing 270 balls in a single net session.  
"If you want to bat all day you've probably got to face 90 balls three times," he said.
"You can't just have half an hour in the nets three times a week and expect to score 100 or bat all the first day of a Championship game."
Haines was one of those at whom this new regime was aimed.
A self-admittedly "lazy" trainer, the repetitive nature of Salisbury's plan laid roots which have quickly become runs.

"He was clear on what he wanted to do, and he wanted to simplify things," Swift says.
"Good movements equal good positions and good decisions. Because he's now getting in good positions, his decision-making is so much better. 
"He's found a method now that he can repeat and repeat."
An issue with the batface closing too soon, resulting in several dismissals off a leading edge, was eradicated. By using the cut to force opposing captains to employ a backward point boundary-rider early in innings, he has loosened the strangle of an attack sensing early blood. 
"His movements aren't as aggressive as they were," Swift says. "His setup is not as bouncy. He's stiller and letting the ball come to him. He's made it more simple for himself and has given himself the belief that when they do bowl well, he can combat that."
Haines is an uncomplicated batsman. Short, and therefore unsurprisingly well balanced at the crease, he appears to be naturally combative - and especially seems to take great pleasure from driving the quicks and square-cutting the spinners with a wavy flourish of the bat, as if penning an autograph on each and every boundary.
This was certainly not a dominant innings - the first half hour was awkward against Lancashire's aggressive and intelligent new-ball partnership of Tom Bailey and Saqib Mahmood - but it did clearly illustrate the mental toughness Haines has worked so hard on.
If you were to take the scoreboard's word as gospel, he shot out of the tracks like a juiced-up greyhound, reaching 20 from 15 balls, before steadily finding the going more sticky as the session went on.
In fact, Haines was troubled early on. Mahmood's first over to him included a streaky four through the gully, a leave which narrowly missed the top of off stump, and a massive lbw shout which would have woken any cat-napping residents in the flats on Cromwell Road. 
Critically, he didn't allow himself to be flustered.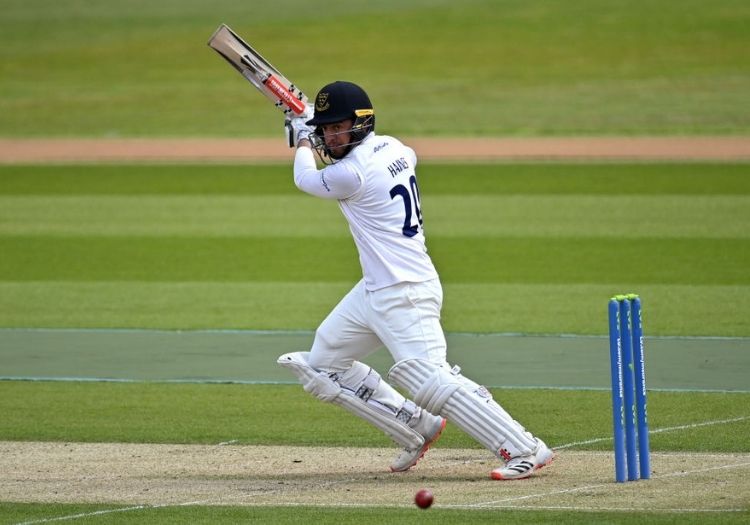 Haines has been in superb form for Sussex in 2021
Instead, he had the capacity to recognise that his partner Stiaan van Zyl was keeping the scoring rate up at a very healthy 3.5 runs per over, and that it was therefore not necessarily incumbent on him to force the issue from the other end. 
And so he began to soak up deliveries, just as he did in that chilly marquee.
"He's got better at learning how to read the game, when you can move it forward and when you can suck it up a bit," Swift says.
"Everything feels like it is improving every time he goes out to bat."
In turn, Sussex are benefiting from a more resilient top order. Although his opening partner Aaron Thomason was dismissed without scoring with just six runs on the board on Thursday, that collaboration with Haines has proved fruitful in 2021.
The pair have put on three partnerships of 60 or more in seven innings together, with an average of 45.1. For a county which has so often found itself playing catch-up in recent seasons, it is an encouraging development. 
Where Thomason failed on this occasion, Van Zyl and Haines succeeded, putting on 133 for the second wicket and laying the platform from which Sussex could end the day in a reasonable position.
Haines was eventually dismissed by Saqib Mahmood, caught by Dane Vilas after nibbling at a terrific delivery angled across his body. He had spent two and a half hours at the crease, and lasted another 93 balls - the latest chapter in a most unexpected and hugely welcome return to form and favour in 2021.
Subscribe today and receive The Cricketer's centenary issue – six issues for £19.21. Click here
Please ensure all fields are completed before submitting your comment!