Steve Smith pays tribute to Phillip Hughes on eve of fifth anniversary of tragic passing
Wednesday marks another year since the passing of the former Australia batsman who died aged 25 after being struck on the neck in the Sheffield Shield
Australia batsman Steve Smith has reflected on the immediate fall-out following the death of teammate Phillip Hughes on the eve of the fifth anniversary of his passing.
Hughes died aged 25 after being struck on the neck in the Sheffield Shield match between South Australia and New South Wales in Sydney in November 2014.
Amid the outpouring of grief from within the cricket community, Australia's Test series against India was delayed until December.
Come the first Test in Adelaide, Australia's first outing since the tragic scenes, Smith struck one of four centuries for the hosts during the match, scoring 162 on day two.
His low-key celebration included him raising his bat over Hughes Test number of 408, which had been painted onto the outfield.
The emotional scenes still live with Smith, who has recalled the "tough week" of returning to action for the first time since the episode.
"It was kind of a carefree week, if that makes sense, cricket-wise," said Smith.
"It was sort of like, 'this is actually almost irrelevant in a way'. We're just going out and doing what we were doing and we actually played really well.
"But it was literally like we were just playing because that's what we're here to do. There wasn't really too much emotion around our performances and how we wanted to play if that makes sense.
"It was obviously a tough week. Batting-wise [there are] some pretty fond memories. I think I played well, got a 162 [not out], I think it was.
"And I remember getting my hundred and going over to the 408 [Hughes' Test number] on the ground and raising my bat and paying tribute to our mate we lost a few days before. Other than that I can't really remember a lot of the week."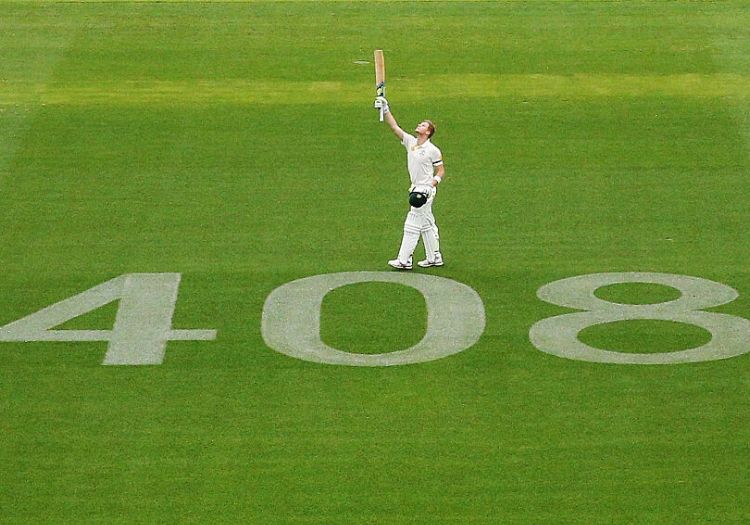 Steve Smith paying tribute to Phillip Hughes just weeks after his death
The primary legacy from Hughes' death was the introduction of stem-guards, which are now commonplace on the helmets of international and domestic cricketers across the world.
Smith suffered a scare of his own when he was floored by Jofra Archer during the Ashes having been struck on the neck, leading him to becoming the first player substituted due to concussion in Test history.
"I think so," Smith added when asked if the game is now safer than five years ago. "You've got the stem-guards in now for that little bit of extra protection.
"Most players are wearing those now. I'm probably one of the last ones to finally take that hurdle. But I think the game is in a good place."
Subscribe to The Cricketer this Christmas and receive a £20 John Lewis voucher or Alastair Cook's autobiography. Claim your free gift here
Please ensure all fields are completed before submitting your comment!