Sophia is slam Dunk-ed as Leicestershire skittle Surrey to get off the mark in the Quarantine Cup
Surrey, for some reason opting to go into the game without any of their white-ball England internationals, showed the durability of a pigeon in a propeller as they collapsed to 20 all out, and eventually went on to lose by four wickets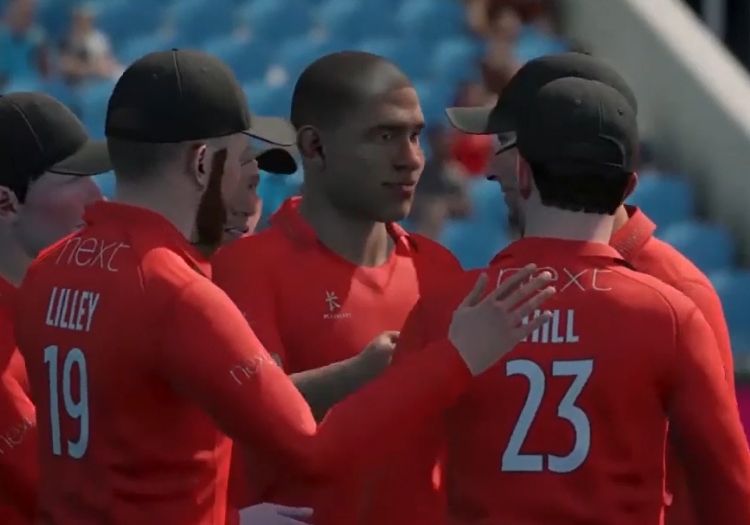 Quarantine Cup: All matches rerun, latest news & tables
The Oval: Surrey 20, Leicestershire 21-1 - Leicestershire won by four wickets
Sophia Dunkley's Surrey got off to a disastrous start in the Quarantine Cup as they were routed by Hassan Azad and Leicestershire at a sun-drenched Oval.
Dunkley's pre-tournament boast about her proficiency on Nintendogs came back to bite her with more ferocity than an irritated rottweiler as Azad stormed to a victory which will send a statement to the rest of the field.
Surrey, for some reason opting to go into the game without any of their white-ball England internationals, showed the durability of a pigeon in a propeller as they collapsed to 20 all out, and eventually went on to lose by four wickets.
The tone was set from the second ball of the innings, Will Jacks nudging a straight drive to mid-off and calling through Mark Stoneman for a single which wouldn't have been achievable had both batsmen had the legspeed of Billy Whizz.
Stoneman, whom one can only assume had recently stolen Jacks' lunch from the Surrey team fridge, was quickly put into reverse by his teammate but stood no chance. Harry Dearden couldn't miss from 10 yards away. Surrey were 1 for 1.
By the end of the first over, the home side were two down. Ben Foakes, elevated to No.3 in the order, lasted just one ball before scooping a catch to the irrepressible Dearden at mid-off. Callum Parkinson and his comically giant nose wheeled away in celebration. 
Things only got worse for Dunkley and Surrey in the second over. Jacks, of whom much was expected given his 10-over ton in Dubai last year, flopped a meagre back-foot drive to Ben Mike, running around to mid-off, to give Dieter Klein a wicket.
And though Jamie Smith picked Klein for consecutive boundaries, there was no coming back from the brink for Surrey.
Smith chipped a catch to wide mid-on from Mike's first delivery and the hosts' innings was all over after just 19 balls, when Rory Burns returned a catch to Colin Ackermann.
Twenty all out. Not a Quarantine Cup low, but my oh my.
The chase did not last long.
Azad, who only bought a PS4 eight days before his opening fixture in the Quarantine Cup, treated the Surrey bowling with disdain.
A sveldt Mark Cosgrove clipped a boundary four through midwicket from his first delivery, played a near identical shot from his third and took Leicestershire to within two shots of their target halfway through their first over.
Surrey needed a miracle, so they turned to Mark Stoneman.
The opening batsman, with just one career wicket to his name in 13 years, was thrown the new ball by Dunkley and tied Cosgrove in an almighty knock.
To be fair to Cosgrove, there is absolutely no way he could have prepared to face the *checks notes* offspinner. And he was utterly perplexed, ducking into consecutive short balls in some of the worst cricket The Oval has seen in years.
With his fourth ball of the over, Stoneman struck.
Cosgrove got a thick edge on another short delivery and Foakes showed extraordinary reactions even for his high standards, leaning several feet to his left to claim the catch.
Unfortunately for Surrey, Dunkley and Stoneman, it was not a prelude to drama.
Instead, Arron Lilley arrived to bash a straight six down the ground from his first delivery, then took advantage of a dreadful dropped catch at mid-off to steal two runs and bring up victory for Leicestershire in the most anticlimactic circumstances imaginable.
A quarter-full Oval was certainly not amused. 
"I thought we came out of the blocks nicely," Azad said afterwards.
"We stuck to our plans really nicely and got the batsmen to make some mistakes.
"We came into the tournament really well prepared. The pre-season went really nicely for us, and we knew what was expected of us coming into this fixture.
"As the season goes on there will be other teams who might have been rusty starting off, who will get into their stride. I'm backing ourselves to get through.
"It comes down to how mentally prepared you are. Credit to the boys, they had their heads on from the start and delivered when it mattered."
Dunkley accepted that she had been well below par.
"We were a bit too tentative at the start, lost too many early wickets and were on the back foot from the get-go.
"Maybe there was a little bit of nerves, the fielding placements weren't very good at times. We can rectify that."
On the decision to give Stoneman the new ball, Dunkley said: "We thought it would have been something different. They wouldn't have written their notes up about that, and we might have had an element of surprise."
To remind ourselves of happier times we're offering a £20.19 subscription to celebrate England's World Cup win once again. Click here to claim
Please ensure all fields are completed before submitting your comment!