Kagiso Rabada: World Cup elimination is not a great feeling
HUW TURBERVILL: South Africa's elimination after seven matches was confirmed on Sunday with a 49-run defeat by Pakistan at Lord's, and the inquest is well and truly underway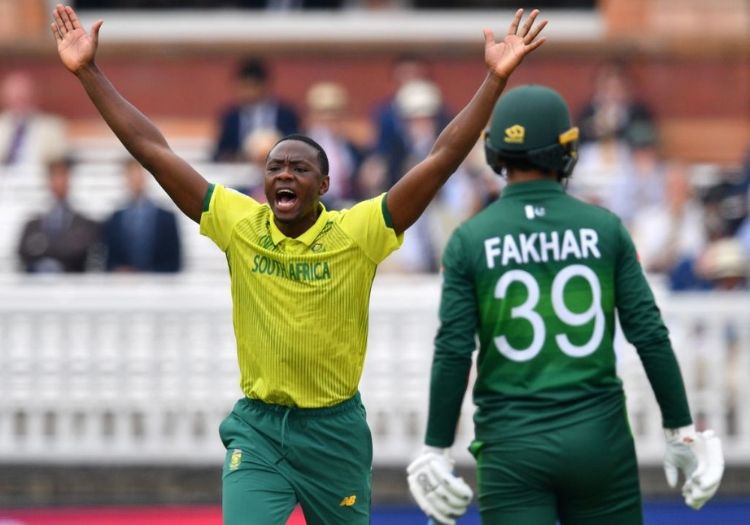 It is the mourning after for South African cricket following their ignominious World Cup exit, but Kagiso Rabada has vowed to bounce back.
South Africa's elimination after seven matches was confirmed on Sunday with a 49-run defeat by Pakistan at Lord's, and the inquest is well and truly underway.
Rabada managed only six wickets at 50.83 apiece, and many are suggesting he was tired after the 2019 Indian Premier League. He took 25 wickets at 14.72 from 12 games for Delhi Capitals this year, that stint ending on April 28. He then returned to international action on May 24 with a World Cup warm-up match against Sri Lanka at Cardiff.
"The plan was to leave [the IPL] early, but that didn't work out, don't ask me about any of that," he said cryptically. "To rest up prior to the World Cup, for obvious reasons like injury – to be fresh coming into an important tournament. Eventually I [did] come back earlier."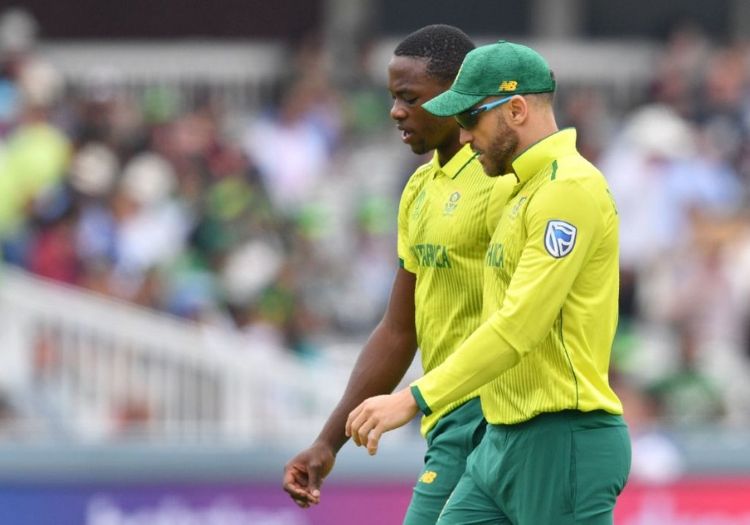 Kagiso Rabada and Faf du Plessis in conversation at Lord's
South Africa's eighth game is on Friday, against Sri Lanka at Chester-le-Street. They then have to hang around until July 6 for their final match against Australia at Old Trafford.
"It's not a great feeling," said Rabada. "We are very disappointed. We tried so hard at practice and spoke about what we needed to do, but unfortunately we just couldn't bring it out on to the field of play. We prepared and did our analysis but execution is the key. It is disappointing. Many lessons have to be learnt. At times we were unlucky, but at times we let ourselves down.
"We still had fun, [gaining] experience in England, playing in a tournament like this. We will definitely be back, firing, looking to nail some of the things we haven't nailed in this tournament."
South Africa captain Faf du Plessis admitted he would have preferred Rabada to miss the IPL.
"We did try and get him not to go – to try and stay and get fresh. Then when he went there, we were like, let's try and get him back halfway through the IPL because it's important, not just for him, but a few other players.
"I suppose the thing with KG and where a lot of the guys are struggling at the moment is that they haven't started the tournament well; and therefore, your confidence takes a bit of a hit, and it just rolls on. It's such a snowball effect... you open your eyes, and you're doing the same thing again."
Rabada played down talk that he was tired.
"I just got a lot more results in the IPL. In this tournament I just did OK. I would like to have done better. These are the tournaments you really want to stand up in.
"It's not easy. As much as you want to be at the top you'll never find it smooth sailing. I wouldn't say it's the lowest point of my career. This is what comes with the game. The key is to bounce back and stay positive."
Du Plessis added: "He's a great bowler. He will be able to fix that. His career has been one that's been just going up and up and up every time he's played for us. This is probably his first stumbling block as a great fast bowler, so for him now, it will be how he responds, how he learns in this period and how he makes sure he gets better."
Rabada has taken 176 wickets at 21.77 in only 37 Tests and will be South Africa's spearhead when they host England in the autumn. He is also a key bowler in ODI cricket, his overall record of 112 wickets at 27.74 vastly superior to his showing in this tournament.
The pressure on the world's most exciting young cricketers to play in franchise tournaments is only going to increase however, and the impact on marquee international cricket is predictably depressing.
Our coverage of the ICC Cricket World Cup 2019 is brought to you in association with Cricket 19, the official video game of the Ashes. Order your copy now at Amazon.co.uk
Please ensure all fields are completed before submitting your comment!