HUW TURBERVILL: Woakes is one in a pool of 18 bowlers that has been selected to begin their training, part of an overall squad of what may number 45, if reports are true
Chris Woakes must have been transported back to his childhood: bowling on his own in an empty net, future international matches in front of packed crowds a distant dream.
He was describing his day at Edgbaston on Thursday, the first step on a long road that may finally see some cricket this summer. A pool of 18 bowlers has been selected, part of an overall squad of what may number 45, if reports are true.
If we have saliva-free behind-closed-doors Tests against West Indies and Pakistan, and limited-overs games against Ireland, Pakistan and/or Australia, it promises to be an even weirder summer than the post-War one of 1945; or the Rest of the World campaign of 1970.
"I took everything I needed for training with me: bottles, towels, medicine balls, bands that I use for warming up," he said of his solipsistic day. "I was given a box of six balls. No one else will touch them. It was strict.
"On arrival there's a station where you wash hands and put anti-bac on. I did a temperature test with the thermometer in my ear that I'd been sent. We have an app which we put our well-being and symptoms into each morning. There was a physio from Warwickshire there with me but we didn't come into contact.
"We stay more than 2m apart and I did my training: five overs [against a back net, a single stump at non-striker's end]. I bowled all six balls, collected them, walked back and bowled five overs at roughly 50 per cent. It was a starter session and we will pick it up more next week. Then I walked back through the Hollies to my car and left.
"It was really good to be back in training. It's what we know, it's what we do, to get the ball back in hand. It's been two months since I bowled and I'm a little sore; the first waddle to the toilet was interesting, but my body is actually not too bad. Next week will be three sessions, probably Monday, Wednesday and Friday.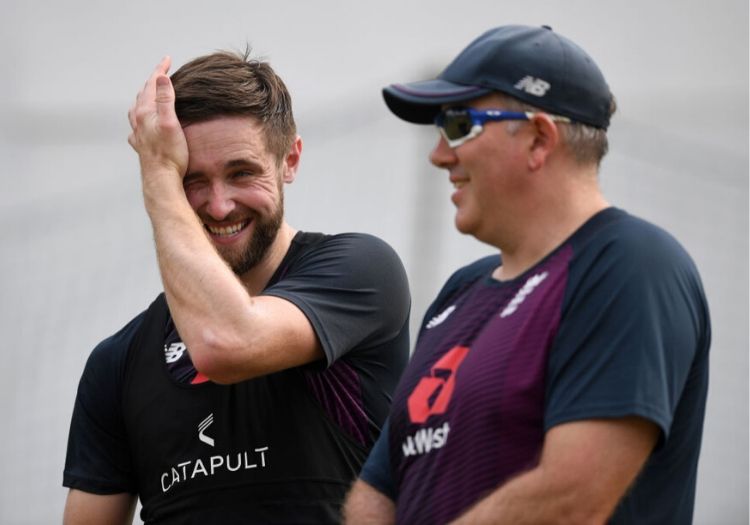 Chris Woakes has resumed training at Edgbaston
"Graeme Welch will be there who I know well from Warwickshire. There's a few things I want to work on. When you have time away you reflect on things – the winter went well for me bowling away from home with the Kookaburra. Naturally I like bowling with the Duke but I look at the world's best, Jimmy and Broady, they are always looking for ways to improve. So I'll be picking the brains of 'Pop' Welch.
"First and foremost we just hope there's going to be some form of cricket. Obviously it's going to look different behind closed doors. All sports are going to be that for a while… [but] for everyone it'll be a bit of a boost."
Asked if he thinks the opposition will be full-strength, he said: "I saw that they would be trying to bring as strong a team as they can which is important. If we are to make this work you want the best playing against the best. There's no doubt that England will be picking their best XI for that particular match, wherever it may be. Hopefully West Indies and Pakistan will do the same. Test cricket is called Test cricket because it is the hardest game played by the best players."
Another feature could be English umpires. For some time the rise of DRS has seen people speculating if neutrals are needed any longer: the days of no lbws being given to England in Australia (1970/71), and batsmen given out as soon as it touches the pad in Pakistan with Abdul Qadir bowling becoming a distant memory.
"These guys are professional, they take their jobs very seriously," said Woakes, 31. "Knowing us wouldn't affect how they give decisions: I don't see that as an issue."
The bowlers' job could be harder with no saliva on the ball, though. "You're going to have remind yourself that you can't use those things to shine the ball. You can shine the ball without saliva and sweat, it probably just doesn't have the same effect.
"You might have to work a bit harder on the rubbing on the trousers. The ball moves around in England anyway. You don't always have to overly work hard on the ball. Thankfully it's a Dukes and not a Kooka this summer, because then we would be struggling. In England a lot depends on conditions. If we have some really good weather like we have been it can be a good place to bat anyway."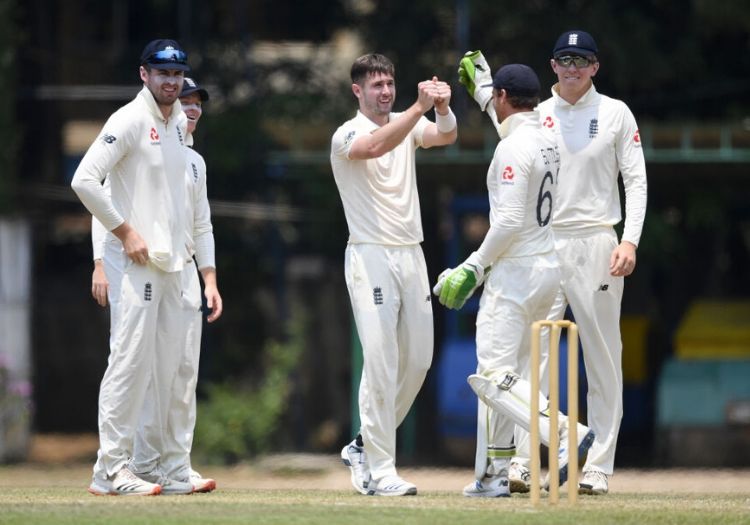 Woakes admits that not shining the ball with saliva will take some getting used to
It will be interesting when Nasser Hussain in the 'Third Man' seat on Sky analyses how much the ball is swinging…
It also brings to mind Alec Bedser showing me the ball England had to use in Australia in 1946/47: the tiny seam forced them to learn to bowl cutters.
Woakes is clearly content to be back in the swing, anyway.
"I've tried to embrace the time. It's been nice to see friends and family. Being home 24/7 and being a proper father has really helped us as a family. But you get to a point where two months off is a good solid break and you want to get back to the day job."
Even if that means his hairstyle is not at peak optimum.
"I haven't had it cut in 12 weeks apart from the wife doing the sides, so I needed an Alice band to keep my hair out of my eyes. Amazon orders are going through the roof!"
Woakes has a second baby due in September but it sounds as if the cricket could be over by then. Joe Root is also poised to become a father once more in July.
There are still plenty of hurdles to clear, anyhow.
It will be good just to see some cricket.
Any cricket.
Feature image: ECB
Save 30% when you subscribe to The Cricketer's print & digital bundle. £35 for 12 issues