Babar's brilliance and an Ish Sodhi conundrum... WORLD CUP TALKING POINTS
JAMES COYNE reflects on a magnificent win for Pakistan at Edgbaston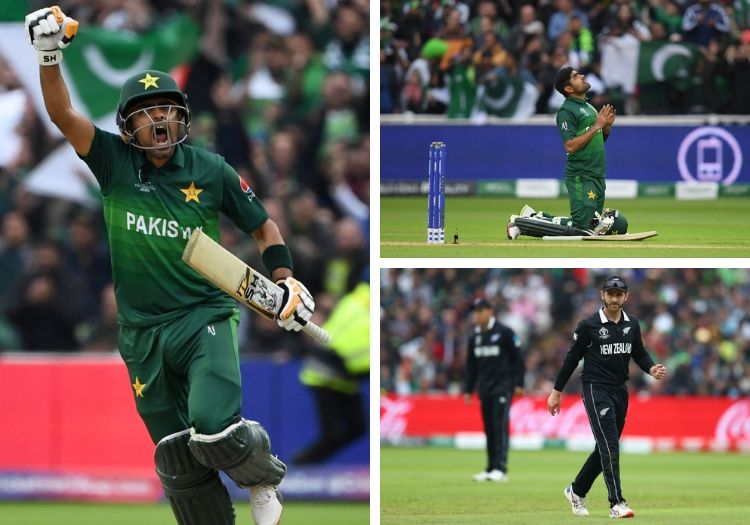 Left Lions
Misbah-ul-Haq, not a man who forged his reputation on hyperbole, felt moved in his role as an ESPNcricinfo pundit to question the wisdom of Mohammad Hasnain's place in Pakistan's World Cup squad, given that he hasn't been used yet.
Hasnain's major sin seems to be that he bowls quick with his right arm. Pakistan, as much as they ever stick with anything, seem to have settled on a pace attack of three left-armers – Mohammad Amir, Wahab Riaz and Shaheen Afridi.
And why wouldn't you, when the overall average of southpaw pace in this World Cup so far is 24 compared to orthodox seam's 32. The young Shaheen had been wayward, and came in for criticism from Misbah for giving Australia an easy start in the match at Taunton. But, given a chance to bowl in overcast conditions at Edgbaston, Shaheen drew the out-of-form Colin Munro into an edge to slip from his eighth ball, in a rare wicket-maiden.
He produced a beauty which snaked away for Ross Taylor to nick and Sarfraz Ahmed to grab one-handed. When Tom Latham edged him behind too, Shaheen suddenly had three slips and a gully to Jimmy Neesham. Hard to believe, too, that five weeks ago Mohammad Amir was not in Pakistan squad, that his average in ODIs was 92.60 since his euphoric role in winning the 2017 Champions Trophy, and that he had chicken pox.
But here he was, ripping through Martin Guptill to send the Pakistan faithful bouncing. If this was Centre Court at Wimbledon, the roof would have come off.
Brilliant Babar
Many learned followers of Pakistan cricket expressed concern for what the absence of home international cricket would do for their batsmanship. So their relief when Babar Azam came along was palpable. It's no exaggeration to say that Babar is the best young batsman to come out of Pakistan since Younis Khan and Yousuf Youhana (later Mohammad Yousuf).
And to have been faster to 1,000, 2,000 and now 3,000 ODI runs than even Virat Kohli, the king of the ODI format, speaks volumes for a batsman who still has plenty of room to grow.
Up to now, in this World Cup, his contributions have been eye-catching, but over too soon to be truly monumental. Not today. He barely put a foot wrong as he marshalled Pakistan to their chase of 238 with a masterful century. In a hotel room somewhere, the England think-tank will be breathing a little heavier this evening. Pakistan are coming.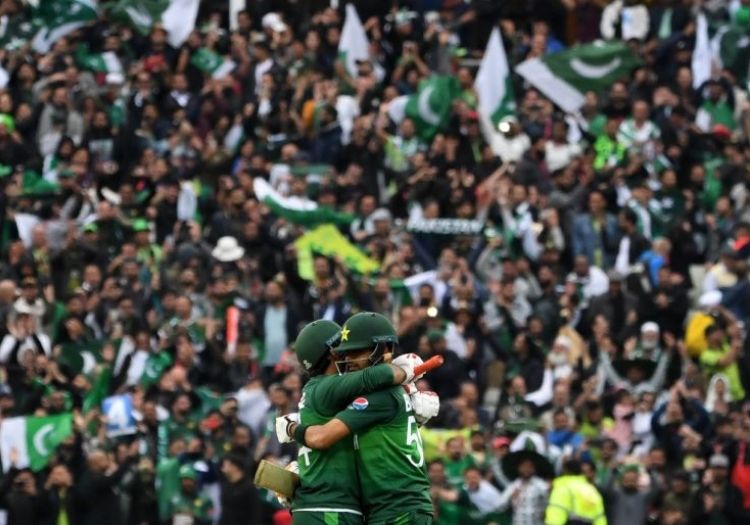 Sarfraz's performance as captain merited hitting the winning runs
Embattled Sarfraz comes to life
Sarfraz Ahmed has to deal with more than most international cricket captains. Just when you think that Pakistani cricket politics are stressful enough, Pakistan lose to India and then he is hounded by a 'fan' who follows him and his son around, and shares a video online in which he calls him "fat like a pig".
For a Muslim, it is particularly offensive. So it was heartening to see things turn Sarfraz's way. He was fleet-footed enough to dive across to take Ross Taylor's edge one-handed. It brought him to life – suddenly he was waving around in the field, and bringing in a slip and leg slip for Tom Latham. (Let's overlook the fact that it spun and he let through a bye next ball.)
Sarfraz has plenty of detractors, but he's an admirably determined cricketer doing a tough job. He will have loved hitting the winning run.
Turn, turn, turn
The pitch for this match was the same strip used for the New Zealand v South Africa match a week earlier – and it spun nicely for Shadab Khan. By the time Mitchell Santner was ragging it square in the evening, and Kane Williamson had to bring himself on for his very reluctant off-spin, New Zealand must have been regretting leaving out leg-spinner Ish Sodhi.
Jeremy Coney in the TMS commentary box was close to apoplectic. Though it was by no means obvious who would have given way, with New Zealand seemingly destined to qualify this was surely the time to give Sodhi a go. The country is set for a spell of hot, dry weather over the next couple of weeks – and though the pitches will be fresh for the knockout stages, it does beg the question of whose hands those conditions would play into. India, with their two wrist-spinners, I'd say.
Steps stop play; a wall stops play
Just before the fourth over, Williamson and Colin Munro paused play to point out some ICC-branded multi-colour steps behind the blacked-out sightscreens at the Pavilion End that were distracting them.
Play was stopped for around seven minutes as groundstaff rushed to find a black sheet to cover the offending steps. There was a similar time delay during the 13th over of Pakistan's reply, when a slab of grey wall revealed itself on an otherwise black background at the Birmingham End; the poor bloody infantry could again be seen running round in search of a sheet to cover it up.
The temptation is to grumble at moments like this, but you can hardly blame the batsmen for wanting the conditions spotless given what's at stake. But it is a reminder of the rich tapestry of this game: on Saturday, this writer played an entire league game on a council pitch, with no sightscreens at all. And do I fuss about the position of the sightscreens if we have them? Sure I do.
Our coverage of the ICC Cricket World Cup 2019 is brought to you in association with Cricket 19, the official video game of the Ashes. Order your copy now at Amazon.co.uk
Please ensure all fields are completed before submitting your comment!