Ashes rivalry resumes with a damp squib at a windswept Manchester
NICK HOWSON AT OLD TRAFFORD: Rain, delays and a lack of vigour lead to an underwhelming first day of the fourth Test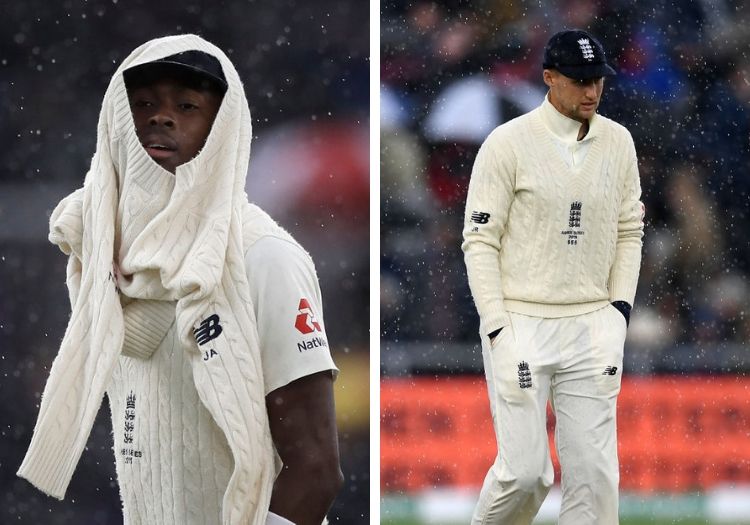 The World Cup hangover. The Headingley hangover. Bar brief interludes, English cricket has seemingly been in a fatigued and dehydrated state for over six weeks, with only moments of remarkable drama helping to blow away the cobwebs.
Little over 50 miles separate Old Trafford from Headingley, yet the chasm of intensity between two Tests held just over a week apart was gargantuan. If the thrilling climax to the match in Leeds was meant to turn swathes of fans into Test addicts, this was surely a case of two steps back.
Even before England's heroics on the fourth afternoon in West Yorkshire, there was a theatre about the contest in the third Test. But none of the characteristics from that game was evident on a chilly, breezy day in Manchester. It was the result of the bloated international summer which cannot be repeated.
Inclement weather never makes for a seamless day of international cricket, but even during the slices of play that were possible, there was a severe lack of snap and intent from both teams, despite what is on the line. It is barely believable a game taking place eight full days after the extraordinary events of Headingley is between the same two sides, let alone contained within the same series.
David Warner and Marcus Harris' early departures ensured that Test cricket's newest rivalry could be resumed. Jofra Archer was still fresh, Steve Smith sterile after two weeks out of competitive cricket. Amid the subtext of the series, it was the most anticipated duel around.
But you would be forgiven for wondering whether you'd turned up for the right event. Like having a ticket for The Rumble in the Jungle and turning up to discover Bambi on Ice. Archer lacked vigour and pace, bowling as if it was a Sunday afternoon on the village green.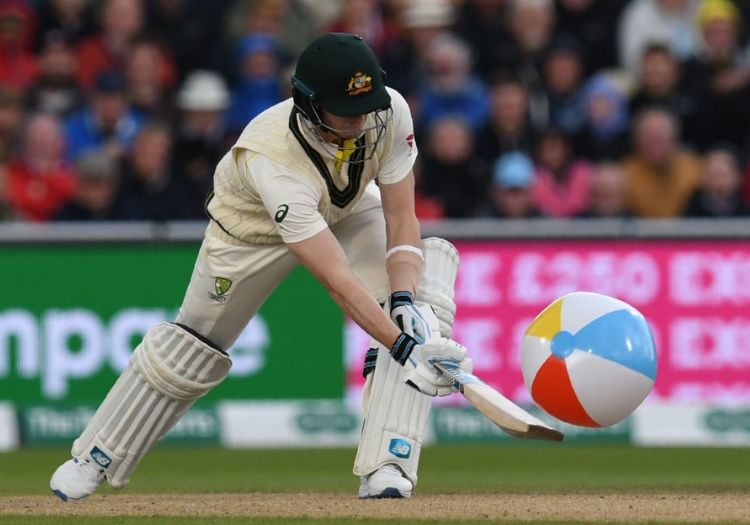 Steve Smith passed fifty in his first Test innings after being felled by a Jofra Archer bouncer
Smith, to his credit, was serene and comfortable. Unruffled he might have looked, but in truth, there was little to be worried about. Seven balls later and with England's seamer removed from the attack, everyone is extremely underwhelmed.
Of the traits Marnus Labuschagne and Smith share, being superb poker players at the crease is certainly among them. They seldom allow an opponent to know when they are unsettled and though England bowled poorly, the blustery conditions made it treacherous to bat. Smith, the ICC's No.1 Test batsman, is straight back into the grove and his 26th Test fifty quickly was an inevitability. Labuschagne's own landmark score even more so.
This is the latest an Old Trafford Test has ever been held. Naturally, the weather intervenes several times, highlighting the ludicrousness of the schedule this summer. When the rain does relent, the wind and light take hold. The floodlights are required in the middle of the afternoon, the bails have to be removed and replaced as rubbish and beachballs blow across the outfield. Hay bales should follow because this is surely all a bad joke.
As well as the numerous delays to play, it all contributes to a truncated opening day. Test cricket should be a cherished entity but there is little to like about it when it takes this form.
Fans who have paid through the nose to be here and been frustrated by the weather are watching under umbrellas and hats and through scarves and balaclavas. Smith's innings is just reward for those have persevered but when they were sold the Test cricket dream, this wasn't how it was meant to be.
Please ensure all fields are completed before submitting your comment!