Meet Will Smeed, the Somerset teenager wiser than his years
NICK FRIEND: Smeed is the latest on the same King's College Taunton conveyor belt that in the last decade has spawned Jos Buttler and Tom Banton. After a brief display of his talents last year, the teenager is keen to push on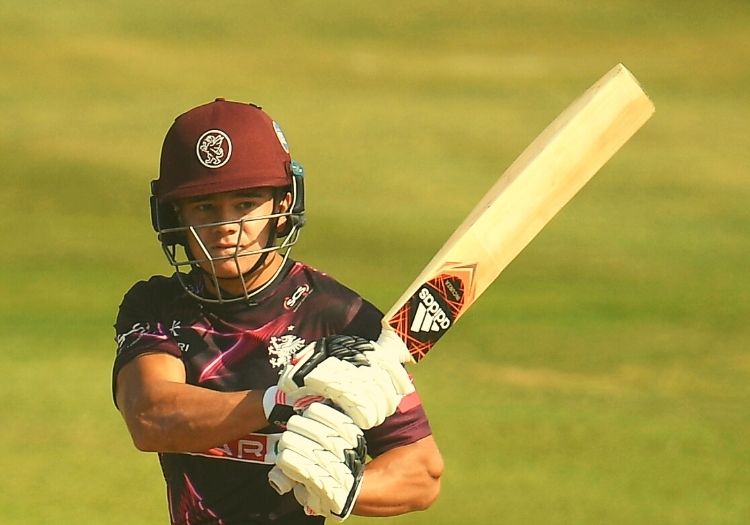 People who know plenty about batting think a lot of Will Smeed, the next cab off the Somerset rank.
Andy Nash, the county's former chairman, declared on the occasion of his debut six months ago that, in the eyes of those with greater expertise than his own, Smeed might just be – from a technical standpoint, at least – "the best batsman Somerset County Cricket Club have ever produced".
Whether such a lofty build-up translates itself into a career of similar stature only time will tell, though on the evidence of this conversation, he is blessed with a mature head that will come in plenty of use.
It is why he is a year into an Open University degree in maths and economics, and why he is an ambassador for Sporting Minds UK, the mental health charity set up by childhood friend Callum Lea to guide athletes at the start of their sporting lives.
"I'm fully aware of the fact that the end of a sports career can literally come at the click of a finger if you get an injury or you have a bad season," he says, very much with a wisdom that defies his youth. "It can be a pretty brutal career, so I just want to make sure that I have a backup and have something to do at the end of it."
He is weighing up a master's to follow his undergraduate course – in what, he doesn't know yet. But, having studied maths, further maths, chemistry and physics to A Level, he is keen to continue exploring academia alongside a cricket career that appears destined to grow. "I know that sounds a bit nerdy," Smeed says with a chuckle, "but I've always enjoyed learning – it keeps me busy as well. I've been a bit struck by the amount of free time I have now, having been at school full-time."
In those days, he threw himself into everything – not quite as an AB de Villiers type, but a natural sportsman nonetheless: a prep school pupil at Millfield, who played rugby, football, hockey, tennis and dabbled as a hurdler.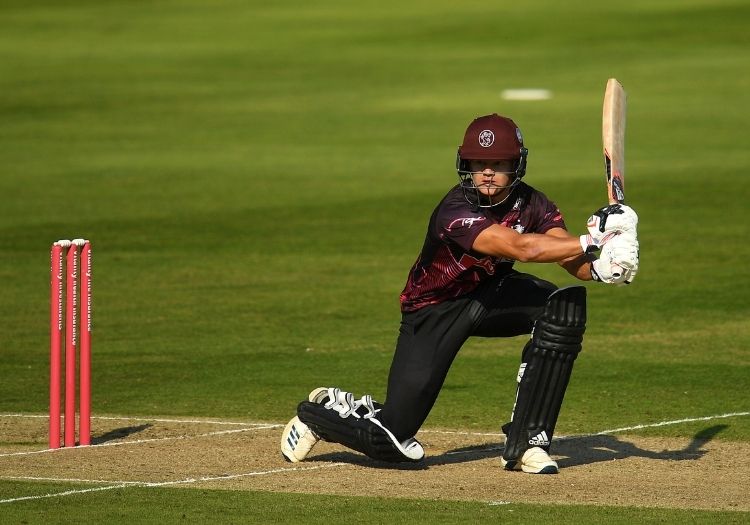 Will Smeed made 82 in just his second Somerset appearance
He is the latest on the same King's College Taunton conveyor belt that in the last decade has spawned Jos Buttler and Tom Banton. "I think that does spur me on because it makes what they're doing seem more achievable because they started in the same place as me," he says.
In the space of a week during the summer of 2019, he made 243 against Gloucestershire and 185 in a 50-over win over Warwickshire – both at under-17 level. A season earlier, as a 16-year-old, he recorded a maiden second team century against Sussex, sharing a stand of 92 with Marcus Trescothick, who made his international debut before Smeed was even born. At the end of that year, still barely 17, he was named in the England Young Lions squad to tour Bangladesh.
The secret behind that early success? An insatiable appetite for hundreds. "I just like scoring runs," he says. "Ultimately, batting is about scoring runs, so I have to do as much of that as I can." Some of that, he explains, can be traced back to a streak of several unfortunate injuries that have kept him on the sidelines for longer than most at his age: since March 2018, there have been rehabilitation spells following a shoulder operation, a stress fracture in his foot and a broken thumb.
"It was pretty tough being sat on the side, watching everyone else play," he reflects. "In a way, it made me more hungry to score runs when I came back. I wanted to be the one scoring runs and I was fed up of it being other people when I was sat on the sidelines with whatever injury I had."
That period ties back into why he is so keen to support Lea's cause and the "incredible job" being done in raising awareness around mental health.
"I think it's especially important in sport, which is such a high-pressure environment," he adds. "There are all sorts of things that come with it. I started to feel the pressure a bit last summer, so I can definitely see the importance of finding mechanisms for coping with pressure.
"If it does all get too much, you want to have a support network there that you can go to for help, so you can perform as well as you want to out on the pitch without worrying about everything else.
"There are all these technical things that you can do, but the biggest message I got was just to remember that you're just playing a game with your friends: it's fun, it's just a bat and a ball. Try to forget everything else."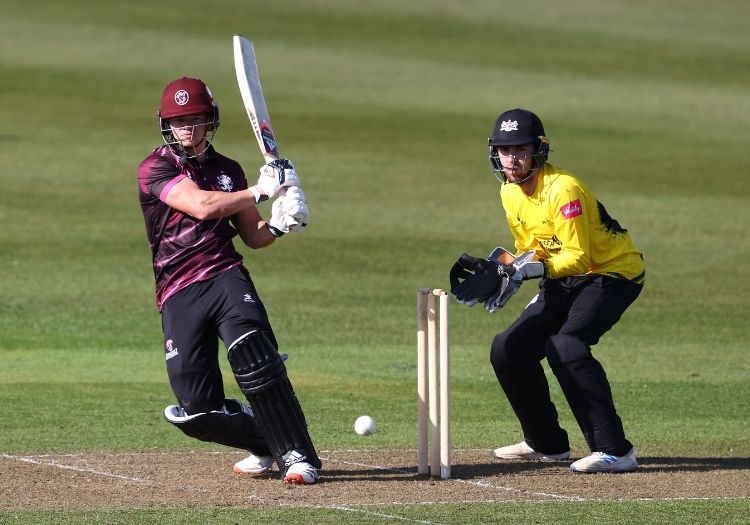 Smeed is an ambassador for mental health charity Sporting Minds UK
It worked for Smeed. Not many 18-year-olds – as he was then – make such an impact so early on the professional stage. He was handed his first opportunity in a defeat by Worcestershire, with James Hildreth suffering from hamstring trouble, but only made four.
Before his second appearance two days later, head coach Jason Kerr took him to one side to ease his nerves. Smeed recalls: "He just said: 'Imagine you're playing for Bridgwater – because if you were playing for Bridgwater, you'd probably do well against these guys.' I tried to forget everything else, which is probably easier when there's no crowd there."
The upshot was a sparkling announcement of his obvious potential: 82 off 49 balls – six fours, five sixes, albeit in a losing cause. "It has given me the confidence that I can perform at that level. Now, it's just about me figuring out how to do it more consistently."
He mentions Bridgwater, for whom he plays in the West of England Premier League, because of the role played by club cricket in his development – in a 40-over match last August against Taunton St Andrews, he hammered 137 off 76 balls.
"It's a weird one to get used to," he says. "Getting a bit of chat from everyone when you're the young one – and trying not to let that affect you – is a big thing. The ball's hit harder, bowlers bowl quicker. It's a good stepping-stone going from boys to adults. You definitely notice the difference."
It has formed an important channel, he believes, in connecting county age-group competition with the real thing. And what of that next step-up – to his first experiences as a first team cricketer for Somerset, lining up alongside Babar Azam, Tom Abell and Lewis Gregory? He remembers being "in awe" of Banton as a schoolboy, while describing "picking the brains" of Pakistan's captain as an eye-opener. "He tries not to put too much pressure on himself, and I think that definitely helped me. The game I did well in, I was more relaxed than all the others."
Five innings thus far – all in the T20 Blast – have brought 94 runs, with four low scores to accompany his breakthrough innings. He has picked up plenty, however, even in the 80 deliveries he has faced.
"You don't get many horrible balls, which you get when you're playing against people around our age."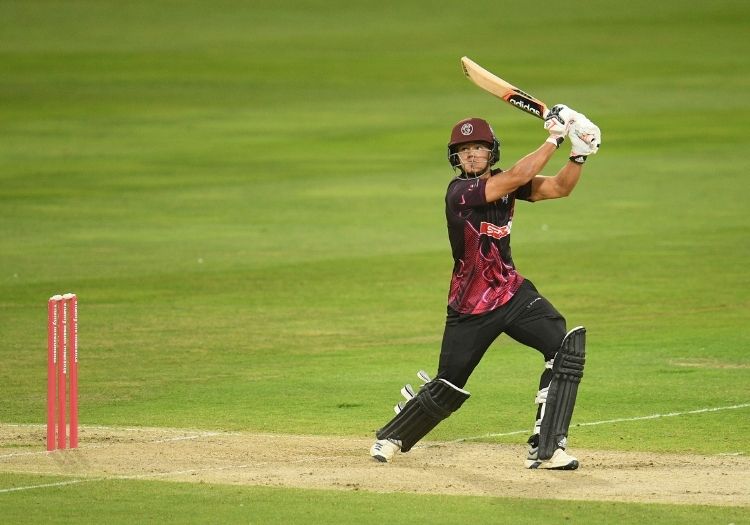 Smeed has been tipped for a successful career by many observers
That's the main takeaway so far – an appreciation of bowlers' capacity to nail their skills more consistently, especially in T20 where execution is king.
"So, that's what I've been working on a lot this winter: how do I hit bowlers off their length? If they're settled in and it's working for them, they're not going to move.
"So, it's trying to develop a gameplan. I think what worked in the Gloucester game – I just tried to hit it, and that worked in that game. But in the long run, that might not be that successful. I can still do that, but it's about building a game around that to complement it."
And his ambitions extend well beyond the shortest format. Since the end of last season, he has spent much of his time honing his game against the red ball. "I'm trying to give myself the best chance possible to score as many runs as I can," he says. "Obviously, red-ball cricket is where you can score the biggest runs. I try to keep batting as simple as I can: I'll try to score as many runs as I can, and then whatever comes from that happens."
As for the anticipation of onlookers around his potential, that maturity seeps through once more. This is the first interview he's done, other than the occasional post-hundred chat, but there can't be many teenagers on the circuit who carry their thoughts so impressively.
He has not been tempted to spend too much time searching for his name, aware of social media's volatility. "But if people are expecting a lot of you, it's probably because you've earned it," he adds. "I try to turn that into a positive, that people were expecting me to score runs because I should be."
Compartmentalising that focus on run-scoring will be a different challenge once fans return, Smeed knows. If there was a downside to his 2020 of opportunity, it came in enjoying the experience without his family and friends at Taunton. "I think you sort of realise when you're playing for the first team that you're playing for the club as a whole more than you do when you're playing academy games or second team games even. You realise that there are a lot more people watching and a lot more things being said, I guess."
Not that such matters seem likely to faze Will Smeed, a teenager with the tools to make good on the hype.
Subscribe today and receive The Cricketer's centenary issue – six issues for £19.21. Click here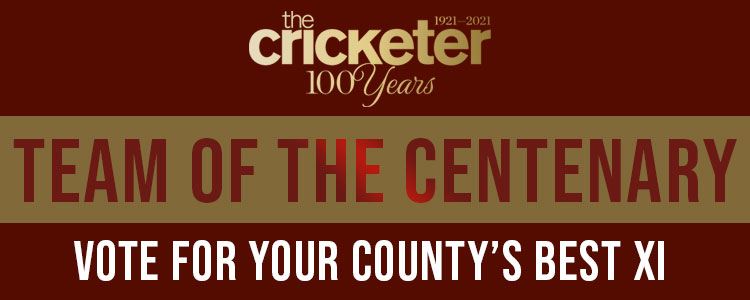 Please ensure all fields are completed before submitting your comment!