The untold story of Leanne Davis, the youngest cricketer – male or female – to represent England
NICK FRIEND: Leanne Davis remains the youngest person to play cricket for England. Only, no one knows her name. Twenty years on from her debut as a 15-year-old, she works for a teenage cancer charity in Adelaide. This is her story, untold until now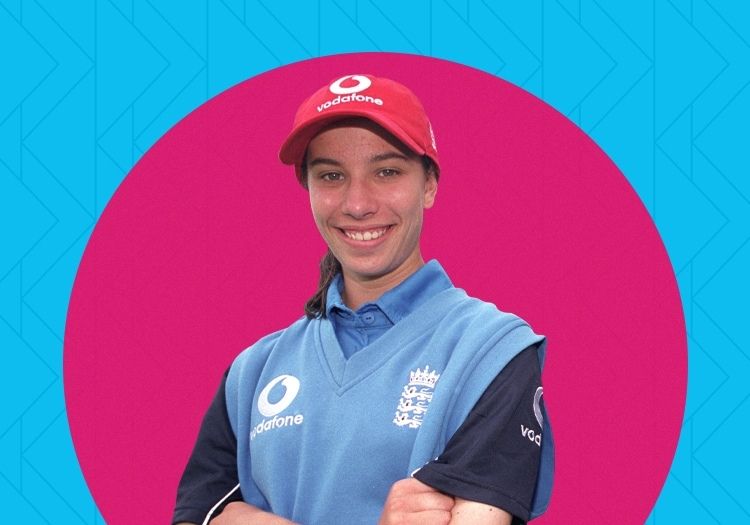 "I have never ever been asked about it once. Never. Not even in the years after I played for England."
The untold story of Leanne Davis really is the untold story of Leanne Davis, the youngest cricketer – in a pool of 744 men and 208 women – to represent England.
Among 952 debutants, none have been younger than one teenage girl from the suburban town of Milnrow, near Rochdale, whose home – in the aptly named cul-de-sac of Cricket View – overlooked the local club which, all too briefly, became the focal point of her existence.
It is a remarkable tale, the kind that rarely lies low like this for two decades. Davis was 15 years and 66 days old on July 1, 2000, when she faced South Africa in the first appearance of a two-match international career. When the second came 13 months later against Scotland, she was 16 years and 105 days old: a child in an adult's game.
But then, that was it. She was gone, never to be seen again in England colours – a unique fragment of the sport's decorated past and, such is the nature of the game as we now know it, perhaps the holder of an unbreachable record. Even the very idea of a 15-year-old England cricketer feels preposterous in today's world of professionalisation. And following the introduction of new ICC restrictions that make 15 the minimum age for any international player, she might now have an even stronger grip on her unwitting slice of history.
Davis is 35 – only a matter of months older than Katherine Brunt, three years younger than James Anderson. She is not on Twitter but is tracked down for this piece through a dive into the depths of LinkedIn, where there are several Leanne Davises, but only one who played cricket for England.
Twenty years on, she lives in Australia. She has not played cricket for "seven or eight years" and has "no desire at all" for any of that to change. Instead, she supports young people impacted by cancer – either fighting the disease themselves or those who have lost parents, having previously worked with the cystic fibrosis community in South Australia.
Before that, she was involved in establishing the Indigenous Marathon Project, assisting Australian world champion runner Rob de Castella in finding Aboriginal Australians and Torres Strait Islanders to take part in the New York Marathon – a role that "really cemented to me that I wanted to work in not-for-profit and to help people".
But some time before that, she opened the bowling for her country. And so, this is the story of a career short-lived, but also a career long-loved; a career that fostered friendships to last a lifetime and a career that remains one of a kind. As a 15-year-old, who might otherwise have played football for England, she sat her GCSE German exam just days before making her international debut.
There are no regrets, even if a back injury would curtail her journey and Davis would fall out of love with the game in England as a 20-year-old, playing her final County Championship game only a single summer later – 14 years ago. A trailblazer at 15 but finished with it all by 21. She continued to run in when she first arrived in Australia but, by then, her priorities had changed.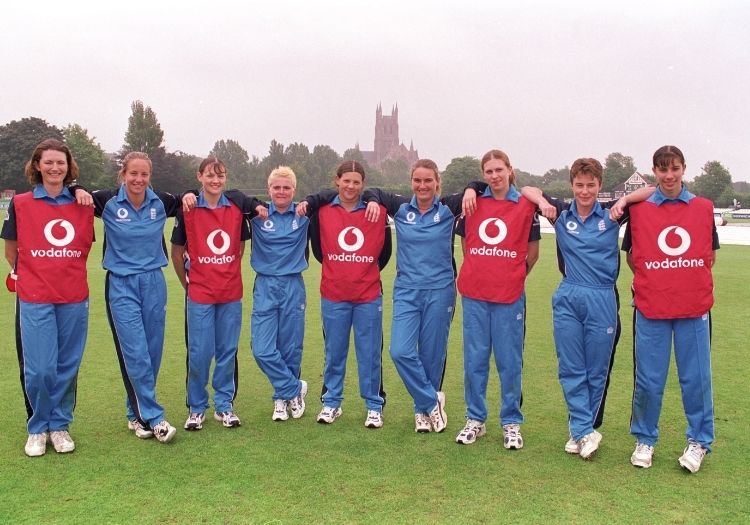 Davis (far right) warms up ahead of her debut on a drizzly day in Worcester
"I think in my teenage phase, where I was really in the thick of it, I never felt like it was too much," she reflects. "But back then, it was my mum and dad driving me around everywhere, so I just sat in the car, turned up, trained, played cricket, sat in the car, drove home.
"It was when I started university that it became more difficult, I think. There are social pressures and you're trying to complete your degree and figuring out what you want to do next in life. Cricket couldn't be your career at that point.
"When I grew up and hit that age at 18 or 19, there was a level of expectation that was put on us in terms of training and fitness – I was never the fittest. The amount of training that was expected as well as studying and trying to have a bit of a social life, that all got a bit too much, to be honest.
"The friendships I made through cricket were lifelong, and it got to a point where it was more about having a drink afterwards than worrying about your figures because an England selector might be looking at them.
"I had a lot of back issues; I went to West Indies with my Lancashire team in 2001 and played on those hard pitches there and they really stuffed my back up. It was only around the time that bowling restrictions came in. I would have been bowling in the nets and playing every single day of the week, bowling at least 10 overs a day. It just got to a point where I was really struggling.
"And I'll be completely honest: I wasn't a fan of the hard work either. When you're expected to train and change your life to be a professional athlete – but you're not professional, that is hard."
One July afternoon in 2005 stands out; Davis was playing in a Super Fours game, a competition effectively set up to bring the country's best female players together as a bridge between the Women's County Championship and international cricket.
"I'll never forget it," she smiles. "I'd dislocated my shoulder the day before, so I didn't play that game, but the next day I was running between the wickets and someone threw the ball in.
"I jumped over the ball and got run out. Anyone else would have been disappointed but I just wasn't bothered at all. Those Super Fours games were where you were really trying your best to get picked in the England team. But I just walked off and thought: 'I reckon I'm done.' I'll never forget it. I jumped over the ball and went: 'Oh well.'"
"I have never ever been asked about it once. Never. Not even in the years after I played for England"
Five years had passed since her international bow by that stage, but Davis was ready to move on. In 2003, she had been part of an England Under-19 tour to Australia, and she was keen to return there. It is home now and cricket is a memory from a previous life, but a piece of history is indelibly hers.
"It is weird," she says. "I have a friend in Melbourne, and we used to work together in my old job. I then left but she's come to my new organisation. She loves telling people. I might say that I played cricket for England, but she'll go: 'She was the youngest-ever international cricketer, male or female.' When someone else says it, you think: 'Oh yeah, I was – and I probably still am.'
"It is something you weirdly forget, but when someone else says it, it is a badge of honour. It might be a long time before it's broken in England.
"I kind of hope it is broken because for someone to get in at 15 years of age now, they'd have to be a pretty amazing player. If England can find someone like that, then brilliant."
In the meantime, it seems extraordinary that Davis has never been asked these questions before, given elite sport's obsession with the fate of those who burst onto the scene as prodigious wunderkinds.
Ask a supporter of English cricket to name the national side's youngest-ever player. Some might suggest Haseeb Hameed or Brian Close, Holly Colvin or Sophie Ecclestone. Very few would pick Davis. For a game so in tune with its statistics, her relative anonymity is a strange quirk. Even in the build-up to this interview, she mentioned to Jenny Thompson, a friend of hers and a former writer at ESPNcricinfo, her surprise at The Cricketer's interest two decades on from her brief ascent.
"I don't believe in the universe and things being meant to be," she says, "but maybe I was only ever going to play those two games and then be almost forgotten until you came along!
"It doesn't surprise me that no one has ever brought it up because I didn't play more, I guess. If I'd have played 100 games for England, then maybe the 'youngest-ever' tag would have stayed with me.
"I think it's because I only ever played those two games that it gets forgotten. Isa Guha then came along and was the first British Asian, then Ebony Rainford-Brent [as the first black woman to play for England]. There was always someone new coming in. I think it's probably more down to the fact that I didn't play more, more than anything else."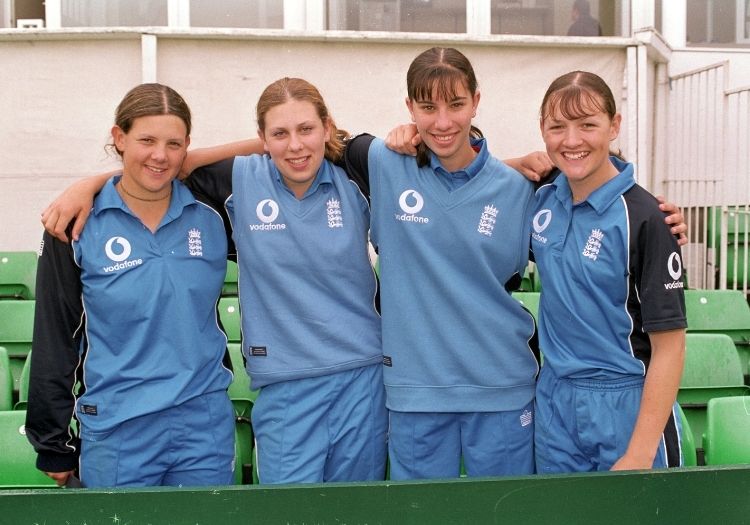 Davis (third from left) poses with Nicola Shaw, Laura Harper and Arran Brindle
In 2017, the ECB sent commemorative caps to everyone to have represented the country. "When they sent mine over, I almost felt like a bit of a fraud," she laughs.
"It has my number on it, but it doesn't say that I only played twice. But then again, so what? I did make it and I did play."
The cap hangs in a box on the wall at her home, while the sky-blue shirt from her ODI debut is with her parents – her father made a special effort to get it back from the ECB after they were recalled for embroidery ahead of the World Cup in 2000, for which Davis missed out on selection. "They asked for all of our shirts back so they could put the logos on them," she explains. "I was devastated that I never kept one."
They are only little things, but each droplet of memorabilia is a reminder of her teenage years and a souvenir of a level that only a tiny minority get to reach.
It all began with a call from Paul Farbrace, England Women head coach at the time. His side were two-one up in a series against South Africa, and he wanted Davis added to the squad. She had been part of Lancashire's senior setup since the age of 13, as well as being involved in national development teams. A fortnight before her debut, she had turned out for England A against the tourists. And then, the phone rang.
"I used to go to Milnrow Cricket Club all day; whenever the men were having their tea break, we'd get on and we'd play," she recounts. "It just so happened on this one day that I was at home and looking out the window, getting ready to go to the club. Farbrace just said: 'We want you to join the squad.' He asked if I could get down to Taunton for first thing on Monday morning, and I didn't even know where Taunton was.
"From Rochdale, it's a good seven-hour drive, but I just went: 'Yeah, of course I can. No problem.' I hung up the phone and told my dad he had to get me to Taunton by Monday morning because I'd just been picked for England. He was like: 'What on earth are you talking about?' I went into the cricket club and told everyone else – it was just bizarre. It didn't feel real.
"I got down there and didn't realise that I had a German exam that I was supposed to be sitting, so my German teacher back in Milnrow got on the phone to a local school down there. So, I arrived in Taunton on Monday morning and the game was on Wednesday, so on Tuesday they took me to a school to do my German GCSE. My poor dad drove all the way down and all the way back in a day. It was unbelievable."
"I often wonder if I was playing now whether I would want my career to be as a cricketer. I actually don't know. I really did play for the love of the game"
Her face ended up on the front page of the Daily Mail, asking if this schoolgirl was about to make history. "They even had my school photograph," she adds. "I was like: 'Oh wow, this is real.' That was the moment. But to be honest, I was just making my England debut – it didn't matter whether I was the youngest or oldest."
Davis didn't play at Taunton, watching from the sidelines as her new teammates went three-one up to clinch the series – a result that opened the door for her to make her debut at Worcester in the final match, effectively a dead rubber. In the process, she claimed the record from teammate Laura Harper by a margin of 112 days.
As it happened, England lost by five runs, chasing a revised target in a rain-shortened game, but there was a wicket for Davis, as well as a half century for a 20-year-old Charlotte Edwards – "this child prodigy who was scoring billions of runs", while Clare Connor captained a side also featuring Claire Taylor and Lancashire colleague Arran Brindle.
"The thing is, if it was two-all in that series, it would never have happened," she points out. "It was a bit of a whirlwind and I remember it being quite a drizzly day. I'd never been to New Road before; I remember it being a really beautiful, traditional ground. I remember the wicket – I got an lbw, her name was [Alison] Hodgkinson."
She recalls dropping a catch as well, running in from mid-on. "It would have been a screamer," she laughs. "The other thing I remember about it was being padded up and next in. I'd never be so scared in my whole life. Thankfully, I wasn't required."
A year on, her second appearance came against Scotland, who were bowled out for 24, the third-lowest score in ODI history to this day. "Yeah, it was an annihilation," she smiles, with a satisfying twang in her accent that swings between Rochdale and Adelaide. Her memories are hazy otherwise but, after all, two decades have passed.
Women's cricket was in a curious, very different place back then; central contracts were still 14 years away and mainstream media coverage was limited in the extreme. It had been seven years since England Women had appeared on free-to-access television. As such, idols were few and far between. Clare Taylor, having opened the bowling and played football for both Liverpool Ladies and England, was one "absolute hero" for Davis, a staunch Manchester City fan.
During her rise, she came across Salliann Briggs, Lydia Greenway, Jenny Gunn, Alexia Walker, Guha and Rainford-Brent, who were similarly working their way up the ladder of an amateur game. Together, they formed a "phenomenal" England Under-19s unit. Brunt, she recalls, "disappeared for a little while but all of a sudden just came back with a vengeance".
All of them remain within the women's cricket sphere as players, coaches and broadcasters in a world now unrecognisable from the one Davis left behind. And while she sounds immensely proud of them, there is also a sense of self-peace with the different directions their lives have taken.
"If I'd carried on, I probably wouldn't be living here now and wouldn't have had the jobs that I've had and probably wouldn't even have had two kids," she says. "I look at a lot of the players that I played with and not many of them have kids.
"On July 1 this year, I messaged my mum and said: 'Oh my god, it has been 20 years since my debut.' It's a funny one. Sometimes, I do think about what might have been, particularly with Isa and Ebony and how well they're doing – their livelihoods are in cricket now.
"You do wonder, but I just try to look at it as being part of a generation that paved the way for this generation. I think it's phenomenal where the game is now. I often wonder if I was playing now whether I would want my career to be as a cricketer. I actually don't know. I really did play for the love of the game."
She never officially retired from English cricket when she left, though she recalls informing then-England selector Jackie Wainwright "that I was done – I had well and truly left it behind".
"I played my last County Championship for Lancashire. That was probably the saddest part for me – not playing for them anymore, but I didn't label it as a retirement."
She remains close friends with Lancashire teammates Trish Wilkinson, Caroline Loran and Sue Fawcett, her first captain. The latter edge of Davis' county career overlapped over with the arrival of England seamer Kate Cross onto the scene. "She's one who I really root for to do well because I just see so much of myself in her."
When Davis first moved to Australia, she turned out in the Women's National Cricket League for four seasons, including games at the Adelaide Oval and MCG. "I was playing at a really high standard, so I just fell into that new life," she says.
"I remember the England girls toured and I went to watch a game. I was a bit like: 'That could have been me.' But I've loved living here and I have no regrets.
"I look at the people before me – one of my best friends here in Adelaide is Andrea McCauley. She played for Australia but used to have to pay to go overseas to play for her country. I am grateful for what I did have."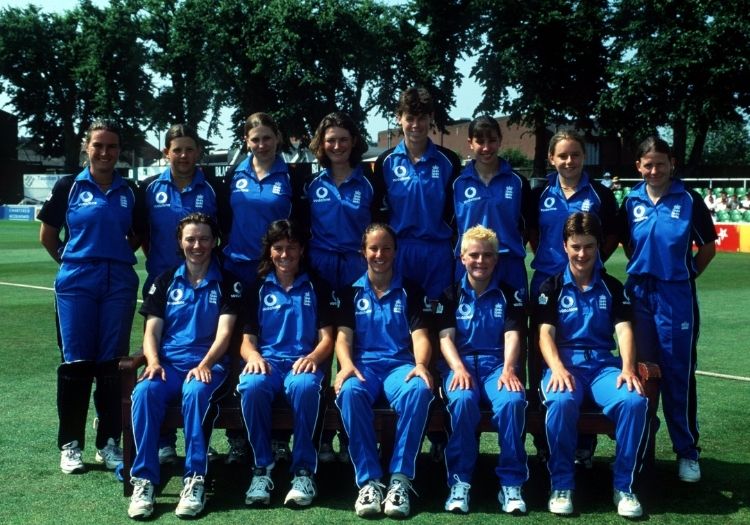 England's squad on the day of Davis' (top row, third from right) debut
It brings Davis to the "pure luck" that has led to her current status: mother of two – she only recently finished a period of maternity leave – and division manager in South Australia and Northern Territory for cancer charity CanTeen.
It is a job she cherishes and one that has resonated for some time, having watched as a 15-year-old when a Lancashire teammate fought the disease. "She's still with us, which is phenomenal," she adds, "but cancer has had a huge impact on her life and mine, so working with young people impacted by it means a lot to me."
During the coronavirus crisis, that notion only increased. "There were quite a few instances where people's parents were passing away and couldn't have a funeral."
Until two years ago, Davis had never truly equated any link between two seemingly opposite industries: one, elite sport, an endeavour with inherently egotistical tendencies; the other, charity, a life centred around altruistic support.
But then, she found herself sitting in the middle of a team-building exercise, presenting two truths and a lie for her colleagues to separate. "One of my truths was that I was England's youngest-ever cricketer. They all picked it as the lie. My boss at the time, who was this 6ft 8in American guy, just went: 'Fuck yeah, she was! That's one of the reasons why we employed her – how much resilience must she have?'
"When my boss listed all these things that I must have had to play cricket at 15 for my country, he was listing things that I'd never even tapped into or thought of. How interesting is that? It sits on my resumé under life achievements, but it's on the second or third page. And yet, they tapped into that.
"Maybe it did give me some skills. I think I am a super-resilient person, I think I'm quite patient as well. It's interesting because as an employer, he obviously looked at that and thought it was pretty impressive.
"Someone once told me – and I'll never forget it – not to just have career achievements on there. Always have those quirky personal achievements."
"I kind of hope it is broken because for someone to get in at 15 years of age now, they've have to be a pretty amazing player. If England can find someone like that, then brilliant"
Another of which was a teenage football career that began as a goalkeeper at Hopwood Hall, from where Bobby Charlton's football academies operated, and which would then become Rochdale Ladies.
"Everton were the team to beat," she recalls. "In the under-14s, they beat us 24-0 and I got player of the match. It wasn't even a pity decision – it would have been 50 if I hadn't been playing. Everton were by far the team to beat, but we would then go and flog Man United 12-0."
But for fate, Davis might have taken it further. She pulled her groin ten minutes into an under-16 game against an Everton team coached by Mo Marley, a legendary figure in English women's football who, at the time, was also involved with England's age-group setup.
From then on, cricket became the primary focus – until it was wasn't. But looking back now – and this is a rare trip down memory lane, what stands out is a refreshing contentment with life as it is now and life as it was then.
"It's not something I ever forget, but it's just not in my personality or style to put it out there," she smiles. "I certainly don't feel like a failure but part of me is a bit embarrassed sometimes that I didn't do more with it, play more and go on.
"When Isa was in Adelaide, I was trying to catch up with her but she's so busy and flying all around the world. I was in the pub with some work friends and I was like: 'The first time I came to Australia, we were in Sydney and I shared a room with Isa.' They're like: 'What do you mean?' And then, I tell them that I used to play for England.
"It's not until you tell someone and they nearly fall off their chair that you go: 'Yeah, that was kind of a big deal.' Maybe I could have done more with it. But it is what it is. I'm quite happy with where I am, that's for sure."
Gift a subscription to The Cricketer this Christmas and choose your free gift (a £20 John Lewis gift card or copy of Bob Willis: A Cricketer & A Gentleman). Subscribe here
Please ensure all fields are completed before submitting your comment!