Stuart Meaker has stopped chasing his tail
NICK FRIEND: No longer the teenage tearaway who burst onto the scene at Surrey more than a decade ago, Meaker is now 32 and indebted to Sussex for a fresh start. The pace is still there, though, that much has remained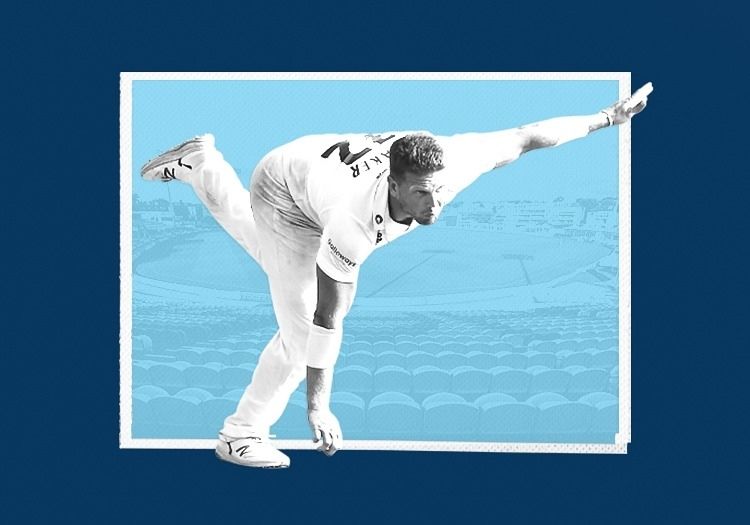 For years, Stuart Meaker has been chasing his tail. He says so himself – seven times, in fact, during a 40-minute conversation. Chasing the bowler he was. Chasing the skills he had.
It has been a long road to this point, where he feels truly confident in his bowling again, as if he finally has hold of himself after a litany of injury problems and the mental struggle that was a by-product of the challenges he faced.
Since taking 44 County Championship wickets in each of the 2011 and 2012 seasons, he hasn't been allowed to match that tally once. His body changed, and so too did his skillset – a misfortune that took some time to properly accept and understand.
But now, following a pre-season spent re-honing his game, Meaker is hopeful that the stars might just be aligning once more: a day after declaring in this interview that he had rediscovered the away-swinger that previously deserted him, he posted a video through his Twitter account as proof from Hove's springtime marquee – the dream delivery, slanting in before curving away past the right-hander's outside edge.
No longer the teenage tearaway who burst onto the scene at Surrey more than a decade ago, he is now 32 and indebted to Sussex for a fresh start. The pace is still there, though, that much has remained.
"I've been guilty in the last however many seasons of constantly trying to get back to a place where I was in 2011 and 2012, where I was swinging the ball both ways at a consistent, heavy pace," he tells The Cricketer.
"In a way, the fact that I was only recognised as someone who bowls quick probably does those two seasons a bit of a disservice because it was actually the skill – combined with the pace – that got me there."
He wasn't to know it before the injuries took hold, but those years between the ages of 22 and 23 would become the peak of his career to date. "It's been a hell of a journey," he reflects, "and I think that's why it's been so tough – I know where I was at in 2011 and 2012. All you want to do is get back to the pace that got you to the top. You keep chasing your tail."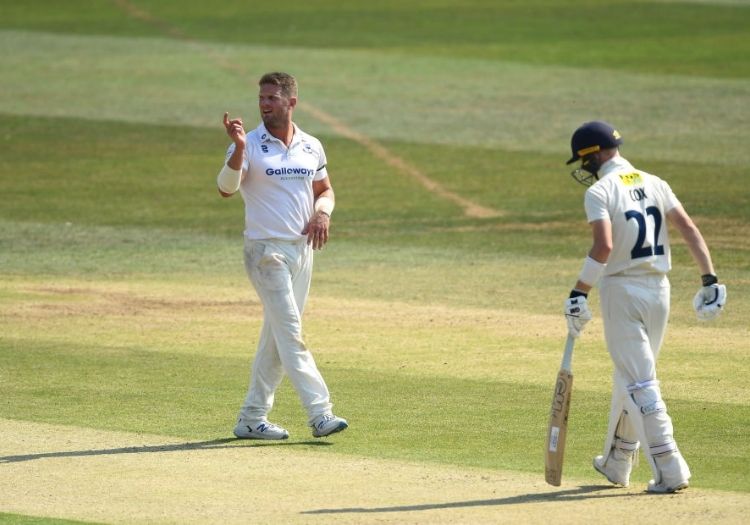 Stuart Meaker is looking for a fresh start at Sussex
As England's famous victory in India nine years ago returned to the public consciousness in recent weeks, it was easily forgotten that Meaker was part of that squad – as a replacement for Steven Finn but very much viewed at the time as a genuine quick with the all-round game to spruce up the attack. His rise had been meteoric and, somewhat appropriately, fast-tracked by his raw speed: from a peripheral figure in Surrey's red-ball side in 2010, he made his international bow on a white-ball tour of India in the autumn of 2011.
Yet after that period, there were separate surgeries to correct knee and shoulder problems – which ruled him out of Ashes contention in 2013 – from which further issues have stemmed.
"Without really realising it, that throws your whole body out," he explains. "Your feel changes and then I started having niggles in other parts of my body: I've had consistent right shoulder problems rather than the left one, which has been operated on. That's had a knock-on effect to my wrist, my elbow, my strength. You constantly second-guess yourself. I kept on chasing that dream of wanting to get back to swinging the ball away consistently and trying to alter my technique.
"In actual fact, I should have just realised that my body had changed and that I'd have to make do. A bit like Shane Warne: he got to a point where he had surgery on his shoulder, and he couldn't bowl his googly as well afterwards."
But for whatever reason, his capacity to swing the ball has returned, coming during a spell in "the pits of misery" in January after a half-hour spent tweaking his grip. "All of a sudden, it just clicked. Before you know it, it felt normal again and it felt right. Suddenly, everything was going exactly how I wanted it.
"The thing that's been missing for the last however many years has been the consistency and, as a result, the confidence that comes with that. Now, I feel like I'm potentially at a place where I'm marrying the two up.
"The skill has come back – I've got the away-swinger going again and I'm confident in being able to deliver it. That is something I've been chasing my own tail with ever since I had my surgery."
And subsequently, Meaker has grown again in self-belief – elite sport in a nutshell.
He reflects: "When you're executing your skill and you're constantly replicating and producing what you want to produce, your confidence grows.
"Whereas I think when one day it's there and the next day it's not but you're not quite sure why, it knocks your confidence because you're going to rock up to a game and not know what's going to happen if it doesn't happen for you that week.
"I think confidence comes second to the consistency of being able to reproduce your skill at will, knowing that if you do X, it will produce Y. From there, you just build on it and you always have a solid foundation.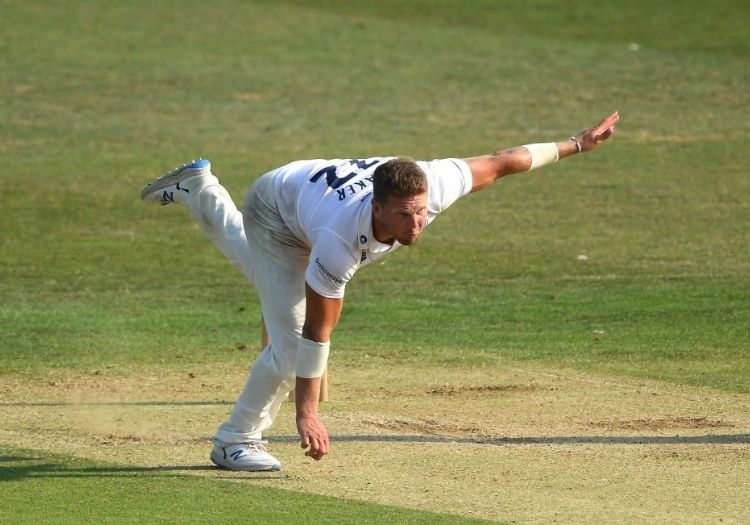 Meaker has been rebuilding his game on the south coast
"If you don't have that sort of foundation and you're constantly second-guessing yourself and you're not sure why, you end up going around in circles. It's a tough place to be."
There is a genuine excitement in his voice, however, as he looks ahead to this campaign. His Sussex career endured a rather inauspicious beginning in last year's Bob Willis Trophy, and even its mention earns a wry, gallows-humour chuckle. Without a first-class appearance for 752 days, his debut came at Canterbury as Kent – led by double centuries for Jordan Cox and Jack Leaning – racked up 530 for 1.
Meaker went wicketless and he might have been forgiven then for wondering what joy was left to be had in bounding in for four days at a time.
At his lowest, he admits to considering those exact thoughts – whether the physical burden of fast bowling was worth the continued effort.
"After so many years of me constantly wanting to get back to a place where I was confident in executing my skill, it gets to a point where it's too draining," he explains. "I'd feel good one week, but the next week it's gone. You just start to wonder whether you can keep on taking the mental strain of that. And then, in a way, you start looking at the end. You can't help it.
"It's like anything in life: if you're not enjoying where you're at and what you're doing, what's the point in continuing to push yourself through something that is making you unhappy? I'd be lying if I said there weren't times when I questioned that.
"Even last season, I was like: 'I can't keep taking trying my hardest, training my hardest and coming up empty-handed a lot of the time.' Mentally, it's a tough place. Mental health and wellbeing are so important with cricket because that is the nature of the sport. One day you're the hero, the next day you're nothing. You're chasing your tail and there are so many variables within the sport that it's incredibly hard to be successful all the way through.
"Cricket is one of those games where, to the outside world, you might not look like you're in a bad place. But you constantly allow doubt in because you are wanting to do something and it's not happening. It'd be like a batter not understanding why he keeps on getting bowled through the gate by a left-arm spinner. As soon as you think that there's a weakness there that you can't get rid of, you go: 'Well, I'm done.'"
But Meaker is beyond that stage now: this is the most upbeat he has felt for some time about his position in the game, and those previous thoughts have been replaced by a real optimism. After a difficult period in his personal life that included a divorce and the sale of his house, he is "really grateful" for this new opportunity.
He has been working during pre-season with teenage seamers Jamie Atkins and Henry Crocombe, both of whom come highly regarded – Crocombe was one of several Sussex youngsters to make his first-class debut in 2020.
"They are loose from ball one – that used to be me," Meaker jokes. "It takes me a little bit longer to get the joints going and get into full flow, but that's just greasing the engines, I guess. With any car, you have to make sure it's well-oiled and maintained – it might take a little bit longer on a cold day to get into rhythm, but the body is in good nick. It's got a few niggles here and there, but nothing that is impeding my performance, which in previous years it has done.
"The pace is still there. Whether it's quite 95mph, I'm not entirely sure. To be able to maintain that throughout the season would be difficult for anyone. But there will still be spells here and there which will definitely be sharp."

It was in 2009 that he was clocked by the Loughborough speed guns at 94mph – a label that stuck to him thereafter. For a long time, that was the fastest ball ever recorded at the ECB's indoor centre, until Tom Barber breached his title. A certain expectation came with that tag, but Meaker is also philosophical about its benefits. "If I hadn't done that at Loughborough, I don't think I would have played or got into the England reckoning as quickly as I did – a lot of that was on potential," he knows. "On one hand, it is a hindrance because people expect, but it takes you places."
On the pace phenomenon and the pressure to crank it up, he adds: "It's a bit like with Jofra Archer. Everyone is watching him and they know he can bowl 94mph, so why doesn't he? Well, it's not very easy to do that day in, day out. There are going to be grounds and pitches that you can do that on, and there are going to be other times where you just can't. It's not humanly possible. There will be spells, for sure. But to do that over the course of every single Test in a five-match series is impossible.
"If you imagine that in county cricket, we've got six County Championship games on the trot. There's no way that you're going to be able to replicate that sort of pace week after week after week.
"Nowadays, I have that spell in me and people know that – they respect that the pace is there, but the nature of how I bowl is not as heavy as when I was 18 or 19, when I was running in just trying to hit everyone on the head and blast people's feet away."
Sussex's armada of fast bowlers is the envy of the county circuit, with Meaker joining Tymal Mills, Chris Jordan, Ollie Robinson, George Garton and Archer – all of whom have, at the very least, spent time away with England Lions.
And so, while the former Surrey man hopes to become a mainstay of the first team under James Kirtley and Ian Salisbury, he is equally keen to pass on the lessons of what the game has taught him.
"I really do enjoy that," he says, "being able to guide them through some of the pitfalls you can go through as a sportsman and a bowler. I want to help nurture some of these young lads. The game is not necessarily about me anymore, as such, being this young, tearaway quick as it was when I started.
"It's now just enjoying my life as a cricketer and as a bowler, performing for a club that have extended an olive branch and given me a chance to continue my career. I'm really happy with where I'm at, that's the main thing."
He knows it would take "something miraculous" to state his case for another blast at higher honours, but that admission is balanced by a determination to make up for lost time: "I don't play this game to just tick along by."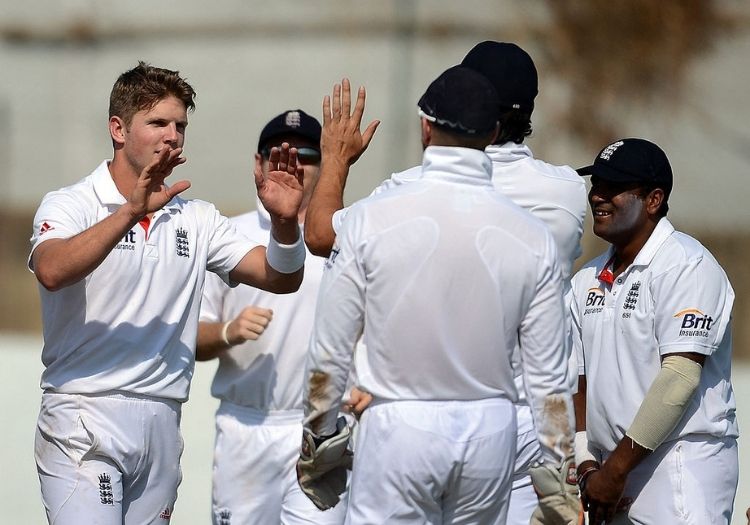 Meaker on England duty in 2012
On occasions in the past, he has believed he was on the cusp of a return to his best. Following surgery in 2013, Meaker picked up nine wickets against Cambridge MCCU at the beginning of the subsequent season, including first innings figures of 6 for 6. He recalls: "I suddenly thought: 'I'm back, I'm back.'"
But shortly afterwards, his radar abandoned him and he would spray balls into the side netting during training – something he'd never done before, even if accuracy had never been his strongest suit. "Honestly, I didn't know what happened. It sounds bizarre: I didn't lose the ability to bowl, but that certainty and control I'd had in previous seasons, I'd lost it. That just set in motion this period where I didn't know what was going on. The following season, the same sort of thing happened.
"My body was going through a dynamic change. I was second-guessing what kind of gym stuff to do and how to go about adapting to the new parameters that my body was allowing me to. Often, that's a bit of a mind game in itself because you think that your body's doing something different and it feels different, but actually it isn't really. It's just that you can't feel the same muscles moving in the same way. I was probably overcompensating and using my right shoulder too much, which ended up having all sorts of issues."
He struggled during Graham Ford's tenure in charge at Surrey "because I was in such a bad place that I was second-guessing what he was thinking" and remembers fearing that the next season – with just over a year remaining on his contract – could be his last in cricket.
The arrival of Michael di Venuto as head coach, therefore, removed that pressure for a time. He encouraged him just to focus on bowling fast and to forget about anything else. "That took a lot of stress off me," Meaker explains. "The way that I bowled in those two seasons, I was successful – not the 40 or 50 wickets of the previous two seasons, but I didn't even bother trying to swing the ball. I just ran up with a wobble seam and tried to hit the pitch as hard as I could."
He claimed 37 County Championship victims in 2016 – the most of any Surrey seamer – and 21 in the following campaign.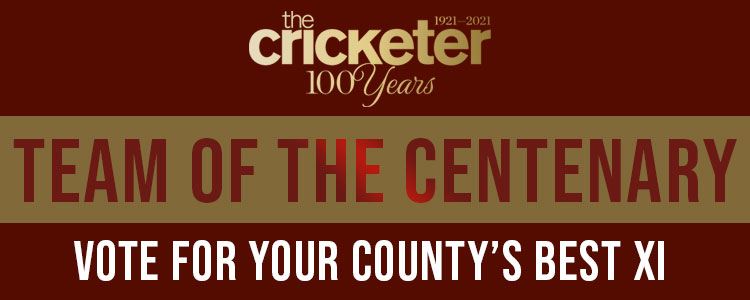 Simultaneously, however, he recognised – and feared – the longer-terms dangers of that strategy. "I had a degree of success, but I knew then that I was putting my body through turmoil, half the time I was falling flat on my face because I was trying to run in so hard. That was disconcerting.
"I was sitting there, thinking: 'If I don't get my skills back, I'm not going to be able to extend my career. I'm not going to be able to do what James Anderson has done, replicating his skills at 39 and being just as good as when he was 29.' So, I started chasing my tail again."
In his final two seasons at the Kia Oval, he featured in just two first-class games – one a high-scoring draw with Worcestershire, the other against a touring West Indies A side. For his last County Championship wicket, you have to trawl back further still, to September 2017 against Somerset – a year before Surrey ended their title drought.
And in 2019, he was restricted to four second-team appearances for any red-ball action – a difficult existence for a four-cap England fast bowler still with ambitions in the game. But Meaker was a long way down Surrey's list. By the time he asked to be released from his deal a year early, he counted 17 bowling options on the staff. "That was when I went: 'You know what, I think it probably is time for me to have a change.'
"I was still chasing 2011 and 2012, and not letting go of it because there was something missing, something not right, something not clicking."
Now, a decade on from his international debut, he thinks this season might just mark the start of a rebirth. And after all he and his body have been through, you can't help but hope he's right.
Subscribe today and receive The Cricketer's centenary issue – six issues for £19.21. Click here
Please ensure all fields are completed before submitting your comment!