Inside the Mascot Race, an annual bout of glorious silliness
NICK FRIEND: Even as England's domestic T20 competition has swelled to become the pinnacle of the county calendar, the mascot race – a cocktail mixing the Grand National, Takeshi's Castle and the vague plotlines of Tom and Jerry – has survived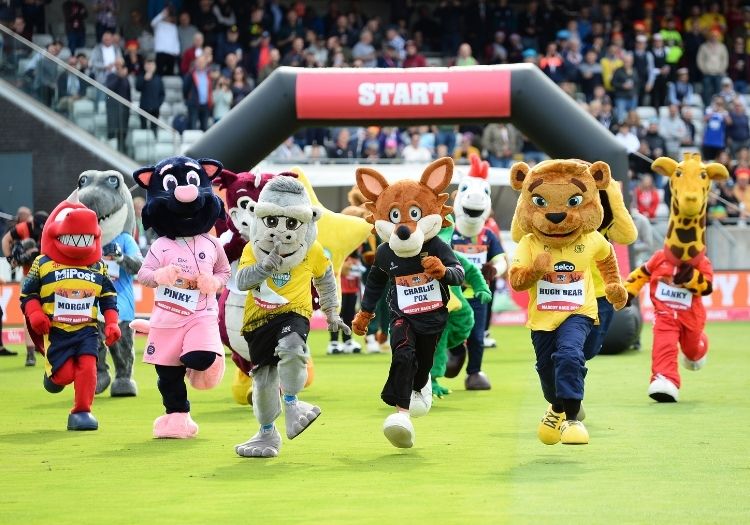 Twenty20 cricket was once maligned by senior pros as a hit-and-giggle waste of time. Almost two decades later, it is a billion-dollar business, the growth vehicle for the game and a land of opportunity for players all over the world.
And still, every summer, on the biggest day of the domestic cricket calendar in England and Wales, there is time for grown men in costumes to charge across the Edgbaston outfield. Somehow, the T20 Blast Finals Day mascot race – a peculiar cocktail mixing the Grand National, Takeshi's Castle and Tom & Jerry – has survived the format's transformation from gimmick to global domination. What's more, it has thrived.
"I think my biggest fear was my head falling off," says Jack Pritchard, finance officer at Glamorgan and – for one day only in the summer of 2017 – Dewi the Dragon. "I remember landing on someone and then someone landing on me, but there's an air of invisibility when you've got your head on. My worst nightmare was doing something stupid, falling over, losing my head and then everyone seeing who I was."
"My tail got stuck under a net and no one was there to help, so eventually I cleared myself but the others were already finishing," recalls Darren Wilders, well aware of this conversation's absurdity. "I didn't come last though." He is a technical director at IT consultants Deeserve, for whom Nottinghamshire are a client. On one afternoon, he became Nuts the Squirrel.
"It's very similar to sport – but not."
Three-time runner Jack Bransgrove adds: "If we were to win the mascot race, that would be a top-tier win for me. The objective is pure glory." He is the son of Rod, the Hampshire chairman, and is a lifelong fan of the county.
"On a professional basis, you're able to promote these things and get a bit of tongue-in-cheek messaging going around the marketing for your T20 in the following year perhaps. But personally, I would just love to see a Hampshire mascot win."
Freddie the Falcon – better known as James Farnsworth, a project manager at Rolls Royce – is the reigning champion: "My Sky Bet odds in 2019 were 20-1, so I lumped £20 on myself and won £400." He was only racing after attending Finals Day as a fan the previous year and complaining to his mum – an accountant at Derbyshire – that the county hadn't even entered the race.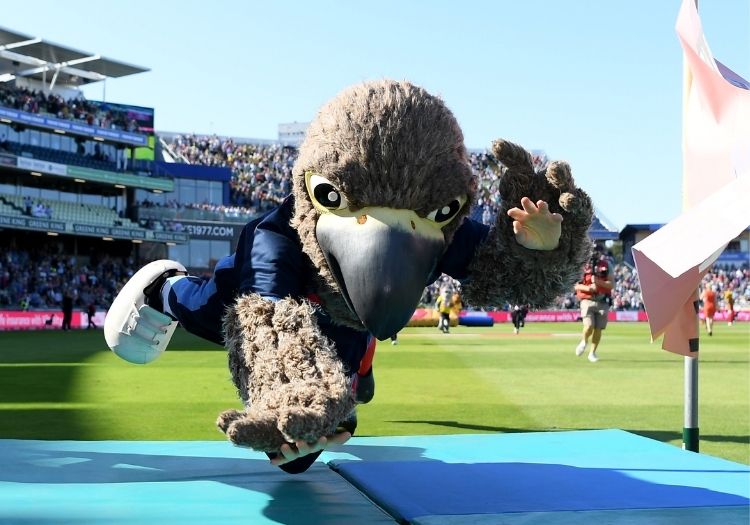 Freddie the Falcon, featuring James Farnsworth, dives to win the 2019 Mascot Race; after last year's washout, he is the defending champion
"You could definitely tell by the costumes who was there to try to win," says Harry Short, a performance administrator for the junior pathway at Surrey – and Caesar the Lion in 2019. "Someone said to me when I walked in: 'Is this your first race?' I said that it was, and he just said: 'Well, if you don't want to get hurt, then stay at the back.'"
In 2004, Justin Hewitt – an Australian backpacker turned Surrey operations executive – actually crossed the line first in the inaugural edition as Roary, Caesar's predecessor. He was later disqualified over a footwear controversy, which inexplicably was covered on the BBC Sport website. "He was the only runner not wearing big fuzzy shoes," wrote Liam Brickhill for ESPNcricinfo in his report of the day. It is a brilliant tale, to which we will return later.
Hewitt remembers: "Coming towards the last obstacle, I felt that I could get ahead and win, so I pushed on and I actually fell over an obstacle and broke a finger as my head fell off." Even so, he clambered back to his feet. That evening, the injured finger swelled up and he had to use butter to slide a ring off the damaged digit.
Welcome to the glorious carnage of the Mascot Derby.
For all the criticism of The Hundred as a childish exercise that trivialised a great, complex sport, they were 17 years late on this idea: the ground that witnessed Jones-Bowden-Kasprowicz, Brian Lara's unbeaten 501 and England's thousandth Test, but that also provided the stage for Alfred the Gorilla's consecutive victories and the truly extraordinary moment when Stumpy the Wyvern – destined for gold – ran into an errant trail of wiring, was flung to the floor and became entangled in a practice net, costing him his shot at glory.
And yet, all this nonsense takes place each year against the backdrop of an elite sporting occasion: many of the best cricketers on the domestic circuit playing at the peak of their powers, auditioning for franchise contracts. It is testament to the British penchant for slapstick that it remains a central part of Finals Day: broadcast in its entirety, with a fixed position in the schedule. Last year's Saturday washout was the first time that it had to be cancelled.
Its endurance can credit several reasons: David Lloyd's sarcasm, the daft mechanics of sprinting in animal suits, the relentlessly tribal instincts of county fans. "It's probably the best matchday activation I've ever seen at any event," one cricket industry executive told The Cricketer.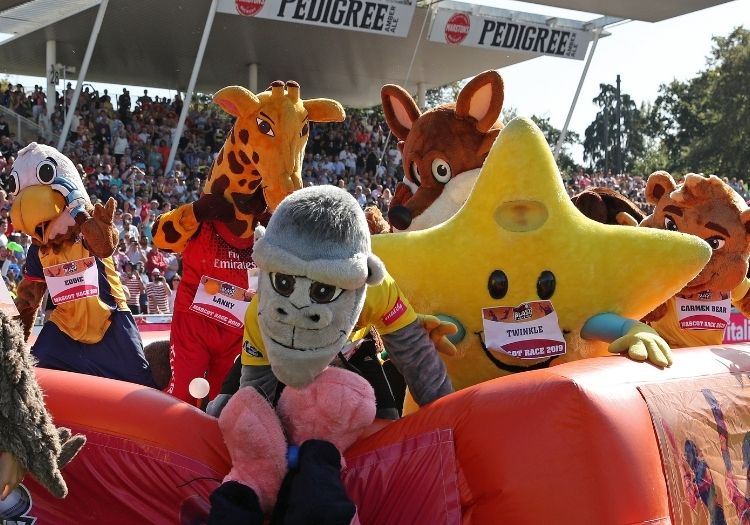 The mascot race is the great survivor of Finals Day, which has seen changes since 2003
So, unashamedly – and with tongue firmly in cheek – this is as deep a dive as has ever taken place inside the costumes and under the masks of a curious tradition that has gained notoriety as Finals Day's centre-point, sandwiched either side of two semi-finals, when the afternoon is at its warmest and conditions – Short describes the experience as "like wearing a duvet" – are consequently at their most brutally debilitating.
"I honestly thought at the end of the race that I was going to have a heart attack," says Hewitt. "It's like wrapping your head in cellophane; it is so hot in those costumes."
Never more so than before and afterwards, when the mascots are escorted to and from their changing area in Edgbaston's indoor school. "We weren't allowed to take our masks off because that would break character," adds Farnsworth.
"You have these chaperones to walk you back," Pritchard explains, "but for some reason they took us on an entire lap of the ground, and it must have taken about 45 minutes to get back in the searing heat."
"It's absolutely boiling, so very hot," Wilders says with a chuckle, talking of the temperature like a man casting his mind back to scarring memories. "On Nuts, if you're running forward it's better because you have got air flowing through the face. If you're stood still, it's very hot, very hot.
"The only thing you wanted after that race was water – there were just crates and gallons of water being brought to us; then we got dressed and went to watch the rest of the day."
Bransgrove was still feeling the effects of the night before when he competed in 2018. "For some reason," he laughs, "every Finals Day the weather just decides to throw on an absolute heatwave, while we're wearing about three inches of fur, which is great if you're in Alaska in deep winter."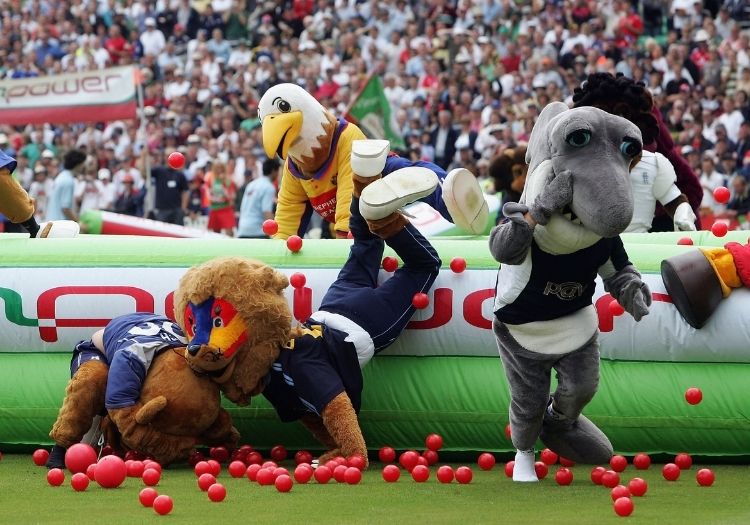 Roary the Lion dives out of the ball-pit
Short adds: "I was sober when we did the race. Having already had an afternoon in the suit in practice, I knew there was no way I could have a drink beforehand. But I do know that some people used it as an opportunity – because obviously you have to bring all your kit into the ground – to carry in bottles of wine in the kitbags."
He ran after Nottinghamshire's semi-final defeat against Worcestershire in 2019 – an extraordinary game that went down to the very last ball. Not only did he miss the second innings to his preparations – as did Glamorgan's Pritchard, who didn't even know the result of his own county's semi-final until after his race – it also prolonged his waiting time under the lion's mane. As Short puts it: "In all honesty, you're just worried about not passing out or getting dehydrated."
Ultimately, though, it is a race. And when you line up 20 adults at a starting pistol midway through a festival of sport with a 20,000-strong crowd, the competitive juices are an inevitability.
When Hampshire were in the market for a new costume ahead of this season as part of the relaunch of the Hawks brand, Bransgrove Jr worked on the birth of Hawky alongside Rainbow Productions, a leader in the mascot manufacture industry, with the human-sized bird's racing potential at the forefront of his mind.
"We were trying to make it family-friendly for our audience, of course, but the other objective was to make it a bit more lightweight and able to move and win a mascot race," he admits. "I'm not too sure how we'll go, but I've tried on the new one and it's still fairly hard to move, just like the old one. That was No.1 on the agenda when I came back from furlough!
"When I was asking for a more aerodynamic design of the suit, the account manager who I was working with came back and literally said: 'You want this for the mascot race, don't you?' He called me out on it!"
Wilders says: "I think it's a bit of fun, but deep down everyone wants to win it." He trained for three weeks on a treadmill after putting himself forward – Nottinghamshire thought he was joking but he was deadly serious when he piped up in the club office.
"You are representing your county and you've got everyone behind you. You do want to win it.
"I was over at Trent Bridge one day, so I put on the costume for the afternoon and ran around on the pitch. They got some photos of me training so they could do the whole social: 'Nuts is in training for Finals Day', trying to build the hype.
"The year I did it, Gloucestershire's gorilla was doing rock-climbing on their social in training beforehand. I just thought: 'I'm in trouble here.'"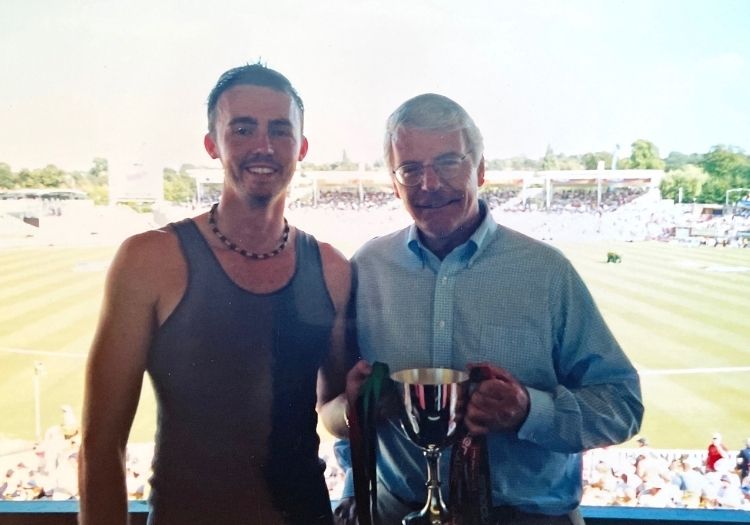 Justin Hewitt (left) poses with former Prime Minister John Major (right) after winning the Mascot Race, although he would later be disqualified
The gorilla, Alfred, remains the only back-to-back winner and is "the yardstick", according to Farnsworth, though he has the chance to match him this weekend.
"I am a competitive person, so if I'm going to enter something, then I'll give it my all," he says. "I think you get a small group of people who really want to win and then the rest who, bless 'em, are in the giraffe costume or something like that and know they have no chance. It really comes down to your shoes not being too big and whether your head stays on."
Any other secrets?
"The first obstacle is a big ball-pit, and that is usually carnage. If you get stuck in the chaos of the ball-pit, you're usually done for. Really, you have to get in and out of it in a reasonable state with your full outfit on. I didn't expect to win but when it's just a straight leg-race at the end, I always thought I had an okay chance. I flapped my arms a bit as I crossed the line in a bit of a bird impression. It was Kelly Holmes-ish."
There is not much of a prize these days, only pride. And in Farnsworth's case, a bottle of champagne at Derbyshire's end-of-season awards. He took the title from Charlie Fox, Leicestershire's mammal of choice.
"You could tell he was up for it – he wasn't happy when he didn't win," he says.
"There was a bit of drama: there is a big inflatable ball, which you're supposed to run around; the Leicester fox mascot was not happy about the fact that we had not run around the ball, so he had some choice words after the race.
"I've got the footage because I recorded it on Sky, but we're all stood on the podium at the end, and you can see this Fox lean over to me and he was essentially telling me that I hadn't run around the ball and therefore shouldn't have won. I had no clue what was going on. It's funny in hindsight, watching someone look as angry as you can when standing in a mascot costume."
By contrast, Hewitt, an archaeologist by trade and a director with The Princes Trust Australia, did not escape his apparent misdemeanours. It might have happened 17 summers ago, but he maintains his innocence.
"They were no instructions," he laughs. "They gave me a handicap, which was fair enough. I came from a long way behind to win that race."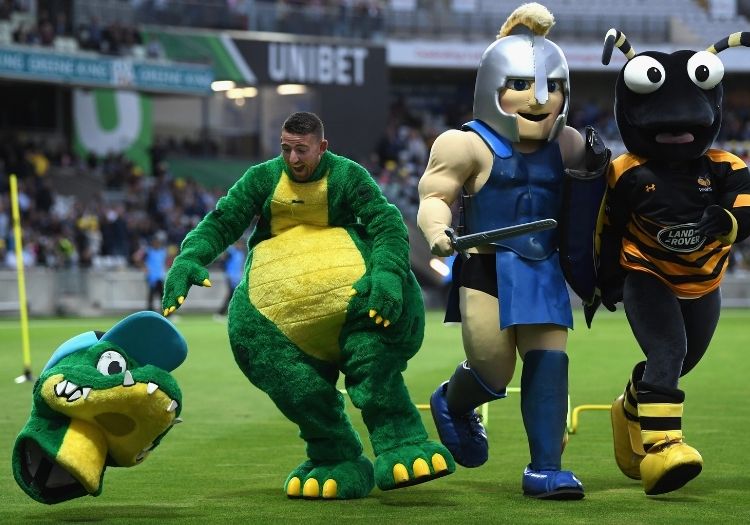 Worcestershire's mascot suffers the ultimate indignity of being unmasked
It was T20's second year and the race's first outing. He takes up the tale of his disqualification.
"Somebody asked me if I wanted to be Roary. There was an old, musty Lion costume in the basement of the pavilion, and it was a damp basement. I pulled this thing out and I had to clean it out first. It was awful. It had started clagging up. I had to fix the costume as well; I remember that the head didn't have an inner part, so I had to put straps in it just to keep it on my head. But there wasn't much instruction around it.
"This leads to the disqualification really: it was a race, I was told it was a race. I used to run on the outfield at The Oval – that's where I did my warmups in this lion outfit. I'm Australian, I'm competitive. That year, Surrey hadn't won a thing (and would go on to lose the T20 final), so I was determined to bring home some silverware. I trained in the outfit with normal shoes on: I didn't use the big feet. But nor were there instructions about what you had to wear – I'd never been a mascot before!
"When we got to the start, there were a few of us who didn't have proper shoes, so they staggered us. They put the guys with the big, floppy shoes right at the front, and they put me right at the back to even things up. So, it was sanctioned that I was running with these shoes! Anyway, the gun went and I gave it my all: I raced through the course as fast as I could. I remember coming onto the back straight and the crowd. I got up after my fall, got into the lead and got over the finish line. I won. For a short period of time, I won.
"I had my photographs and I was awarded a trophy. It was absolutely fantastic. Everyone got on with the day, but I was then invited – because I'd won the race – to join the board for lunch in Edgbaston's committee room. I was back in the stands with my mates, drinking beer at this point and having a laugh about the whole thing.
"But then suddenly I was sitting next to John Major at lunch. It was brilliant. I was in a pair of boardshorts and a singlet with sunglasses on my head in the committee room, having lunch with John Major.
"I finished lunch and, on the way out, they suggested I clean out the bar fridge and take that back down to my friends, so I rocked up back with my mates with an armful of beer. Then, there was a lag period of a few hours, but then in one of the breaks for the innings, they said there was going to be a special announcement.
"They said there had been a major incident and there would be a disqualification in the mascot race. I was just sitting in the stands, drinking beer. They showed it on the big screen that Roary the Lion from Surrey had worn the wrong shoes. So, live on the screen, they disqualified me. You can imagine the scene: it was hilarious. Lanky the Giraffe was awarded the win, but he never got the trophy."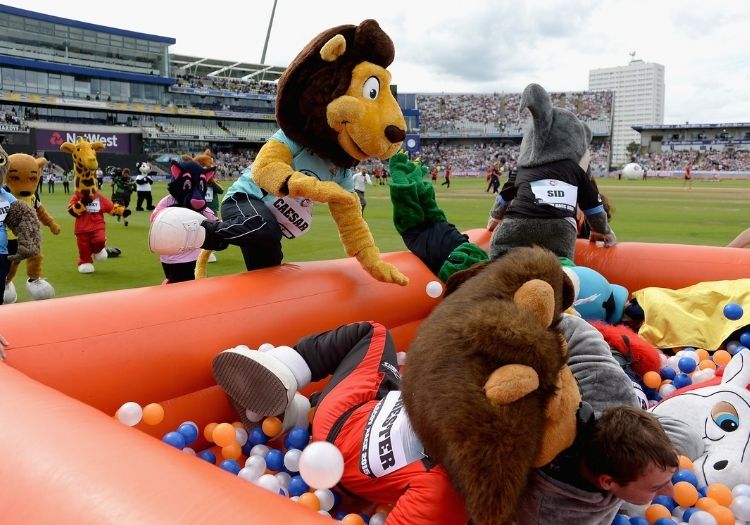 The carnage of the ball-pit...
These were simpler times. The ECB even released a statement: "Roary weighed in with his mascot shoes and baggy trousers but discarded them before the race which was not fair to the other mascots."
Hewitt's response? "That's not true. There was no weigh-in!"
He even found himself interviewed in the aftermath on BBC Radio 5 Live: "The interviewer – I don't know whether he was joking or not – really got into me like I really had cheated. But when you go abroad, these are types of experiences you want. It was insane." And he never got a chance to reclaim the title: his visa ran out before the following Finals Day.
Short, one of his many successors as Surrey's runner, had completed the London Marathon earlier in 2019 and was on a temporary contract with the county, "so any kind of opportunity I just thought I had to take". Each competitor is given two tickets for Finals Day, so he viewed it as a day out and, crucially, as "something that I could say I'd done".
He finished in the bottom three, bemoaning the disadvantage of his clown-feet. "I could barely walk in them, let alone run. Obviously, some others might as well have brought their running spikes, to be honest!
"I remember Glamorgan's dragon almost being in lycra and I was in this clumpy, triple-XL Surrey shirt and a massive head, which you can't see out of. I did a practice run around The Oval because you just can't see out of the eyes, but if you tilt your head upwards you can see through the mouth.
"You had to have someone walk you from the changing rooms to the pitch – and I did ask if they could stay with me for the race because I had absolutely no idea where I was going."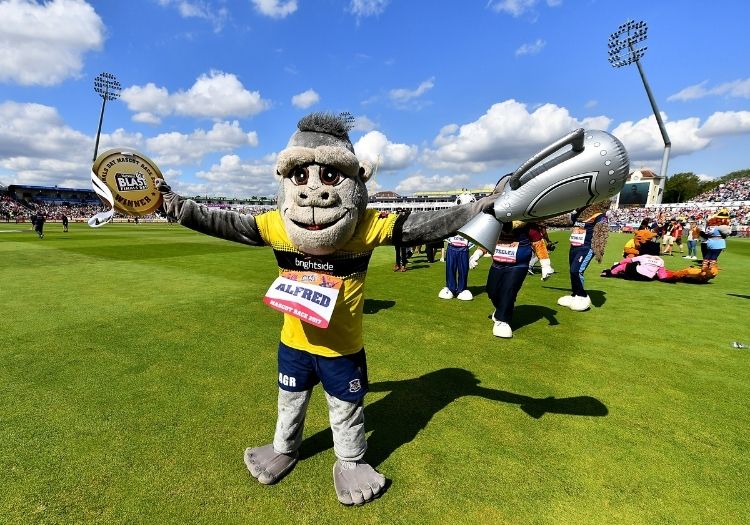 Alfred the Gorilla remains the only mascot to win in consecutive years...
Bransgrove adds: "You can't see anything – you are only able to see out of your nose. You have zero peripheral vision and you can only see out of this small hole, which is about 50 centimetres in front of you, so it's a very small area to see out of. Plus, it's mesh, so it's very dark to look out of. Vision is extremely limited.
"I've done the ball-pit three times and have had three failures: one time, the head came off; another time, the head came off again; the time after that, the head stayed on but I dived into it and got completely body-slammed and I couldn't get up."
And the costumes are so big that even transporting them to the venue is a challenge in the first place: Short needed a Kia four-by-four to lug Caesar, while Pritchard saved Glamorgan a £100 courier bill by stepping in as Dewi and persuading his father to drive him and the dragon up to Birmingham. "I was just stood outside the Edgbaston gate with this enormous sack of mascot. You just look so bizarre."
Once on-site, the mascots sit together in a single section of the stand: a chance – should they wish – to raise the stakes with any pre-race trash-talk and to size up the competition. "There were a few taking it very seriously," Pritchard recalls. "There were a few grumbles about people not wearing the right shoes. It was a bit weird because mascots that knew each other were having conversations with each other and I was just stood there like a lemon."
Then, the heads go on and the silliness can begin.
"It's gametime," jokes Bransgrove. "You can't speak because the mascots don't speak."
"The best way you can probably describe it is having a bit of an alter ego," says Farnsworth. "I'm not an overly confident person at all, but you can put that on and act like a right prat. I was giving it the big'un to the Hollies Stand after the race just because you could. I wouldn't dream of doing it if I didn't have this big mask on."
Wilders laughs. "No one knows it's you: you're Nuts, effectively. It's quite a surreal experience really because people are talking on Twitter afterwards about Nuts losing the mascot race, and that's me! You are aware that everyone's watching, which adds to the pressure, but you're so focused on getting round the circuit."
Would he do it again? "Absolutely."
And Pritchard? "I think I'm a bit old for it now, to be honest. I'm only 28! I'm really glad I did it because it's just a hilarious story to tell people. I probably would do it again.
"To be honest, when your email came through and the subject was the T20 mascot race, I was thinking: 'Here we go again...'"
This year's Mascot Race will help to raise funds for the Professional Cricketers' Fund. Click here for more information.
Please ensure all fields are completed before submitting your comment!