Fran Wilson and life on the fringes
NICK FRIEND - EXCLUSIVE INTERVIEW: Eleven years on from her international debut, it's over: 64 appearances across three formats and a middling record, draped in a nagging suspicion that circumstances never quite dealt her a straightforward hand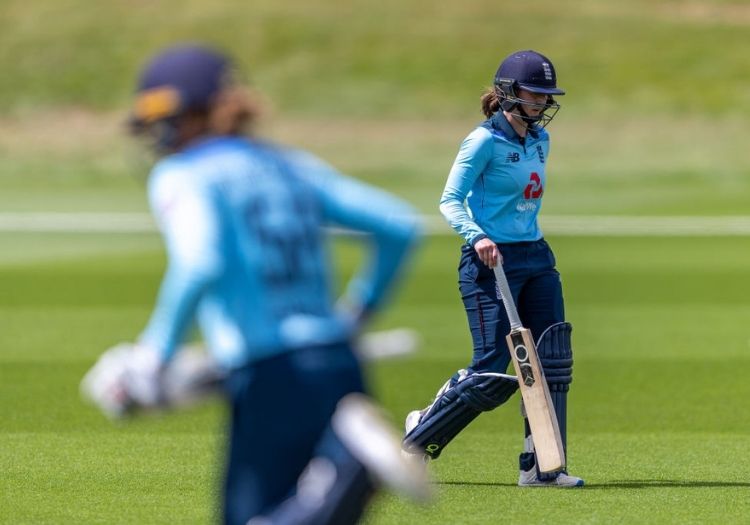 Fran Wilson stops to correct herself. "I keep on saying we," she realises, "even though I'm not in the England team anymore."
This isn't so much a divorce as a piece of conscious uncoupling. Eleven years on from her international debut, it's over: 64 appearances across three formats and a middling record, draped in a nagging suspicion that circumstances never quite dealt her the most straightforward of hands.
"It was very much a decision based on what's going to get the most out of my cricket at this point," she tells The Cricketer, having announced her retirement from international cricket, satisfied and at peace with that decision.
"I've now recognised that getting time in the middle and batting high in the order is the most important thing for me. Being settled as well, to get the most out of my ability. I didn't see that happening in the England side over the next couple of years, so it made the decision for me. I'm a cricketer and I want to get better; I don't need to be training anymore, I just need to be in the middle."
Wilson was rarely better than in 2019, when she made her highest score and took a catch, flying through the evening air against West Indies, that remains perhaps the single most vivid memory of her time on the global stage. In a way, maybe that in itself is a fitting tribute: the 30-year-old shone brightest for England in sporadic, unexpected moments. By her own admission, there was never a particularly prolonged chain of individual success, though maybe that was a legacy of the volatile role in the lower-middle order that became unwittingly hers, a niche she describes – for all its adrenaline and match-winning potential – as lacking "that consistency of opportunity".
After the pandemic hit, England went 716 days without an ODI and she was seldom required with the bat in T20Is. "That was the point where I felt my game was really well-rounded, and I could access any part of the ground," she says, aware of the irony. "That's where I felt that my game was in its best place." Come 2020, she spent much of her time on the field patrolling the square boundaries, a nod to the quality of a gun fielder and an exemplary team player.
And ultimately, living on the fringes of a successful team has brought her to this point as she makes a choice that didn't really exist five years ago. Then, you played for England until you didn't. And once you didn't, there was really nowhere left to go, given the abyss beneath central contracts.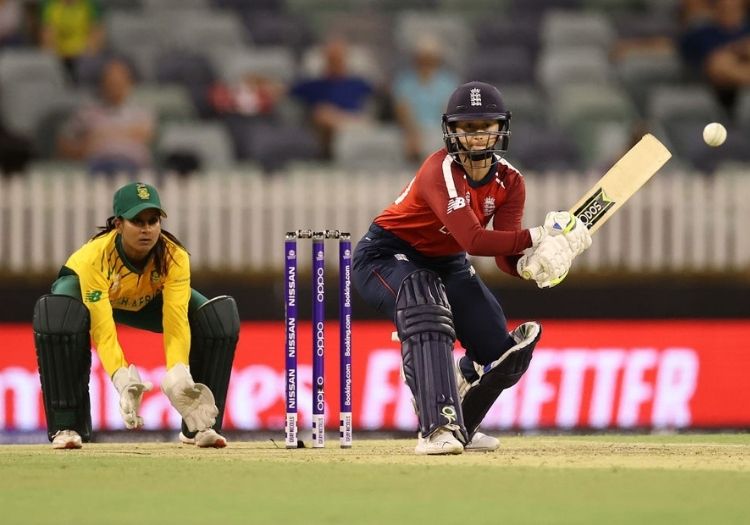 Fran Wilson has retired from international cricket with 64 caps
For Wilson, a veteran of the amateur era, to step away from international cricket and have the ball-pit of a domestic structure to cushion her landing is a reminder of how much she has achieved in the intervening decade, not to mention the game's upward trajectory. She leaves behind a batting line-up stacked full to the brim, increasingly tough to dislodge: Tammy Beaumont, Danni Wyatt, Lauren Winfield-Hill, Heather Knight, Nat Sciver, Amy Jones. Wilson was always next in line but rarely a settled incumbent. When there was a rare shift in that pecking order, Sophia Dunkley pencilled in her own future. Emma Lamb, Eve Jones, Alice Capsey and Bryony Smith are knocking at the door.
The regional setup is a win for the game, a breeding ground for the conveyor belt. Those names are its evidence, helped by Wilson's testimony. "This is just my perception of it, but I didn't feel like I could afford to be missing opportunities to bat anymore," she says. "There are people every week playing on good pitches against good bowlers, being shown in the media and people seeing it. I think it gets harder being on the fringes with England in that situation because you're looking over your shoulder, but you can't do anything about it."
Over the last two summers, with the scourge of Covid and its bubble restrictions, that sense has amplified. While the Rachael Heyhoe Flint Trophy and Charlotte Edwards Cup were going on, those on the outskirts of Lisa Keightley's squad watched as others pushed their cases for inclusion. "I do think, moving forward, it's a challenge for England," says Wilson. "How can they get the most opportunities to players? But at the same time, I also realise that it's international cricket, and it isn't easy. Unfortunately, not everyone gets what they want."
"I think it got to the point where I was like, maybe the best way of getting better is stepping back to the domestic level and playing"
By that, she means gametime. Wilson is far from the first international cricketer to bemoan the limitations of biosecurity, and what she describes is a common tale among those who were mostly restricted to a watching brief.
"That was probably the hardest thing for me: being in the bubble and knowing that every other cricketer in the country was playing a really good level of cricket and improving," she reflects. "It was really horrible, to be honest, being sat in a bubble and not being able to do anything. It was frustrating."
And her position, coming to the crease beneath the top five? "It was really fun – I had some great innings there. It's probably the most challenging role, I think. You've got no idea what you're going to go into. I think that makes you better as well: for a number of years, I felt really challenged there. It was a really good experience, but there comes a point where you've done that and you want to push on, and I think that's where I got to. You have to feel like you can move on because you don't want to get stuck there. I guess it got to the point where it wasn't the role I wanted anymore; I wanted to play my best role."
In that regard, Wilson is a victim of a widespread trend in the game, where the best players at domestic level – herself included – tend to bat higher up in teams that frontload their talent. Consequently, there is almost no such thing as a readymade specialist at No.6 or No.7 in the international arena. And so, she became England's de facto utility player: she never once batted in the top four, was picked at No.7 in her solitary Test and came in at No.8 on two occasions last summer. In 30 T20Is (England played 126 times between her first and last caps), she was not out 10 times and faced just 359 deliveries across that period.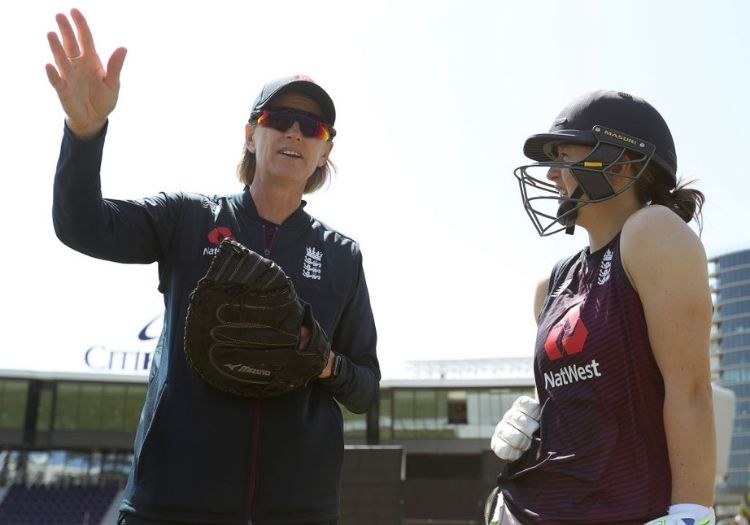 Wilson speaks with England head coach Lisa Keightley during the 2020 T20 World Cup
There was an external perception, too, that at times Wilson – slight in stature, which naturally made her strong square of the wicket – was too reliant on a range of sweeps, paddles and reverse shots. "It's something I've always been quite frustrated with," she admits, recognising that opinion. "I can hit down the ground, I can hit straight." She points to the Kia Super League in 2019, when only five players scored more runs. "I always felt like that was a bit of a myth with me."
It is one of the reasons for making the decision at this juncture: the chance to re-establish her authority in the role that she still recognises as her best. Wilson has moved onto a regional contract, swapping Sunrisers for Western Storm, with Tash Farrant effectively picking up her England deal.
"I would like to bat in the top four," she says. "It frustrates me sometimes when I read that I'm a middle-order batter. I'm not a middle-order batter though – I'm just there because Heather, Nat and Amy are all world-class players."
Until Dunkley had nailed down her spot this summer, Winfield-Hill – in 2013 – was the last England player to reach the landmark of 100 runs in ODI cricket. Being an English batter in this generation has been a fascinating ask.
"It is really difficult, but then that is international cricket for you," Wilson chuckles. "There are always going to be world-class players, and it's up to you to figure out a way of getting ahead of them. I think it got to the point where I was like, maybe the best way of getting better is stepping back to the domestic level and playing."
None of this is said with any resentment, by the way; rather a contemplative honesty and a real joy as she treads back over old ground, proud of all she's accomplished. Having realised that her time was up shortly after the series against New Zealand, what you are reading here are just the thoughts of a clear mind. So much so that when the announcement came, she was bemused that so many people checked in on her. "I made the decision quite a long time ago, so I feel like I've processed it all."
It is still on her list, though, to sit down and flick through the photos. "I am really proud of the games I did play, and the moments I contributed towards as well. It's not necessarily about quantity, I tell myself now. It's about those moments, which I'm really proud of.
"I feel very lucky to have been part of cricket during this quite unique era: from fully amateur to fully professional. That's quite a unique standpoint. I actually feel very lucky to have been asked to play as an amateur for England as well and to have that university experience. I don't know if the young players coming in now will have that freedom of going to university and having that big group of friends and studying something you're also passionate about. I'm really glad I got that. I don't think I'd change anything at all."
Mark Lane was her first coach, coming into the side under the captaincy of Charlotte Edwards. Her recall arrived under Mark Robinson, before finishing with Lisa Keightley. "So many things have changed," she notes – and not just the head coach. Coaching is a sector into which Wilson is keen to progress at some stage – she has separate degrees in sports science and sports nutrition – and she insists there have been bits to take from each of her mentors. "I think that's a real benefit: I've been able to see when things have worked and when things have been difficult."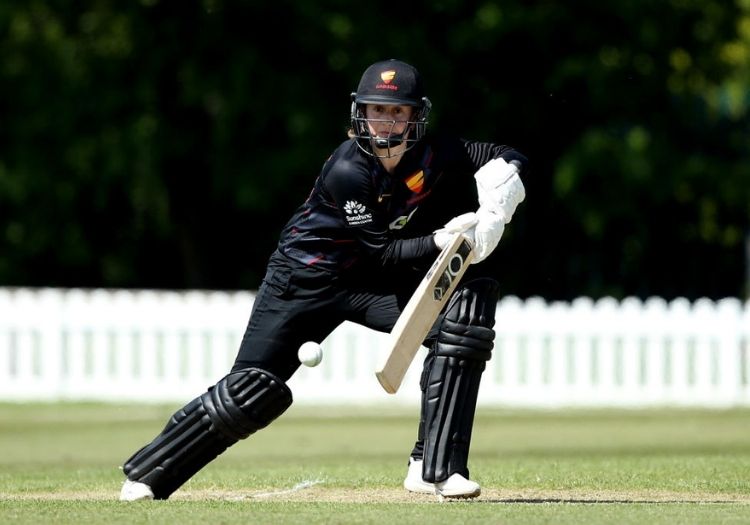 Wilson has swapped Sunrisers for Western Storm
In a sense, she was always preparing for this moment, keeping a secret cricket journal where she documented anything worth remembering, jotting down what she might have done differently. "I just thought that it's such a cool experience to play for England, so I might look back on it and regret not learning more from it. It's going to be really interesting reading back."
It seems almost silly to ask, then, but the World Cup triumph in 2017 must stick out. "Not necessarily just the final," she interjects. "The lead-up to the tournament as well, it was a really brilliant year. You look back on it, and it was a watershed moment."
That felt like a cliché at the time, but it would be fair to suggest that the English game is hardly recognisable from those days.
England haven't played at Lord's since, of course, but The Hundred has made big-stadia appearances a new norm, albeit partially a consequence of the pandemic, which saw initial plans ditched for the women's competition to be played at club and county grounds around the country.
FRAN WILSON'S INTERNATIONAL CAREER

Tests: 1

Runs: 13, Ave: 13

ODIs: 33

Runs: 468, Ave: 22.28, 50s: 2, HS: 85*

T20Is: 30

Runs: 356, Ave: 22.25
The upshot of that happy accident is that, for some youngsters, this is all they know. And rather than arriving in the international game like a rabbit in the headlights, having swapped a county game at an amateur venue for a floodlit sell-out in front of thousands, instead the opposite is true.
By contrast, Wilson recalls going from "playing county cricket in your whites in front of nobody to playing on TV in the Ashes against Australia" at the start of her England career. She struggled with that transition at first, though never with the rise in external scrutiny. "I don't think anyone could ever be harder on me than I am on myself."
As for the likes of Wong and Capsey, while both are uncapped, they have already thrived when faced with increased expectation and huge audiences.
"I think it's now down to the ECB to work out how to get these crowds at England games," says Wilson. "We've seen the thirst for it. It's amazing for players to experience that and to have the ability to deal with those situations and to walk straight into an England team and feel comfortable."
So, she wonders if now is the right time to try again with doubleheader T20I days alongside the men's team. Historically, it hasn't always worked, with the women's game presented in the past as a superfluous extra. They would be given the indoor-school changing rooms and felt "like second-class citizens". But fortuitously, given the original plans, The Hundred showed the potential benefits of giving the idea another shot. The crowd figures for women's games across the 30-day competition displayed a sizeable market, with an overall average attendance around 8,000. In London, it was nearer 11,500.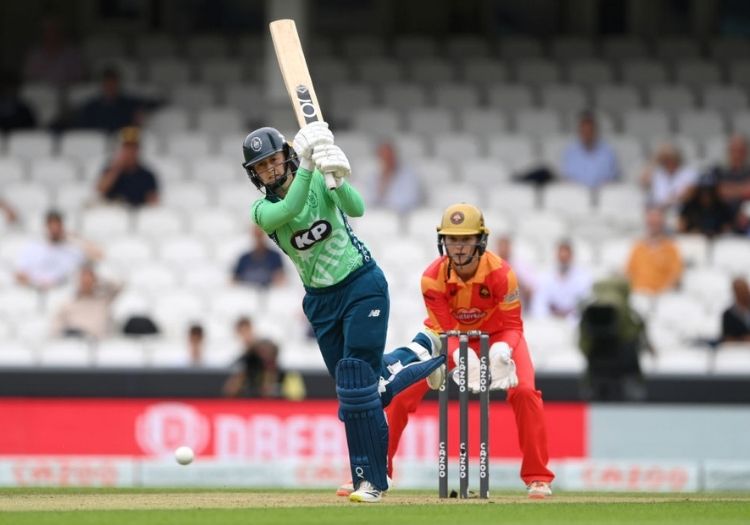 Wilson in action for Oval Invincibles in The Hundred
"If they follow the same format as The Hundred, you could make a real big day of it," she says, "and I think it would be a success. I'd like the ECB to look at that moving forward.
"You've got to do that, especially with T20 because we know the audience is there. I think 50-over cricket maybe would be a bit more difficult to fill the grounds. But again, you can only just see what happens. We have to give it the opportunity – we don't know yet whether women's cricket will sell out a big ground like Lord's or the Oval until we try it."
Wilson will be watching on from Bristol in the unusual position as a big fish of the domestic game. Jenny Gunn apart, there will be no other player on the regular circuit with such longevity as an international cricketer. That thought makes her laugh: she has been asked this question several times in the last couple of months – of what it will be like to bat with nothing other than victories to chase. "A lot of people have said this to me, that it will be great to play without the pressure of England. But I don't feel like I ever consciously felt that pressure to prove myself for selection."
Among several poignant social media messages to a popular teammate was one from Knight, who well before any of this international cricket lark was a childhood adversary on the football pitch. In the guise of Frank Lampard, she insists, Wilson was a central midfielder for Swindon Badgers, a local club strong enough to beat Reading, QPR and local rivals Swindon Town. Knight played for Plymouth. Anya Shrubsole was on the same circuit as well; her main weapon was a long throw.
Those memories feel like a lifetime ago: Wilson even briefly discussed with her mother the prospect of focusing on football as a teenager, only for her love for cricket to shine through. That decision has rewarded her with an 11-year international career and a World Cup medal. Even as this new chapter begins, none of that passion has subsided.
"It's going to be more difficult to see all of them, which is quite sad," she says, reflecting on what international retirement means for the friendships built up over the last decade. "Some of them are my best mates. Usually, we'd just rock up to camp and be like: 'Oh, there you are.'"
They will find a way, and Fran Wilson will always have the memories. It will always be we, not they.
Please ensure all fields are completed before submitting your comment!