Inside the mind of Chris Dent, consistently one of the country's best cricketers
NICK FRIEND: In the last decade, only seven men scored more County Championship runs than Gloucestershire's captain, who has averaged 43.1 since the start of 2015. He puts the consistency of his success down to a focus on the game's mental side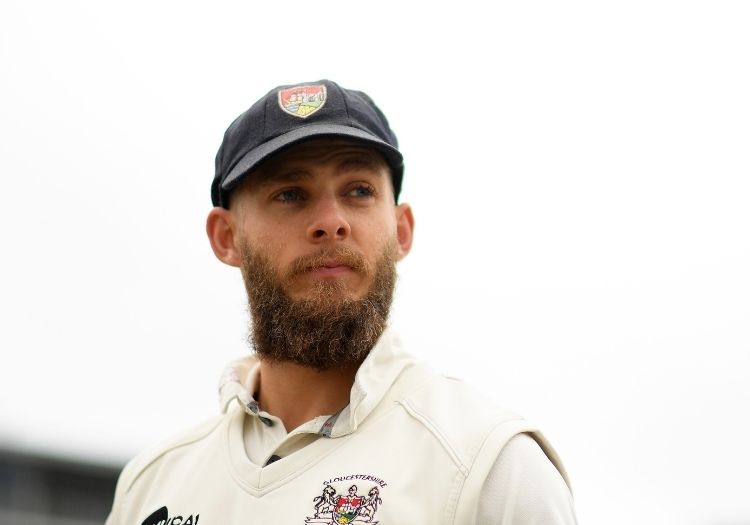 When Chris Dent was a teenager, he represented England at the Under-19 World Cup, surrounded in a batting line-up by stars of today's game. His opening partner was Joe Root, followed by James Vince, Jos Buttler and Ben Stokes.
By then, he had already made his white-ball debut for Gloucestershire as a gifted youngster, and his introduction to first-class cricket would arrive soon afterwards.
"Certain players really stood out," he recalls of that time in his life and a tournament in which England – somewhat gallingly, given those riches – only finished eighth. "Stokes, you could see he was a step above everyone else. At the time, I wouldn't have said Root was the best player there, but he had something, which is probably the mental side of it: he was very determined, trained hard, worked hard. He had that, and that's probably what's got him to where he is – having that at an early age. Jos Buttler was extremely talented.
"All these guys who now play for England and are now very successful, they will be very good at the mental side of the game. I think it's very tough to be consistent and play for England with all the pressures that come with it if you aren't mentally strong. I think it would be very tricky."
This isn't particularly a conversation about the international game, though Dent's numbers belong to a man whose name should surely have featured more prominently by now in discussions when vacancies have emerged at the top of England's order. Frankly, it seems ridiculous that there has never been more talk of higher honours.
Instead, this chat becomes a fascinating self-analysis by Gloucestershire's captain of how his own career progression has been informed by a respect for the value of a healthy mindset. He talks openly about a shift in mentality that has turned him into one of the best cricketers in the country over the last eight years and how "back then", when he was a teenage teammate of three future England greats, training his brain like he trained his batting was simply not something he had considered.
"I was talented, but I wouldn't say that I was mentally very good," he says, reflecting on the change he has seen in himself. "I got by on my talent. If I was getting runs, things were fine and I'd get into some form and I'd score runs. But if I didn't, it took me so long to get back into form because I was so hard on myself and so down. Before I knew it, I was in a tough place and I couldn't get out of it.
"But now, I have a bit more perspective and I'm a bit more level-headed and I don't get as down – or as high when I score runs – so I'm able to be a bit more consistent in my performances. I've matured and I've been in lots of situations now, so I've got lots of things to look back on."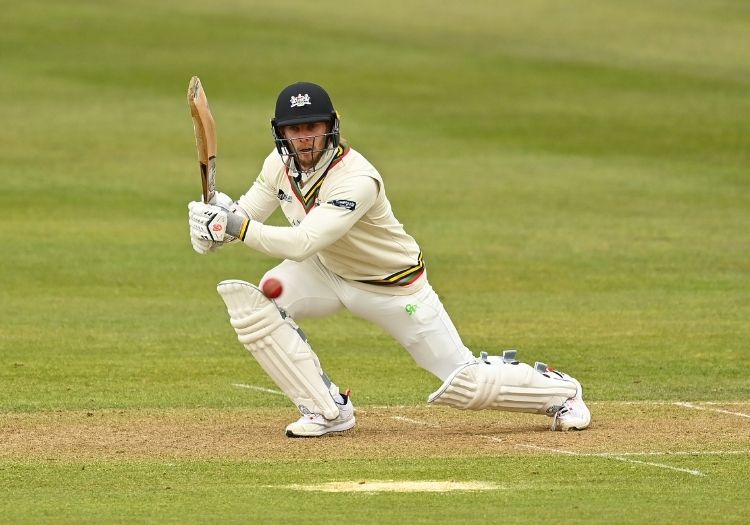 Chris Dent has rarely been mentioned as a possible England opener despite his fine domestic record
Between the beginning of the 2013 campaign and the start of the Bob Willis Trophy, Dent exceeded the landmark of 900 runs in all but one season. In the same timeframe, his average dropped below 44 just twice, but even in those less prosperous years – 2014 and 2018 – there were double hundreds against Cardiff MCCU and Leicestershire, two of 18 red-ball centuries to date. All told, since 2015 he has accrued 5,814 first-class runs at 43.1.
In an era during which opening the batting has been considered such a fraught existence, that is a fine record. It should be no surprise, therefore, that April has proven so typically fruitful: Dent has reached fifty in three of his four innings, with 228 runs telling only a portion of the story. He ended unbeaten on 91 in spearheading a successful chase against Surrey on the final afternoon, before producing a different kind of knock in defying the threat of Somerset's seam attack to lay the foundations for a first win at Taunton since 1993.
Across the last decade, only seven men scored more County Championship runs: James Hildreth, Wayne Madsen, Daryl Mitchell, Marcus Trescothick, Sam Northeast, Chris Nash and Adam Lyth. The secret behind it all? Consistency. Dent refers back to that word at several junctures and in multiple contexts. He credits Kane Williamson, a former county teammate during a stint as an overseas player, with opening his eyes to the benefits of emotional stability, while the development of a regular pre-match routine has helped to hone a greater sense of equilibrium.
"I think a lot of it is to do with consistency: if you want to be consistent on the field, you have to be consistent off the field," he says. "Preparing the same way, training the same way. Kane was so consistent with his mindset and his emotions – whether he was getting runs or he wasn't. You couldn't tell the difference, whether he had made a hundred or nought.
"Having that sort of consistency helps you when you go out to bat: if you get too high when you get runs or if you get too low when you don't get runs, you're up and down. But it's trying to be as consistent as you can – whether you get them or not. Look, any batsman can get a good ball and get out – you can do nothing about it. It's being able to forget about it as quickly as you can and get back to a consistent mindset constantly every time you go out to bat. It is tough, there's no doubt about that. You'll have bad days and you'll have good days, but it's just trying to be as consistent as you can.
"The things I do in the morning are very similar every day: the way I net in the morning, I do the same things; I listen to the same song before I bat; I try to keep everything as similar as I can, just so I know what to expect. I don't want my mind to be somewhere else, whereas if I have a consistent routine that I stick to, I know that it sets me up as best I can to score runs."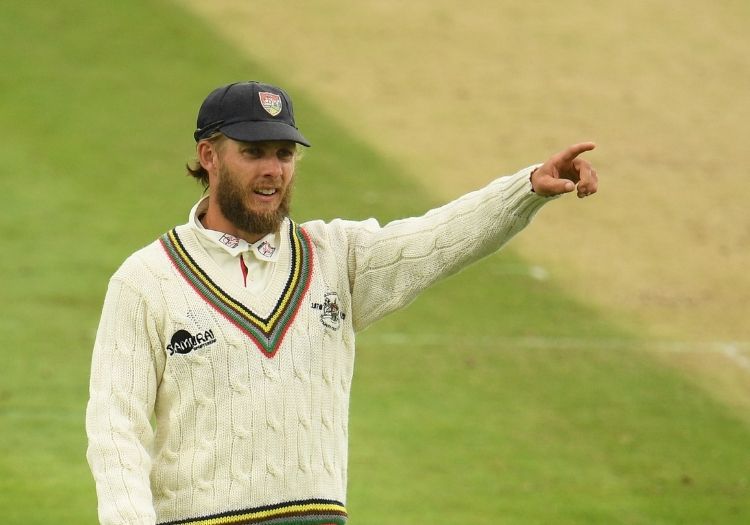 Dent credits Kane Williamson with helping him to improve his consistency
These strategies first emerged a few years ago in Dent's preparations. He threw himself into meditation and mindfulness practices, while also listening to audiobooks about sports psychology on the drive to games and reading further into the subject in his spare time. The results have been telling: until last season's shortened affair, Dent had recorded a red-ball century in every campaign since 2010, his first full term as a professional.
"I think that's when it all changed for me," he explains, pinpointing his mental focus. "Initially, I was just playing cricket and didn't really think too much about it: lots of ups and downs, I was only really happy if I was scoring runs. I started doing a lot of stuff on the mental side of it to try to let go of negative performances and still try to be confident when you go out to bat again.
"I think that has been a big turning point for me; I'm always trying to encourage the younger lads at Gloucester to do as much mental stuff, when it comes to cricket, as early as they can. I look back and I wish I had looked into that sort of stuff when I was 19, not when I was 23 or 24. I think it's a really important aspect of the game that gets overlooked a bit – not as much now. People understand how important it is now, but it probably still doesn't quite get the time it deserves.
"Everyone hits balls, everyone changes their technique. But not a lot of people change the mental side of their game. It's a way that you can get a head-start or gain ground on everyone else, I think. It's not guaranteed, but I would say that if you do work the mental side of the game, it will make you better.
"You look at form, between one week and the next, someone hasn't changed their technique. They're playing with the same technique – it's a mental thing that's making them feel not as good as they did the week before. Trying to work on that is mental, it's not technical."
Significantly, Dent has been conscious to ensure he never takes it for granted. Training a mindset is no different to hitting balls, he insists. "I think it's very easy for people to want a quick fix. It's like anything: you wouldn't bat for two months and then say: 'I'm hitting them well now, I'm not going to bat again.' You have to constantly keep it ticking over.
"With meditation, it's something where if you don't do it for a month, you'll find it so much harder because your mind might wander and you'll be thinking about other things. Whereas when you're constantly practising it, it gets easier and easier. It's like everything else: you train your fitness and you train your batting every day, pretty much. You do a similar thing with your psychology to keep it ticking over – otherwise you forget what you did and things creep in."
Any early stigma around Dent's move to meditation soon disappeared in line with his success. He is one of several players at Gloucestershire to have benefited, having begun at a similar time to Benny Howell. "I used to sit in my chair at the ground and people initially made funny comments because it's different," he laughs. "But I knew that it was good for me. Eventually, if you start performing, people want to know what you're doing."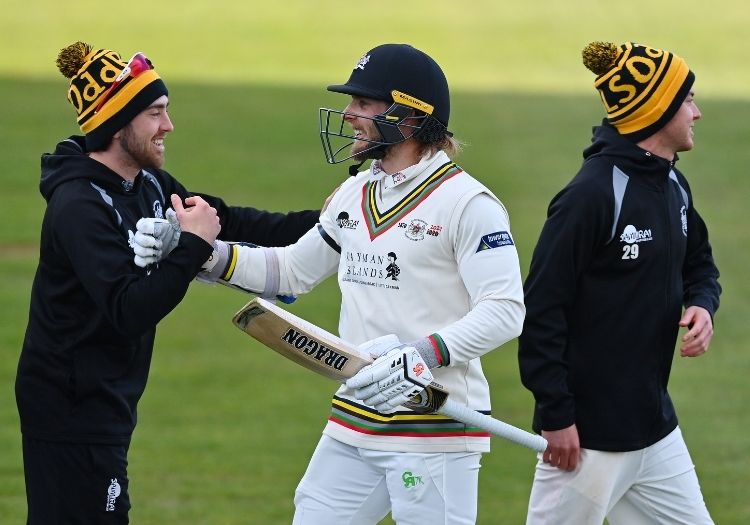 Dent is congratulated by his teammates after seeing Gloucestershire to victory over Surrey in the opening round of County Championship fixtures
The same goes for a lifelong obsession with Michael Jordan, which has manifested itself in the last two years through The Last Dance, the documentary about the great basketball player.
Dent grew up as a fan – along with his father – and loved Space Jam, the 1996 film starring the Chicago Bulls great.
So, when the 10 episodes dropped on Netflix midway through 2020, it afforded a reopening to a childhood passion. The series has become part of Dent's pre-match circuit. "I find it really inspiring and it gets me up for games," he says. "I tend to watch that on most mornings of a game. It just gets me up for it; I just love the intensity he played basketball at.
"He was always a sporting idol of mine: the way he goes about things just really gets me fired up. I've got a couple of kids so sometimes I can wake up really tired and not 100 per cent up for it, but I think watching that on the morning of a game gives me a bit of a boost and I think: 'Why not give everything today? Why not go out there and try to win a game?' The way he goes about his business and how hard he works and how determined he is, he just refuses to lose. I just think they're really good characteristics for a team."

It's a fascinating leap into the thought process of a county captain, especially given Gloucestershire's progress under his direction. Had the coronavirus pandemic not altered the shape of last season, Dent would have been leading out his local club in Division One of the County Championship, having sealed a return to the top tier in 2019 for the first time since relegation in 2005.
As it was, however, Gloucestershire suffered a fairly chastening red-ball campaign last time around at odds with what had come before, reaching its nadir at Taunton where they were bowled out by Somerset for 76 and 70. Other sides might have wilted thereafter, but Dent looks back on the post-match inquest from that debacle as a potentially defining moment.
The manner of the defeat brought a squad still on a high from its previous promotion back down to earth with an almighty thud and "helped us realise that we weren't ready and we needed to try to get better as a side if we wanted to compete with Somerset, Essex and Surrey".
He recalls: "We sat in the changing room after the game and everyone was pretty down. But we tried to put a positive spin on it. We needed to get better, so I think that helped us in the winter to focus and be quite tough on each other and challenge each other and challenge ourselves when we're practising.
"We were all so excited to play Somerset in four-day cricket for the first time in a long time. Being local rivals, to get beaten like we did hurt everyone involved. I think we needed that to really make us work hard; after 2019, we were all high on confidence. When you're high on confidence, you maybe don't work as hard as you should because you don't have things you need to work on as much. Whereas when you have a tough loss, it's glaringly obvious what we needed to work on."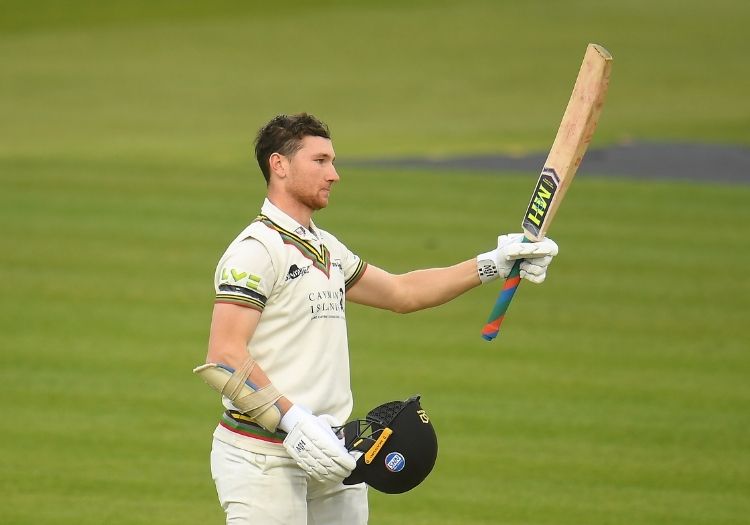 James Bracey was the star man in Gloucestershire's win over Somerset last week
The change, then, between that disappointment and the opposite sense of joy last week was stark. Gloucestershire, blown away by Craig Overton and Josh Davey last August, showed no such fallibility eight months on. James Bracey led the way with a first innings century and a match-clinching 83 on the fourth day, while the grit of Matt Taylor, who made a career-best 56, was further proof of a youthful team coming of age, with enough cricket now under its belt to compete against all comers.
The same was true in the previous week, when Gloucestershire won a similar game against Surrey, successfully negotiating a potentially awkward total on the final day against an opposition full of big names. On that occasion, it was Graeme van Buuren – alongside Dent – who stepped up.
"A lot of the time, it's not down to technique, it's down to mindset and how you handle that pressure," adds Dent. "We've got better at being in pressure situations and performing, and I think that has helped. I'm not saying we're amazing at it, but we've got better at it and we need to keep getting better at it.
"I think it helps to have been in the situations before; now, on numerous occasions we have gone into the last day of games that are pretty tight and could go either way.
"It's nice to have that to look back on and to bring up with people at the start of day four. It's nice to be able to say: 'Look, we've done it this many times before.' Everyone can reflect on that and remember how we did it and also how great it is when we do get over the line. Everyone is willing to put 100 per cent in – it's easy to get to day four and float around a bit and not quite do everything, but we know that if we put 100 per cent in then we can win from any position."
Under Dent, Gloucestershire have prided themselves on the team spirit they have fostered, first with Richard Dawson at the helm and, since his departure, through the interim stewardship of Ian Harvey. The encouraging first-class debut of Dominic Goodman, who took three wickets last week, was further testament to that environment.
"I've had the tough times, so I'm never too hard on the guys because I understand what it's like," says Dent. "It's not easy to come into professional cricket and perform straight away. You need to feel comfortable, you need people to support you. That's why when guys come in, we try to make it as good an atmosphere as we can – an atmosphere where they can relax, enjoy themselves and perform.
"Here, you come into the team as valued a member as everyone else. We're playing for the same team, we're going out there trying to do the same job."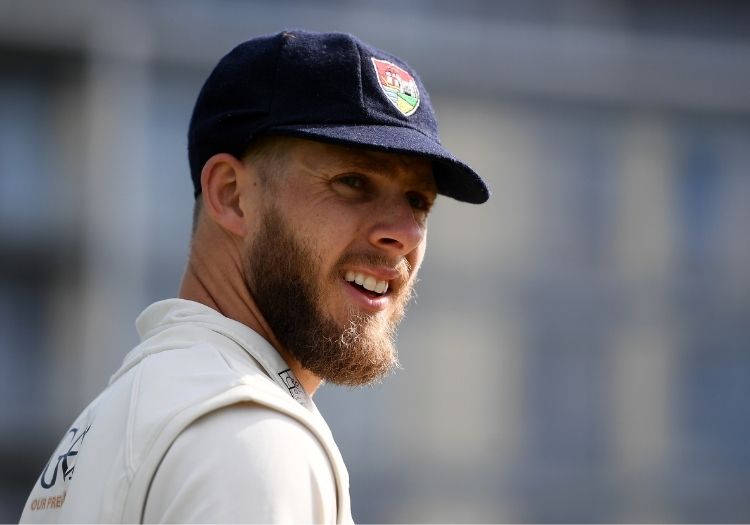 Dent has registered three fifties in his first four innings of the season, though that relentlessness should be no surprise
For Dent, first and foremost, that means scoring runs. He has learnt over time the importance of separating the pressure of captaincy and the responsibility of contributing as an opener.
As far as targets go, he is loathe to look beyond Gloucestershire's next game, a trip to the Ageas Bowl to face the rampant new-ball pairing of Mohammad Abbas and Kyle Abbott. That may sound like a tired cliché, but Dent has his reasons. In 2020, with only five red-ball games on the table – and one of those lost to a Covid-enforced abandonment, he believes on reflection that his excitement hindered the sanctity of his gameplan.
"It's so easy to look ahead," he explains. "That's what I found so hard about last year: I got runs in the first game and then I was eager to carry on, but I didn't. I didn't get any runs in the next couple of games and suddenly I was thinking that there were only two games left and I felt a bit too eager and too rushed. I think you just have to concentrate on each game – you can't look too far ahead of the next game."
And that lesson has stayed with him: "I think last year probably helped me to prepare for this year. I sat down in my appraisal and I said that mentally I wasn't very good last year. I wasn't in the present, I was thinking about the week after and the week after that. It was a hard one – it probably taught me that as much as I've done a lot of work on the mental side, I still have a lot of work to do.
"It's good to be as honest as you can with yourself. It can be very easy in sport to blame other people or blame things. Yes, you want to let things go as quickly as you can, but you also want to learn from them as much as you can and be really honest with yourself.
"That's also what we're trying to breed as a team – us being honest and always learning from situations. That Somerset game last year, we could easily have got into a slagging match in the changing room, but we sat down and we said that this could be a really positive thing for us because we understood then what we needed to do and that we needed to get a lot better. As a squad, we did that."
Subscribe today and receive The Cricketer's centenary issue – six issues for £19.21. Click here
Please ensure all fields are completed before submitting your comment!