Yorkshire's Adam Lyth is the picture of calm
ELIZABETH BOTCHERBY: As 1,000 run milestones and rumours of an England recall gain attention, Yorkshire's opener is keeping a cool head thanks to a fresh batting mindset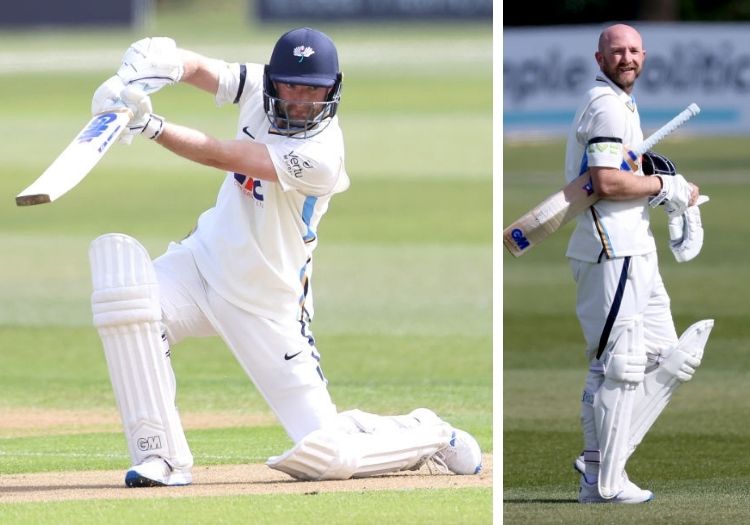 Adam Lyth is relaxed. Speaking to The Cricketer two days before Yorkshire's County Championship clash against Sussex, the 33-year old batsman is enjoying a rare day off in the sunshine in Hove.
He's spending the day shopping for his young daughter, enjoying a coffee outside a café, and taking advantage of the sea views – a far cry from last summer when players were confined to hotels and existing in super-sanitised environments.
However, it's not only when enjoying a day out on the south coast that Lyth is the picture of calm. With bat in hand in 2021, he has oozed composure, striking a century and a half-century against both Glamorgan and Kent to cruise to the top of the run-scoring charts.
In his four April innings to date, he's scored more runs, and faced more balls, than in the whole of 2020; his two centuries – an unbeaten 115 in the second innings at Headingley and a 169-ball 116 in Canterbury – equalling his haul for the past three seasons combined.
Glamorgan allrounder Kiran Carlson is the only other batsman to reach three figures on two occasions this season while only Lyth and Derbyshire's Matt Critchley have passed fifty in all four innings.
It is, therefore, a measure of the Yorkshireman's high standards that in reflecting on his start to the season, he picks on his first innings knock of 97 against Kent as a missed opportunity.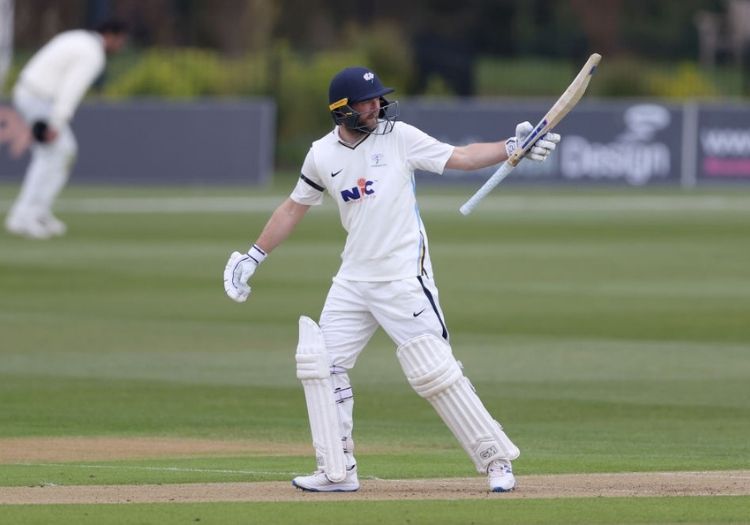 Lyth celebrates his half-century on day one against Kent
"The dream start would have been to get a third century in that first innings against Kent," he says, ever the harsh critic. "That would have been fantastic, but I'm absolutely thrilled with the way I've started the season and hopefully it can continue for some time.
"Being a batsman, there will be times when you have low scores so at the moment it's time to cash in and I've done pretty well so far. But I'm taking nothing for granted, I'm not going to take my foot off the gas. I'm just looking forward to getting back out there and trying to score many more runs as the games come."
Lyth is no stranger to scoring runs. In 2010, just three years after making his first-class debut as a teenager, he scored 1,509 runs, including twelve 50+ knocks, at an average of 52.03 to announce his arrival on the county stage.
Four seasons later, he fell just 11 runs short of a second 1,500+ run season, scoring six centuries and six half-centuries to lead Yorkshire to their first County Championship title for 13 years and secure himself a ticket to the West Indies with England's Test squad the following spring.
His England adventure didn't go entirely to plan – 265 runs in seven Tests against New Zealand and Australia – but he bounced back to help Yorkshire win a second title in 2015 before posting a third 1,000 run season in 2016.
In total, Lyth has scored 11,274 fist class runs at an average of 38.6, amassed 26 three-figure knocks and 60 half-centuries, and scored more than 750 runs in a season on five occasions - and let's not forget the 36 wickets he's taken with his handy off-spin deliveries.



However, despite his enviable career statistics, Lyth spent the winter tweaking his game, trialling smaller movements to help him get into the ball and adopting a carefree mental approach to batting which is already paying dividends.
"I'm in a fantastic headspace," he says. "Over the last couple of seasons, I've been too worried about technique and defending rather than watching the ball and actually playing. This season, I've stripped it back. As an opener, you're going to get out at some point so you might as well score as many runs  as you can before that ball comes.
"There are balls I've scored off this year that in previous years I'd be leaving, and I wouldn't be hitting those balls for four. The more time you put bowlers under pressure, generally the more bad balls you get so that's my mindset going into this year. I've played 15 seasons; you're going to get out at some point and there's no point being worried about it.
"It's not that I don't care about getting out, I do. It's about having the free spirit to go out and if it's there to hit, hit it; if not, just leave it. It's a pretty simple method and it's working at the minute."
It's working so well, in fact, that Lyth, alongside fellow 300 club members Critchley and Carlson, is finding himself caught up in the age old pursuit of passing 1,000 runs before the end of May. He came close in 2010, needing 147 runs in the Roses match before the weather derailed his attempt. Presented with a second chance 11 years later, it's a distraction that's barely even registered on his radar.
"I'm not thinking about that sort of thing right now," Lyth says. "It's as many runs as I can and trying to put as many big scores together to help Yorkshire win games of cricket. If I do that it would be fantastic but there's so many games, so many innings to come and whenever the 1,000  run mark comes it would be brilliant.
"I had the chance in 2010 and came up short I'm not looking at that milestone, just as many runs as I can get, and we will see where that takes me."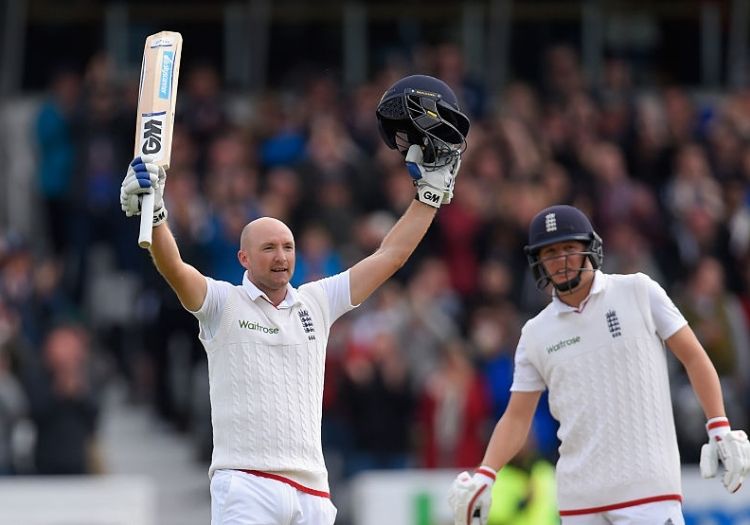 Lyth celebrating his century for England against New Zealand
Slightly harder to ignore is the possibility of an England recall. Making his debut in May 2015, Lyth scored a century against New Zealand in his second international outing, striking 107 off 212 balls at Headingley. Three months later, after contributing just 115 runs in five matches during the subsequent Ashes series, his international career entered dormancy, one of the many openers tossed on the scrapheap over the past decade.
It's an area where he believes he has unfinished business, his talent deserving more than one international century, but, thanks to his newfound zen, he is comfortable looking back on his brief Test career without too much regret.
"I'd love another go playing for England," he admits. "I didn't do myself justice, I'm a better player than averaging 20 or whatever I average at international level. If I do get another opportunity, I feel I can do a hell of a lot better and Joe's [Root] been here [at Yorkshire], he's seen me play. But all I can do is concentrate on Yorkshire and see where that takes me.
"At the end of the day I've played seven Test matches. I'll never forget it and if I don't play again, no one can ever take that Ashes win away from me."
However, his ambivalence towards the attention he's attracting this season does not translate into lack of ambition. Despite approaching the twilight of his career and achieving so much over the past decade and a half – two County Championship titles, an Ashes win, a handful of international caps – he believes he still has five or six years in the tank and plenty to give. It's just that his career, like his batting, has been stripped back to its simplest form: it has to end at some point, so he might as well score as many runs as he can before that final ball comes.
"I'm nowhere near finished," he states, boldly. "I've got a lot to give and a lot I want to achieve in this game. I want to try and score as many runs as I can – 15,000+ is something I would love – and as many hundreds as I can.
"I feel like I should have a lot more in the hundreds column than I do so that's what is driving me, putting in the big performances to help win games. But, whatever number I finish with, I will know I've given it my all and there's nothing more I could have done."
Subscribe today and receive The Cricketer's centenary issue – six issues for £19.21. Click here
Please ensure all fields are completed before submitting your comment!