The curious case of the soft signal
NICK HOWSON AT EDGBASTON: Stuart Broad was convinced he had Devon Conway caught on day two. Maybe he did. But three umpires and countless replays couldn't substantiate the appeal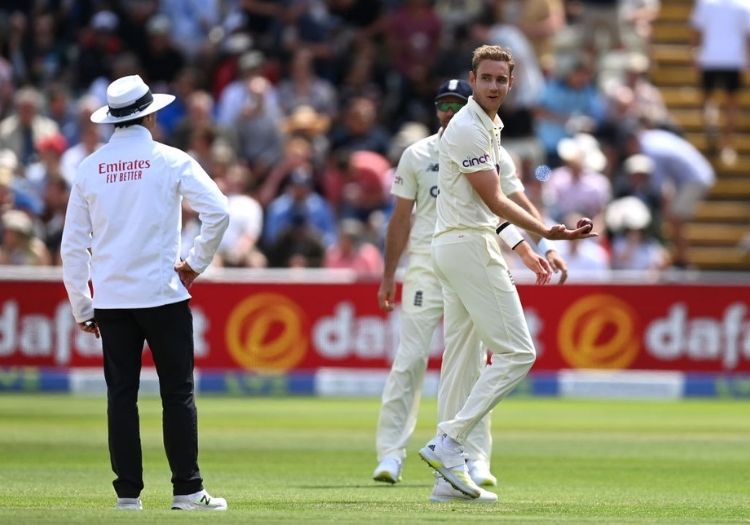 Stuart Broad was angry. Devon Conway relieved. Zak Crawley was bashful. And umpires Michael Gough, Richard Illingworth and Richard Kettleborough the bad guys.
It was just another day in the unsatisfactory life of cricket's soft signal.
It is a fascinating aspect of elite sport that while we accept athletes will make mistakes both on and off the field, we cannot make the same exception for officials. And on occasions when they don't even make errors.
We've reached the stage that if you don't have an absolute opinion about those responsible for upholding the rules and spirit of the sport do you even care?
Broad bowled, Conway edged, Crawley collected. Then the chaos commenced.
Kettleborough wasn't convinced and asked for TV assistance, providing a soft signal of 'not out' as any responsible person would. Gough agreed, with replays showing the ball while nestling into Crawley's hands also brush the ground at the same time. At best it was inconclusive.
Rules 33.1: Out Caught states:
The striker is out Caught if a ball delivered by the bowler, not being a No ball, touches his/her bat without having previously been in contact with any fielder, and is subsequently held by a fielder as a fair catch before it touches the ground.
But apparently, that isn't good enough, particularly if that doesn't satisfy your own opinion. Because if you disagree then there has been a murder.
"It was a tricky period when that happened," admitted Conway, who eventually fell for 80. "I nicked it and looked back and wasn't 100 per cent sure if it did carry. I was there just to see if the umpire was going to give me out.
"Fortunately, the ruling went my way. I am very grateful that it perhaps bounced in front of the fielder and I'm pretty happy that I got another chance.
"It happens too quickly. For an umpire to give a definitive answer straight away is pretty tough on the human eye. 
"We've got the technology to prove whether the guys are catching it or whether it has dropped short, so why not use the technology if we have it? It is a tricky situation for the umpires to make that call.
"They sent it upstairs for the third umpire to make the ruling and at least we used the technology the way it is meant to be used."
There are two bones of contention here. The first is if soft signals should exist, the second being the accuracy of TV umpiring.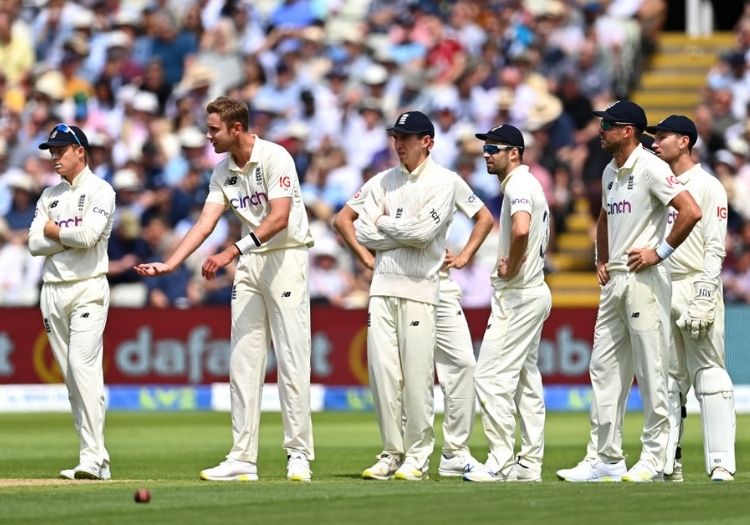 England, led by Broad, were perplexed by the decision
It has been forgotten in the modern age of the Decision Review System - nations now have three in Tests during the Covid-19 era - that virtually all umpire decisions are soft signals. They are almost always subject to TV confirmation.
The increasing vociferousness of appealing and DRS has contributed to a compromising rule 2.12 which states that "an umpire's decision, once made, is final". Calls are no longer respected like they once were, now they can be picked apart and actually reversed on the field.
Soft signals ensure consistency is retained in the officiating process and maintains the authority of the standing umpires.
If marginal catches went without an on-field judgement it would allow the TV umpire to adjudicate without any bias.
But what if the footage proves nothing?
The gesture was introduced in the first place because two-dimensional cameras were not deemed accurate enough to rule on borderline decisions. The same goes for ball-tracking, hence the existence of umpire's call. 
That would throw the decision back to the standing umpire and we'd be back at square one. You're then forcing the individual to make a clear decision on an incident that may have occurred many minutes previously. Decisions are already difficult enough without introducing an avoidable interval.
And that umpire will have seen the incident slowed down on the big screen which will prejudice his view. It has the capacity to extend an already messy process which takes us no closer to the correct decision.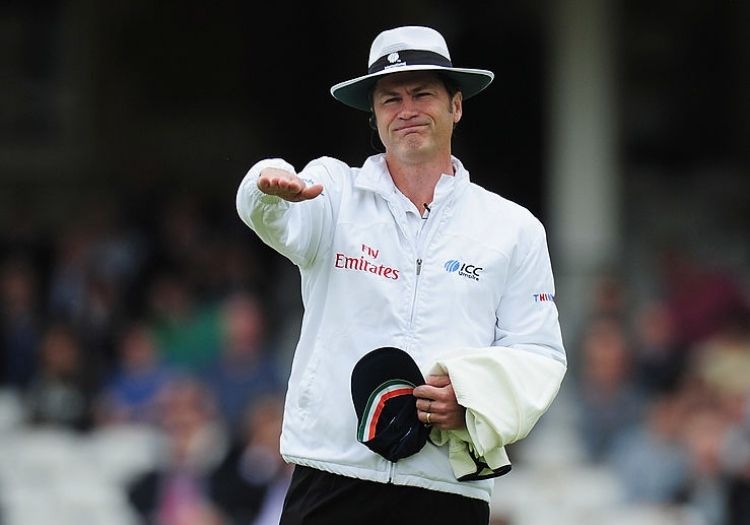 Simon Taufel is a supporter of the soft signal
Soft signals are not ideal but the alternatives are undesirable. Cricket has enough delays and disruptions without introducing another obstacle.
Simon Taufel, who stood in 282 internationals and sat in the TV umpire suite on a further 68 occasions says the soft signal preserves the officiating process.
"What I would say from my position on the philosophy of umpires at the game, we should encourage umpires to make decisions, and so that means the soft signal should remain," he said in 2018.
"The old system where it was sent upstairs without the umpire having a say, people didn't like that. If you follow that logic, for those people looking for that to occur, then an umpire is not going to give out an lbw. They are just going draw a box and say over to the third umpire to say whether it is out or not.
"This is a game of cricket - it is important that umpires make decisions. Umpires should be making decisions because that is what their job is."
Naturally, the alternative for some might be the obliteration of technology entirely, but we're too far down this particular road for that to be a viable consideration.
There have been calls for the introduction of a separate panel of officials whose only job is to operate in studios away from the middle, mirroring the Premier League operation at Stockley Park in west London or the NBA's Replay Centre based out of Seacaucus, New Jersey.
While that change may have avoided other blunders with the mechanics of DRS it would not have cleared up the debate at Edgbaston.
"If you look for perfection, you'll never be content," wrote Leo Tolstoy in Anna Karenina.
Perhaps he had a point.
Please ensure all fields are completed before submitting your comment!