Broad fumes and Conway makes batting look easy... TEST MATCH TALKING POINTS
NICK HOWSON AT EDGBASTON: Mark Wood brings the fun again and Micheal Holding inspires as England and New Zealand nurse their way through day two of the second Test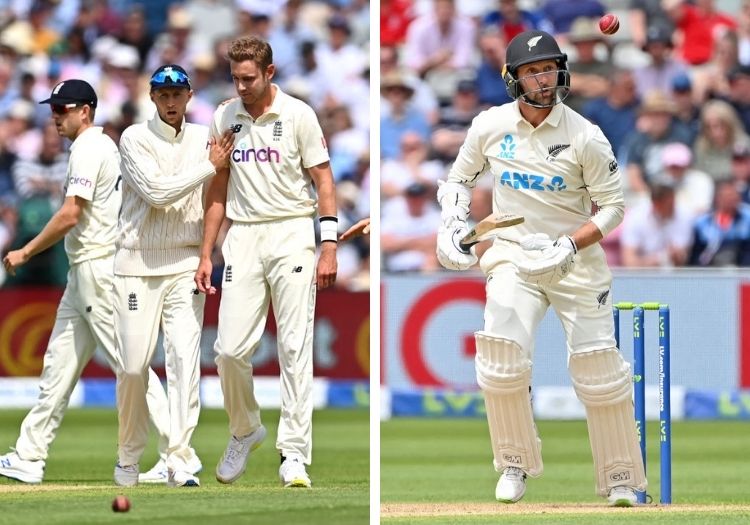 The many shots of Mark Wood
Hands up if you rocked up to Edgbaston this morning, switched on the TV or the radio expecting the early going to be dictated by Dan Lawrence?
The Essex man had first frustrated New Zealand, alongside the belligerent Olly Stone, before showing real class in adding to Rory Burns' half-century on day one.
Seven wickets down, the Kiwi bowlers rested but some sunny overheads there was an opportunity to make some quick runs before the tourists' reply.
It was made for a Lawrence masterclass, as we saw against Derbyshire at Chelmsford last month when he scored a breathtaking 152.
But instead, the opening 50 minutes was dominated by his partner Mark Wood, who swerved his role of rotating the strike and morphed into Viv Richards.
This wasn't just a case of the tail wagging, cheap runs coming courtesy of some filth or wild strokes being rewarded. Wood produced a clinique on the second morning, a display that acted as a lovely pick-me-up.
The Durham quick is partial to some quick runs, having been part of England's fastest 10th-wicket half-century stand against South Africa at The Wanderers last year, putting on a breezy 82 with Stuart Broad.
The second half of this knock was on a different level. This was Wood taking on a newish ball in the hand of Trent Boult and Matt Henry, and looking a class apart.
Wood first pushed through extra cover, lunging forward with impeccable timing. Then he hooked the ball down towards fine leg, a reckless stroke but one only flirted with danger.
After finding the gap between point and cover the flourishes continued, he pulled Henry through mid-wicket in what might be the shot of the Test. The very next ball went to the rope also, via an audacious ramp shot over the slip cordon.
New Zealand could perhaps sense that when the 31-year-old edged his seventh boundary he was on borrowed time. Indeed, at the start of the 96th over he was bowled by a jaffer by Henry which crashed into off-stump.
It was a wonderful cameo, 25 runs from 21 balls, as Wood departed for 41 knowing his job for the morning was done.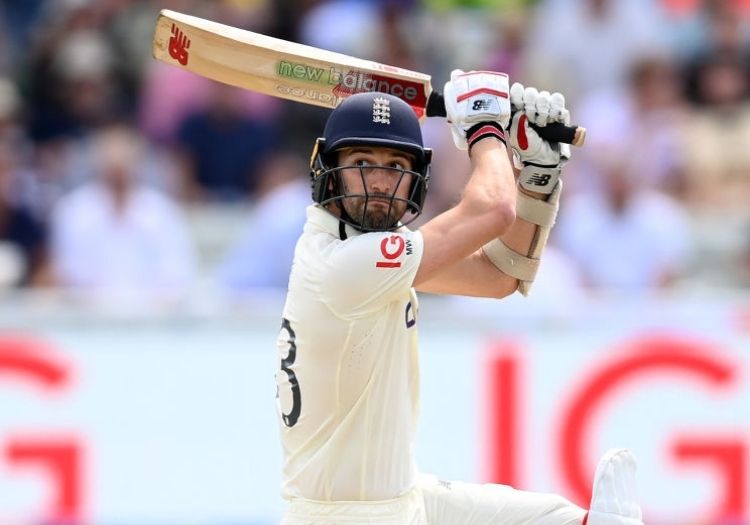 Mark Wood produced perhaps the stand-out performance of the day
Broad fumes
You're unlikely to have missed Shakib Al Hasan's total meltdown in the Dhaka Premier League.
The clash between Mohammedan Sporting Club and Abahani Limited was soiled by the actions of the former Bangladesh captain.
He kicked over the stumps after an appeal for lbw was turned down and when the players were forced off the field by rain later in the inning he pulled out the stumps and threw them on the ground.
You can view the footage via our story on the episode here.
We have to be careful when assessing the raw footage of the outburst, particularly in the current climate.
Shakib has recently returned from a one-year ban from all cricket for breaching the ICC anti-corruption code.
But that doesn't mean he deserves an automatic pile-on. His actions are inexcusable, but that doesn't mean they aren't explainable. He has since apologised, but a major punishment looms.
Anyway, back to the Test match.
Broad risked the wrath of the match officials himself after a sustained and angry exchange following the decision to reprieve Devon Conway after his edge was snaffled by Zak Crawley at slip.
Without wanting to get into a debate about soft signals, the accuracy of video footage and umpiring (I've done that here), the reaction from the England seamer was unedifying.
He is currently carrying two ICC demerit points from the last 24 months, and we might wake up tomorrow morning to the news of a level one breach and additional point on his record.
Players who receive four during a single two-year cycle gets an automatic one Test ban or a suspension for two white-ball matches.
The experience of standing umpires Richard Illingworth and Richard Kettleborough, who received most of the abuse upon the on-field 'not-out' soft signal being ratified by the TV official Richard Gough, will be reported to the match referee upon play concluding.
Though Chris Broad is in place for this match, a replacement would be introduced if his son is reprimanded.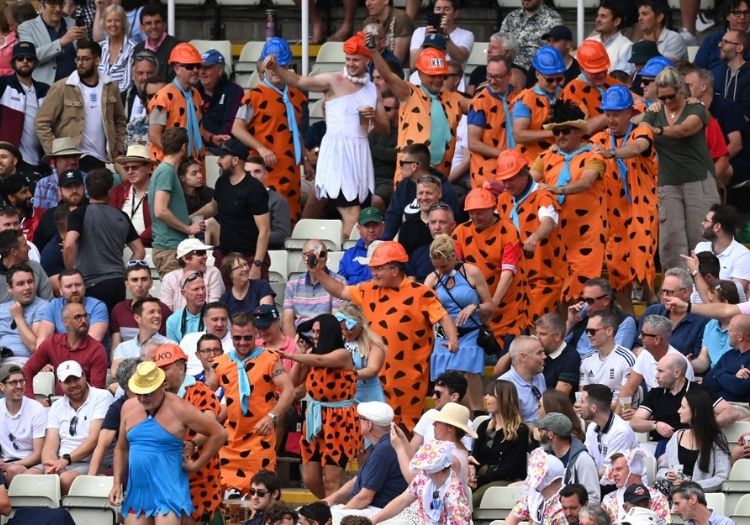 Once again it was party time inside Edgbaston
We do not deserve Michael Holding
He gave us his body across 60 Tests and 282 one-day internationals during a 17-year professional career that delivered 1,121 wickets.
He made up one-quarter of one of the great bowling attacks in cricket's long history.
He gave us his voice as an esteemed, spikey yet considered commentator, not concerned about upsetting people or worried about where his next dinner invite was coming from.
And now, Michael Holding is giving us his soul.
During cricket's own relationship with the Black Lives Matter movement, few have stuck a more pertinent tone than the former West Indies quick.
In the form of a new book Why We Kneel How We Rise, Holding is continuing the conversation. He has spoken with some of the legends of sport about living with racism and what life for black men and women is really like.
He appeared on Sky Sports to discuss the publication and was typically inspiring. I won't lift individual quotes from the conversation with Ian Ward because it is impossible to pick out a stand-out line. The entire exchange is captivating.
It was another inspiring piece of broadcasting from Holding, less than a year on from the BAFTA-winning coverage of the England v West Indies series, which was illuminated before a ball had even been bowled by the personal accounts by himself and Ebony Rainford-Brent.
The upper-echelons of cricket would be foolish to overlook Holding and Rainford-Brent for much longer. Both are attempting to make an impact in their own way but the inner workings of the game would benefit from their experiences, advice and diplomacy.
Spend a few minutes either watching back last year's superb first-hand accounts or the latest interview with Holding at Edgbaston and try telling me that our sport would not benefit from their guidance.
Holding's book ends with the line "we've got a chance". Don't we just.
Conway learns the hard way
Devon Conway looks beautifully suited for Test cricket.
Watchful, determined, strong-minded and technically astute, the 29-year-old has an air of invincibility about him already.
We'll learn more about him when the runs start to dry up (and they will) but currently, he looks in great touch heading to The Ageas Bowl.
This is not a pitch with much pace or threat attached. It isn't easy to score but neither does it possess many demons.
What has been impressive is how straight Conway has played.
Whether it was Stuart Broad, who gave him a real going over at times when the ball started to do a bit, or James Anderson, he had an incredible ability to pick up length and drive with great control.
There was a degree of astonishment when he threw away what looked like being a second century, backing up his double ton from Lord's when he flicked a leg-side half-volley from Broad straight to Crawley while on 80.
Even he would have seen the irony in the combination which led to his demise.
"It was good," he said. "Just to be out in the middle gaining more experience. It was about trying to be nice and positive and I try to be in any sort of innings.
"It was disappointing getting out on 80. When you get in those positions you like to cash in as much as you can but such is life."
That it felt inevitable that three figures were on the cards says plenty about how quickly Conway has adapted to the rigours of Test cricket.
Conditions in Southampton are likely to be similar and given the small sample size they have to work off, India will be frantically devising plans to upset him.
Please ensure all fields are completed before submitting your comment!