Rikki Clarke T20 death batting masterclass: How to take on the bowlers
Former England, Surrey and Warwickshire allrounder Rikki Clarke gives his top tips for combatting death bowling to The Cricketer's Club Cricket Guide...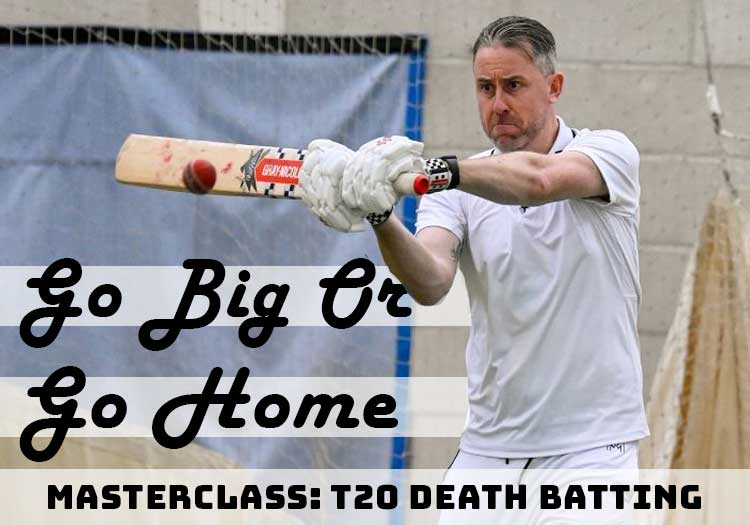 1 - Moving around to make the bowler miss
When I'm facing yorkers towards the back end of a white-ball innings, it's on us – as the batter – to hit them off their length. Most of the time, they'll have been honing a specific skill with their yorker and trying to find a particular target, so often I'll try to move around the crease just to throw them off a bit.
That might turn it into a full toss or, even better, they might be put off and miss their length, landing it in the slot instead, which effectively gives me a free hit.
2 - Nullify the wide yorker
If they're bowling wide yorkers, I try to follow them across my stumps – by moving onto off-stump, if not further.
There's every chance they'll have a field that is packed on the off-side, so I try to use the pace as much as I can, and make the margin for error a lot smaller for the bowler, particularly because they have the wide line to worry about as well.
3 - Hitting the slower-ball bouncer
As an alternative, the bowler might run in and try to bounce me out instead. They will often do that if there's a big outfield towards the legside and they're invariably trying to get you caught at deep square leg or deep midwicket.
The other trick that bowlers often come at you with in the latter overs is another subtle variation: the slower-ball bouncer.
It's a similar ploy to the regular bouncer: a big field with a vast outfield on the side they're inviting you to hit towards. It's a good opportunity to pick up a few twos, getting on top of the bounce and trying to hit the uncovered areas for four if you can.
The chances of hitting it for six aren't in your favour so much, so it is often a case of getting on top of the stroke and making good contact. Finding the gap is a bonus.
4 - Come down the pitch where possible
None of those deliveries mentioned above should stop you wanting to come down the pitch. That's such a vital way of creating opportunities to score. Often, you'll find that you can manufacture a delivery into the slot.
If a bowler is bashing away at a consistent line and length, you might be finding it difficult to get them away.
Then, coming down the wicket allows you to get the ball right underneath your eyes so you can hit it long and clean.
5 - It's not all about boundaries…
Obviously, you can't always just walk down and smoke them into the trees, so manipulating the field is a big part of the game. It's so important to have a good scan of the field, which at least then means you understand where your twos could be.
A lot of the time – especially in T20 – people think the game is all about crash, bang, wallop. And while that is definitely true to an extent, sometimes the team that secures the most twos goes on to win the game. That doesn't mean you have to be hitting twos all over the ground, but if you can pick a pocket on the ground, then that is massive.
6 - Practice breeds composure under pressure
Ultimately, if you practise all of this well and place yourself in scenarios, then it allows you to be calm and composed once you're in the pressure-cooker situation.
If you've given yourself the best opportunity to succeed in the game, there's not much more you can do other than breaking it down into runs per over and staying in that mode.
This coaching masterclass was brough to you in association with Mettle - the world's first specialist, premium cricket apparel brand. For more, visit the Mettle website by clicking here
---
Related Topics
Please ensure all fields are completed before submitting your comment!