Rikki Clarke slip catching masterclass: How to be a reliable pair of hands
Former Surrey, Warwickshire and England allrounder Rikki Clarke developed a reputation as one of the best slip catchers in English cricket during his career. Here, he shares his top tips with The Cricketer's Club Cricket Guide...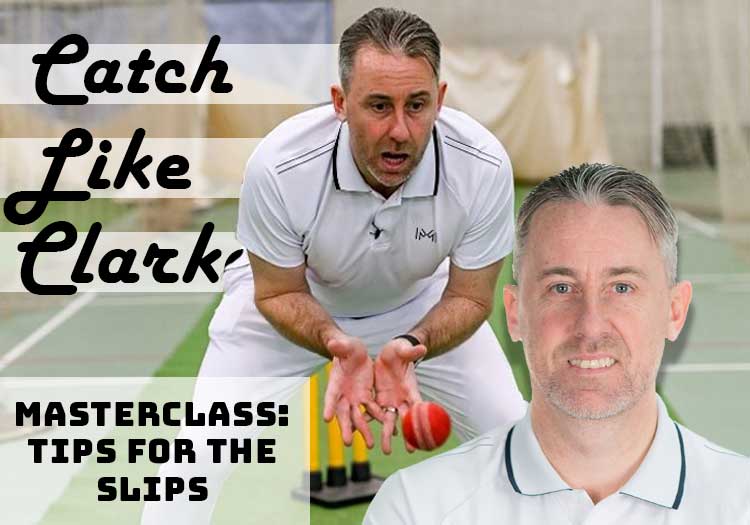 1 - My stance
For me, I've always been quite different in terms of my slip-catching technique.
I like to put my hands on my knees and be quite relaxed in my stance; my head goes forward a little bit and, as the bowler's coming in, I wait until they're halfway through their run-up before I get myself into a nice position, relaxed with my feet slightly open.
2 - There's no wrong answer – as long as you catch it
Other people do it differently, but fundamentally it's about what works for you when it comes to finding the right stance and movements as a slip fielder.
As much as I've always been about having my hands on my knees and standing relaxed, I've played with guys who prefer being in a crouched position with their hands out, ready and prepared. So, there's no right or wrong as long as you find something that feels right for you to move accordingly and catch the ball.
3 - Use the balls of your feet
I always make sure that I lean slightly forward on the balls of my feet, but not too much. I'm a big believer that having your feet open allows the hips to move. And that is key.
By that, I mean you shouldn't have to pick your foot up and move it – rather, it can glide and turn, which then allows your hips to move into the direction of the ball. And it's that which gets you to the chances that you wouldn't otherwise be able to reach.
4 - Switching on and off
I spent a lot of the time in my career in the slips, and I've always had a very good switch-off mode, which has allowed me to switch back on when I need to – in time to take the catch. Many of the renowned slip fielders like to have a chat, and I'm no different.
I like to chat about anything and everything, but when the bowler's coming in, I can then switch back on for eight to 10 seconds. For that period, I am always anticipating that the ball is coming to me. In a four-day game, fielding for 96 overs in a day, the chances are they won't come to you – but you still have to believe they will.
5 - For 10 seconds, just focus
So, once the bowler's coming in, stop your conversation, focus on that 10-second period and then go back to your conversation! That goes for any sledging too – that has to stop when the bowler is running up, so you can focus on the job at hand: catching anything that comes your way.
This coaching masterclass was brough to you in association with Mettle - the world's first specialist, premium cricket apparel brand. For more, visit the Mettle website by clicking here
---
Related Topics
Please ensure all fields are completed before submitting your comment!