What happened to the other Wisden Schools Cricketers of the Year?
NICK FRIEND: Jonny Bairstow, James Taylor and Jos Buttler won the award in its first three years. Four others have gone on to play professionally. Will Vanderspar, Ben Waring and Teddie Casterton recall the feeling of following in those footsteps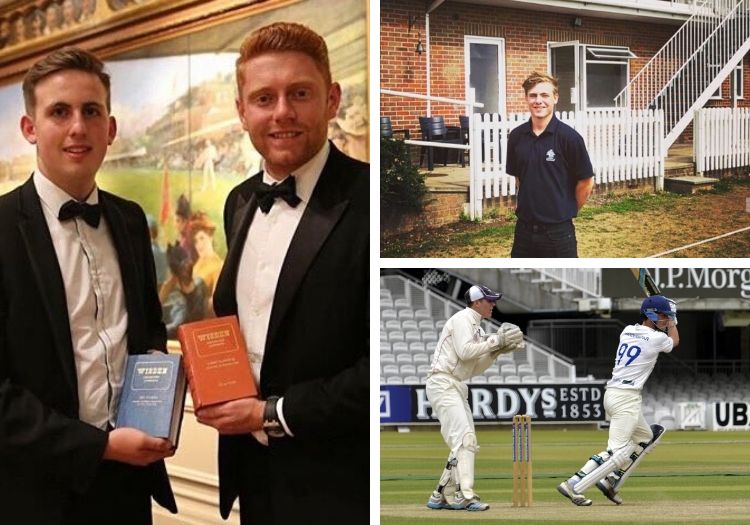 Between them, Jonny Bairstow, James Taylor and Jos Buttler have amassed 16,181 runs at international level, two World Cup winners' medals, three different Indian Premier League franchises and a role as a national selector.
Long before any of that, however, they became the first three winners of the Young Wisden Schools Cricketer of the Year award: Bairstow in 2008, Taylor a year later and then Buttler in 2010.
Kent's Daniel Bell-Drummond, Somerset captain Tom Abell, Yorkshire opener Tom Kohler-Cadmore and Scotland batsman Dylan Budge have all since followed as recipients of an annual prize still in its relative youth, given the 157-year history of the Wisden Almanack.
The sole criteria for inclusion are that statistics must not be age-restricted and that the school must have a sixth form, as well as a fixture list deemed strong enough by adjudicators. It was introduced to raise the profile of the school game, especially at state schools.
Bairstow became its inaugural holder on account of 654 runs at an average of 218 in a single season at St Peter's School in York, before he was usurped by Taylor, who made 898 runs the following summer at Shrewsbury School. In the year that Kohler-Cadmore took the title, he racked up 1,409 runs, including three separate scores above 150.
As well as the seven youngsters who have gone on to represent either their county or national side, six others have also come out on top. Nathan Tilley, last year's victor, represented Surrey's second team through much of last summer, while AJ Woodland, who won in 2017, played games for Buckinghamshire and the MCC Young Cricketers in 2019. Eastbourne College batsman Tawanda Muyeye claimed this year's title.
Will Vanderspar was the award's fourth winner, following in the footsteps of Bairstow, Taylor and Buttler – an Eton schoolboy and a highly regarded member of Middlesex's academy.
"To be honest, I didn't even know it existed until I got told I'd won it," he says. "I didn't get much warning or anything – I knew it had been between me and Zafar Ansari.
"It meant a lot once I won it because of the people who'd won it previously, especially after they all went on to play for England."
He recorded six centuries in twenty innings in 2010, striking 1,286 runs at an average of 80.37 – "the best year of cricket, unsurprisingly". In five years at the school, he made 4,268 runs – a remarkable, prolific record.
A decade later, he is still playing in the Middlesex Premier League, but has moved beyond dreams of a full-time career on the county circuit.
Yet, there was a line in the Almanack's writeup of his achievements that has always confused him. 'He might not pursue a career in the game like the other Wisden Schools Cricketers of the Year,' it read, 'but Vanderspar in terms of skill and achievement to date is a worthy successor.'
"It was almost like a kiss of death before I'd even got there, which was quite brutal," he recalls. "I was like: 'What? I definitely am pursuing professional ambitions.' It was a bizarre line that I was quite shocked by, but they must have seen it coming!"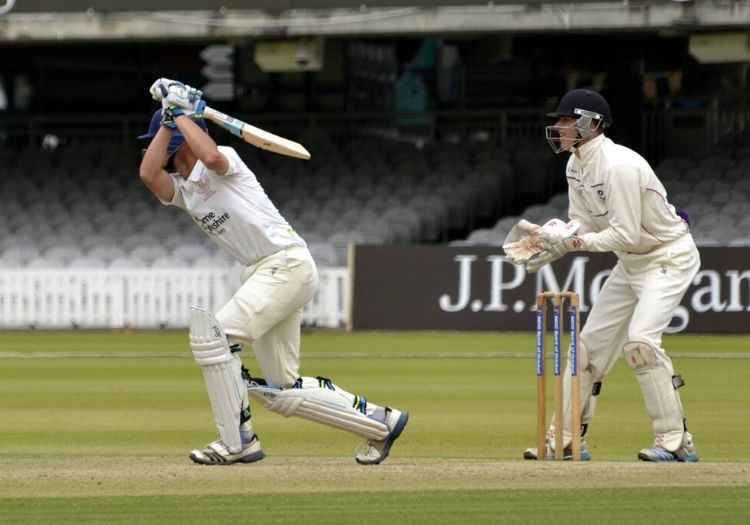 Vanderspar in action at Lord's for Leeds/Bradford MCCU
At the time, he was still heavily involved in the county setup and had returned from a winter playing in Australia to focus on a season of second team cricket with Middlesex.
"At 16, I was pretty sure that I was going to be a professional cricketer," he adds. "That was my focus. And it was my focus when I was 18 – I don't know if they got the impression I didn't want to or thought I had a bad attitude or if the public school thing wasn't a great tick on the CV from their perspective – and probably one particularly badly timed holiday to Corfu in the middle of it, which I actually think really pissed them off, unsurprisingly."
He was left "distraught" when he learned that he would not be offered a contract. "I feel like I did something wrong along the way to shoot myself in the foot," he explains. "It was tough. The motivation – I just didn't have much time for [cricket] for probably the best part of a year. It hurts your confidence a lot."
He can look back and laugh now. There were appearances for Middlesex, Sussex, Surrey and Glamorgan at second team level after graduating from university as he had a second go at forging a path in the professional game, while he was recently part of the MCC squad that toured Nepal.
There is a symbolic irony, perhaps, to his final second team outing: he made 151 for Glamorgan against Middlesex. "Out on a high," he chuckles, circle complete. "I had to give the cricket a go for my own sanity. Sitting here now, if I hadn't, the what-ifs would have been lining up.
"In my heart of hearts, did I really want to go for it? It's hard. Trialing for two summers is miserable. It kills one's love for the game quite quickly.
"You're always looking to stand out, to do better than everyone else and push on to the next level, which is probably why something like school cricket – where there's a lot more emphasis on the team and a lot more emotional investment – was so enjoyable. I knew exactly what I had to do, and it made life easy in that respect."
He outscored Ansari to win the award in 2011, with former Somerset wicketkeeper Alex Barrow, Glamorgan pair Craig Meschede and Billy Root, former Northamptonshire batsman James Kettleborough, ex-Derbyshire allrounder Shiv Thakor and Worcestershire's Tom Fell all on his coattails.
Ben Waring remains the only specialist bowler to have won the award – the quality of many surfaces at school level favour batsman, while restrictions on young seamers have also gone against them. It gives his achievement an even more outrageous look. A left-arm spinner, he was involved in Essex's youth setup when, in his first year at Felsted, he took 68 wickets at an average of 9.23.
"It was quite a strange year," he says. "I had never been exposed to school cricket – I came from a state school into the private school setup and I was turning up playing against different opposition. I was used to playing adult cricket – I was playing first team cricket at my club at that point."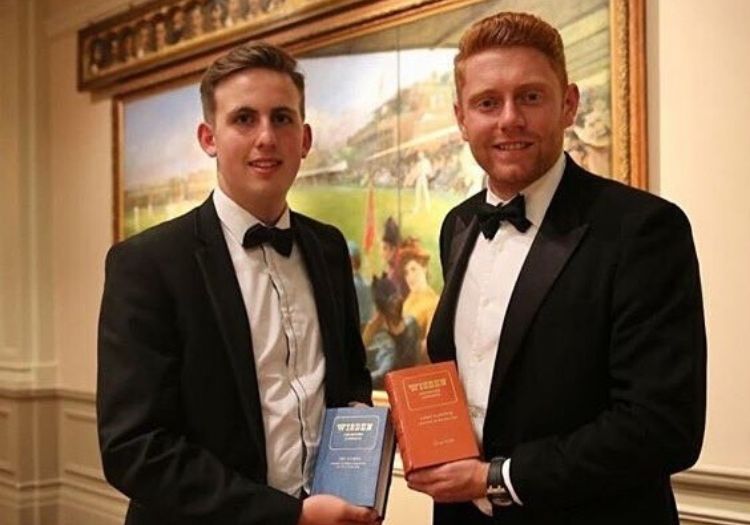 Ben Waring met past winner Jonny Bairstow at the awards evening
Unlike Vanderspar, Waring was aware of the prize's existence through his father, even if he had never set out to challenge for it. Part of a strong side, he went into the final game of the 2015 school campaign knowing that he needed two wickets.
"It ended up getting to the last ball," he reminisces. "That was probably one of the most surreal moments that I've ever been involved in. I genuinely thought it was gone. It was against an Australian touring school.
"People talk about watching things in slow motion – I remember letting go of the ball and just watching it. I was just trying to fire the ball in and look for LBWs, but I gave up and tossed one up and it spun and hit off-stump. I didn't know what to do – I stood there with my arms outstretched and kind of did a Shahid Afridi celebration. I was absolutely avalanched by my teammates."
Initially a Hertfordshire player as a junior, he moved over to Essex in order to join up with their under-17 team, before being offered a place on the club's academy. These days, he coaches and plays for Hertfordshire – he bowled in tandem with former Middlesex spinner Ravi Patel in 2019, while also working with some of the players in Essex's performance pathway.
"I think I wanted to be a professional player so badly that you end up losing sight of why you play in the first place," he reflects. "Actually, since stepping back and playing for Hertfordshire, which is still a very high level, I've probably played my best cricket since taking that bit of pressure away."
It is the natural question that comes with an award like this, a prize steeped in hype and a pantheon of stellar names to follow. "I think I made four in my third game after I got it and [the opposition] just laughed," Teddie Casterton remembers. "It made me knuckle down – in a way, you win the award and then you have to prove to people why you won it, so you do even better. It's a bit weird psychologically."
Casterton won in 2018, becoming the first grammar school pupil to do so, having scored 1,423 runs in 21 innings for Royal Grammar School, High Wycombe.
"I think going into that year, I hadn't really had a successful school run just because I didn't take it as seriously as club stuff," he explains. "Club stuff always came first. But then, I was like: 'It's my last year at school. I might as well try to go out with a bang and steal all the records before leaving!'
"My dad had kept me up to date with how other people in the country were doing and I had to keep up with them. I think I needed to hit at least 200 runs to be able to bag it. Luckily, I had five days of cricket where I was playing every day."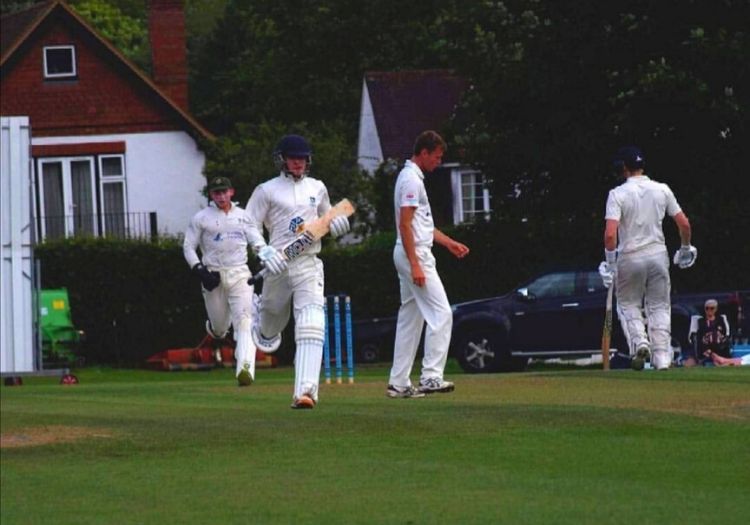 Teddie Casterton became the first grammar school winner for his exploits at RGS High Wycombe
He is at university at the moment studying for an English degree and has already self-published a collection of short stories centred on the human fascination with death. There is an ambition to do more as well. "Me and my friends had always spoken about it," he reflects. "How nice would it be to wake up in the morning with your own book next to you?"
He is a hugely impressive 20-year-old and has not ruled out another stab at making it in professional cricket once he has graduated, though he admits a tinge of disappointment that "no counties really reached out" after winning the award, having previously trained with Northamptonshire. Waring and Casterton faced each other in 2018, when Buckinghamshire played Hertfordshire in a Minor Counties Championship match.
"Thinking about the award before I got it, I was like: 'These guys have got it and they've gone on to play English cricket,'" Casterton adds. "It kind of sets up that expectation that if you work hard enough, it gives you a step up above everyone else. It was a bit saddening that nothing really came from it."
Nevertheless, he looks back at the honour and its impact on his own game with a great deal of pride. His next year, he reckons, was his best to date – "I had the confidence to go out and play, knowing I was good," he explains, "whereas before, I felt like a bit of an underdog. It was just that material thing that cements the fact that you're good enough – it definitely secures your own confidence."
Waring recalls a similar transformation to his game in the aftermath. Having claimed his record haul in his first year at the school, the second was always likely to come as more of a challenge – award or no award. Quite simply, an unknown quantity was now a forced to be reckoned with. Add to that a new-found national reputation, and opposition sides began to pay special attention to the left-armer.
"Beforehand, I wasn't really known so I just came through and went into each game on a level playing field," he says. "The second year, you're being touted as the lad who plays at Essex and is the Wisden Schools Cricketer of the Year. All of a sudden, teams would make it their challenge not to get done by 'him'.
"Then, it became for me: 'How can you get even better?' That was a challenge but it was a competition, it brought out a more competitive side of me. Funnily enough, I think I probably improved as a player in the second year – the year after winning it.
"I'm not sure whether it helps necessarily, but at the same time I'm not sure whether it came as a detriment.
"After being with Essex, getting to trial with different counties and different programmes, by messaging people and being able to say on your CV that you've won that award, all of a sudden, there was something behind me, but that only works to a certain extent. And then, you have to let your cricket do the talking."
Waring met Bairstow on the night of the dinner, where the England batsman later presented him with his prize. The pair chatted about their recollections of their school days.
"it was nice to be able to talk to someone else who's won it and to hear his stories and memories of how excited he was," he recalls. "It shows how big a deal it plays in people's lives.
"Sometimes, when you reflect on it you think of whether you should have gone on and been as good as the other guys who are on it. It can be tough, but I also think that as far I'm concerned, I gave it my best effort.
"I don't hold any regrets in terms of other people and in terms of myself. I tried to work as hard as I could and, ultimately, this is the hand that I've been dealt – the fact that I wasn't as successful. That happens to plenty of people."
Vanderspar shook the hand of Sir Clive Lloyd when he collected his award. "It almost seems like a bit of a fob-off," he jokes. "People are paying good money to come to this thing and they're watching a little kid get an award! It was amazing."
Casterton sums it all up quite nicely. There is no resentment or sense of unfulfillment at not having followed that initial axis of winners; rather, an appreciation of forever being linked to an award drenched in cricketing history and tradition.
"It's always going to be nice to have your name next to Jonny Bairstow and James Taylor," he laughs. "It's never going to be a bad thing, is it?"
The Cricketer would like to thank Durant Cricket for their ongoing support of our schools cricket coverage. For more on Durant Cricket, including booking a site visit, please click here
Schools
|
News
|
Grass Roots
|
Features
|
1Banner
|
Please ensure all fields are completed before submitting your comment!