Bowl-outs are strange beasts, but what is it like to play in cricket's penalty shootout?
NICK FRIEND: There is no hard evidence on how best to approach them. Only, a non-negotiable need for bottle, conviction and dead-eye marksmanship. Azhar Mahmood, Nayan Doshi, James Anyon, Ben Phillips and Steven Cheetham recall their experiences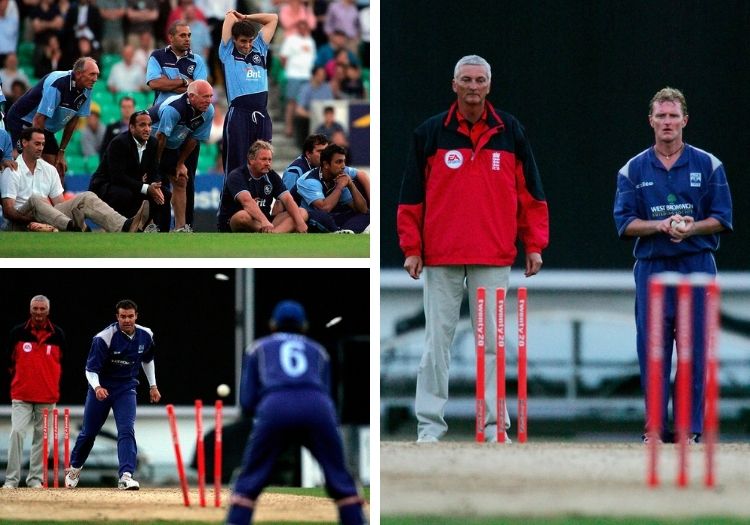 In a cricketing summer like no other, you wouldn't bet against a uniquely peculiar ending, coated in an altogether different kind of drama.
T20 Blast Finals Day has never needed to spill into its reserve day, but the weather forecast for the last rites of this truncated, exceptional campaign might well challenge that record.
And if the worst is to happen in the shape of a total weekend washout, other means will be called upon through which to crown a winner.
We'd be heading into bowl-out territory: cricket's lesser-spotted tiebreaker, where collective responsibility is replaced by individual jeopardy in its own game of Russian roulette. There is perhaps no greater antithesis than the buccaneering, batsman-dominant game that T20 has become and a decider featuring just bowler, ball and undefended stumps, where runs are irrelevant and pressure is everything.
And so, The Cricketer asks one simple question: what are they like to play in?
"The feeling is crazy – it's literally like being in a penalty shootout," recalls Nayan Doshi, the former Surrey spinner, who played in the first-ever T20 bowl-out as Surrey defeated Warwickshire in a 2005 quarter-final.
"But it's actually different: there's no goalkeeper, no batsman. There is nothing in the way. You just have to hit the stumps.
"When I missed, I just thought: 'Oh shit, I've let the team down.'"
On that occasion, Surrey triumphed by four hits to three at the Kia Oval after a tie in the match itself. Tim Murtagh bowled the winning delivery, before celebrating wildly.
"He hit the stumps and took his shirt off, running around like we'd won the World Cup," laughs then-teammate Azhar Mahmood. The former Pakistan allrounder was an ideal bowl-out option as a fine exponent of yorkers; he hit the stumps twice in the shootout.
The rules are straightforward: both teams nominate five bowlers, with each one then delivering two balls at an unguarded set of stumps. Put simply, 10 deliveries per team and no batsman. In the case of a tie, the same bowlers bowl one ball each in sudden death – until there is a winner.
For the losers, it is a brutal way to go. And though it might sound like a cakewalk for professional bowlers, there is plenty to consider. Steven Cheetham was the only Lancashire player to hit the stumps in a 2009 quarter-final defeat by Somerset. "The lads felt unfortunate to be knocked out like that," he tells The Cricketer. "We felt aggrieved – not at the ECB, but it was just bad luck."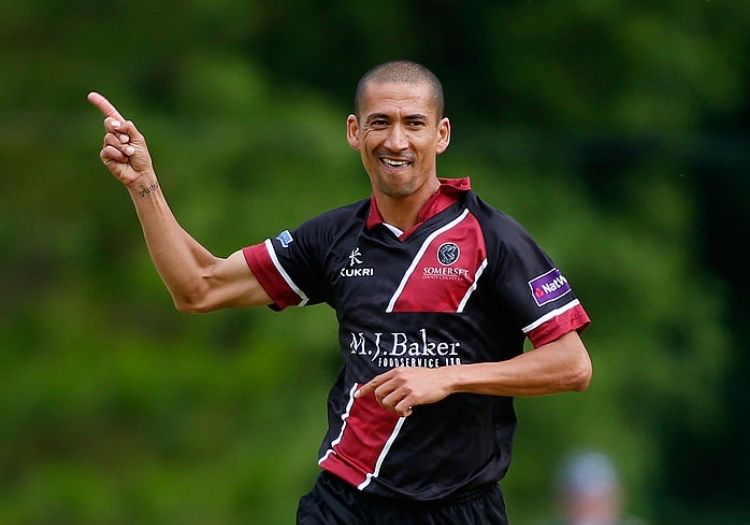 Alfonso Thomas starred for Somerset in their 5-1 win over Lancashire
That episode carries significant pertinence heading into this weekend, should conditions not allow for two semi-finals and a final to take place.
Back then, the decision to opt for a bowl-out only came after three successive days were washed out by rain in Manchester, leaving little choice but to fall back on a relative lottery.
The event took place in Old Trafford's indoor school, with Lancashire and Somerset employing contrasting strategies as they sought theories that might help them over the line. For Somerset, Ben Phillips, Alfonso Thomas, Peter Trego, Charl Willoughby and Omari Banks stepped up – an experienced attack that picked itself.
Lancashire, meanwhile, arrived with different, quirkier plans. Bowlers Cheetham, Stephen Parry and Oliver Newby were joined by batsmen Mark Chilton and VVS Laxman, who – between the pair – took 34 first-class wickets in 463 matches.
Even Cheetham's inclusion represented a curveball, having never before played a professional T20 match. More remarkably, he was injured and had to hobble to the crease with a broken ankle, undergoing surgery three days later.
"I hadn't bowled a ball for three months prior to it," he says. "When we knew there was a bowl-out coming, Peter Moores asked all the lads to go over to the indoor school and bowl at the stumps. So, there were 20-odd lads bowling at the stumps.
"It was strange, but what happened was we monitored how we were doing. We bowled ten balls each and counted how many we hit. We did that seven or eight times, and then we did it in a pressure situation – if you hit, you had a good chance of making the five. I hit eight or nine times.
"That was our selection process. I hadn't been in any squads prior; we had to check with the ECB that I was allowed to play. It was typical of the way Mooresy did things, trying to be thorough and looking for new ways of doing things. It surprised a lot of people."
Not least Phillips, who – along with his Somerset teammates – had been waiting for Lancashire's frontline bowlers to emerge in the indoor net area.
"I remember they had a really strange choice of bowlers," he laughs. "We were trying to work out who would be bowling for them, and then all their batsmen popped up."
That isn't to say Moores' thinking was wrong or ill-conceived – and one wonders how he might approach matters with Nottinghamshire this weekend, should the need for a bowl-out materialise.
Indeed, Mahmood points to a bowl-out featuring India and Pakistan in the 2007 World T20 that vindicated Moores' methods. Led by MS Dhoni, India won three-nil, with Virender Sehwag and Robin Uthappa both successful – neither had bowled in the match, while Uthappa has taken just 17 wickets in 598 career games across all formats. Regular seamers Ajit Agarkar and RP Singh went unused.
"I listened to MS Dhoni and he was saying that every day they practised hitting the stumps for 10 to 15 minutes because it was a rule back then," Mahmood explains.
Under the methodical pairing of head coach Andy Hurry and captain Justin Langer, though, Somerset's selection process was less complicated.
"For us, I think the coaches approached us in the changing room the day before and asked if we'd do it. We were the bowlers, so we put our hands up," says Phillips.
They would win comfortably; Thomas – an expert yorker-bowler – struck twice, with Trego, Phillips and Willoughby hitting once each. West Indies off-spinner Banks wasn't even required in the end.
That anecdote, however, sings to the nuances of an unusual contest. Even if it might look otherwise, it is never quite as simple as it seems.
Phillips admitted that his "biggest fear was bowling a no ball", especially given the proportion of bowlers who forego the front line during indoor practice sessions. As per the regulations, an illegal delivery would count as a ball used up, but not as a hit.
Bounce, too, was an issue on the hard, rubber surface; for all the logic involved in Somerset's selections, Phillips, Banks and Willoughby were all tall, and Phillips remembers one of his deliveries pitching and flying over his target. For Warwickshire against Surrey four years earlier, in Neil Carter's desperation to bowl full, he flung a full-toss over the stumps at head height.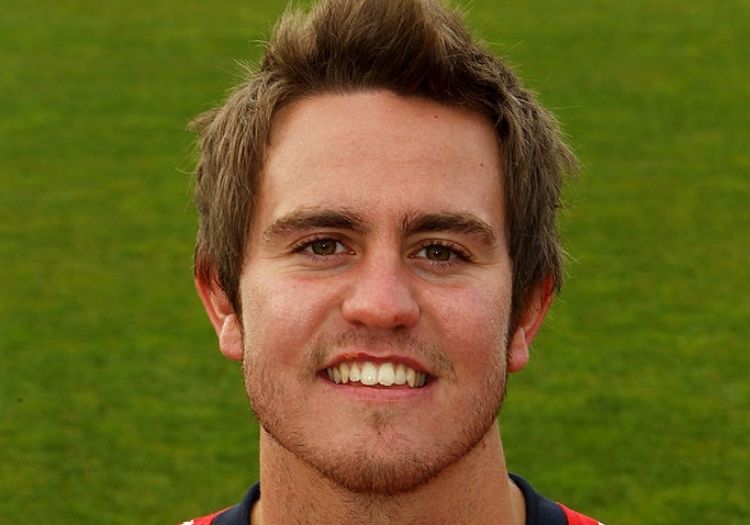 Steven Cheetham had never played a T20 match for Lancashire beforehand
Meanwhile, Phillips added that in most sports halls, some seamers didn't have enough space to complete their full run-up, bringing an additional challenge of finding rhythm from an unnatural start. He chose to come off a shortened run-up, but still looking to be as fast as he could.
"I was still trying to bowl my normal delivery," he explains. "I certainly wasn't trying to bowl any slower.
"The key was to back your skill and execute it under a bit of pressure. If I was trying to be accurate, trying to bowl as quick as I could meant that less could go wrong."
Cheetham adds: "You have to bowl it. If you just try to put it there, you have no chance."
He was in a minority who decided not to hold the ball cross-seam, instead bowling seam-up, well aware that swing and seam movement could veer the ball away from the stumps. "I liked the feeling of my middle finger being on the seam, so I ran up and bowled it seam-up," he recalls.
"My first ball missed leg-stump because it nipped in. I remember copping a bit of abuse from the lads for not bowling cross-seam, but it just felt alien to me.
"What's strange is that as a bowler, you get so used to bowling back of a length and having a batsman there that it's hard to just bowl at a set of stumps. It's not something that you're used to doing.
"I remember Kyle Hogg, who was probably our most accurate bowler. He bowled about 40 balls in practice and hardly hit – he was bowling the most beautiful line and length and nipping it away but trying to get him to change that rhythm without a batsman being there was really tough.
"If a batter had been there, you could tell Hoggy to hit middle stump halfway up and he'd do it 10 times out of 10."
Cheetham's recollections of Lancashire's unconventional approach provide some intriguing insight, given the context of the upcoming weekend. He was only 21 years of age at the time and had made just four List A appearances. Yet, he was able to be whisked into the five-man party because, with the pre-match toss not having taken place, it was effectively a free-for-all.
As the Vitality Blast playing conditions read: "If there has been no play in the original match (the toss has not taken place), the five cricketers may be selected from any of a county's registered cricketers."
Should the chances of traditional play be washed out this weekend, creative thinking could well have a part to play, especially given the amount of spin set to be bowled across the four semi-finalists.
Tom Smith, Graeme van Buuren, Dan Moriarty, Will Jacks, Gareth Batty, Matt Parkinson, Tom Hartley, Liam Livingstone, Imad Wasim, Samit Patel and Matt Carter would all be expected to take on major roles in regular game situations. And while several of those rely on precision over deviation in any case – not least Wasim, who seems a perfect bowl-out candidate, it remains an added consideration for spinners, whose best balls might not ordinarily target the stumps.
Doshi, the first bowler worldwide to take 50 T20 wickets, missed with both attempts in 2005. Alex Loudon and Ian Salisbury, the other spinners on show in that game, were both equally wayward.
"I tried basically to bowl my ball as straight and full at the stumps as I could," Doshi recalls. "But for some reason, it spun past off-stump. The fuller you go, sometimes the more worn the wicket is near the crease and it turns from there. It was bizarre.
"We had never really prepared for a bowl-out. Literally, because it's not something you practise. It was like: 'How do you bloody prepare for something like this?' As a kid when you're having your coaching, you get taught to try to hit the stumps but as pros, at the time you never really focused in that sense on target practice.
"Of course, the quicker bowlers would practise yorkers and the spinners would try to bowl it in a particular spot to get an edge, but we never practised for an actual bowl-out."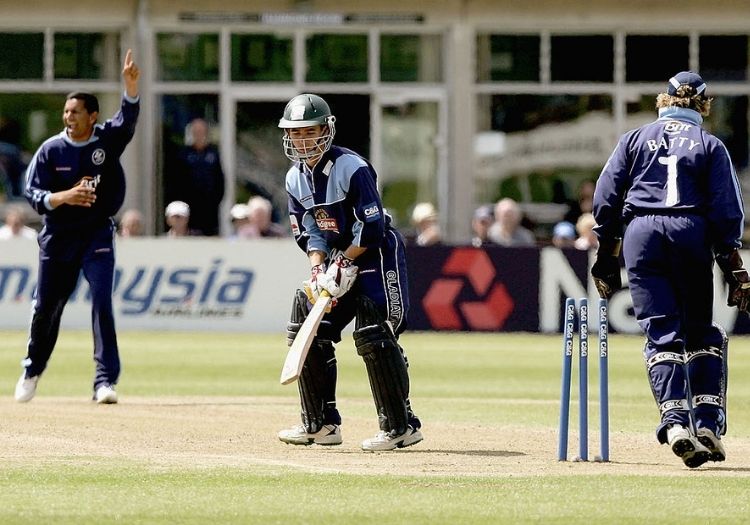 Nayan Doshi recalls missing with both attempts for Surrey
As for this year and the impact of the coronavirus pandemic on proceedings, The Cricketer understands that in the event of a bowl-out being required, the priority would initially be for it to be staged outside. However, should the outfield prove too sodden, it could still take place inside if needs be, despite a government announcement that the 'rule of six' would be extended to include indoor sports.
The Cricketer has also been told that Edgbaston's indoor school has already been examined, with socially distanced designs in place that would allow the event to go ahead with two teams of five, umpires and Sky Sports cameras all in position.
Needless to say, however, that turn of events remains a last resort, albeit a prospect that would ensure the season ending amid scenes of unparalleled, unfamiliar melodrama.
A 2010 study on the emotional contagion of penalty shootouts revealed that players who celebrated after scoring with their effort caused a higher miss percentage in the next kick from their opposition.
"It is loading a bullet into the chamber of a gun and asking everyone to pull the trigger. Someone will get the bullet, you know that. And it will reduce them to nothing," former France defender Christian Karembeu told Clark Miller's He Always Puts It To The Right: A History Of The Penalty Kick.
"It's undoubtedly nerve-racking," Cheetham adds. "We had both squads watching upstairs on the balcony, you had the Sky TV crew behind you, you had all the lads linking arms behind you and you knew what was on the line.
"The closest thing you'd be able to liken it to is a penalty shootout. But it was very much the same as what you'd do every time you'd bowl – it was always a case of committing to whatever ball you were going to bowl.
"My thought process was to get it as full as I could at middle stump – if I could commit to that, it took away the pressure. I suppose it's like a footballer taking a penalty; if they pick a spot and stick to it, you tend to hit it with a bit more power and conviction."
Phillips concurs: "It would be a big ask for part-time bowlers. We had quite a big squad with us and all the backroom staff – everyone was there. It was all quite surreal."
For those not among the chosen five, the tension is no thinner. James Anyon, now a bowling coach who has recently worked with the Dutch national side, was in his first year at Warwickshire as a novice of the professional game when he faced Surrey in 2005.
He had earlier finished with figures of 2 for 24 in three overs, but was overlooked in the shootout as captain Nick Knight went with experience over Anyon's youth; Dougie Brown, Dewald Pretorius, Alex Loudon, Heath Streak and Neil Carter all eventually played international cricket.
Was there a sense of relief, then, at being excluded from the firing line?
"I think it's a bit of both," he reflects, 15 years on. "You're in the warmup trying to get yourself prepared, but then there is that little bit of relief when you don't. I think it's only human – it's quite a lot of pressure on two balls. And there was quite a big crowd that day, if I remember rightly.
"With me being in my first year, I was getting ready for it and dreading it at the same time, so there was a bit of relief. But by the same token, I was a little bit gutted not to be given the chance. It was like: 'Am I not trusted to hit the stumps?'
"I just remember it being really tense – it's just like a penalty shootout, I guess. Only, with a penalty shootout, you're trying to hit a target that's eight yards wide and eight feet high. Here, you're trying to hit something that's nine inches wide."
Bowl-outs are curious beasts. Few in number and little in precedent, there is neither hard evidence nor set theory on how best to approach them. Only, a non-negotiable need for bottle, conviction and dead-eye marksmanship. Unless the rain relents, this season's story will have a strange final chapter.
For unrivalled coverage of the county season, subscribe to The Cricketer and receive 3 issues for £5
T20 Blast
|
News
|
Features
|
County Cricket
|
1Banner
|
Please ensure all fields are completed before submitting your comment!