After a fractured skull and a global pandemic, Josh Poysden is readier than most for county cricket's return
NICK FRIEND: Poysden's last 12 months can be split into three parts: an injury layoff, a winter return and then this pandemic-induced void. Most importantly, he is fit, well and raring for the game's resumption after a significant scare a year ago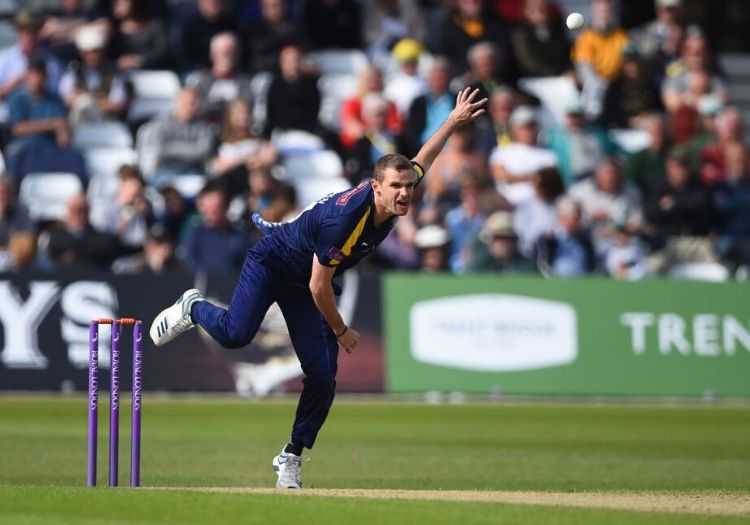 It is coming up to a year since Josh Poysden last played a game of professional cricket, a T20 appearance at Chesterfield for Yorkshire against Derbyshire.
Days later, he was struck on the side of the head as he lobbed throwdowns at Dom Bess. A freak accident, but one that served up an unpleasant diagnosis: fractured skull, bruised brain, internal bleeding.
He was forced to miss the rest of the season, before returning to club action in New Zealand over the winter. Since then, the world has stopped, lockdown has taken over and the former Warwickshire man has joined his peers in waiting for the game to return.
He has started his own podcast to pass the time, all centred around the art of spin bowling, chatting through its intricacies with a range of guests: Bess, Matt Parkinson and Ish Sodhi have appeared on early episodes.
The notion of personal development has been widely encouraged across the county circuit in recent months, with the Professional Cricketers' Association putting on courses to expand horizons during a complicated time. For Poysden, the sense of self-improvement has come through getting Spin Badger off the ground, learning to edit audio and, quite simply, enjoying regular conversations about the game.
His last 12 months can be split into three parts: an unusual injury layoff, a winter return and then this pandemic-induced void. At each juncture, however, he has been reminded of how grateful he feels to the game.
"One thing that I really hope that comes from this time is that players realise how much they enjoy cricket," he says. "Especially in county cricket, the schedule can be so relentless. Maybe at times it's hard to really focus on that enjoyment and realise how lucky we are to do what we do. Hopefully, from now on and at some stage when we get back, people can really appreciate what we have."
In the context of Poysden's own 2019 fortunes, that seems a wise message, having seen his first full season at Headingley come to an abrupt and concerning end. He is happy enough to recount it all – a split-second that left him in hospital for 48 hours and then on the sidelines for longer.
"I literally remember all of it," he starts. "I was just chucking off-spin, so it wasn't as if I was bowling in a game or anything like that.
"I got hit and then it was throbbing for a bit, but it didn't feel that bad. With all the concussion protocols, I had to wait around, and I was just waiting to see the physio and talking to people. I think it was on a Monday and the Friday was the Roses game. I'm just thinking: 'I've got to pass the concussion test, there's no way I'm missing the Roses game.'
"And then, we got to the end of the concussion test and the physio, who was brilliant throughout the whole thing, said that he didn't think I was quite right and he couldn't pass me. I think I was going to be out for at least a week or two. I just remember from that point in, I must have been putting on a brave face because I started feeling so bad.
"I threw up and then for two or three hours, I was in a bit of pain. Once I threw up again, I had to go to the hospital. That was when I got the scan and all that kind of thing. I remember all of it – there's no memory loss or anything like that."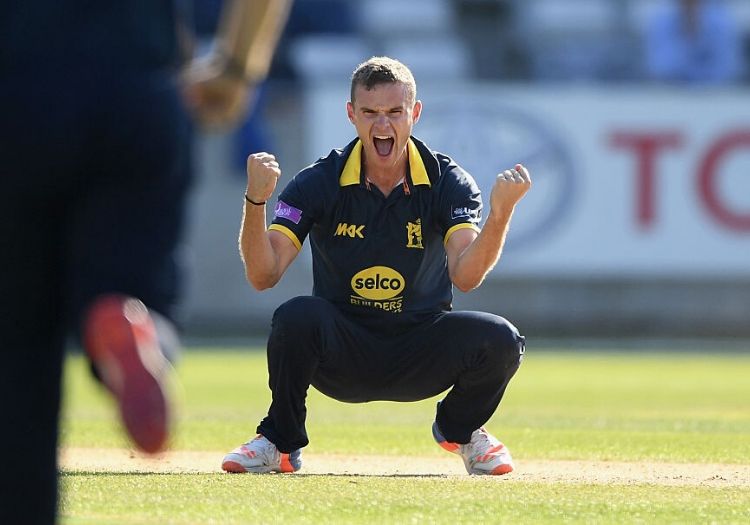 Josh Poysden left Warwickshire permanently for Yorkshire ahead of the 2019 season
The scan revealed the extent of the damage. He was unable to drive for six months and he didn't drink for four. Poysden understands what it sounds like. "You hear the diagnosis – it's horrific to people on the outside, but I know what I was feeling.
"For a couple of weeks, I had a headache and I'd wake up feeling like I was hungover, but then I felt completely fine. I know it was obviously a very serious injury and the diagnosis sounds really scary, but the fact was that I felt fine, so I wasn't nervous when I started playing again."
There has been no lasting effect, he insists. Before heading to New Zealand to play for Burnside West Christchurch University, he spent a month in training with Yorkshire. A bouncer session devoted to ducking, weaving and fending quelled any concerns of any lingering subconscious trepidation, while he has experienced no mental discomfort from batsmen hitting the ball back towards him.
In the weeks following the initial blow, Yorkshire faced Nottinghamshire at Scarborough, where he sought out Luke Fletcher for some advice and a reassuring conversation. In 2017, the seamer was struck on the head in his follow-through by a stroke from Warwickshire's Sam Hain in a televised T20 Blast fixture.
Head injury charities were also in touch, as well as plenty from the wider cricket community. Bess, who came to see Poysden in hospital, was one of the first people he spoke to in order to calm any feelings of guilt. "I knew he was very worried," he adds. "I think we're very lucky with the game we have and the people who play it. There was a lot of care shown."
Speaking in the midst of a global pandemic, the 28-year-old touches, too, on the medical attention he received during his short stay on the neurology ward at Leeds General Infirmary.
"At the moment, obviously, people have a lot of appreciation for doctors and the NHS," he says. "It was never that worrying. Some of the stuff they were saying is pretty stressful. They said I'd probably be all right but also what the scan had shown.
"At one point, they were like: 'If the brain swells up, there's a chance we'll have to put a needle in your head.' I'm just thinking: 'That doesn't sound good.' But they explained it in such a calm way that I was already calm.
"I think the most stressful thing was probably ringing my fiancée and my family, and not being able to explain it in the same calm clarity. I'm telling them I've got a fractured skull, so they're panicking. There were stressful times, but the professionalism was so outstanding, and I felt in such good care."
The wider frustration for Poysden was the timing of it all. One of the principal motives for making the move from Edgbaston had been the opportunity to play more cricket across all three formats. Having initially signed on loan in 2018, he had featured 14 times for his new county in 2019 by the time he was ruled out for the season, with the potential dangers of a second impact too great to risk.
It meant that he missed the majority of the club's T20 campaign – an especially significant competition, given that the draft for The Hundred soon followed, while he was unable to capitalise on Adil Rashid's absence after the World Cup.
The England leg-spinner is one of several who fascinates Poysden. It doesn't take long in his company to appreciate the enthusiasm he has for the game's toughest skill. Early last summer, he and Rashid went out for dinner in Bradford and spent the evening just talking leg-spin.
"There's definitely a union there," he says. "As long as people go and seek those conversations, spinners are always happy to talk."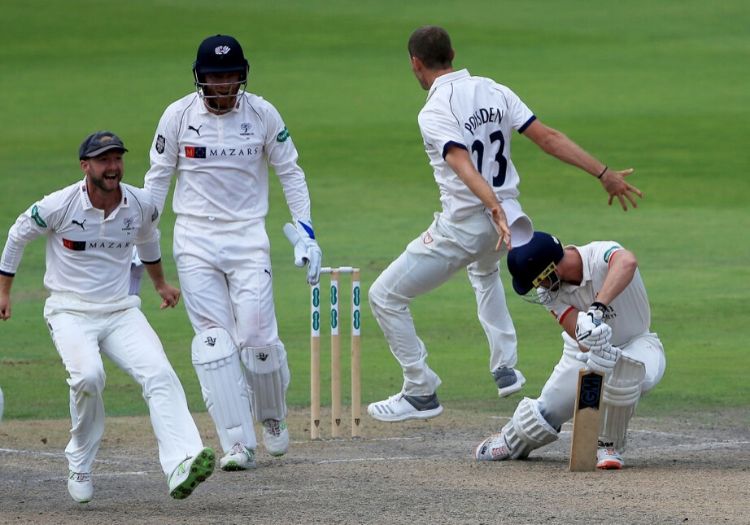 The leg-spinner spent the winter playing club cricket in New Zealand
That theory was the basis for the podcasts – a chance to dig into the psyche of his peers as much as anything else.
"Because it's such a unique skill, trying to share those conversations with people has probably been my biggest motivation for doing this. If you went through episode by episode, Parky is a very good mate of mine – we speak about bowling a lot together.
"What's he been working on this winter? I thought it was really interesting what he said about how he'd done really well in county cricket but then that he wasn't sure whether that would transfer across into international cricket. I guess for every county cricketer who wants to play international cricket, that's probably something that they think about quite a lot.
"Ish Sodhi in the second episode, the podcast was 45 minutes but either side of that, we had a long chat about each other's bowling. We talked about bowling a cross-seam flipper. As well as recording the podcast, it's just been good to touch base with these guys who I've had really good chats with, just so you can keep on sharing information."
A Sussex child, he grew up watching Mushtaq Ahmed at Hove – the Pakistani's first year at the county in 2003, by coincidence, was Poysden's first as a leg-spinner. He went to school ten minutes from where Mushtaq would twirl away and he would walk down to watch him bowl.
"On reflection, that was probably a massive influence – going to see a leg-spinner dominate county cricket so much and bowling so well," he recalls. "You just see how he goes about it – his body language, the fields he has, the variations he has. You're probably subconsciously learning quite a lot there."
The pair have met on several occasions: a couple of times as a youngster, then when he would net-bowl during Mushtaq's time as England's spin coach, and then again when he net-bowled at Pakistan's batsmen when Mushtaq had taken on a role with his countrymen.
Each time, he would absorb all he could. "I think the way he speaks about bowling is great," he adds.
"He's very good technically and tactically, but I remember when he was talking to me about religion and saying: 'Look, you just try your hardest and then Allah is going to decide.' I'm not religious but I think there's definitely something in there in terms of knowing that you're not ultimately in control of a lot of things. That almost takes the pressure off you because you're not worrying. He's someone that I looked up to."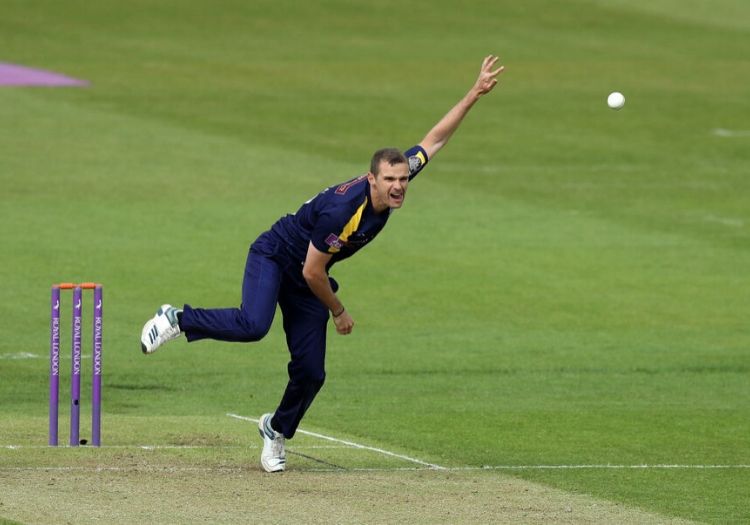 Poysden was inspired by former Sussex leg-spinner Mushtaq Ahmed
Another is Stuart MacGill – "my biggest mentor", the former Australia leg-spinner who, despite a pathway at times blocked by Shane Warne, helped himself to 208 Test wickets. In retirement, he has become something of an oracle among English spinners. As part of an overseas placement programme put in place by the ECB, Parkinson, Matt Critchley and Mason Crane have all forged strong relationships with MacGill, working with him in Sydney. Speaking in June, Parkinson mentioned that only a fortnight beforehand, he had sent footage of his action through to him for his thoughts.
Before them, it was Poysden who set the wheels in motion for the more formal arrangement that followed. "We first met at the end of 2015," he explains. "I was on an ECB scholarship and I remember someone saying to me: 'What one thing could you do that would make your trip great?' I said: 'If anyone could put me in touch with Stuart MacGill, that would be brilliant.' And so, I started working with him, which was amazing.
"He's so knowledgeable about spin bowling. I think his philosophies are very well thought out and can be really helpful. Even speaking to him for the podcast, I don't think he really said anything that we hadn't spoken about before, but just really hearing those messages was brilliant."
It brings him back to the present and to what has been a seemingly interminable wait. It might just be coming to an end, with August now pencilled in as a return date for the county game.
For Poysden, it has been a long time in coming. He is grateful with hindsight for his New Zealand stint. Otherwise, he would not have bowled a ball in anger since last July.
A year on from a painful end to his 2019, he is readier than most for cricket to return.
Save 30% when you subscribe to The Cricketer's print & digital bundle. £35 for 12 issues
Yorkshire
|
Features
|
County Cricket
|
1Banner
|
Please ensure all fields are completed before submitting your comment!