The making of Essex legends: Ravi Bopara and Ryan ten Doeschate's 16 years in T20
NICK FRIEND: As Essex prepare for Edgbaston, they do so in the knowledge that they come armed with an unparalleled engine room, two friends who know themselves, each other and T20 cricket as well as anyone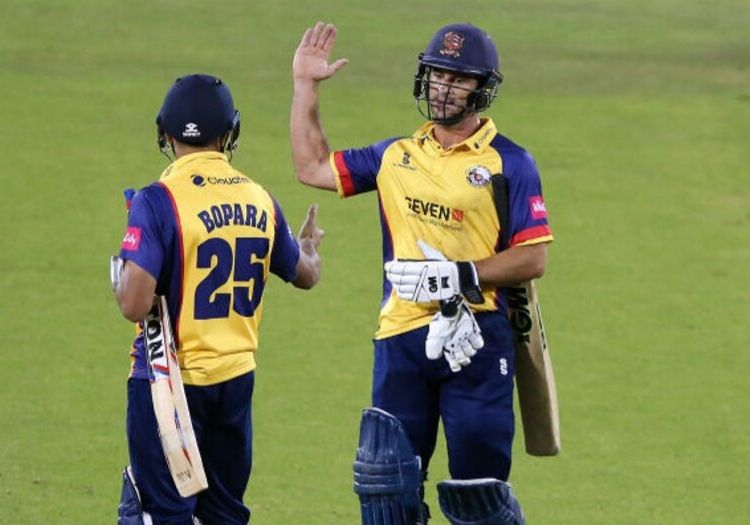 "I'm pretty sure I got Ramprakash and Butcher out," Ryan ten Doeschate says, reminiscing of a different time, of a night that introduced him to the future.
He is half right. He bowled Ramprakash, though Butcher wasn't playing. It was Essex's T20 debut – a summer's Saturday in June 2003. East Molesey the venue, with Surrey the victors: a comfortable win for a star-studded lineup on an evening that saw the birth of an experiment.
Ian Ward, Ali Brown, Adam Hollioake, Graham Thorpe and Azhar Mahmood – how times have changed, how far the game has come. Essex were led by Ronnie Irani, accompanied by the ageless class of Andy Flower, the lightning hands of James Foster and the giant figure of Will Jefferson.
And then, hidden down the order, lay two men at the beginning of their paths who, nearing two decades on, remain the focal point of their Chelmsford side – icons of the county and the main protagonists in an unlikely journey to this year's Finals Day. Ravi Bopara batting at nine – he can't recall the game itself, ten Doeschate one position below him. That was 2003.
Now, having seen off Surrey inside three days to move a game away from the County Championship title, they sit down to talk, to reminisce, to laugh, to begin to understand the last 17 seasons. They come as a pair, two men whose careers have followed intrinsically similar paths.
Ten Doeschate has played 344 T20s, Bopara 329. Ten Doeschate has made two hundreds in the format with 31 fifties, while Bopara has made one fewer ton but an extra half century. They debuted on that same evening at a club ground near the bank of the River Thames and here they are now, best of mates, still going strong.
"Everyone thought it was a bit of a jolly-up – there were bouncy castles," ten Doeschate recalls of the opening night, an evening awash with gimmicks and intrigued scepticism.
"It was a bit of a laugh and it didn't really matter. I just thought: 'At least this has brought people down to the ground.'"
"I remember guys tagging it as a Mickey Mouse competition," Bopara interjects. It is a common theme.
Few on the county circuit know each other better than these two. Perched, fittingly, in the club's T20 dugout on the boundary edge, the duo bounce off one another, adding to their answers and reflecting on a cricketing lifetime spent in shared company.
"I have played my whole career with him," ten Doeschate smiles. "There have been very few Essex matches I've played without Rav. He's a good friend. If I had to single out my favourite cricketer to play with, it would be him."
Between them, they make for fine company. Ten Doeschate is into his 40th year, though you would never know it, while Bopara, at 34, has become the very best version of himself.
A canny operator with the ball and now a consistently brutal force with bat in hand, it is little exaggeration to suggest that he sits as one of county cricket's most feared competitors.
Both benefited from the exposure of the Indian Premier League – Bopara with Kings XI Punjab and ten Doeschate with Kolkata Knight Riders, and they credit the competition with solidifying their outlook on the game's shortest format: a chance to redefine the parameters of a professional career.
"It was a spark of genius," Bopara says of the IPL's introduction. "Once it came along, it became proper stuff because of the money involved and the razzmatazz that the Indians put behind it."
"I stumbled into it," ten Doeschate adds of his own experience; he had never made a concerted effort to reach those heights because, quite simply, few had foreseen its behemoth future.
"We were both lucky in that we could hit a long ball, which now, is commonplace. But if you hit six or seven sixes back then, people were like: 'Wow.'
"I never set out to even change my game. It was the way I played. If you've only got 20 balls to face, you try and hit ten of them for six. Now, you can set yourself up to do that."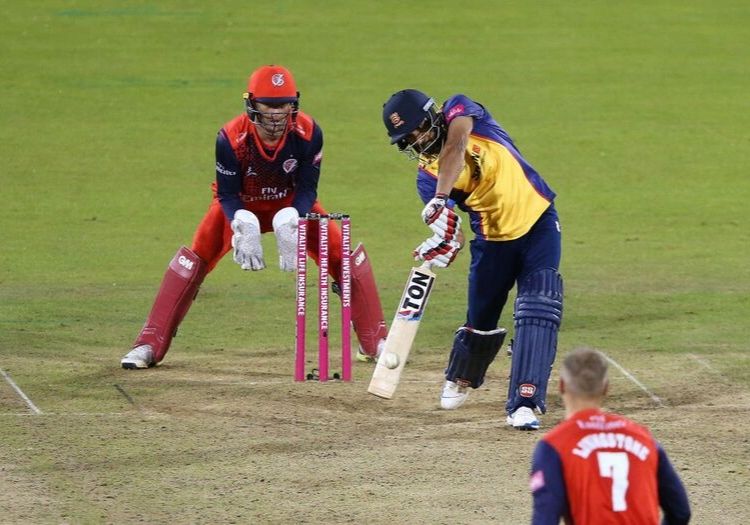 Bopara is set to commit the final years of his career to dominating T20 cricket
Bopara's route was similar; a solid showing at the 2007 World Cup was followed by a T20I debut, all leading to India, where a switch flicked in his mind.
"Same, I think I just stumbled into it," he nods modestly, in agreement with his colleague. Ten Doeschate, however, pushes further. "You worked really hard to upskill yourself at T20," he reminds his mate. There is a lot of this – it is the sign of their mutual respect, a genuine pride in the achievements of the other.
"Once the IPL happened and I was in there, that's when I started taking it a lot more seriously because that's when you realise what you can achieve," Bopara acknowledges.
He reflects on an argument first put forward by Kevin Pietersen, that franchise cricket's greatest attribute was in the fearlessness injected into its players, that batsmen could only benefit from having to attack the world's best bowlers. In a sink or swim environment, you are left with little choice but to swim. If Dale Steyn is the bowler, then Dale Steyn must go.
"I remember coming back from the IPL in 2009 and playing a Test series for England," he recalls with a grin. It is possible that he never played better for England than during that May fortnight; a maiden IPL campaign followed almost immediately by two matches against West Indies.
"I just remember coming back from the IPL and just feeling completely fearless. I just thought nothing of it. Test cricket. It just felt like another day out. It just felt so easy – not easy to score runs, but just in terms of easy on the mind.
"It was like – I'm here, I belong here, get on with it. It was one of the best feelings ever to have as a young international player. Unbelievable feeling."
The result was consecutive Test hundreds: 143 at Lord's, 108 a week later at Chester-le-street. It is little coincidence; cricket is the ultimate confidence game and Bopara, one senses, feeds off that more than most.
It was an experience that opened his eyes to the benefits of the IPL and, more widely, to the possibilities offered up by T20 cricket – a format once frowned upon by senior pros but changing the game for a younger, more receptive generation.
The franchise universe has given a cynical ruthlessness to the industry, where the result – rather than the journey – shines brightest.
It has rendered futile the notion of the shortest format as a platform restricted solely to youthful exuberance; it has become a career-prolonging tool.
"I don't see any reason why in your late 30s or early 40s, you can't be playing T20 cricket. It's only 20 overs of cricket," Bopara asserts.
"If you're quite skilful as a cricketer, that's all that franchises want. They want to win games of cricket. They don't really care about how they're doing it or what age the bloke is that's doing it. If you're doing the business, they want you.
"A lot of T20 teams don't plan like county cricket. In county cricket, you plan for the next five years, next ten years. It's not like that in franchise cricket – it's the here and now. 'We want to win the league this year, whatever it takes. We are going to get the players to win it. We'll think about next year when next year comes.'
"That's why I think people have prolonged their careers. Some of the best T20 players are in their late 30s.
"People say it's a young man's game. I really don't believe it is. I think it's an old man's game. A bit of an experienced head, people have upskilled their game. Especially batters – they've come a long, long way."
It is a theory that comes accompanied with some justification. For every Tom Banton, there is a Chris Gayle; for Mujeeb Ur Rahman, see Imran Tahir. Bopara knows – he has witnessed his own improvements. Both he and ten Doeschate are the finest of wines – silky, smooth, full of class, better with age.
In an industry obsessed with short-termism, reliability trumps potential. It is a verdict that has led Bopara to consider his own future. From next season, red-ball cricket is likely to sit on his backburner – "It won't be my number one anymore," he confesses.
Having played Test cricket and won the four-day title with his lifelong club, who can truly blame him, a veteran of 220 first-class games? The 221st may well bring another championship.
The pair made their T20 debuts together back in 2003 and won the County Championship in 2017
"You know how people go into other jobs, other careers? Well, I'm going to start new with T20 cricket," he says. He has thought about this. He speaks with a considered clarity throughout, a determination to dominate the T20 circuit.
"I'm 34 now – my body's in great shape and I'm the fittest and strongest I've ever felt. It's the best I've ever hit the ball and the furthest I've ever hit the ball.
"Red-ball will be my secondary focus and white-ball will be my primary focus – not one-day cricket but T20 cricket will be the number one. I'd love to see where I end up."
That this conversation can take place 16 years on from the format's inception is testament in itself to the pair's enduring qualities.
While Bopara and ten Doeschate were forced to learn on the job as the T20 game began at ground level and soared with each passing year, their juniors have come in on a white-ball diet.
And as the experienced duo, with 73 years between them, put together match-winning partnerships against both Surrey and Lancashire en route to Edgbaston, it has been impossible not to admire their rare longevity, especially as talk has turned to the future and the outrageous shot-making of the young pretenders.
"I'm immensely proud," ten Doeschate admits. "It's something I never foresaw at the time. Sometimes, I do have to look back and ask myself how I've been this lucky.
"In a way, it's nice that we – that generation as trailblazers – can keep up. The game is changing so much – you look at Tom Banton now as an example and the shots he plays. It's just nice to be part of something that, in my opinion, has saved cricket."
Bopara points to Afghanistan – a nation salvaged by a national team built in the image of the format.
"The interest in cricket has gone through the roof, the spectacle as a spectator sport has been revived – away from one or two big Test series and the World Cups," ten Doeschate adds with a wry smile.
For Bopara, remaining ahead of the curve means making sacrifices. It is one of the reasons he is looking to shift his priorities – not to wind down, but rather to prepare for a running jump into a new phase.
"There are days when you just think: 'I can't do it today,'" he sighs. "'I want to practice but I just can't do it. My body won't allow me to do it because if I train today, I'll be sore tomorrow or I won't put the same effort in tomorrow because I've got a game coming up. I've got a four-day game starting.'
"It does become hard to find time to upskill yourself, but over the last couple of years I really have put a focus on it.
"I've just said: 'I don't really care how my body feels; I'm going to practice T20 cricket. If I feel tired or exhausted, I'm just going to have to accept it and just hope that when I come out the other side, I'll be smashing it around the park or taking wickets and hopefully I'll be rewarded for it.'
"I'm in my best T20 years now. I really do believe that."
Between the two of them, Bopara and ten Doeschate have plied their trade all over the world. Both have enjoyed spells in the Big Bash, the Bangladesh Premier League and the Pakistan Super League, as well as spending time in New Zealand and South Africa. It is a set of life experiences that has created a more pragmatic cricketer.
"Bangladesh is not about crash, bang, wallop," Bopara explains. "You've got to be able to play spin and knock spin around in areas and run twos and hit the odd boundary. Those wickets are no good for batting.
"You come back from there and it's not the same way you'll play here. You try to play that way here and you'll lose the game. Over there, it wins you the game. What you end up doing is finding a middle ground to be able to perform all around the world."
Watching the Caribbean Premier League, where neither have ever played, has acted as a new eye-opener.
"The biggest shift for me in the last 12 months has been: 'Right, I'm just going to hit more sixes,'" Bopara says – he is matter-of-fact here. This is the outlook of Bopara 2.0.
"Because Andre Russell is doing it, Chris Gayle is doing it, Pollard is doing it. All these young guys in the CPL just do it. All they do is just swing and they hit the ball for six. People in the Blast have started doing it in the last couple of years. So, I've just said: 'Do you know what, I'm going to do it. I'm just going to focus on hitting sixes.'
"That mode of building an innings – I'll still do that, but it's become a bit more: 'Let's be a bit more brutal.' That's what the game's about now, being a bit more brutal."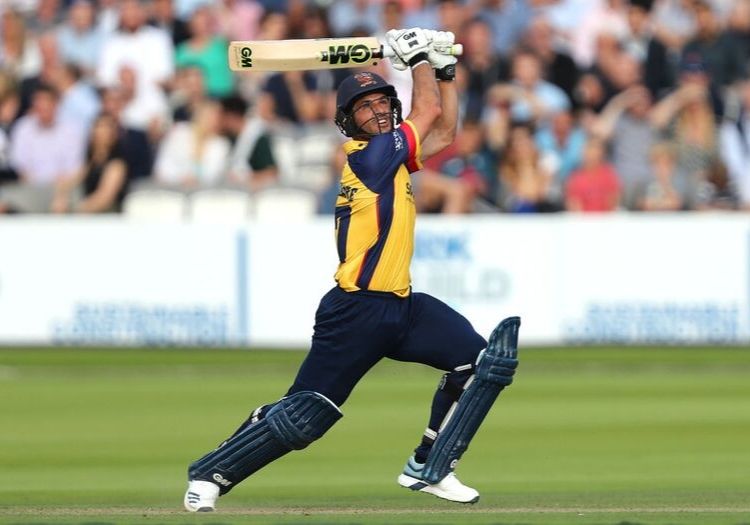 Bopara and ten Doeschate have played 673 games of T20 cricket between them
Bopara's niche in this year's Blast has come from batting at number six – further down the order than he would like, by his own honest admission.
It is the nature of the beast that it has informed his approach to batting, but he insists that this gutsy game plan – his 228 runs in the competition have come at a strike-rate of 170.14 – is transferable, not reliant on his role as a finisher.
"That whole 'take responsibility' thing has gone out the window," he says. "At the end of the day, you win or you lose. It does not matter. You get bowled out for 80. If you lose and you score 160, what's the difference? You might as well try and get 180 or as many as you can and give your team a proper chance of defending a total.
"What I have done and have learnt a lot along the way is that it's not just about swinging. You don't just go: 'Right, let's swing aimlessly now.' There are certain ways of tackling each bowler. It's not just: 'I'm going to pump him over mid-on for six.'
"Brainless cricket. But a lot of people still do that now and just get out. There are other ways of skinning a cat. That's what I've brought more into my game – finding other ways. Because with good bowlers, you can't just stand there and wallop them. Good bowlers won't let you do that."
Graham Napier was another member of the class of 2003 – the brigade of T20 guinea pigs unleashed when the ECB revealed its grand plan. Five years later, he would play the innings of his life – at Chelmsford against Sussex. Arguably, the most violent knock the English game has ever seen. An unbeaten 58-ball 152 immortalised his name; he struck 16 sixes in an effort that remains the tenth-highest score in T20 history.
Ten Doeschate needs no reminding of an extraordinary night; "It was just brutal," he chuckles, pointing to the stands that Napier cleared with a remarkable regularity. James Kirtley, Michael Yardy and Dwayne Smith were taken for more than 150 runs from their combined 10 overs.
"A lot of people have made a name and a fortune for themselves on the back of one innings," ten Doeschate adds. Napier, perhaps, came too soon to fully benefit.
The seamer would go on to feature in a single IPL game and was in England's World T20 squad in 2009, though never played. He would never pass 50 again in the format.
"It just doesn't break for some people. Napes wouldn't have focused on T20 cricket – his primary income and his primary work would have been churning out 16 Championship games for Essex."
Had the same innings taken place a decade later, who knows? Bopara was absent that night but played enough cricket with Napier to know what he might have achieved in the modern age of T20.
"He's what you look for nowadays," he interrupts. "He can bat seven or eight, hits the ball out the park and bowls good yorkers at pace. I think he would do really well in today's game."
There is, in a sense, an irony to the wisdom with which Bopara speaks. There was a time at the height of his international career that he was viewed as a soft touch, perhaps never quite tough enough. It is hard – on this form – to believe that England ever saw his best.
He talks here with the authority of a veteran entirely in tune with his own game. There is a thrilling passion to all that he says. He is an enthralling, deeply impressive voice on his specialist subject.
"It's about keeping up with the pack," he states. It is difficult not to believe him. "Not just keeping up with them but getting ahead of them." He says it all with a determined smirk.
"It's good that these youngsters are good because it makes me feel like I've got to be better than them."
Is this, then, the best Ravi Bopara that cricket has ever seen? The response, typically, comes from his captain. "I can answer that," ten Doeschate insists. He believes that his teammate has never played better – certainly not in T20 cricket, at least.
In three crunch matches, all of which Essex had to win after a slow start to the competition, Bopara dug out scores of 70*, 47* and 39*. Of the 134 balls he's faced in this year's tournament, he has sent 26 of them to the boundary.
And as Essex prepare for Edgbaston, they do so in the knowledge that they come armed with an unparalleled engine room, two friends who know themselves, each other and T20 cricket as well as anyone.
It is Essex's fifth Finals Day, though Bopara jokes that this already constitutes their finest ever run. In the previous four, they have contested – and lost – the first semi-final. On this occasion, they'll face Derbyshire in the second game of the day.
"We're usually knocked out by 2pm," he laughs. "We probably say it every year – that this is the best year for us to win it. But I truly believe this is the best opportunity we're going to have, as Essex, to win T20 cricket.
"It's the one trophy we don't have in our cabinet. We've got everything else. That's the one we're missing. We've given ourselves an unbelievable opportunity."
East Molesey has never felt further away.
T20 Blast
|
News
|
Features
|
Essex
|
County Cricket
|
1Banner
|
Please ensure all fields are completed before submitting your comment!