The Analysis: The Hundred clamps down on the Blast vibe - but did it work?
NICK HOWSON AT LORD'S: Access to alcohol was restricted for the first time during the 100-ball competition following a series of complaints and will surely be rolled out elsewhere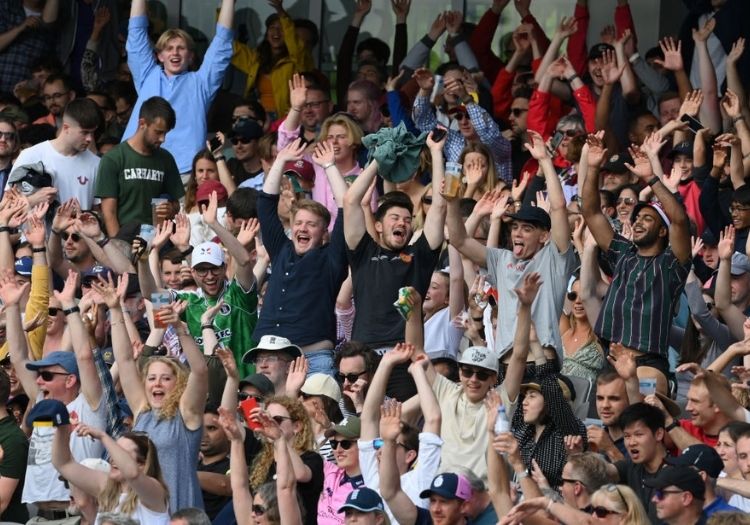 The men's edition of The Hundred has an identity crisis. The same iconic venues, familiar star names and problems with overrunning, this is simply a high-profile version of the T20 Blast with bells on.
Perhaps the most noticeable similarity with its 120-ball cousin has come away from the middle.
There has been no discernible difference in quality between the women's and men's matches. For every damp squib, there has been a close run-chase. There have been close finishes and one-sided encounters across the 16 matches. Dropped catches and spectacular hitting have been littered across both competitions.
But the tone of the atmosphere as the day of cricket has unfolded has been impossible to ignore. A tranquil buzz has been replaced by boisterousness, fuelled by a cocktail familiar to anyone who has been present at English cricket grounds over the last two decades. Perhaps longer.
These are a central pillar of the sport's fanbase, whether we want to admit it or not. We can talk about the societal issues at play here, but the reality is sport's stakeholders have thrived and would be nowhere without them.
However, if The Hundred develops into a drink-infused festival then have the ECB just reinvented the wheel?
Ticket prices and the timing of the tournament in the midst of the summer holidays means it is inevitable that The Hundred will eventually undercut the Blast. And this is where some of the fears around the domestic circuit start.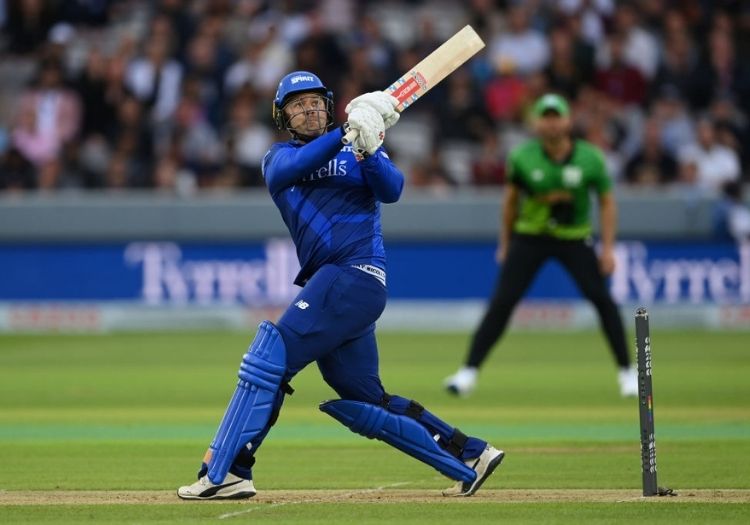 Adam Rossington provided the early evening fireworks
The ECB has pledged that The Hundred will have its own space and to a certain extent demographic, but currently, the men's edition is a more condensed, better marketing version of their other flagship white-ball competition. Logic suggests the two cannot co-exist while trying to achieve the same thing. The One-Day Cup is already an afterthought as it is.
If the plan was for families to dominate the attendees, it hasn't worked yet. Granted, there are more around than you might normally get but it is only natural that the audience top tier international and domestic cricket has relied on for many years is still interested. And that's ok.
I attended the first full round of Hundred matches at Lord's on Thursday (July 29) (the opening double-header was curtailed by rain) and the format was predictable. An enjoyable day made way for a bouncy evening.
But there was a deeply unpleasant mood around the ground as I made my way home following the end of play. Young families cowered into corners out of harm's way to avoid being caught up among the inebriated hoards parents attempting to shield their children from uncoordinated individuals merely trying to stay afloat.
Chants were loud, language was disgusting and behaviour was unbecoming. These kinds of acts wouldn't normally require mentioning and certainly isn't new, but with it occurring around an event being advertised as accessible and family-friendly, it is more than noteworthy.
Lord's, owned by the MCC, received several complaints. It remains to be seen how many of those will return for future matches or other competitions, as is the hope. The damage may already have been done.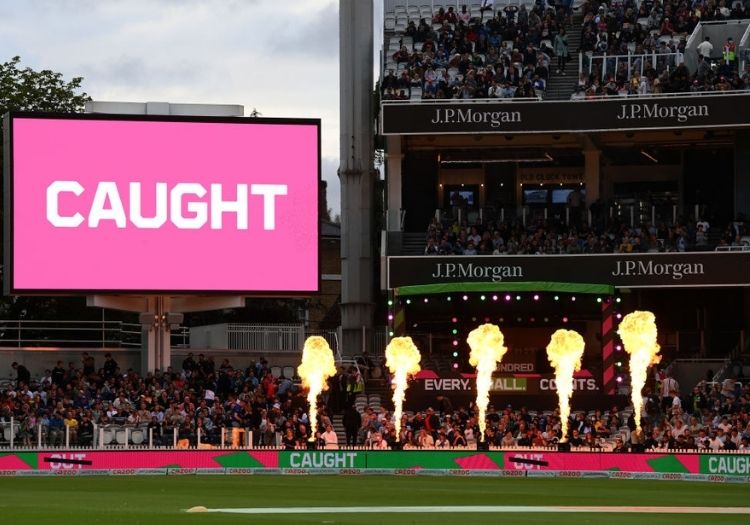 Fans looking for an evening beer were caught out
The home of cricket has become the first venue to act. Limits on alcohol being brought into the ground (only MCC members can do so) and sold at bars have been introduced. All sales ended at the mid-way point in the men's match.
Furthermore, family areas have been expanded and they can request to be moved if they feel uncomfortable. These rules will remain in place for the rest of the competition, including for the finals on August 21. It will be interesting to see if other venues follow suit.
A statement added: "Marylebone Cricket Club (MCC) aims to make Lord's a ground for all and we work hard to ensure that everyone has a great day out when they visit the Home of Cricket. 
"Everyone who comes to Lord's should expect to be treated with kindness and respect. The Hundred is a tournament designed for families and children. We have reviewed all of our measures for our remaining Hundred matches, to ensure Lord's is inclusive and is a place where families and children of all ages feel welcome and safe."
The MCC were hopeful that an alternative crowd would be attracted to a Sunday double-header compared with a Thursday. From my vantage point, there was no clear difference. Working from home has its advantages, of course.
Closing bars at 7:30pm as London Spirit started their chase was a wise move, but it created other issues. Not least slightly cheesed off ticketholders unaware of the change in policy confronting bar staff who were only trying to do their job. It took some heavier artillery for them to fully get the message.
Those slightly more aware simply made up for the shortfall, so you wonder what difference 100 minutes actually made to overall consumption.

Leaving the ground was certainly a safer experience than 72 hours previous, so perhaps the aforementioned measures did make a difference. The MCC's inbox tomorrow morning will tell a more accurate tale, I'd suggest.
I don't wish to repeat what my colleague Sam Morshead wrote following the opening men's match at The Oval when he confronted the same problem, but there is no sense this is going away. What is important is how the rules affect the enjoyment of both groups, because there is more than enough space for both.
If the target groups are put off by boozy spectators, that is the same problem as youngsters looking for a good night being placed under a curfew. The ECB might not want to admit it, as far as The Hundred is concerned, but they need both as much as each other. It is important to note that the changes at Lord's came from the MCC and not the ECB.
If limits on alcohol sales prove too draconian then more wet and dry areas are probably the way to go. This has been used in dispatches in this tournament but needs to be utilised better. Maybe even separate entrances and exits too to ensure young children are not caught up in a stag do.
Splitting the women's and men's tournaments up, as was the intention in 2020, may also provide an answer. It would also be worth considering flipping the order of the games as well.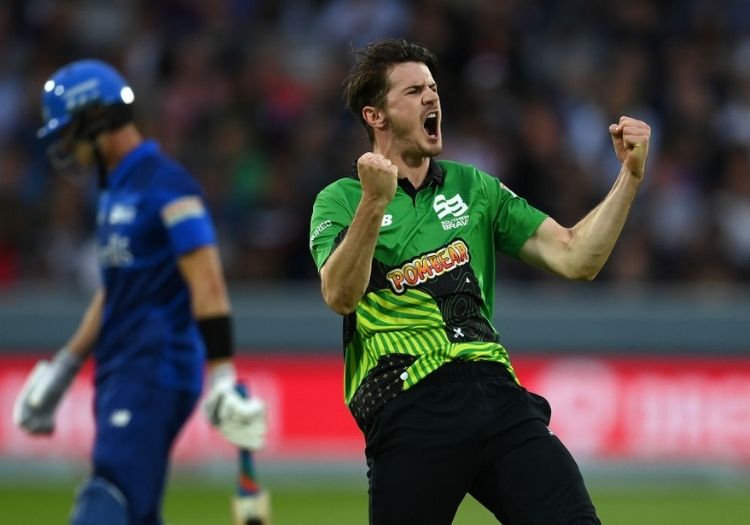 George Garton was in stellar form
There is a balance to be struck. The ECB can ill-afford to miss revenue targets when the tournament is making year-on-year losses already, ostracise their core market or fail to attract this new audience. You wonder if all three are even possible.
There are also the finances of the first-class counties, albeit mostly Test venues, who are hosting these matches to take into account.
We remain in a tough economic period and English cricket is predicting losses totalling £200 million thanks to the pandemic. The end goal is about creating additional revenue streams, with third-party ownership among the options, and that will remain a goal regardless of whether the Inspiration Generations strategy is achieved or not.
It is hard not to conclude that as things change, the more they might end up staying the same.
Please ensure all fields are completed before submitting your comment!