The Taunton Four: Somerset's potent pace attack in their own words
SAM DALLING: They've conceded just a solitary batting point all season. One. Uno. Worcestershire the only side to make it to the 200-run mark in ten innings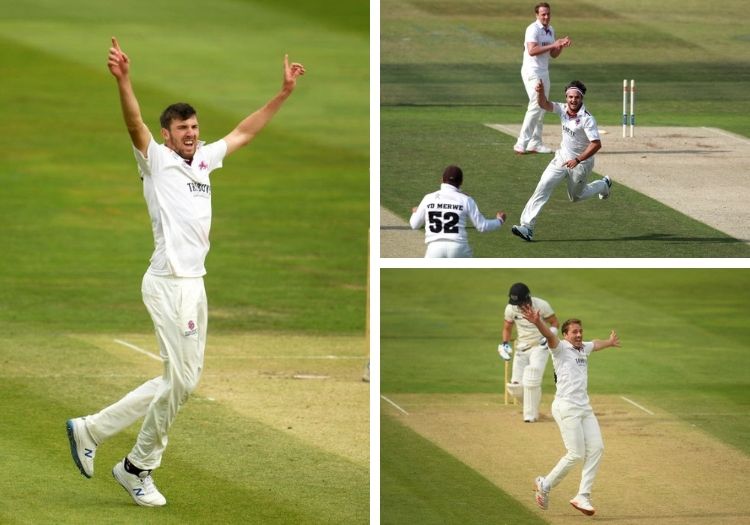 Sometimes things just click. Pop into place. There's no telling when or how; it just happens.  
Take Somerset's seam dream team this season. 
Of the 95 wickets captured in the Bob Willis Trophy group stages, just one fell to a spinner. 
Remarkable given the rate at which England stars Jack Leach and Dom Bess have picked up wickets in recent years. 
Granted the pair were largely out of action but the way the pacemen performed in all likelihood the slow bowlers would have largely remained bystanders. Plane pilots allowing cruise control to do the work, but there to step in during an emergency. 
As head coach Jason Kerr was at pains to point out, the now departed Jamie Overton played a role before his move to Surrey. 
But this is about Craig Overton, Lewis Gregory, Jack Brooks and Josh Davey; the four pacemen of the apocalypse. 
Between them they've snapped up 75 wickets. They smash apart opposition batting line-ups like a bear with a piñata.  
They've conceded just a solitary batting point all season. One. Uno. Worcestershire the only side to make it to the 200 run mark in ten innings.  
Is there a better attack in the land? 
"I personally don't think so," says skipper Tom Abell.
"Naturally I'm going to be slightly biased but they've proven week in week out their qualities.
"They've kept the pressure on at the other end throughout. There's been no let up for the opposition."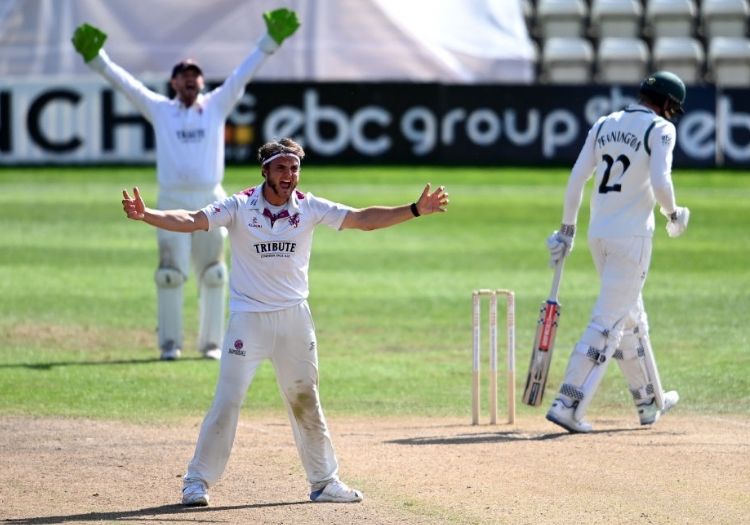 Kerr calls it similarly. 
"I haven't seen everybody and there's a huge confirmation bias but what they're delivering from a statistical point of view – they're going at two runs an over. Craig's taking his wickets at 10s – that is ridiculous in first-class cricket .
"With the way we've operated through the five games I'd be amazed if there's a better attack in the country."
***
Together the four are relentless. There's no let up. They just keep coming. And coming. And coming. 
Most sides have a two or three standouts, but the batters know there are a couple of guys they can get after. 
Not Somerset. They turn the screw. Pressure, pressure and more pressure. Something's got to give. 
Wickets will come eventually, and this year it's been sooner rather than later. 
"We pride ourselves as an attack on being in and around off stump as much as possible," explains Overton. 
"We've strangled teams. When we get on top we just keep chipping away," adds Brooks.  
"You almost expect something to happen all the time. It was nice that at Worcester when they had a big partnership we didn't buckle. We kept trying to keep the rate down and chipping away. No one panicked."
What a dream to captain; "I feel very lucky to be able to call upon those boys. They're incredibly consistent," says Abell.
"Their disciplines are phenomenal. It makes my life a lot easier as I always feel like we're in control of the game and they bowl fantastic deliveries within that."
Gregory missed a few games when he was in the England bubble but is loving being back in the mix. "The guys have been phenomenal all year, to do what we've done. Guys keep coming hard and give batters nothing. It's great to be a part of." 
***
These are highly strung professional athletes. That leads to healthy competition. 
The quartet drive each other on. Last year Brooks and Gregory were on new-ball duty. This season it's been Overton and Davey. 
"We all want the new ball but that keeps us driving forward and making the side better," explains Overton. "You need that competition for places to keep everyone on their toes to make sure they keep working hard. It's what you have to have."
And this year there's a sense that all of them can do the job, and do it bloody well. 
"It's not set in stone; it could be Lewis, it could be Brooksy. We're all open to doing it. It's about making sure it's the right bowlers at the right time.
"On our day we can all take five wickets. One of us might not have such a good day but we know one the others will always perform and take wickets. 
"We haven't taken as many five-fors or big clumps of wickets as other teams because everyone's chipping in with two or three."
According to Davey sharing the love helps take the pressure out of performing. 
"Sometimes it doesn't feel 100 per cent but the guy at the other end might be bowling an unbelievable spell.  It's your job to let your ego go and support him. You can do that by being economical and drying the runs up – that creates pressure.
"Sometimes you're so desperate to do well you overtry. You can a bit tense and run in a bit too fast. The best thing to do is to come back to the basics; hit the top of off, bowl the odd bouncer, just the real simple things."
***
Overton spearheads this attack. 
When he's got the ball things happen. His 28 wickets in the competition have cost just 300 runs. 
Tall; aggressive; unwaveringly accurate. A winning combination.
If he were a cut of beef he'd be rib-eye. High quality and full of flavour. Consistently brilliant but with a bit of added gristle.  
"He's metronomic and bowls a horrible length," explains Brooks. 
"You would when you're eight foot tall or whatever he is. He's not rapid but he can get those sharp bouncers. When you're really accurate all day doing that you're going to be in the game."
Overton's had a taste of Test cricket and is hungry for more. You can sense it in the way he carries himself. Four Tests have yielded nine wickets; no disgrace, particularly factoring in three have come in Ashes series and two of those down under. Steve Smith was his first victim; not a bad start. 
England are well stocked in the seam department but there's a feeling Overton is on the cusp of something big. 
"There's spells Craig bowls and you can see he belongs at a level above," says Davey. 
"He gets extra pace, extra bounce out of surfaces that don't offer a huge amount. This year he's shown that he's an international bowler."
Kerr has overseen the seamer's development since his teenage years and believes the pain of being left out by England is driving Overton on.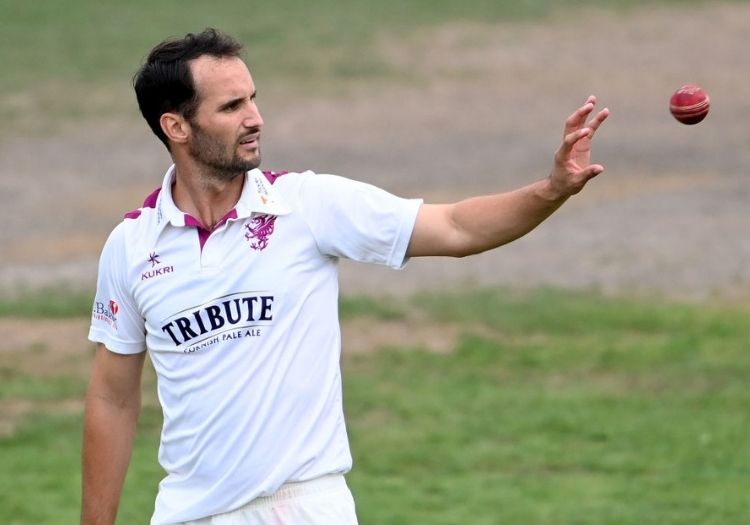 "What I really like about it is he's had a couple of hard knocks. He's played some Test cricket, not let himself down but then he's been left out very quickly. 
"But he's come back and been ruthless, he's bowled quickly, he's shaped the ball both ways. I'd be amazed if there's anyone bowling better in the county."
Overton has talked openly about discussing how to press his claim with Ed Smith. He was told to put on a yard, and on the evidence so far he's done just that. 
"He's running in a lot harder. Everything he had in terms of accuracy and skill is still there but he's doing it that extra couple of miles per hour more quickly," says Gregory.
He's also not lost that aggression. His emotion is never hidden. Poker wouldn't be his game.  
Living on the edge works though; 320 first-class wickets at the age of 26 is testament to that.  
"He'll have words straight away sometimes," laughs Davey.  
"He bowls one ball, the batter plays and misses and he'll give him a mouthful. Sometimes he's funny, but others you're like "what's he talking about?" That's him though – it gets him going and when you rile him up he runs in quicker."
Where does it stem from?
"Sometimes it's frustration coming out, others he just wants to have a pop at the batters anyway. He's always got something to say," says Brooks
"He's a competitor and you want to play with people who are competitive and live on the edge a little bit. I try and be that older statesman at mid-on to speak to the other lads and keep them calm."
***
Davey has been tasked with taking the new ball this year. It's a reward for all his hard work over the past few season and it's a move that's paid dividends. 
Having started life at Middlesex, Davey spent a season playing minor counties for Suffolk after his release before being invited to train at Somerset ahead of the 2015 season. 
From the bright lights of London to the tranquil beauty of the West Country. Talk about yin and yang. 
But it's done the trick for the Scotland international. 
It didn't happen straight away; but 2018 was his breakthrough season in red-ball cricket and he's not looked back. He's now a permanent fixture in the side. 
He was integral to last year's Royal London One-Day Cup triumph, helping himself to 14 wickets and going at below five an over.  
An injury picked up at Lord's frustratingly restricted his first-class appearances during the second half of 2019 but he's been an ever present this time around. 
It's clear that he's held in high-regard by his team-mates; "To see how he's grown over the last three years coming into the team has been fantastic. It's not been an easy ride," says Gregory.   
"Josh is the king of the maidens," adds Brooks.  "He loves bowling to left handers– he's a demon. He comes round the wicket and laps it up. 
"He's just a bit of a miserable git at times. I can have my moments but it doesn't take much for Josh to become a bit cranky. Look at his record though 100 odd wickets at 21s; he's a fine bowler in his own right.
Twirling away beneath the radar is Danny Briggs
"He and Lewis are competing at the moment for whose got the best celebrappeal. Josh didn't even appeal for one at Worcester and got a ticking off from the umpire. It's quite amusing to watch though when he just runs through assuming it's going to get given!"
Is he the most underrated on the circuit? Yes, thinks Overton; "He'll find something out of a wicket that not many would. He's not the quickest but he nags around the top of the stumps. 
"He challenges the batters to work out whether they have to leave or play the ball. That's massive with the new ball; they want to be able to leave a few and get their eye in but he doesn't give them any sights. It's always on the money."
"He'll very quickly lose that underrated tag because his record and reputation is growing week-by-week," according to Kerr, who believes he's a shining example to late bloomers. 
"It just shows that players develop at different rates. He's evolved and kept working at things. It's a great lesson to us all. If you keep working you can achieve what you want to achieve but maybe from a different direction."
That different direction is the switch to a new skill. Davey started out in life as a top-order batter – a fact that he's not shy in pointing out. 
"We spoke before the Worcester game and he was getting close to 100 first-class wickets and he said he'd like to have had 10 hundreds by now," explains Overton
"He does like to remind people pretty much every day that at Middlesex he was a batter," says Brooks. I'm like "come on mate you haven't got a first-class hundred yet so don't give it the big one!"
So has the man himself accepted that his batting takes a back seat?
"The 17-year-old in me will never let that happen! Maybe that's why I find it easier to relax when I'm bowling – I'm still convinced in  my mind that I'm a batter. I'm still a batter that bowls in my eyes." 
Whatever works Josh, whatever works. 
***
Once the openers see off the new ball on comes Lewis Gregory. 
That's if they're still there of course; in nine out of ten innings in the Bob Willis Trophy Somerset have struck within 10 overs. 
Gregory is arguably the most skilful of the bunch and took 59 wickets at 15s in the County Championship last year. 
He first came onto the radar with 18 wickets in the T20 competition back in 2011 by bowling real wheels. He was 90mph quick.
A run of serious back injuries forced him to evolve and there's no doubt he's made a success of it; 437 wickets in Somerset colours at the age of just 28. 
"Lewis is your classic skilful pitch up English seamer," says Brooks. 
"He's really good with the wobble seam; he tends to go to that quite early and nips it back. That gets him a lot of bowled and LBWs.  He can be quite attacking so might leak the odd boundary but when you're getting a couple of wickets a spell it almost doesn't matter.
"He's a genuine wicket-taker. When he's coming on at first change it's pretty special bearing in mind his record from last season."
T20 is the format Gregory enjoys greatest success; he skippers Somerset, spent the winter turning out for Rangpur Rangers and Peshawar Zalmi in Bangladesh and Pakistan respectively.
He hits a long ball and his all-format average hovers in the low 20s.
He's also a familiar name to England fans.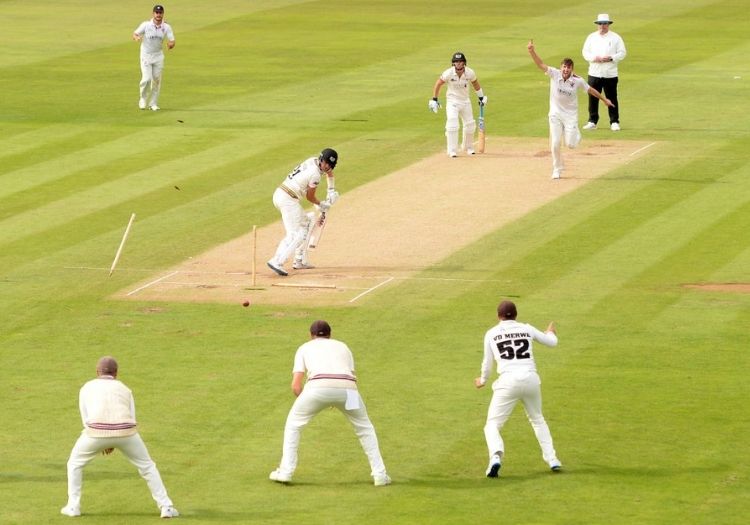 After several near misses he finally made his international bow against New Zealand in Christchurch last November. 
Despite the pandemic he's gone on to pick up eight caps in that format; all five games of that series and then a further three in the drawn series with Pakistan last month. 
His returns have been modest but it's still early days and Davey believes his team-mate will prove his worth.  
"He's the most skilful out of all of us and it's good to see him playing at a higher level. He's an international player who swings it away beautifully."
But as Overton knows so much of international success is down to luck; "It can sometimes be about a bit of luck, getting a chance, having a big game and you're in there for a little while."
It helps when you have a habit of finding a wicket from nowhere of course. 
"If a pitch is quite dry and we're going through a barren period he'll sap one out and we'll get going again.
"There are those bowlers that have the knack of taking wickets and he seems to have that. It's what you need as a side."
If Overton and Davey are boxers, Gregory is more a martial arts man. Whatever his internal feelings, he presents the picture of a man completely at ease; an admirable quality in a high-pressure environment. 
"He's a pretty calm laid back character. I've genuinely never seen him get the hump on or off the field," puzzles Brooks. 
"He's very jovial; nothing phases him. Before he goes out to bat he's laid back, joking around. When he comes back, whether he's got 0 or 100, he's pretty much the same. 
"He's a really good bloke to have around. He speaks sense, reads the game very well and he's that calming influence others."
***
Last but by no mean's least is Brooks; or the "old GOAT" as Gregory christens him. 
Been there; done that; got the t-shirt. Twice in fact – there's a pair of championship winners medals on his bedside table. 
When Yorkshire won back-to-back titles half Brooks led from the front; 68 wickets in 2014 followed up by 65 in 2015. 
These day's he's the elder statesman of the side. Albert to a trio of Bruce Waynes. Stationing himself at mid-off to whisper sweet nothings into the ears his team-mates. A reverse dementor, breathing life back into others.  
And his role has evolved too. 
"More often than not he's the guy that picks up the wicket or changes the tide of the game with the bat. There have been a couple of times we've behind the eight ball and he's got quick-fire runs," explains Gregory. 
Davey agrees "Jack has been the catalyst for an intensity shift a few times. He comes in, lifts the energy, and changes game. He's very good at flicking the momentum of the game back in your favour. And of course he's rocking that wolverine moustache at the moment!" 
Brooks, like Davey, was a late bloomer. His first-class bow for Northants didn't come until after his 25th birthday. 
But he's more than made up for lost time and now has 475 first-class wickets to his name at shade above 27. His team-mates value his experience.
"It's brilliant to have him. Even if he's not picking up millions of poles, to have that experience at mid-off to reaffirm what we are doing is right is fantastic," Gregory told The Cricketer.
Kohli must deliver, bubble life and Cummins expectation... IPL 2020 THINGS TO WATCH
"He's brilliant to have around the dressing room; he's one of those characters that has a lot of energy and loves the buzz of playing cricket."
That nous came to the forefront in the pseudo-semi-final at New Road a few weeks back. 
"To have Brooksy around is massive. Me, Lewis and Josh – we may have been around for a while but we're still quite young and are still learning," says Overton. He never takes anything too seriously and has a few stories!
"The last game against Worcester where it was getting away a little bit he was just reminding us to keep to our plans and keep sticking at it."
They say you can't teach an old dog new tricks, but Brooks is perhaps the exception that proves the rule. 
In his Yorkshire hey-day the new cherry was his prized possession. He was an attacking bowler, leaking a few runs but balancing it out with wickets.
But no one is exempt from improving and Kerr believes the fine drop of claret is ageing well after it's switch to the Taunton cellar ahead of the 2019 season. 
"Jack's an incredibly successful cricketer, but he's come into this environment and had to raise his game. Before he was incredibly attacking - we haven't taken that away from him but have asked him to be a little bit drier, keep asking questions and making sure its sustained pressure."
***
Then there are the understudies. 
"In a long season you need five or six bowlers at their pinnacle to win a championship; that's what we're trying to work for," explains Overton.
Injuries, fatigue and of course international call-ups all play their part. 
"The aim is to ensure we've got established international cricketers, playing on a regular basis to inspire the next generation locally," Kerr told The Cricketer.
"That's what we're looking for. In the short term that may impact performance – if you take Craig and Lewis out of the team naturally you're not going to be as strong. 
"But the challenge for us is to sustain success, make sure the depth is there, ensure that the pathway is working well so we've got people to step up and come in."
The back-up is provided by the twin Toms - Abell and Lammonby.
The former has, to say the least, a passable record. He didn't bowl in the early part of his career but helped himself to 19 first-class wickets in 2018 and 13 the following summer.
The need for his bustling medium-fast stuff has diminished this year but cleaned up the tail at Warwickshire taking 3 for 4.
His exploits have earned him the nickname the mop. "We get stuck into him – he loves it though," laughs Overton. "He's always looking after his average a little bit which is funny. He should probably bowl more than he does."
"He hates it," says Brooks. "He's the most humble man in cricket and doesn't like anything nice being said about him. He's mopped up a couple of times in the past; he obviously sniffs the opportunity for a couple of cheap wickets! 
"He's a skilful bowler and a good bloke to have around as fifth seamer. He's going to keep it tight and pick up the odd wicket. Whoever's getting wickets I'm happy as long as I can get the feet up and rest the old bones."
"In my eyes he doesn't bowl himself enough," adds Gregory. 
"More often than not bring teams on with eight wickets down and goes bang bang. I'm happy as it gets me off the park more quickly!"
Lammonby too is a handy left-arm seamer. Still finding his way in the game, he's made his mark with the bat at the top of the order with a pair of hundreds. But he's also got a wicket to his name and offers a different angle. 
"We'll see more of Lammers over the years," says Gregory "It'll be nice to see how his bowling develops in this format."
"There's something there with a ball we need to explore as soon as we can for the balance of the side moving forward - that will give us so many more options," adds Kerr. 
"Both Toms need to feel what it's like to bowl that kind of pressure; to be coming on when the attack's going at two an over and they need to sustain it. They need to experience that in the middle and learn from it and they'll grow into those kind of cricketers as well."
More of the same? A frightening prospect. 
***
Somerset have famously never won the championship. They'll need to be at their best at Lord's on Wednesday. 
Essex boast a formidable batting line-up. In Sir Alastair Cook they have arguably England's greatest ever, and in Dan Lawrence they could well have the next big thing. 
Skipper Westley has been out of touch this year but is a fine player, Adam Wheater has chipped in and Ryan ten Doeschate is the gift that keeps on giving. 
The quartet will fancy their chances. Don't count out the Leach effect either; he'll want to match Simon Harmer blow for blow. It could be a real humdinger.
For unrivalled coverage of the county season, subscribe to The Cricketer and receive 3 issues for £5
Please ensure all fields are completed before submitting your comment!