The Darren Stevens story
SAM DALLING: The Kent allrounder is a phenomenon. A recently agreed new deal will take him into his 46th year. Sam Billings, Joe Denly, Vince Wells, Azhar Mahmood, Paul Nixon and Daniel Bell-Drummond among others describe a one-off teammate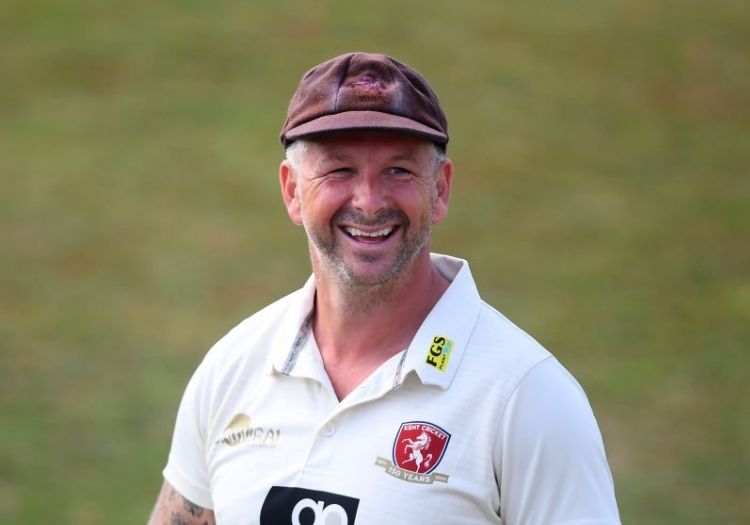 If you really are only as good as your last game, Darren Stevens has been bloody brilliant for the best part of two decades now.
With 27,000 runs to his name and a career haul of 800 wickets it's easy to see why, according to Joe Denly, "the lads are calling him the GOAT."
The sands of time might be against him but the evergreen allrounder continues to defy the odds.
On this summer's evidence, he will be the first name on the team sheet in 2021 after penning a contract extension last month. Remarkably, his stay at Kent will extend beyond his 45th birthday.
"He's Peter Pan," former teammate and close pal Paul Nixon puts it.
"If you're 44 and doing the same thing as a 26-year-old you're probably not going to have a job in cricket," says Kent opener Daniel Bell-Drummond.  
"That's how good he's been; he's been better than anyone else. That's the most remarkable thing. There's no way he's on the wane – he's still at the peak of his powers with the ball."
And as England batsman Sam Billings says: "He's a 44-year-old turning 26. His numbers in both disciplines are phenomenal. The biggest lesson is you don't have to be the complete cricketer by the time you're 30."
***
Stevens started his career at boyhood club Leicestershire. His first-class bow came in 1997 against Cambridge University but it took a while for him to become established in what was a strong outfit at that point.
His reputation preceded him. Darren Maddy's old man had tipped him off that Stevens was coming through the ranks and Vince Wells, skipper of the county at the time, saw they youngster's ability first-hand.
"I went in to do some coaching in the winter at a school and he so natural, even at the age of 16. He hit the ball so cleanly. As a coach you'd have two or three looks and think who is this young lad?"
Over an eight-year spell Stevens pulled on the Leicester jersey over 200 times. He was purely a batsman at that point and while there were flashes of brilliance, consistency eluded him. That's just how he played.
"At Northampton he was playing beautifully but then the spinners came on," Wells recalls. "They put a man back and he hit it straight down deep mid-wicket's throat.
"Jack Birkenshaw and I sat down and explained it's harder for the other players coming with the spinners bowling if he gives his wicket away; he did the same thing second innings!"
Arguably his finest hour for the club came at Arundel against Sussex in 1999. Opening the batting he made a beautiful 130 – his maiden first-class ton. The great Colin Cowdrey was there to witness the knock and many believe it was the catalyst for Stevens' future move to Kent.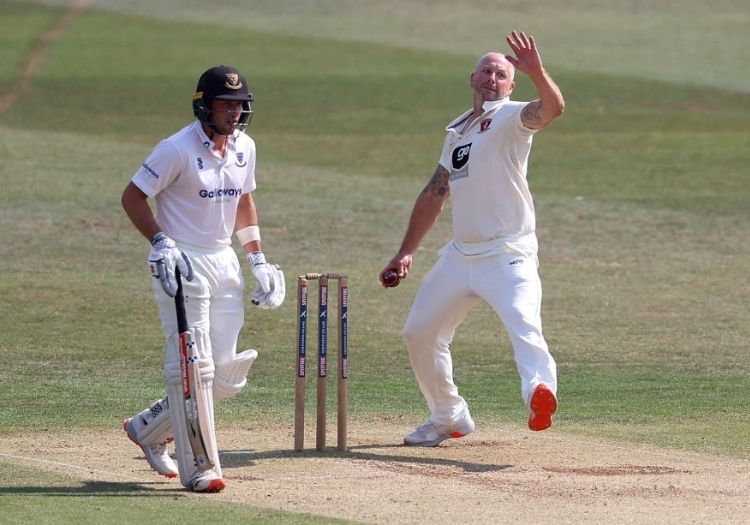 Stevens' new contract will take him into 2021 and his 46th year
It should have been the sliding doors moment. But it wasn't to be. As Maddy puts it: "He finally made his way into the team and we expected bigger things. Sadly, it didn't quite work out as planned."
His returns weren't awful but a teacher might have scrawled "must do better" on a school report. And despite winning the Twenty20 Cup in 2004 his time at Leicestershire was done. Devastated, Stevens turned to former teammate and friend Neil Burns for guidance.
"Darren had outstanding gifts but unfortunately for him became a bit of a luxury player at Leicestershire. When he was released he rang me up; he was devasted," he explains.
"I put it to him there were three ways to go; do something else with life and play cricket for fun – that's what he'd been doing really, go somewhere else and continue what you've been doing or go on a journey of self-discovery and see how good you can be.
"We went back to school. Slowly but surely he became a professional cricketer rather than a gifted cricketer who was being paid."
The pair wrote to the majority of counties offering Stevens' services. Only David Fulton at Kent showed an interest. The rest, as they say, is history.
***
From the moment Stevens joined Kent ahead of the 2005 season, things clicked. In his first campaign he notched up 1,277 first-class runs at a shade under 50.
Hero status achieved instantly. He's since passed the milestone twice since and has 30 first-class hundreds for the county. Matt Walker, now in charge at Kent, was on the playing staff at that point.
"I remember he turned up here for Leicestershire in this bright red Audi TT with a horrible mullet, and thinking: 'This is the kid they're talking about.'"
Before long they were out in the middle together.  
"I batted a lot with Darren. I'd be battling away on 40 or 50 and he'd come in and his off the mark shot would be the best of the day.
"At his peak with the bat he was devastating in one-day cricket. He could turn a game on its head in 10 overs – he was that good."
That white-ball prowess helped the county triumph in the 2007 Twenty20 Cup final over Surrey. Simon Cook joined at around the same time as Stevens and remembers that night at Edgbaston fondly.
"He hit the winning runs and had to go off for drugs testing," he says. "He came back a couple of hours later in still in his pads. We'd had a few Coca Colas by then and when he got onto the bus back to the hotel he was still in his pads! Even in the bar in the hotel still in his pads!"
Stevens was a key component of a side that dominated domestic one-day cricket for the next few years.
So too was Pakistan star Azhar Mahmood who recalls Stevens as an innovator. "When we batted, he used to tell me which way the wind was blowing so we could target that side. I said: 'Darren, I don't care about the wind. I just need to smite the ball.'
"He was a massive striker and I said why are you looking at the wind, you can clear the rope anyway. Then I started playing golf with him and realised he was saying the right thing."
***
Without fail, Stevens' teammates past and present talk of how beautifully simple he makes the game look. Whether with bat or ball, they're all left scratching their heads as to how he does it.
Hampshire man Sam Northeast played alongside Stevens for almost a decade and describes his former teammate as a "freak," adding: "He hits a cricket ball unbelievably well."
"He had that aesthetically pleasing way and style about him that made it look easy. It's been referred to as Gower-esque," explains Maddy.
"I was in awe of his ability. He found the gaps so simply and he had such a pure outlook," adds Burns.
Wells reflects: "Whether he scores 20, 25, 50, 75 or 100, they all look pretty good. Even if he wasn't scoring runs, he never looked out of form. If he only got eight, they'd be two great-looking fours."
And as Walker says: "The power, the skill the relaxed nature – it just seemed he was having great fun at the crease when mortals like myself were having to fight bloomin' hard to get the runs."
Josh Breed skippers Claremont CC in Cape Town, where Stevens spent a few years as a pro. Laughing, he recalls batting with the Englishman. "I'll be scratching around and he'll hit a couple of bombs," he chuckles. "I'll ask him how and he explains it so simply. Stevo, it's not that simple for all of us!"
It was the same with his bowling. Charlie Hartley was at Kent between 2014 and 2017 and recalled a time his senior teammate tried to give him some pointers. "He said: 'Mate, just do this,' and I said: 'I can't Darren, I'm not as good as you – it doesn't work like that for everyone else. I can't just rock up and do what you do!'"
And Jason Gillespie, who knows a thing or two about seam bowling, believes the veteran "has shown that if you present the seam and challenge the front foot defence in championship cricket you can be successful regardless of pace." Simple as that.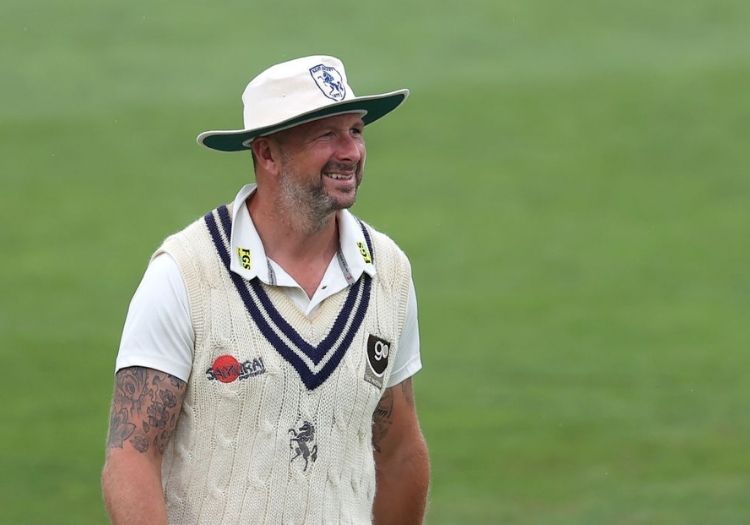 The allrounder has taken 820 professional wickets
***
It's easy to forget that Stevens hardly got a look-in with the ball for years.
"He was a net bowler who'd come fiddle around bowling away swing," recalls Maddy. "He wasn't particularly consistent and people didn't take him too seriously but he kept persevering."
Even following his move south, opportunities remained limited. His first 14 seasons as a pro yielded a meagre 94 first-class wickets.
Then in April 2011 – while in his mid-30s – the stars aligned. Kent were short of frontline bowlers and Rob Key informed Stevens he was on new ball duty for the first game of the season. Essex were the opponents at Chelmsford.
Sir Alastair Cook opened up and was in all kinds of trouble. When the England opener fell for 6, caught behind by Geraint Jones, the floodgates opened. Six for sixty; a maiden five-wicket haul. He's never looked back, picking up no fewer than 450 victims since in the first-class game.
It might have been so different: "In the first year he was here, he said he was going to bowl off-spin and spent pre-season doing that," explains Walker.
Fortunately for Kent, it didn't last long. The switch to medium pace came and the rest, as they say, was history. The story goes that even the great Kumar Sangakkara found him hard to deal with at Beckenham. It might not look like much but looks can be deceiving.
"It's not too taxing - he just ambles up to the crease," says Denly. "A few years ago, I looked at him and though it can't be that hard, I'll have a piece of this and bowl a few seamers. Yeah, it's not that easy.
"I'm sure there are many that look at his bowling and think: 'How can you not get runs against that?' He's a genius. He is absolutely phenomenal with the red ball."
"It's the most horrendous thing to face in the world. Any sort of lateral movement in the pitch, he will find it," adds Billings.
Nottinghamshire opener Chris Nash is a close friend of Stevens and explains: "I've got to keep him close otherwise he's got too much on me; what he does is amazing.
"People use his name quite a lot because he's a medium-pace English seamer but he deserves a lot more credit than he gets. He's got as much skill as anyone who bowls around the world."
Gillespie, who arrived at Kent for a short stint as coach back in 2007, was initially sceptical about Stevens' ability to cut the mustard in the top tier. He soon saw the light.
"When Dizzy came in he said to me: 'You've got to find someone else to open – it's not going to happen in Division One for Stevo"," Northeast recalls.
"After two weeks he'd completely changed his mind and thought Stevo was the most skilful bowler he'd ever seen. He took back everything he said."
***
A hostile spell of fast bowling gets the juices flowing. A bit of chin music. It's the stuff of nightmares for batsmen. Humans are conditioned to react to danger. There's something sadomasochistic about it. But Steven's evokes fear of a different kind.
The cold sweats of his opponents aren't over evading 90mph bouncers. No, it's the potential embarrassment that raises the anxiety levels. They know what's coming. They just can't do anything about it.
"He has that ability to make you feel absolutely useless," says Nash. "He preys on that – he knows for every ball he bowls you could probably play five or six shots but you play a shot and you miss it or nick it. He stands at the end of his mark, waddles in and it hits the pitch and gains a couple of yards.
"He's got so many people in his pocket. I count myself very proudly to have been there many times. I know I'm going to get a replay of my dismissal sent to me on WhatsApp at 6.05 that evening."
Denly agrees: "A lot of the chat around the counties is about how to face him; what do we do against Stevo?
"He gives a lot of batters nightmares and a lot of sleepless nights. It's nothing to do with pace; just pure complete mastery of his work."
***
A man with Stevens' pace – or lack thereof – can be problematic for the wicketkeeper: too far back as a gloveman and edges won't carry; step up to the stumps and the danger is the ball will move so much you look foolish.
"In red-ball, it was tricky – he still nips it around," admits Billings.
"You have to stand back but you're so close to the stumps you'd rather stand up. You're in no man's land because the nicks come so fast and low."
Then again, it's never boring, as Ollie Robinson explains. "He's brilliant to keep to as you're always in the game with him.
"Either side of the bat – you've just got to react to what he does. He knows exactly what he's doing and has all the tricks. My job is to react to what he does. You can kind of see his plans and get a feel for what he's trying to do but you can never quite predict."
With such ability to move the ball in the air, does Stevens help out his wicketkeeper?
"Absolutely not," laughs Billings. "He finds it quite funny if you go the other way. You've just got to get something on it. With someone like him you're always in the game."
***
Life's too short to do things that aren't enjoyable. Find a passion and run with it. Love shines through. It's easy to tell those who are going through the motions.
Stevens' affinity for the game is as pure as it is durable. He's infatuated. He wants to be in the middle scoring runs or taking wickets for Kent. Nothing more, nothing less.
The county's young wicketkeeper batsman Ollie Robinson is in awe of the man. "He absolutely loves it," he says. "He's still young at heart, although he is really old – he's young at heart. He's brilliant."
According to Cook, now bowling coach at Kent, the allrounder's love for the game is unwavering. "He genuinely loves playing for Kent," he adds. "He loves the game. He loves getting in the dressing room and being around the boys."
"The number one thing that Darren has as well as a god-given talent is a love for the game and a love for learning," explains Burns.
As Northeast puts it: "I'm sure when I'm 45 I'll be grumpy and moaning about all the youngsters."
"He's one of those guys whose always got a smile on his face.  Mr Positive. He puts a smiley face on all his kit – pads, gloves and end of his bat," says Denly.
"He doesn't take things too seriously. He understands that playing cricket for a living is an absolute dream."
Wells ran into Stevens by chance while out in South Africa a few years ago. The former was watching his son when Stevens arrived.
"I asked him where he was playing and he told me he couldn't play in the first team game and so was just having a run out for the club third eleven.
"Some pros would have preferred an afternoon on the beach but there he was, and you wouldn't have known any different. He turned up got his overs under his belt and was one of the boys."
The secret to his success?  Stevens does it does it his way. Always has, always will.  
"Darren lives in Darren's world; Stevoland," Walker says. "He has an incredible way of living day by day. He turns up, plays cricket, gets on the golf course, spends time with his family and repeats. There's nothing else that comes into his mindset. He has this inner ability, self-belief, drive and hunger. That's why he's still going."
"He's full of fun, full of life," adds Nixon.
"He's so relaxed, and not got any angst. He's one of the good guys. He plays the game the right way; if there's a wide full one he'll try and hit it for four rather than leave it. He plays positive cricket with a smile on his have. He's always looking for fun and mischief."
***
Stevens is destined to end his career without an England cap. He came close in 2010, amassing 239 runs in five innings for England Lions against West Indies and India.
It wasn't to be though; despite three half-centuries in the tri-series, the elusive call never came.
Of the 15 men used by the Lions that summer, 11 either were or became full internationals. Many believe he was unlucky not to get the nod.
But he enjoyed considerable success with the white ball abroad in the early editions of the Bangladesh Premier League, where his contributions helped secure back-to-back titles for Dhaka Gladiators.
Arguably had he been born a decade later, he'd have spent his days jetting from tournament to tournament.
"He got the hang of T20 cricket ahead of everyone else," says Northeast.
Ian Pont, coach of the Gladiators, was the man who earmarked Stevens as the perfect addition for his side.
"There were two reasons we picked him; he was adaptable and his input into the squad is valuable," he explains. "He's not outspoken and loud and shouting the odds in the corner. He's very thoughtful and measured; when he says something, he means it and it has a value.
"You see around the world players don't have a plan in T20. They just have a swing. That's not how T20 is played. You have to hit the fence and that's what Darren does.
"It sounds stupid but for all the power-hitting where people hit the roof or it goes 105m, it doesn't matter; you just have to avoid the fielders and that's one thing Darren has been very good at throughout his career – finding gaps."
And of course, he was the consummate professional. "He'd often say: 'Ponty come and throw some to me,' Pont reflects. "We'd stand in the middle and do some range-hitting with a couple of scouts on the fence. He'd be very specific about what he wanted to do.
"It wasn't random. I found that very refreshing and very professional – Keiron Pollard did the same. A lot of the local Bangladeshi players noticed Stevo staying on a little bit or doing something different."
Still, that doesn't mean he was first on the training ground. "He strolls in at five to ten and casually strolls out ready to go about two minutes past 10," says Denly.
"I don't know whether he does it to annoy the captain and coach. He's never taken any shortcuts though."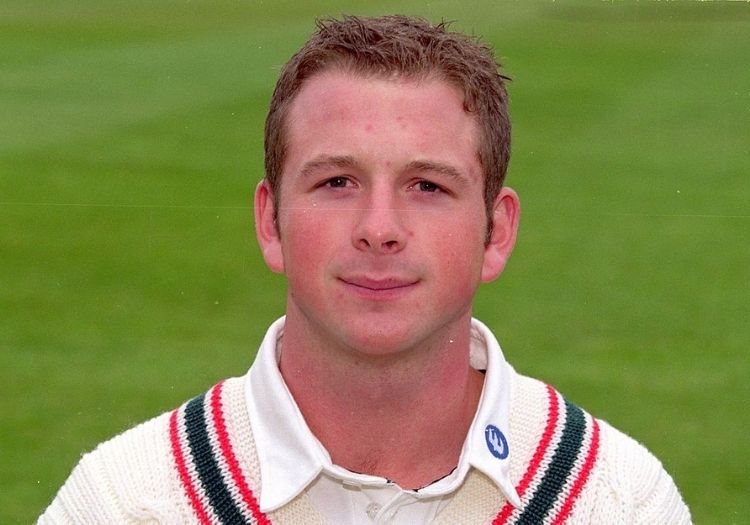 Stevens began life at Leicestershire
***
Stevens has time for everyone, always willing to pass on nuggets of wisdom to those coming through the ranks. With his record, he could easily turn up, do his job and walk away. Many do. But that's not his style. 
"There's no pretence when he's around," Cook explains. "He doesn't think he's the man and everyone else should bow to him. You can't really speak highly enough of how he is around with the young lads."
Mahmood has a similar story to tell. "It doesn't matter if you're an international player or a young player. He's always there for you."
"You hear some stories where the older senior pros don't have anything to do with the youngsters but Darren is the complete opposite. He is one of the more welcoming members of the squad," explains Robinson.
"He's always there to help and give you a few tips along the way. It's great to see a guy who's 44 still go about his business the way he does – he's still so keen to learn and develop his own game."
As Hartley bluntly puts it; "As someone whose left the game the big indicator is what someone is like to people who are no longer useful to them. He's a brilliant example – I don't play county cricket, am not a name, not useful for him in any other area of life yet he still has that respect and is still a nice guy to chat to."
Nash was in South Africa over the winter as well and would often drop in on his friend. "He will always help people," he adds. "He loves speaking to the younger lads. That's so important now. You get people like him who have been around so long, any young player would be an idiot not to tap into that knowledge."
Breed was one of those who benefited from that help at Claremont. "He doesn't just stick to who he thinks is good. He'll help the guys in the fourth team get into the third team. It could be so easy for him to come across do his thing and go home. He's genuinely interested in improving the club from top to bottom."
And as Gillespie puts it: "He's played and watched our sport evolve in a time when our sport is having one of its most innovative periods in its history. That knowledge is worth harnessing."
***
At one point it looked like 2019 would be Stevens' last summer in Canterbury. A poor early season run led to the conclusion that the time had come to move in a new direction.
But typically, he wasn't having it. There were no tantrums or toys chucked from the pram. He responded with something much stronger; runs and wickets, making 88 in the first innings and a pair of five-wicket hauls in a win against Nottinghamshire at Trent Bridge.
That was followed by a career best 237 and seven wickets against Yorkshire at Headingley.
Time for a rethink? You bet.
"The runs weren't coming and he wasn't at his best with the ball," explains Walker. "He still wanted to play but he respected the decision I think. He got where we were coming from.
"Then he went and did what he did. That's him. What do you do? We aren't stubborn enough or proud enough to stick by the decision. It was obvious we had to rethink this.
"We weren't testing him; it wasn't a masterstroke. It's great to see a player prove us wrong – want to them to do that all the time. He certainly did that and it became a no-brainer."
Bell-Drummond was watching on from the dressing room that day in Yorkshire and couldn't believe what was unfolding before his eyes.
"When he came in at 30 for 5 and hit a double hundred in less than two sessions, that's when I thought maybe this guy is superman. What a day to save his personal best for. Everyone has to move on at some point but clearly he didn't think it was then!"
In a nutshell, as Mahmood so eloquently puts it: "He's just a nice guy, such a humble guy. It was great sharing the dressing room, the pitch and the ball with him. He called me Bhai, which means brother. There is a never a dull moment for Darren Stevens."
The king is not dead yet. He's very much alive. And long may it continue.
For unrivalled coverage of the county season, subscribe to The Cricketer and receive 3 issues for £5
Please ensure all fields are completed before submitting your comment!