A broadcast is only as good as its game, and the cameras were handed a cracker
NICK FRIEND: Domestic women's cricket has never been televised quite like this – not on these shores, at least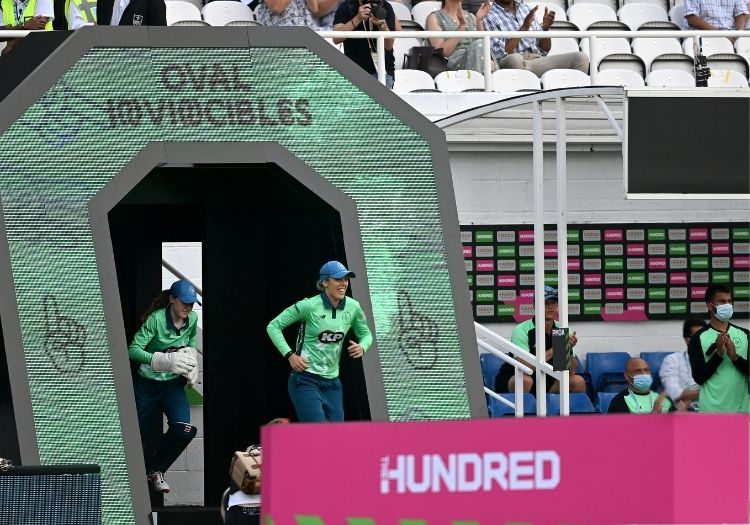 It was the start that The Hundred needed: if Beth Barrett-Wild could have painted the competition's ideal opening night, it would surely have looked plenty like that. From the pre-match fireworks to the post-game celebrations, with the small matter of 198 balls in the interim. Difference was promised, and difference was certainly delivered.
At the Kia Oval, 7,395 spectators shuffled in: one way or another, it will mean something in a decade's time to have been at the tournament's very first game. At home, judging by social media timelines – albeit rarely a wise barometer – plenty more were tuning in too. Supporters and sceptics had a choice: Sky or BBC. In my case, both.
Domestic women's cricket has never happened quite like this – not on these shores, at least. Across two channels, viewers heard from Isa Guha, Kass Naidoo, Nasser Hussain, Carlos Brathwaite, Heather Knight, Issy Wong, Rob Key, Michael Vaughan, Dinesh Karthik, Phil Tufnell, James Anderson, Ebony Rainford-Brent, Mel Jones and Alex Hartley.
Hartley, Manchester Originals' left-arm spinner, who will form part of the live coverage over the next month, tweeted afterwards that she had "never been prouder to lose a cricket game". During play, her face popped up occasionally on the Beeb's broadcast in pre-recorded segments, telling the tales of her teammates and spilling the beans on Georgie Boyce, a keen motorcyclist from the age of four, apparently.
She was far from alone, though. This was the evening that the stars came out. On the BBC, there was a Tailenders skit to begin with, featuring Felix White and Greg James, as well as Anderson. England's all-time leading Test wicket-taker was at the ground and was interviewed at the halfway stage; Brathwaite sat boundary-side with a fixed microphone up to his face, providing a regular accompaniment to the commentary of Vaughan, Tufnell and Guha, who hosted the whole shebang.
There was an appearance, too, from Mollie King, part of The Saturdays and engaged to Stuart Broad, Anderson's new-ball partner, while Becky Hill chatted beforehand and performed between innings, sporting a luminous orange dress – Birmingham Phoenix attire perhaps for the Worcestershire native?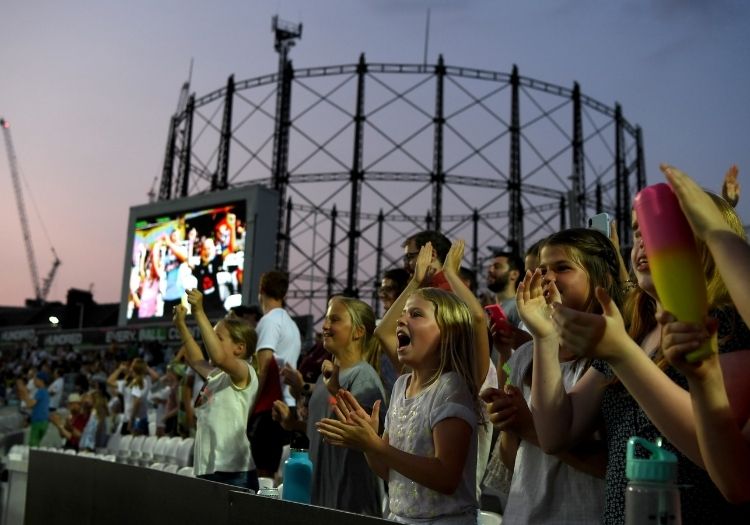 BBC and Sky were both in action for the opening night of The Hundred
In an "isolation box" – as it was ominously put – sat England captain Knight, at times the star of the show for the national broadcaster. She was placed in her own booth with only a couple of water-bottles for company – the price you pay for fame. The thought of Knight mixing with the rest of the commentary team and catching Covid, understandably, is a risk not worth taking. She was typically insightful and spoke well beforehand, when she stood alongside Brathwaite and Guha on the Kennington turf to explain quite what this all means for the women's game.
Meanwhile, Vick Hope seemed to pop up just about everywhere, speaking to Anderson and King but also members of the public – one of whom, a young boy, was so overwhelmed by his TV debut that he couldn't remember which cricket team he played for when the question came. As Hope replied, however: that didn't really matter, so long as he was enjoying himself.
To be mildly sceptical of the BBC line-up, Vaughan and Tufnell initially seemed an odd duo for something like this, with freshness at its core. To their credit, though, they grew with the cricket itself. The addition of Guha to form a trio gave – as well as a female voice – genuine expertise on the players in front of them, while there were also simple breakdowns of terminology like 'swing' and 'dot-ball', all part of a conscious push for accessibility.
For Sky, commentary stints were divided between Hussain, Jones, Key, Rainford-Brent and Karthik. As ever, they were spot on – the gold standard in cricket broadcasting. From the moment that Key described the dark, strange venue used for the coin toss as "a DJ area or whatever it's called", there was a light-heartedness mixed in with the channel's usual effort to educate and add value. Using an avatar of Mady Villiers before the game began, Key talked through her skillset and technique as an off-spinner; you sense there will be plenty more where that came from over the course of the next few weeks.
Alongside those familiar voices, Naidoo was an assured, classy presenter, with Wong the surprise package. Uncapped by England, desperate to win the pace race and only 19 years of age, she was confident enough to share a joke with Hussain, more than three decades her senior and the very best around at what he does. With 16-year-old Alice Capsey opening the batting for Oval Invincibles and Wong the NextGen face of Sky's production, there were role models aplenty for many young girls back home to carry forward as brand-new inspirations.
And they will be able to watch Wong in action at 3pm on Friday. Sky began proceedings by tapping into an open goal: The Hundred in 100 seconds – a premade VT on the rules and regs, starring Ebony Rainford-Brent and – crucially – a host of men and women in conjunction: Joe Root and Alex Hales, but also Knight and Alice Davidson-Richards.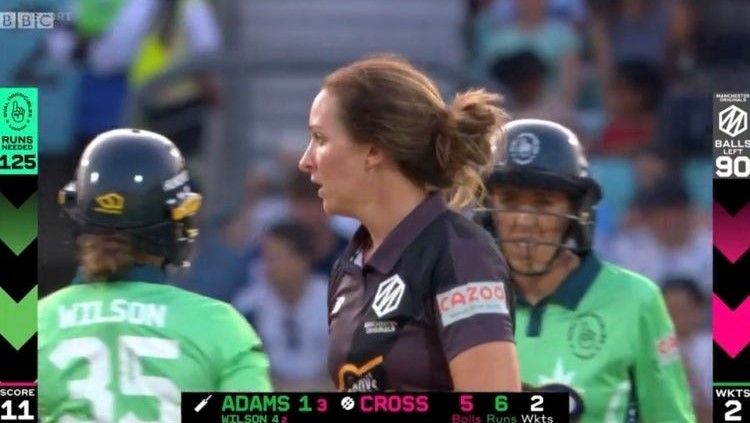 The on-screen graphics that caused plenty of debate (image credit: BBC)
Among the graphics, there were winners, losers and slow-burners, while the lack of any players mic'd up was a surprising – if refreshing – omission. The lines through batters already dismissed on the scorecard are a masterstroke, inarguably unthreatening and – you never know – perhaps even helpful to some watching at home for the first time. On occasions, the batting card would slide up alongside the live feed to coexist peacefully – historically, an absolute no-no, but here another useful addition.
When Tim Robinson inexplicably failed to hear an outside edge off Emma Lamb's cut shot, it meant an early trip to the third umpire's chair and – for a spot of history – the first-ever use of the Decision Review System in English domestic cricket: E. Lamb 0 (2), ct S. Bryce b M. Kapp. Perhaps it was helped on this occasion by the obviousness of the spike on Snicko, but the operation was far quicker than normal. It came with a curious throwback as well: a live feed from inside the DRS truck.
Going by Twitter, the most outrage surrounded the twin bars that framed the screen: on the left-hand side was the score, on the right were the balls and wickets. Gradually, they would rise as the runs increased and the innings progressed. In the middle, where we are used to seeing our fundamentals, we were instead given individual scores and bowling figures.
It was jarring and will take some time to get used to – not least the vibrant colours and the fact that key information was spread across three different parts of the screen rather than one – but the simplicity of the individual columns make sense in the context of the message that The Hundred seeks to put across. If every ball counts, then make it look that way. This seemed a fair enough attempt – Pointless-like in appearance. Ironically, Richard Osman tweeted in with his own praise – and there's a man who knows what successful TV looks like, even if the animation from Hundred logo to match camera almost missed the first ball – a wide from Marizanne Kapp.
By the end, dusk had set in and a thrilling finish had been created via a fine partnership between Kapp and Dane van Niekerk. A Mady Villiers cameo aided van Niekerk once Kapp, her wife, was dismissed, but it was the South African's match-winning outside edge for four that provoked a roar from a crowd thoroughly entertained by what they had seen.
Hussain put the finishing touches to the night, launching into a terrific, impassioned promotion of the women's game, declaring himself "sick to the eyebrows" of its critics. The broadcast, he pointed out, is only ever as great as its game.
And on lift-off night for The Hundred, Sky and the BBC were handed a cracker.
Please ensure all fields are completed before submitting your comment!