Safyaan Sharif aims high as Scotland set off on T20 World Cup campaign
AADAM PATEL IN ABU DHABI: After their last escapade at the competition in 2016 ended in the first round, Sharif is optimistic that this time the side can go one better, thanks to the brand of cricket they expect to adopt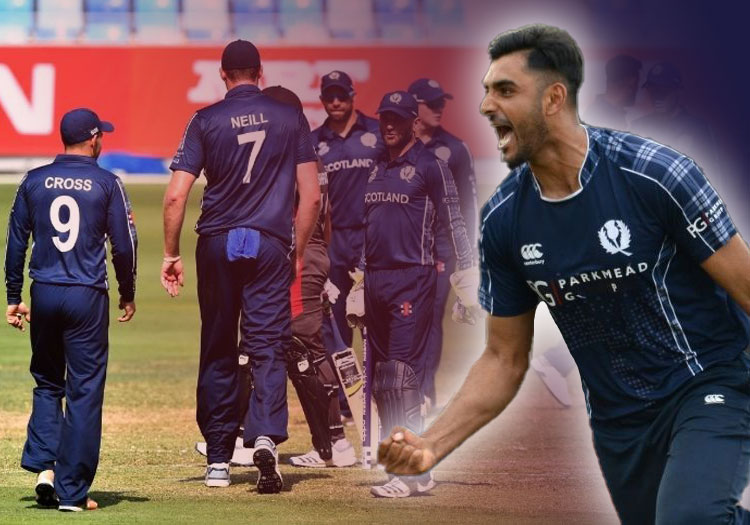 He is Scotland's most prolific international wicket-taker and now Safyaan Sharif is ready to spearhead his nation's T20 World Cup campaign.
Scotland's tournament begins on Sunday against Bangladesh in Oman, and a victory would put Sharif and his teammates in an ideal position to secure qualification for the Super 12 stage and match-ups against the world's major cricketing nations.
After their last escapade at the competition in 2016 ended in the first round, Sharif is optimistic that this time the side can go one better, thanks to the brand of cricket they expect to adopt.
He said: "We're going to play a fearless and aggressive brand of cricket. Associate cricket has improved massively since then and I'm confident that we can give anyone a competitive game.
"When we beat England (in 2018), you could see how much it meant for us as a nation and that's certainly something we believe we can do against teams during this tournament as well."
Sharif made his debut in 2011 and is now an experienced member of the side. Aside from taking the famous wicket of Mark Wood to take Scotland to their first victory over England, Sharif is renowned for his variations and ability to bowl at the death.
On the slow, spin-friendly wickets out in Oman and the UAE, as seen in the IPL, he believes that the Scottish pace attack will still have an important role to play alongside the spinners.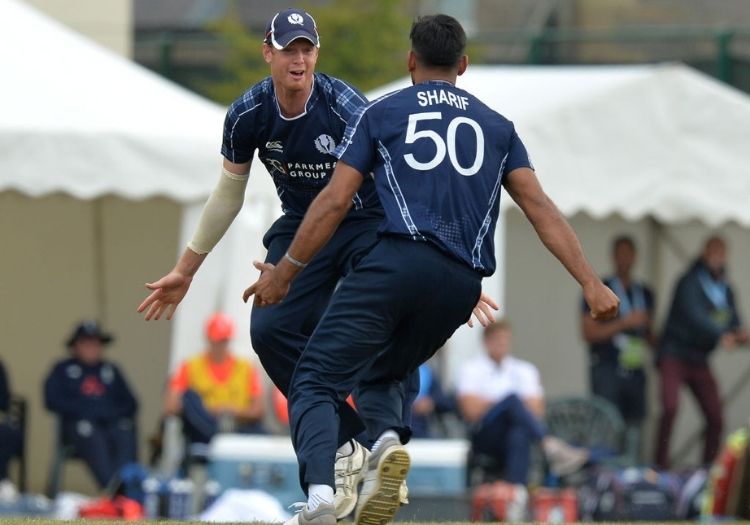 Safyaan Sharif celebrates a wicket against England in a famous Scotland victory in 2018
"The wickets here are flatter and slightly slower but our seam attack is pretty good. We need to take early wickets in the powerplay and bowl well at the death. Games could go right down to the wire so our role is absolutely vital."
The tail getting runs with the bat could also be the margin between winning and losing, between qualification and elimination, and batting is something that Sharif and the rest of the side have been working on with former England international, Jonathan Trott, who has joined the coaching staff for this tournament.
"He's been quite good with our top order batters and with everyone else," Sharif said.
"We've worked on a few technical issues and the small things that I can do that will help my game. The experience that he has, the mental skill that he has as well, he's provided that too."
Sharif's skills improved considerably when he spent time in Pakistan at the age of 19. He went flew out to the country to develop himself as a cricketer with the help of family and, shortly after returning, made his debut for Scotland, taking 4 for 27 in his first match against the Netherlands.
"Pakistan is such a mad cricket nation. Playing cricket pretty much daily helped me especially when I came back to Scotland. You're exposed to so much talent and you get to learn. I wanted to develop the art of reverse swing.
"As a fast bowler, towards the death you want to get your yorkers in and try to get the ball back in. I used to just be quick and quite erratic and before that, I never had the skills that I have now like swinging the ball and bowling slower deliveries. I also became a much better batter after that trip. Before that, I was just a bit of a slogger. You have to take a bit of responsibility with the bat, especially at international level."
He credits the mental toughness instilled in him and the self-discipline it encouraged during his stint in Pakistan for his development. For Sharif, it was a world apart from the cricketing culture in Scotland and a trip that transformed his fortunes. It was tough but he believes he came out a better player and a stronger character.
Sharif needed that self-belief to get over the disappointment of missing out on playing at the 2015 World Cup. Despite being influential in qualification for the competition, claiming 14 wickets, Sharif didn't feature once in the actual tournament.
"I was disappointed that I didn't play one game, but that motivated me to become stronger and better," he said.
"From then on, I knew that if I wanted to play for Scotland, I had to perform or contribute. Alhamdulillah (all praise be to God) that's been working for me since and I think I've progressed a lot since then."
Now a senior member of the Scottish squad, Sharif understands the responsibility that he has and is excited about the challenge that lies ahead.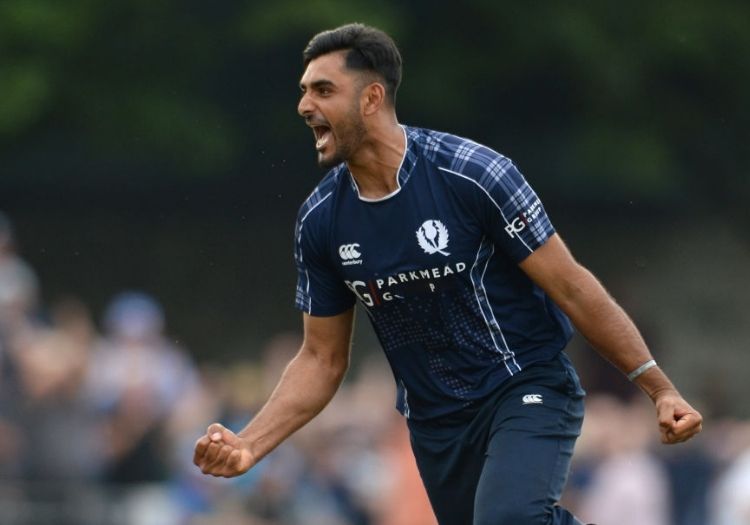 Sharif is hoping to lead at Scotland charge at the T20 World Cup
"As a senior player, people expect you to do well and obviously that's a challenge but I'm pretty happy and confident with where I'm at."
Scotland last beat Bangladesh in 2012.
"It's going to be a tough game," Sharif said. "They're a strong side but we have beaten them before in a T20 so I don't see why we can't turn up, play to our guns and look to get victory"
A win could set Scotland on the road to memorable encounters in the Super 12 stage, and - having already got the wicket of Chris Gayle in his locker - Sharif is targeting a few more major scalps.
"There's so many batters I want to dismiss, but probably Babar Azam if I had to choose one. I'd love to get him caught behind the way I got Chris Gayle. It would be good to get a top-class player like Babar out."
In a week where Scottish football has brought joy to the nation with successive victories on the road to Qatar for the FIFA World Cup, Sharif and the Scottish side see this tournament as a massive opportunity for cricket in the country as a whole, to potentially inspire a generation.
"We have lots of Scottish cricket followers and youngsters and we just want to inspire as much as we can. So it's important for us to do well in this tournament not just for us as players, but for the whole of Scotland. We're trying to increase the growth of cricket in Scotland which has shown massively over the last couple of years."
T20 World Cup team guide: Scotland
T20 World Cup Hub: News, features, stats, scores
Please ensure all fields are completed before submitting your comment!