My scariest moment in cricket: Our team pick out harrowing incidents as fans and players
The Analyst: Inside Cricket podcast is this week looking for listeners and readers of The Cricketer to send in their scariest moments in cricket. Here our writers pick out the times they felt most afraid...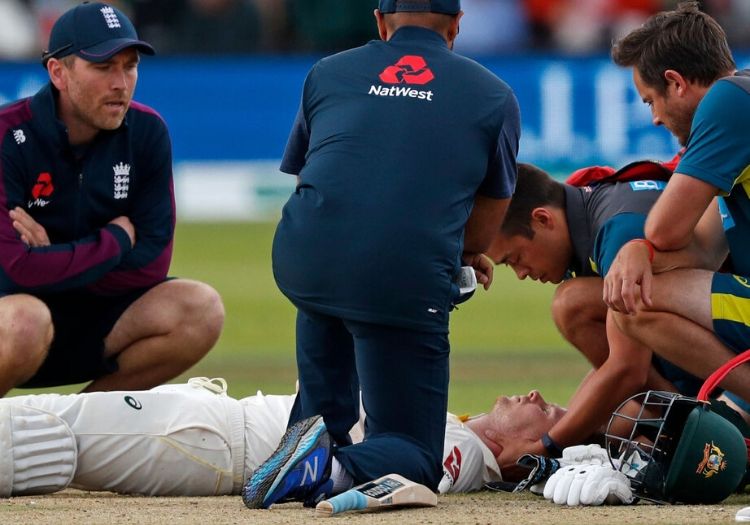 Send your scariest moment in cricket to Simon Hughes and The Analyst: Inside Cricket podcast by commenting below, emailing simon.hughes@thecricketer.com or sending The Cricketer a direct message on social media
SIMON HUGHES - THE DAY I ENRAGED IMRAN KHAN
I had many scary batting experiences facing the fast bowlers – mostly West Indian - of the 1980s.
I was clattered on the head third ball by Sylvester Clarke the first time I faced him: luckily after that we declared. I was nightwatchman against Colin Croft, Patrick Paterson, Franklyn Stephenson, Malcolm Marshall and Allan Donald and once gave myself out to an improbable (and ungiven) snick having played and missed several times at Marshall.
When I returned to the dressing room and said that I wasn't sure I'd hit it, someone from the abck of the room said "I think his arsehole fell out!"
But actually the scariest moment was in a match at Hove. I'd been bowling to Imran Khan and had just completed a seven-over spell on a hot day. When Phil Edmonds, our Middlesex captain that day, said "okay have a blow, Yozzer", Imran overheard.
"Are you coming off?" he asked. I replied that I was. I was the only quick bowler in the Middlesex team that day so Imran signalled for the 12th man to take his helmet off and bring out his floppy hat. Seeing this Edmonds at the end of the next over suddenly said "go on have one more", adding "and let him have one!"
Imran stuck with the floppy and third ball I bounced him as instructed. He jerked his head back in surprise and the floppy fell on his stumps. He stormed off in high dudgeon.
Of course when I came in to bat at No.10 he was bowling down the hill at Hove (as the pavilion is side-on to the pitch at Hove the bowling always looks faster there than at other grounds). I had sourced as much protection as I could from the dressing room, including stuffing a towel down my shirt as a chest protector. It didn't help.
Imran set a very attacking field and the sight of him steaming down the hill towards me was genuinely terrifying. I knew what I was going to get. Sure enough it was a barrage.
Rip-snorters flying past my nose, I got one on the upper arm and one on the head via my glove which flew over the keeper for four. When I eventually fended one off to be caught at short-leg I almost said thank you to the fielder. Imran never forgot either. He clattered me twice on the head in successive balls the next time I faced him at Lord's. I never listened to any advice from Edmonds ever again.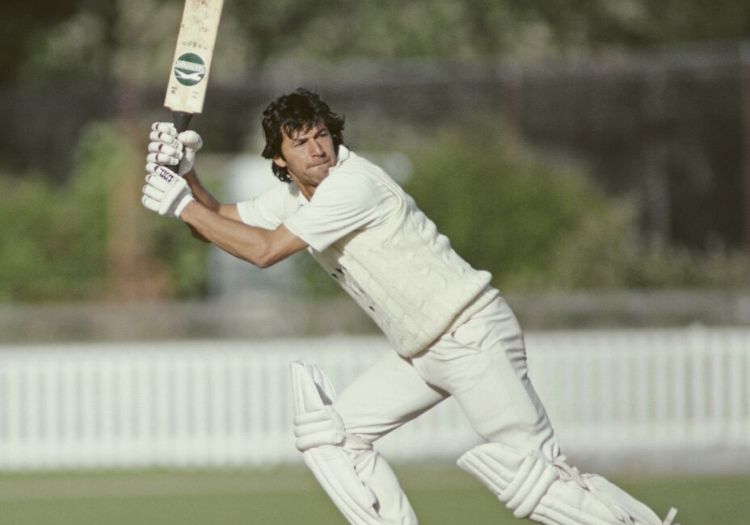 Imran Khan gave Simon Hughes the fright of his life
HUW TURBERVILL - A SERIES OF LIFE LESSONS
Thinking I'd cost us the match as Woodbridge School under-14 captain.
The ball landed at my feet and I picked it up, with his permission, and chucked it to the fielder.
He ran me out.
I trudged off sulkily and sat there stewing for a bit. But luckily at the fall of the next wicket their captain invited me back.
I stayed in and we drew.
Lesson: let the fielder pick up the ball (although he shouldn't have done what he did).
Filing a cricket story for the Daily Express in the days before we had dongles for our laptops.
I sent it to about 10 staffers using the Trent Bridge WiFi then legged it for the train back to London.
Incredibly they were all off that day and the acting news editor, Eric Brown, rang me up and demanded my copy.
Alas my phone's battery ran out.
I had to borrow a kind man's phone on the train – luckily he was a cricket fan – and dictated the story over.
Lesson: always put in a check call before you leave the ground.
Finally, having a stinker in one of Paul Prichard's testimonial matches, playing as a guest for an Essex XI against a Middlesex XI at Bury St Edmunds in the mid-1990s.
Flooring the most horrid steepling catch and being run out by Mike Gatting racing in from mid-on for 3 off about 20 balls.
Lesson: play to your level.
SAM MORSHEAD - THE CRACKS I'LL NEVER FORGET
There have been two times in my cricketing life - once as a player, another as a reporter - when I have been genuinely scared by what's taken place in front of me.
By this, I don't mean facing express pace, or being charged with bringing home a tense chase. I mean actually frightened. 
The first was during a Wiltshire League game in 2015. Goatacre away, on the second-team pitch - hidden down a track and behind a bank of fields. The boundaries were tiny. The opposition liked clearing them.
Our skipper (real name Ian, lovingly called Boomer) specialised in dainty outswingers that dipped at the last moment, like a theme ground ride over its precipice. When they worked, they were unplayable. When they didn't, they could go for plenty.
A Goatacre middle-order batsman took a liking to Boomer that day, and clobbered him for several sixes back over his head. Midway through his spell, he tried again. He managed all of the power, with little of the trajectory, and the nut fizzed back at Boomer's forehead.
He wasn't quick enough to get a hand in the way, nor duck beneath it. The ball ricocheted off his skull with a horrifying crack, which I can still hear vividly as I remember the scene. God, I hate that noise. He went straight to the floor, blood seeping across a good length at the non-striker's end. The minutes between the incident happening and the ambulance arriving seemed to take place in slow motion: fielders scrambling to stem the flow; the batsman hunched over himself halfway between the middle and the rope, inconsolable. 
Boomer was okay, thank heavens, though he still boasts the scar. And, in a strange twist of fate, he headed the ball to cover, thereby claiming perhaps the most peculiar wicket I've ever witnessed. But, that noise. Jeez.
It was that noise, that dreadful crack, which brought back similar emotions when Steve Smith was floored by Jofra Archer at Lord's last year.
In that moment, 25,000 people recognised the potential severity - rather than the 25 or so on that damp May afternoon in Wiltshire. I had never been in a press box which collectively froze before that day. I don't think I will be again.
The rat-a-tat-tat of keyboards replaced by sudden inhalation and worried looks. Genuine fear for the life of another human being.
Cricket, hey. F***ing hell.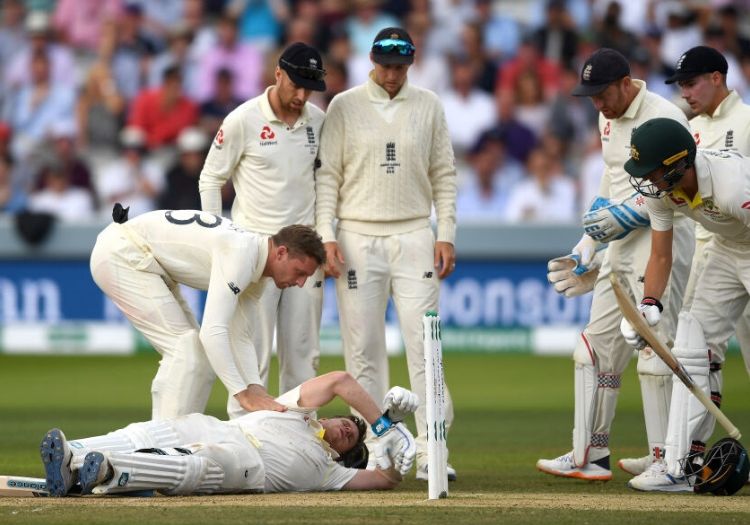 Steve Smith lies on the Lord's turf after being struck by a Jofra Archer bouncer
NICK FRIEND - THE DAY I WAS FORCED OFF THE FIELD WITHOUT MY TROUSERS
I can't lie; in hindsight, this might sound mildly pathetic. Osterley away, I believe. Three deliveries into the new season. Picture the scene: a cocktail of excitement, trepidation and cold air. I was down for the weekend from Durham University, where April cricket is a wintery affair. As such, I had made purchased a set of gel handwarmers – a solid investment, you might say. One in each pocket and you were set for the day.
With the skies grey and the prospect of having to complete a spell of left-arm leggies desperately unappetising in the circumstances, I strode onto the field armed with the gel packages.
And then, disaster. The third ball of the match flew to my left - I had found myself stationed in the gully region. The chance grazed my fingertips as I dived but didn't stick. As I landed, I felt a sharp pain – a throbbing agony, as if I'd landed on glass. I thrust my palm onto my leg to stem what I assumed to be bleeding. Instead, a less pleasant surprise was waiting. On impact with the turf, the handwarmer had exploded, burning and spilling down my leg, as if balloon unto needle.
Naturally, this caused some considerably widespread amusement. The opposition thought I'd soiled myself as I tore off my whites, which quickly crusted up with the gel-like liquid. My teammates told me it served me right. I genuinely cannot adequately describe the initial pain. All I can say is that it really hurt.
Only, the secondary pain – walking trouser-less from the field, limping, head bowed, pride bruised, in search of spares – was far greater. I completed the day in tracksuit bottoms, dropping a second catch and nicking off first ball. That'll be a £10 match fee, please. I kept the remnants of the packet, though have not used one since…
OWEN RILEY - DID I REMEMBER TO WEAR A BOX?
Back in 2016 I found myself putting the whites on for a charity event called All Out For Cricket in The City, hosted at The Honourable Artillery Company's ground in London. There were a handful of TV personality types mixed in with some former players - Matthew Hoggard and Mark Ramprakash both represented teams on the day.
I was playing for a side captained by Min Patel, representing the Sick Children's Trust. And when I say playing, I spent large parts of the quick-fire matches hovering on the boundary, watching in awe as Ramps repeatedly smashed sixes 20 metres over my head. No loss of the competitive edge there.
Later in the piece I found myself walking out to bat with the equation something like 32 off 5. "No pressure, free the arms, all a bit of fun for charity," I thought to myself.
Two minutes later I copped a delivery of decent velocity to an area of some delicacy. Already somewhat intimated by the former Test cricketers I was sharing a field with, there was a solid 10-15 seconds where I genuinely thought I was going to pass out. The pain was such I had to check if I'd forgotten to wear a box. Luckily I had not, otherwise the situation could have been far more desperate.
As far as I can recall, I managed to compose myself and turn the next delivery into the leg-side so to get as far away from the strike as possible and solely concentrate on not dying.
I later realised the bowler who caused the damage was Kent's Ivan Thomas. I'm sure he was only bowling at around 23 per cent or something silly but at the time it felt rapid for what I thought was a beer-fuelled slap around.
CHRIS SMITH - THE BEST 13-OVER DUCK YOU'LL EVER SEE
Beyond the annual peril of fielding at home in July, when the centuries-old oak tree off the square hosts the latest intake of hornets, my scariest cricket experience was watching an innings spanning 13 overs. It saw the batsman departing without scoring. It was one of the bravest, and best, innings I have witnessed. The bowling, however, was terrifying.
Copford had to knock off a small total (around 70 I think) against Felixstowe. Felixstowe's openers were Vincent D'Souza and Reagan Maclean. Maclean incidentally is the brother of West Indies' Nixon and has represented the Army and Combined Services sides for the past 15 years. Both were sharp.
Copford's opening batsman, Chris Moon, was a technically gifted player who specialised in hitting it exclusively in 'the V', and to fielders. He had all the mod-cons of the time – pads scraping the floor, Masuri helmet, sleeveless jumper with sweat bands etc. What he did next though defied any sense of him being a 'pretty' batsman.
He clung on for dear life. He was bombarded with short deliveries, it felt like every ball was in the other half. He didn't shy away from one of them. His well-honed technique was perfect for this scenario. He didn't need to score runs, he just needed to put bat on ball (and often rib cage). It didn't matter that the strike wasn't being rotated, his partner at the other end would have been grateful.
Dean Elgar would have been proud. Departing in the 13th over, Moon hadn't scored a run, but had blunted this searing new-ball pair – meticulous with their accuracy – paving the way for the middle order to eek out the runs required.
He received a standing ovation as he walked back to the pavilion. Few ducks have been held in such high esteem, or had such bravery associated with them.
ED KRARUP - IN THE FIRING LINE AT SHORT EXTRA
Aged 13 I was playing in a school match and had been recently promoted to the A team. In youth cricket it tends to be the same four or five players who do all the batting and the bowling so I was very much there to make up the numbers as a No.9 bat who didn't bowl.
Feeling sorry for me for making the long trip to not do much, the captain plonked me at short extra cover for 40 overs, right in the firing line of one of the top cricket schools in the country.
Every delivery was spent trying not to get clobbered by their openers who were seeing it like a beachball. Once they were dismissed with plenty on the board, in came even bigger hitters with the simple instruction to hit out. Looking back, I probably stopped 10 runs, but didn't manage to hold onto a catch.
I did end up batting in that game, coming in late on. I was caught at short extra cover.
Send your scariest moment in cricket to Simon Hughes and The Analyst: Inside Cricket podcast by commenting below, emailing simon.hughes@thecricketer.com or sending The Cricketer a direct message on social media
Please ensure all fields are completed before submitting your comment!