Jos Buttler credits "batting without ego" for extraordinary white-ball form
Buttler smashed 863 runs in the IPL - the second largest individual haul in a single season in the competition's history - prior to making 248 runs from 134 balls, without being dismissed, in two innings against the Dutch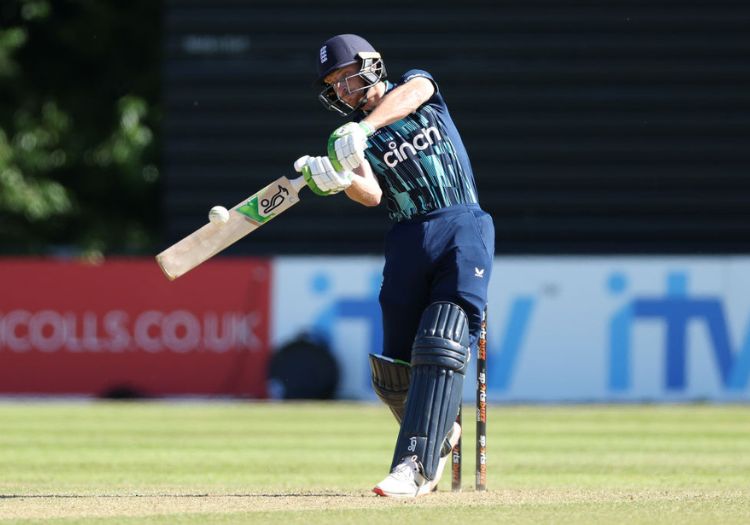 Jos Buttler reckons he is in the best nick of his career after following his sensational Indian Premier League season with a destructive series against the Netherlands in Amsterdam.
Buttler smashed 863 runs in the IPL - the second largest individual haul in a single season in the competition's history - prior to making 248 runs from 134 balls, without being dismissed, in two innings against the Dutch over the past five days.
It is an incredible streak, and the Lancashire wicketkeeper-batsman did not shy away from the question when he was asked if he is in the form of his life.
"I think I'd have to say yes," he said. "The IPL was incredibly special personally to have a tournament like that, I surprised myself and I really enjoyed that and I learned a lot about my batting.
"When you get to a place like that, [you are] hungry to continue that. I look at someone like Joe Root who has been a great example to us in English cricket, scored runs after runs and wants to continue that, and that's a great example to anyone that when you're in good form you have to make the most of it."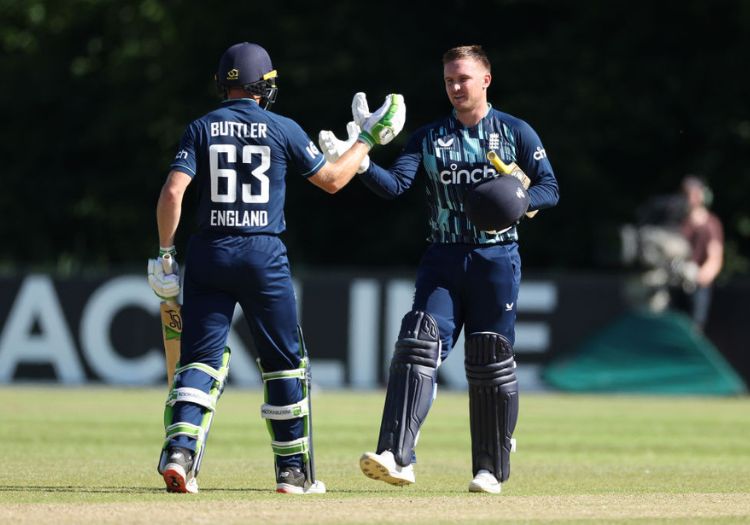 Jos Buttler congratulates Jason Roy on his hundred [Richard Heathcote/Getty Images]
Making the most of it is an understatement.
The VRA Ground in Amstelveen proved to be far too small for Buttler as he made his second fastest ODI century on Friday as England posted an ODI-best 498 for 4. His 47-ball ton is also the second fastest by anyone to represent England in ODIs.
On Wednesday, he was a little more becalmed, reaching his fifty in 44 balls before finishing with 86 not out from 64 deliveries. He seems to be in a rare state of mind, capable of picking length and line was almost prescient skill.
He credits his time in the IPL, and work done with Sri Lanka great Kumar Sangakkara, for his form.
"I think batting without ego [was important]," he said.
"I had some good conversations with Sanga about that, understanding the process of getting in. Sometimes it might take five balls, sometimes it might take 20 balls... allowing that to happen, taking the pressure off.
"I worked quite hard at my game against spin as well faced a lot of spin in the nets."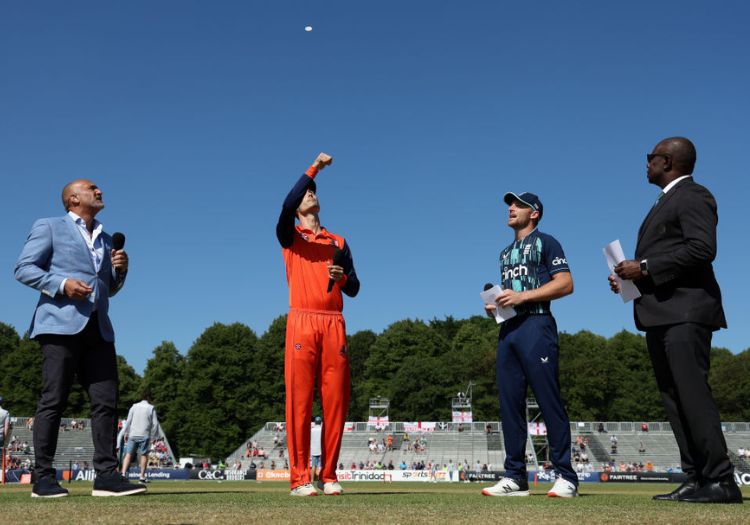 Buttler assumed the captaincy in Eoin Morgan's absence on Wednesday [Richard Heathcote/Getty Images]
Buttler filled in for Eoin Morgan on Wednesday, as the England captain sat the game out because of a groin injury.
Given Morgan's mediocre form in international cricket over the past year, the calls for him to stand down are starting to get louder. Buttler is the natural successor, but there is little indication that a formal handover is about to happen any time soon.
"I'm disappointed for Morgs to miss out but it's a good challenge and an honour to captain the team," Buttler said.
"I did enjoy it. I find it's a different challenge, of course. I've got to work that out. We probably created a couple of chances at the start where we maybe could have picked up a couple more wickets there, but the way we came back at a great time to restrict them made for a fantastic bowling display.
"There's certainly no questioning of his position from within the camp," Buttler said. "I can't put into words what he's achieved. Everyone always talks about his captaincy but you forget what a brilliant batsman he's been for England in over 200 ODIs, that doesn't just go away overnight. Everyone in the team is backing him."
---
Related Topics
Please ensure all fields are completed before submitting your comment!