Ryan ten Doeschate: Essex's man for all eras
NICK FRIEND: A legend of Chelmsford and the cricketing pride of the Netherlands, who has played each game with the enthusiasm of his first, having once believed he might never make it. Few have achieved more, even fewer with such understated class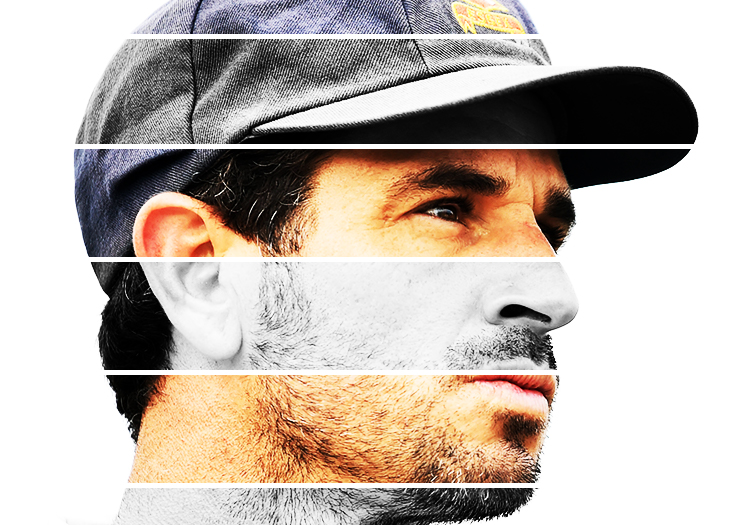 Ryan ten Doeschate interjects, chuckling.
"Can we stop talking about me, mate? I'm starting to get a bit embarrassed."
He is joking, but the sentiment rings true. It is how he has lived his career: team first, self second; there is a very real satisfaction at what he has achieved as he approaches his 40th birthday, but even more pride in the collective successes he has shared.
He has become such a fixture of Essex and, more widely, of the English domestic game that his presence around the county grounds – scampering in the field, crouched with the bat – has been one of the hallmarks of summertime.
There are few on the circuit who garner a greater respect – either among their peers or the game's wider public, and even fewer who speak with his unpretentious wisdom.
And behind it all, there lies the accidental tale of a South African-born allrounder who, almost two decades after graduating from university, has become an icon of Chelmsford and the cricketing pride of the Netherlands.
He has grown into the man for all seasons: a member of his county's first T20 side and part of the club's backbone ever since. Amid a backdrop of national uncertainty, he carries legendary status in the county that has long since adopted him – the result of two Championship titles and 17 years' service.
And at 39, he is the last man standing from a previous time. "The centre of the team has shifted," he reflects. "It's no longer James Foster, Ravi Bopara, Ryan ten Doeschate, Graham Napier as it was five years ago; it's now Tom Westley, Dan Lawrence, Nick Browne. And it five years' time, it will be different again."
It is a sobering thought from a constant of the county game, a reminder that even the timeless move on. But then, he explains, he has always looked at things differently – not necessarily by design, but because before this was a reality, it was all a distant dream.
"When I left Cape Town, if you'd said to the coaches and the players in Cape Town that I was going to play professional cricket for 17 years – World Cups, T20 World Cups, IPL, people would have laughed at you," he looks back.
"I couldn't get a contract – I wasn't in the best eleven players or even the best fifteen. If I'm being honest, I was a good club cricketer. I'd never been through any classical coaching phase, I never got coached, I played for my provincial team in my last year at school as a bits-and-pieces player. It's not your typical route into cricket – in fact, it's very atypical."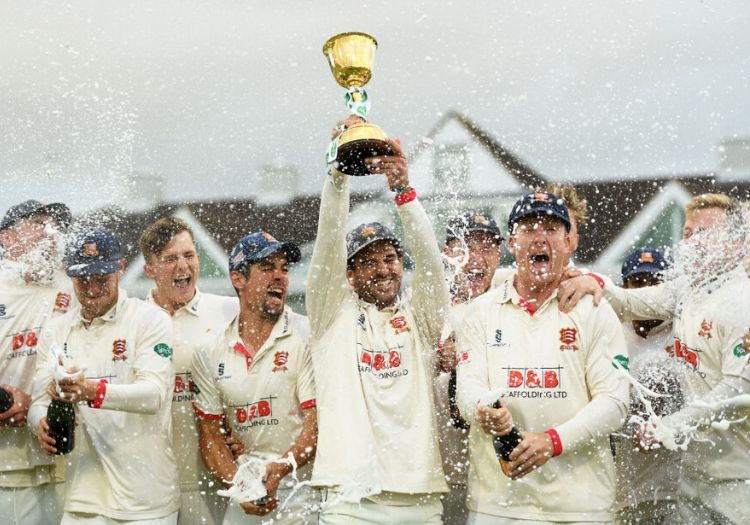 Ryan ten Doeschate led Essex to two County Championship titles in three years
A business science degree in financial accounting was followed by a planned move to Amsterdam to play club cricket alongside a job at Cisco, the technology conglomerate.
In the week before leaving for Europe, ten Doeschate played for a Western Province side captained by Graeme Smith against Essex in a 45-over pre-season friendly, hitting 44 off just 16 balls after coming to the crease with just 32 deliveries remaining. It was a life-changing knock. "The plan had been to make my way in the corporate world," only for a phone call from Graham Gooch to change his career's course. A trial followed and after a single spell of bowling in a second-team game, he signed a three-year contract that evening.
When he first arrived, he joined a squad that featured the experience of Ronnie Irani, Nasser Hussain and the Flower brothers, Grant and Andy. He admits that others "probably looked at me and thought: 'Jeez, we've signed a clubbie. What are we doing?'
"I had a lot of work to do, I knew that," he recalls. "I knew I wasn't ready then to be a good first-class cricketer, but I also knew I had two and a half years to sort things out."
It is a pathway that has informed his mindset ever since and, to a degree, alters the direction of this conversation.
"From a mental point of view," he explains, "when you go to university you probably begin to accept that you're not going to be a professional sportsman. And then all of a sudden, you get given this chance in a country you've never been to by people you don't know. It's very liberating.
"It's always been my philosophy. Still, every time I go out to bat, I'm like: 'You're playing first-class cricket, this is great. Enjoy it.' I've just seen everything that I've got as more than I'd ever expected.
"I've always believed in sport that getting through the door is nine tenths of the job. It's the snowball effect – you get a contract, you get more coaching, you train more, you get looked after, you naturally get better. Depending on your desire, the ball is pretty much in your court. Once you do, I think if you chucked most good club cricketers into a professional setup, they would cut it."
He points to Jamie Porter, an Essex teammate and another who has thrived after taking the long road into the professional game; the pair are of a lessening breed.
Growing up, Jonty Rhodes and Kepler Wessels had been his cricketing idols – "you couldn't get two more contrasting players", he chuckles, before focusing in on Rhodes. "I guess I just related at a young age to that energy and unorthodoxy – with all due respect, nothing special as a cricketer, but a guy that added so much value. He was certainly someone that I've always looked to emulate – someone who gave everything all the time."
It is the idea of making the most of oneself that resonates most with ten Doeschate. Nothing special as a cricketer? "I would see that as a compliment rather than an insult," he adds.
"We're not all blessed to be the absolute best, but it's one of the things I'm most proud of. I think I have done the best I can with the cards I've been dealt.
"If someone said to me that my strengths were that I brought a lot of energy, fought and never knew when to give up, I'm more than happy to have that on my CV."
And just like that, ten Doeschate's whole cricketing existence makes sense: the effervescence, idiosyncrasies, spritely dynamism and malleability of a cricketer for whom even being here remains, in his own mind, a triumph of ambition over logic. He breaks down his own mentality with an outstanding honesty, his leaderly outlook shining through.
He was helped by the advent of T20, which afforded him a natural place in a fledgling format – a resourceful ingenuity stood him out from the crowd. "The euphemism was that I hit the ball in strange areas," he recalls.
"That works in your favour; if you're the same as everyone else, the modes of differentiation are very small. My whole game was set up for it. When T20 came along, there weren't many guys who banged it out the park. Everyone does it now, so it's not a big deal, but that is where I made my mark." That he has stayed ahead of the curve, a key part of the side that won the Vitality Blast at Edgbaston in September, remains one of his finest accomplishments.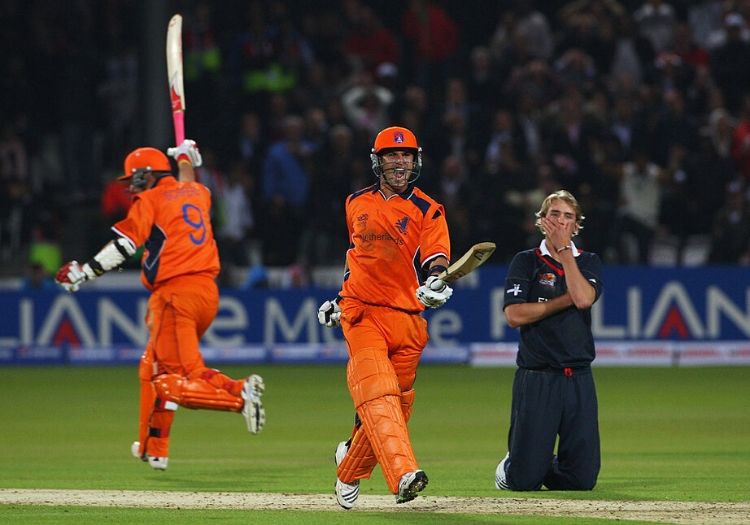 Ten Doeschate was at the crease when the Netherlands beat England at Lord's in 2009
It leads conversation to an afternoon in 2005 that, with the benefit of hindsight, stands out as a defining moment in his cricketing life, perhaps as the birth of the player to whom county cricket has since become accustomed. It was a day that propelled him onto the road he has since trodden.
Essex were facing Middlesex in the Totesport League; it was just his fourth List A game in two years and he remained a bits-and-pieces player. In his previous game against Nottinghamshire, he hadn't batted and was handed four overs with the ball.
At Lord's, he bowled only the penultimate over of the home side's innings. Scott Styris belted it for 25 – expensive in any period, but even more at a time where T20 was still in its infancy. It took the final total to 243, having looked set for 220.
"I sat in the changing room at Lord's halfway through, thinking: 'Right, this is your last chance. You're done.' It looked like it had lost us the game, throwing away our chance of winning the trophy," he remembers.
"But I think I walked out to bat at 150 for six and I got fifty not out to win us the game, with the tail. We had been dead and buried, pretty much. I've been a batting allrounder since then and I haven't been left out of an Essex team since."
It was his 20th game for the club – there have been 530 more.
All, of course, alongside an international career that has brought with it its own challenges and unique successes. "He's the greatest associate player that's ever played the game," Netherlands head coach Ryan Campbell tells The Cricketer. It is in ten Doeschate's nature to laugh off the praise.
"I feel like I've been an in-out participant – I don't feel like I've had a major role," he retorts, referencing a hiatus from the national side of almost seven years.
It is water under the bridge now and he admits his regret at the way events were handled. The truth is that it reached a stage where representing his country was no longer enjoyable.
"I got to a point where I felt that the Dutch wanted everything from me and then gave me nothing in return.
"But Cambo has been brilliant at getting me back and making me enjoy it. That's essentially what it's about."
"He's great," enthuses Max O'Dowd, his Netherlands teammate. "He's a quiet guy, who gives some pretty good input when he needs to. But he's good in the sense that he lets us play our cricket and he just slides into the team seamlessly. Having him there just instills a lot of confidence."
That is all that ten Doeschate hopes from himself. "The responsibility and obligation is on the senior and more well-versed players to help and, even if it's not 100 per cent genuine, to give confidence to young guys and to map it out for them. I do try to do that.
"I'd be gutted if someone turned around and said: 'This guy isn't that sort of guy, he doesn't pass on knowledge, he thinks he's better than other players.'"
Even if it is a tag that sits uncomfortably with him, there is legitimate scope to label him the most significant cricketer in the history of the associate game. Tangibly or otherwise, his impact has been immense.
He survived the volatile razzmatazz of the Indian Premier League for five years as the tournament's first associate player, breaking down barriers and opening the door for others beyond cricket's traditional status quo, while several compatriots have followed him into county cricket.
It was only through his ancestry that this was ever possible; his father was Dutch and moved to South Africa as a young man, but ten Doeschate and Dutch cricket had come across one another well before he made his ODI debut in 2006.
The national academy side would visit Cape Town each year and would train where he was based. "The Dutch knew very early on that I was available," he says. "But again, even they at that stage weren't falling over their feet to sign me up, given where I was as a cricketer."
His ODI batting average is the highest in history – a record he characteristically plays down. He was named the ICC's associate player of the year three times in four years and made two centuries at the 2011 World Cup, before playing a key role in the Netherlands' qualification for this year's T20 World Cup. It is all easily forgotten in his guise as a county stalwart.
Ten years earlier, he was at the crease for a win that must still rank as his country's finest. Even allowing for the heroics of Ireland in 2007 and 2011 and Kenya in 2003, the Netherlands' victory over England in the first game of the 2009 World T20 sits as one of the biggest upsets to take place on the global stage.
"That was so crazy," he laughs. "I think England had 100 after ten overs; we were looking like a typical associate mismatch and we were going to get hammered. And then things turned around. Even when we started batting, it seemed gettable but improbable.
"It was a fantastic achievement. I remember going back to the hotel and the hotel being full of Dutch people, waking up the following morning and being in every newspaper with pictures of the team in the Lord's changing room, myself and Edgar Schiferli celebrating in the middle. It brings back nice memories.
"Just the elation," he tails off. "It's something that all those people involved will never forget."
There is a delicate nuance to that night, ten Doeschate explains. The associate industry is a precarious universe; World Cups are the reward for the work that goes in beforehand. Qualifying is what truly matters. The stakes have only risen since the major competitions were reduced to ten-team affairs.
"They live from hand to mouth," he stresses. "They know if they miss one cycle, they probably go back fifteen years. You don't have the funding; you don't have the excitement to inspire the youth. Those [qualifying] tournaments are far more important; once you get to the World Cup, it's a nice arena to showcase your individual skills and it means you might be able to progress your career from there.
"But at those big events, there's certainly no expectation. Make upsets, yes. But are you ever going to qualify for a semi-final? Unlikely. It's more the cycle in between the big events that are important and that really make you feel like you're having an impact on Dutch cricket."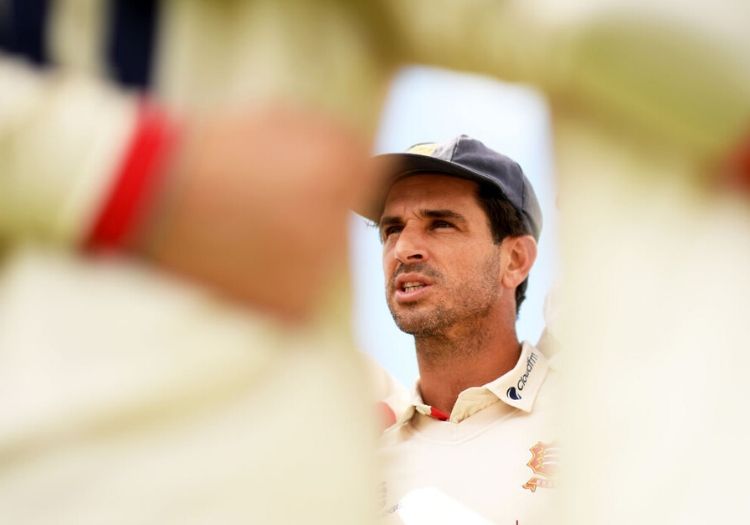 Ten Doeschate has handed over the County Championship captaincy to Tom Westley
It leads to a somewhat inevitable question: how – and why – is he still going? According to Cricket Archive, the 39-year-old has played 935 games since the beginning of the 2003 season for a range of teams. In that time, he has bowled 26,547 deliveries and scored 29,394 runs.
"I've always known that longevity has been a strength of mine," he says. Injuries have been few and far between and, even away from his cricket, he grew up as a keen sportsman.
More pertinent, though, is a love for the game that has never once wavered. Stepping away from the Essex captaincy, he insists, was the natural next step and "not tough at all".
Two County Championship triumphs in three years are testament to a job not just done well, but to an unprecedented degree – the first one founded on 75 Porter wickets, the second owing in no small part to Simon Harmer's 83. While they were rampant in 2017, this was a different kind of title, coming from behind to usurp Somerset – a victory earned in the image of its leader: fought for, heart never lost, hope not once abandoned.
"There might not be a million people watching like with the T20, but it's a special feeling to look back on," he adds. "Over the course of 14 games, you can hardly slip up. It's a massive achievement."
Even so, ten Doeschate admits that it was time for a change of voice. "I can't explain how much I've enjoyed doing the job. It came at a really good time – it gave me a different focus. I never sought it, but I've always enjoyed the leadership side of anything – it's the intangible things: developing relationships with young players, who aren't in the first team; changing the culture of the club – not massively, but putting your own stamp on it.
"But I think to be proactive you have to see whether you're improving as a captain and whether the squad is improving under you, and I didn't have an overwhelming sense that it was. I was quite unsure – even probably from July. The one-day campaign didn't go very well.
"It's tough to stand up and speak in front of a group on a subject that really doesn't have that many variables – it's quite confined in what you're saying and how you can prepare for games."
With the departure of Bopara to Sussex, only Sir Alastair Cook remains from the year of their debuts in 2003, long before either had set sail on their international adventures. The pair roomed together on the county's recent pre-season trip to Abu Dhabi. Once upon a time, Cook was unsure of the young recruit, a raw unknown filling a spot that might otherwise have gone to a young English player. Nowadays, they are good friends.
Ten Doeschate sees himself now as a "gatekeeper" – a senior figure, along with Cook, there to offer advice to the new guard. It is another reason for the change in stewardship; quite simply, the former skipper doesn't know how long he'll go on.
At this stage, there are no plans to call it quits. "Internally, there is no indication that it's coming to an end," he insists. "I don't feel any more tired or any less effective. But I'm conscious of getting the timing right; I don't know when that will be, but it will be mainly led by the club."
When that moment does arrive, there will surely be calls for permanent acknowledgement. Few have achieved more, even fewer with such poise and understated class. The Ryan ten Doeschate Stand, perhaps? It has a certain ring to it. How this adopted, revered son of Chelmsford would feel about that, however, remains to be seen.
After almost an hour, he excuses himself. His twins were born in December and it's feeding time; they are keeping him busy. As so often in his company, he brings a perspective back to it all.
"I guess this goes for anyone," he reflects. "It's not a comparison of how you go versus the rest of the pack, it's a comparison of how you go compared to yourself.
"I'm proud that I've worked hard and worked smart in finding a way to survive in the game. I've certainly achieved more than I ever thought I would."
Please ensure all fields are completed before submitting your comment!