Josh Poysden: Yorkshire bowler ready to spin his way to red and white-ball success in 2021
ELIZABETH BOTCHERBY: Nearly 10 years after his first-class debut for Cambridge MCCU – a fresh-faced 19-year old dismissing Essex's Mark Pettini for his maiden wicket – Poysden remains confident of forging a career as a red-ball cricketer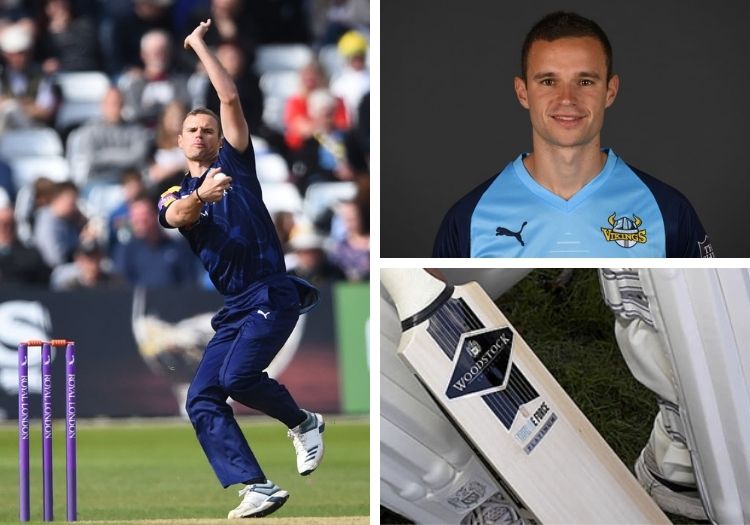 When you speak to Josh Poysden, two things quickly become apparent.
First, he's thoroughly enjoying West Ham's resurgence under the 'Moyesiah'. Speaking 24 hours after his beloved Hammers beat Leeds United 2-0, he admits to watching every minute of their season since October; the sight of Declan Rice winning every week nursing him through lockdown.
But – he stresses this point – he didn't rub it in his Yorkshire teammates' faces at training. At least, not all of them.
"Me and Matt Fisher had a Zoom call for the whole game, but a lot of Leeds fans are very knowledgeable about their football and I was never going to come into training giving it big ones," he laughs. "It's probably only Jordan Thompson I'll wind up; the others are all pretty good lads!"
Second, to say he is passionate about spin bowling is a grave understatement. In our 21 minute chat, that particular combination of four letters is spoken on 32 occasions. He hosts a spin bowling podcast – Spin Badger – where he picks the brains of cricket's trickiest spinners, his post-playing career ambitions include developing the next generation of English bowlers, and while fans up and down the country struggled through England's trial by spin in India, Poysden couldn't tear himself away from the sofa.
"Any time the ball spins I find it fascinating to watch, even when spinners are bowling and it's not spinning," he enthuses. "That's just my favourite part of cricket: watching spinners go about their business. That's what will get me glued to the TV."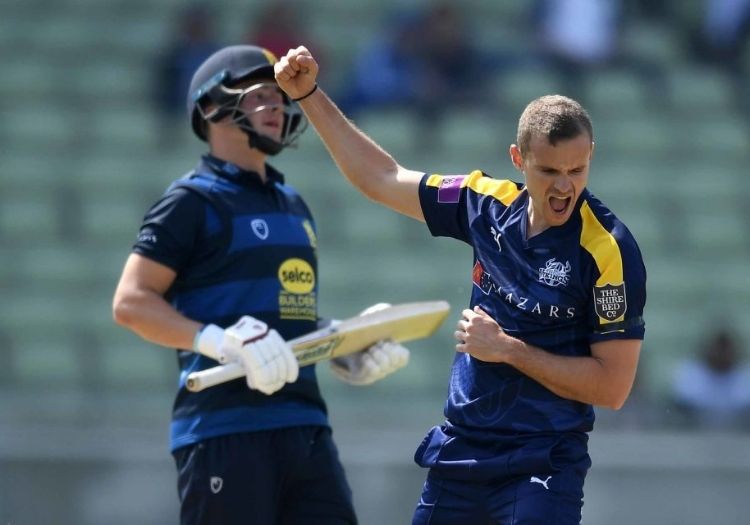 Poysden in April 2019 celebrating dismissing former Warwickshire teammate Liam Banks in the Royal London Cup
Ahmedabad proved itself to be a spinner's paradise. 48 of the 59 wickets to fall were claimed by spinners – 35 of those shared by Ravichandran Ashwin and Axar Patel for the loss of just 354 runs. England's inability to defend against spin was brutally exposed, their batting frailties broadcast on terrestrial television for all to see. However, Poysden believes bowling coaches have just as much to learn from the experience as their batting counterparts.
"One thing that's really interesting is watching how [Ashwin and Axar] go about it and that bowling a quick pace at the stumps is a really effective way to bowl spin," he says.
"I think sometimes in Western coaching you can get caught up with bowling slow and it's almost a big taboo to beat people on the inside of the bat. It's seen as a bit of fortune rather than skill, so I think the way Axar Patel bowled, that's an art. It's a skill to beat people on the inside edge as well as the outside edge.
"He's putting so many revs on it that if it does skid, it skids really quickly so I hope that anyone in cricket watching that can see there's different ways to spin."
"Any time the ball spins I find it fascinating to watch, even when spinners are bowling and it's not spinning. That's just my favourite part of cricket: watching spinners go about their business. That's what will get me glued to the TV"
It wasn't just India's spinners who caught the 29-year old's eye. Jack Leach was England's leading wicket-taker, bouncing back from his first Test mauling at the hands of Rishabh Pant to finish the series with 18 wickets. Dom Bess, meanwhile, had a mixed tour: five wickets in Chennai, dropped for the next two matches, and expensive on his return -  an experience Poysden, his teammate at Yorkshire, believes will only make him a better bowler.
"England bowled really well. Jack Leach in particular had an outstanding tour. He's someone who's been through a lot in his career, and I thought he was brilliant," says Poysden.
"We've got Bessy at Yorkshire this year, it's really exciting. Things probably didn't go his way but he's only a young lad, he's still learning his trade. Hopefully, he can learn some really good lessons from that and come back and put in some big performances for Yorkshire."
Another of Poysden's teammates in the spotlight this winter was England's Test captain Joe Root who, in the aftermath of the series, suggested the solution to his side's woes in India lay in the County Championship, namely ensuring matches last the full four days and giving spinners the opportunity to bowl at different stages of an innings. However, Poysden is of the opinion it is the responsibility of the individual bowler, rather than the ECB, to change the game.  
"In the early stages of my career, they brought in the toss rules where you could elect to bowl first if you were the away team and that definitely had an effect on me playing more games with Warwickshire," he says.
"We'd produce spinning wicket because we knew if you produced a green top the opposition team would come out and bowl first.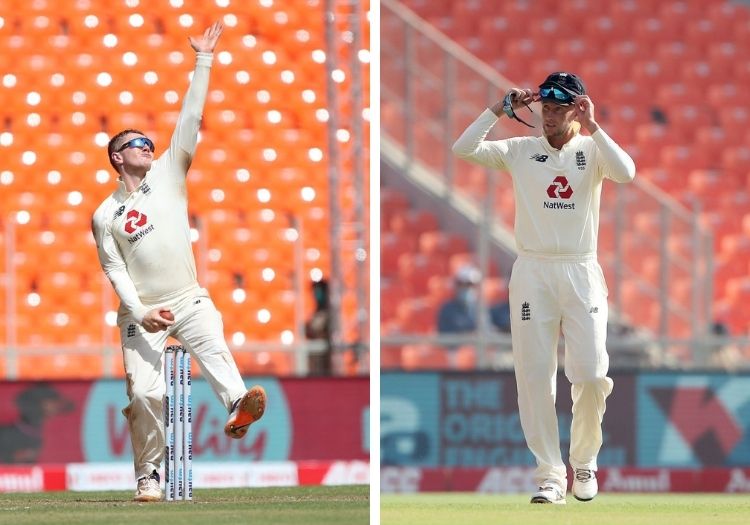 Poysden's Yorkshire teammates Dom Bess (L) and Joe Root (R) were involved in England's Test matches against Sri Lanka and India this winter
"In the second team they have a rule on when you can take the new ball to give the spinners more time, so I think the ECB's done a lot to try and get spinners in the game.
"If spinners are good enough, they're going to bowl. That's the way I see it. As a player, it's up to me to be good enough to get picked and bowl the overs. It's not necessarily about the game changing to give me more opportunity. I've got to make sure I'm doing all I can to be as good as I can be and to bowl on any surface because ultimately, that's your job as a spinner."
Poysden, himself, hasn't played a County Championship fixture since September 2018, a combination of injury, stiff competition for spinners at Warwickshire, and unfriendly pitches at Headingly limiting his red-ball appearances to just 14 matches. Instead, his career, like so many, has leaned towards the white-ball – 64 List A and T20 appearances, 56 wickets and handy economies of 5.84 and 7.58, respectively.
But, nearly 10 years after his first-class debut for Cambridge MCCU – a fresh-faced 19-year old dismissing Essex's Mark Pettini for his maiden wicket – he remains confident of forging a career as a red-ball cricketer.
"I still see myself as an all-format player," he states, boldly. "In the last couple of years, I haven't played much red-ball and my success has been with the white ball but if you took a snapshot of my career as a whole, my red-ball record is probably not too dissimilar to my white-ball record. I've got two County Championship five-fors!
"As a spinner your best ball is your best ball. For me, my best preparation for white-ball is bowling with a red-ball and it's a format I really enjoy. It's something I work really hard at. Especially this winter, bowling spin with the red-ball has been a big focus. But, for me, the skills complement each other: my best ball in red-ball is my best ball in white-ball, it's only a little, subtle thing that might change."
Most of all, however, Poysden is just looking forward to getting a full season under his belt after nearly two years of disruption.  
In July 2019, he fractured his skull while chucking throw-downs for Dom Bess, a freak training ground accident ending his season and with it, his hopes of selection in the Hundred draft.
With the national lockdown delaying the start of the season, he finally made his long-awaited comeback in the T20 Blast in August 2020 and was working his way back to his best – four matches, five wickets, an economy of 8.76 – when Covid-19 reared its head again. This time, a positive test for Yorkshire teammate David Willey on the eve of September's Roses clash. Poysden, Fisher and Tom Kohler-Cadmore, who'd helped him move a sofa the day before, were deemed as close contact and put into self-isolation. Another season prematurely terminated, Yorkshire's hopes of Blast qualification decimated and Poysden's Hundred dream once again up in smoke.
"From a club point of view, it was really disappointing that we lost four players for the remaining games. It ripped the heart out of our team," he says. "From a personal level, it was hugely frustrating, not being able to contribute to the club with performances and especially after what happened the year before.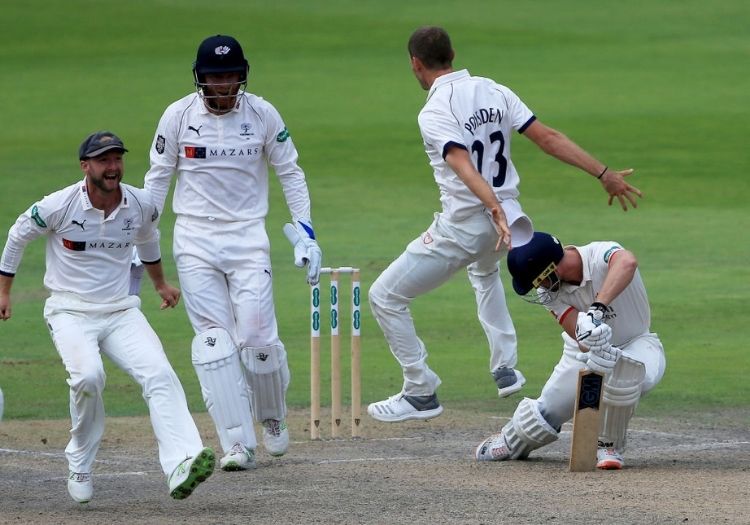 Poysden (centre) celebrates dismissing Dane Vilas in the Roses match in July 2018, one of the few red-ball outings in his career
"Two layoffs two years in a row and with the Hundred happening [in 2021], it wiped me out in terms of  giving myself a chance to put in some good performances and pick up a Hundred team in the draft. It was pretty disappointing, but it was nice to be back out playing before it happened."
And it's this positive outlook which will him guide him through the 2021 season and maybe, at the third time of asking, earn him a shot at a certain crisp-themed tournament this August.
"As a club we've built a strong squad and got all bases covered on the pitch. We've got a brilliant group of lads and it's a really exciting year for the club," he says. "You go into any year trying to win a trophy and I think with our squad, we can legitimately target all three.
"I still see myself as an all-format player. In the last couple of years, I haven't played much red-ball and my success has been with the white ball but if you took a snapshot of my career as a whole, my red-ball record is probably not too dissimilar to my white-ball record"
"I haven't played much in the last couple of years in red-ball and that's something I'd love, to get in that red-ball team and put in some performances. Equally, I want to take my white-ball cricket to the next level. As a club we haven't won a  T20 competition, so I'd really like to be involved in the first Yorkshire side to do that – that's a massive driver for me.
"And I'd love to be involved in the Hundred. I missed out in the draft but there's still some wildcard spots to come. Hopefully when the Blast comes around, I can put in some performances and give myself the best chance of being picked. It's about enjoying my cricket, working hard and if that gets me there, brilliant! If not, we've got the 50-over competition so it's win-win for me."
This article was written in association with Woodstock Cricket. For more information about equipment or sponsorship, visit www.woodstockcricket.co.uk
Please ensure all fields are completed before submitting your comment!